Cities Draw up Scenarios for Safe School Reopening
Sixth, ninth, 10th and 12th graders in "green zones" in Hanoi will return to school under a scenario sketched out by the municipal Department of Education and Training.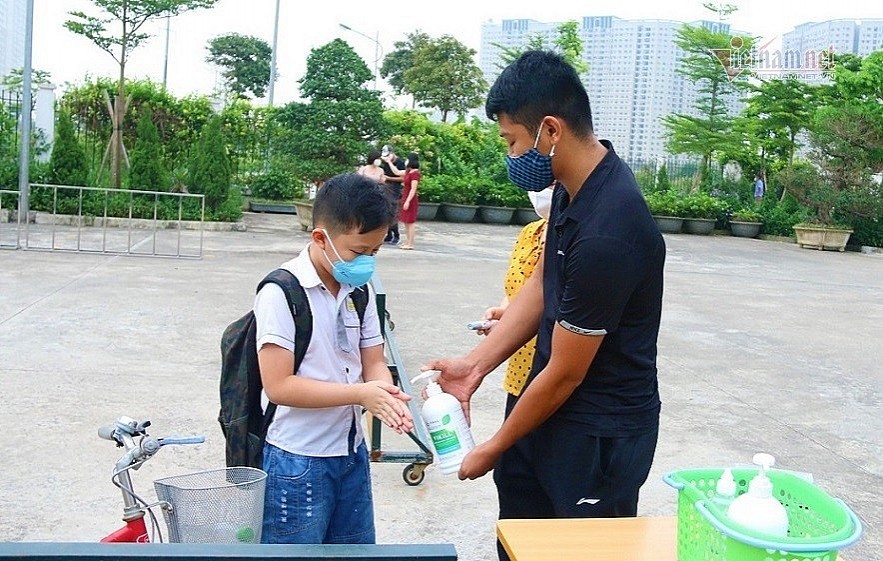 Sixth, ninth, 10th and 12th graders in "green zones" in Hanoi would return to school. Photo: Vietnamnet
The Hanoi Department of Education and Training has drawn up two drafts on criteria assessing school safety, and detailed instructions on Covid-19 prevention and control at schools.
The documents will be sent to specialised agencies for consultancy, including the Department of Health, before being issued to bring students back to school.
Tran The Cuong, director of the Department of Education and Training, said all of Hanoi students are joining online classes.
The department has partnered with relevant agencies to put forth four teaching scenarios, including one under which sixth, ninth, 10 and 12th graders in "green zones" will return to school.
School disinfection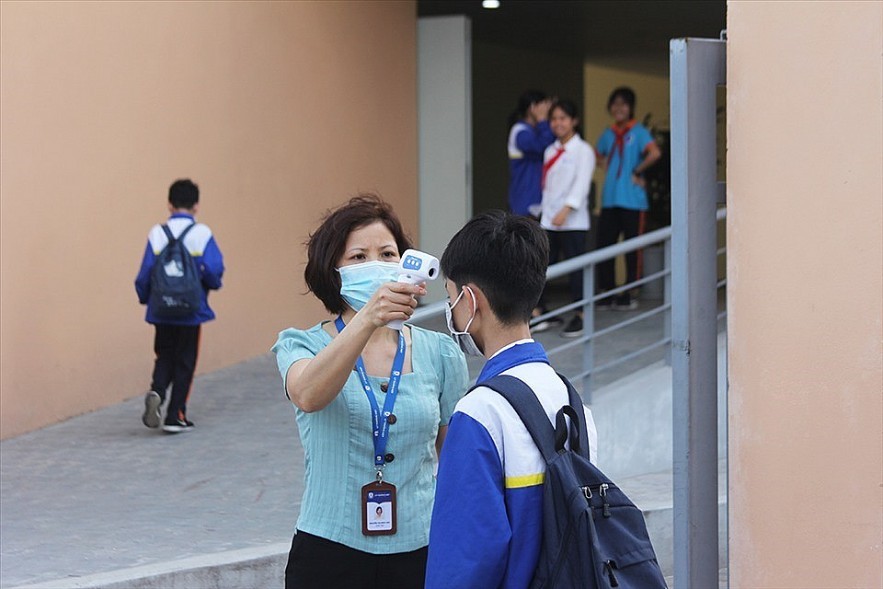 Students will have their body temperature checked. Photo: Lao dong (Labour) newspaper
The draft regarding Covid-19 precautions requires schools and school buses to be disinfected.
Medical facilities at schools must be well equipped in line with regulations, with quarantine rooms for teachers, officials and students who have fever, cough and breathing difficulty (if necessary).
School staff members and students will have to check their body temperatures at home. Those displaying the above-said symptoms should undergo medical monitoring at home.
The document also provides cleaning and hygiene tips to help keep the coronavirus out of schools like regularly washing hands with soap, and gargling with salt water.
No mass assemblies
According to the document, schools must arrange people to pick up and deliver students at school gates. Collective activities, field trips and picnics are prohibited. The flag-salute ceremony will be held in classrooms every Monday.
Students are not allowed to leave schools during lessons, and unauthorized persons cannot enter schools.
Any visitors to schools must inform their name, office and home addresses, phone number, date and time of entry and exit, and the name of their school host.
HCM City follows the suit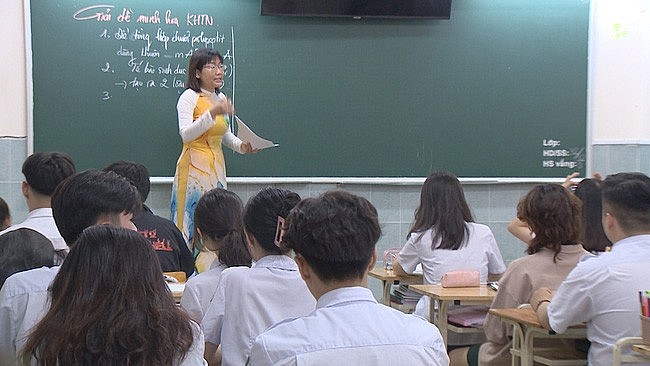 The HCM City Department of Education and Training has proposed the municipal People's Committee reopen schools in "green zones." Photo: VTV
The HCM City Department of Education and Training has also proposed the municipal People's Committee reopen schools in "green zones." Accordingly, first, second, ninth and 12th graders will go to school first, followed by fifth, sixth and 10th graders.
The Department of Education and Training has set forth criteria assessing Covid-19 safety in educational institutions.
Once the proposal is approved, Can Gio district that has more than 13,100 students will be the first to reopen schools.
Can Gio is one of the three districts in the southern economic centre, together with Cu Chi district and District 7, to have basically put the Covid-19 outbreak under control.
HCM City has begun easing Covid-19 restrictions from September 15.
Due to Covid-19 impacts, only 25 cities and provinces in Vietnam have fully reopened schools, with the rest either half-opened or adopting online classes.
According to the Ministry of Education and Training, 20 out of the 25 localities where schools have been reopened are in the north, with the rest in the north-central region and two in the Central Highlands.
Over the past two years, around 22 million students nationwide have experienced different class interruptions and had to switch to online learning due to the impacts of the pandemic.
The 2021-2022 academic year arrived at a time when Vietnam was ravaged by the fourth pandemic wave, which emerged in late April.
The Ministry of Education and Training said around 7.35 million students are studying online in localities imposing social distancing orders./.
Vietnam reported 72,236 new infections last week a fall of 9.7% compared to the previous week.
Meanwhile, the Covid-19 death toll for the week dropped by 12.1%. Particularly, the mortality rate declined by 10.5% in Ho Chi Minh City, 12.6% in Binh Duong, 15.4% in Dong Nai and 15.8% in Long An.
On September 25, 787,838 doses of Covid-19 vaccines were injected, bringing the total so far to 38.367.246.