77 Years of India's Independence Day Marked in Ha Noi
The Indian Embassy in Vietnam held a ceremony marking the 77th anniversary of the Indian Independence Day in Hanoi on the evening of August 16.
Delivering a speech at the ceremony, Indian Ambassador in Vietnam Sandeep Arya noted that India is making landmark reforms when rapidly expanding its infrastructure, and implementing economic reforms; thereby achieving economic, social, and technological development.
According to the ambassador, industrial development in India has fulfilled many achievements in terms of renewable energy, semiconductors, national defense, telecommunications, and space research. In 2023, as the G20 President, India has been striving to help with peace and prosperity in the Indo-Pacific region. Moreover, Indian Government has actively implemented the recently upgraded India - ASEAN comprehensive strategic partnership.
"Vietnam is a special partner of India for more than 70 years. Although each country has its own national development strategy and the world situation has been constantly changing, the solidarity, mutual trust, and cooperation between the two countries are always solid and reinforced," stressed the diplomat.
Vietnam and India have actively cooperated to strengthen relations in every area. The two countries maintain a regular exchange of delegations and high-level contacts. Economic-trade relations are rapidly growing, reflected in a large number of working visits of business delegations, extensive discussions on economics and finance, and the review of the ASEAN-India Trade in Goods Agreement (AITIGA), which aims to expand trade preferences for both sides and the active participation of localities in the cooperation process.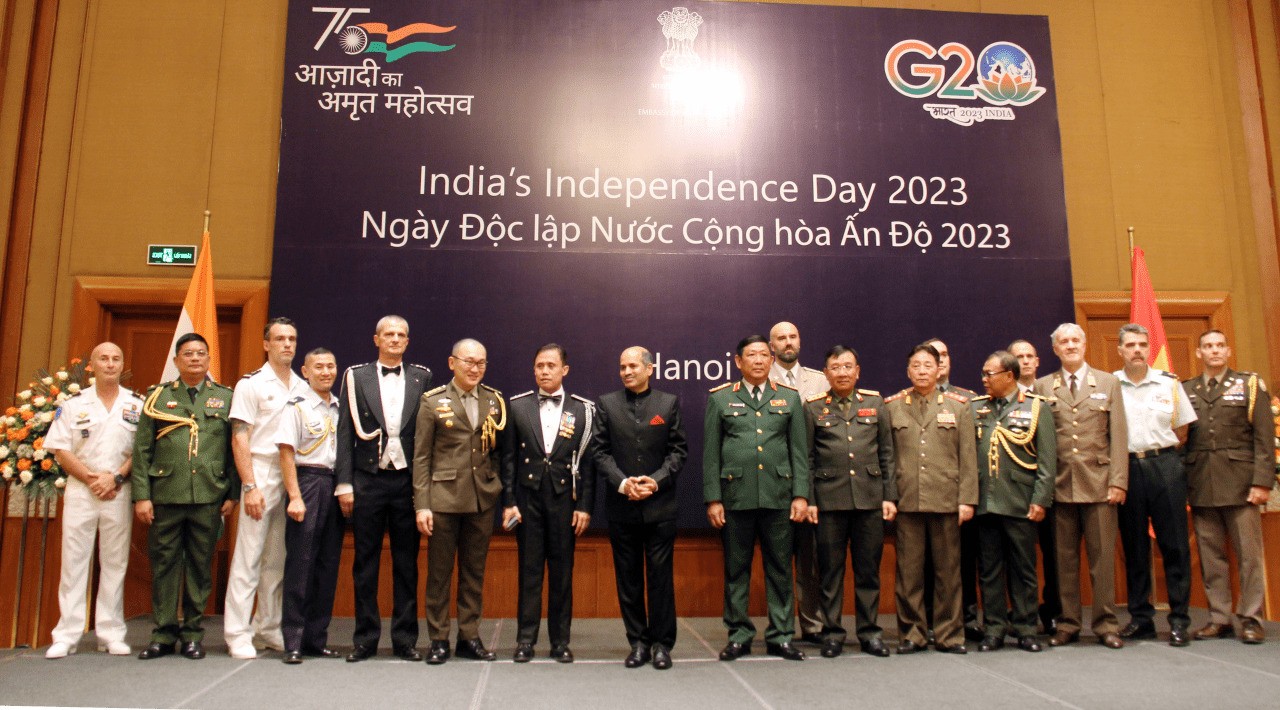 The delegates took souvenir photos at the event (Photo: Thu Phuong).
Furthermore, the two countries share many common cultures and have warm feelings for each other. Tourism cooperation has witnessed many positive changes thanks to the increasing number of direct flights. Academic and cultural exchange between institutions in India and Vietnam has been taking place actively.
According to Vietnamese Foreign Minister Bui Thanh Son, Vietnam - India relations have been built and developed by generations of leaders and people of the two countries. Vietnam and India have assisted each other during trying times in history. Therefore, the friendship between the two countries has been proven over time and has become a model in relations among other countries.
In recent years, despite the tumults of the era, the Vietnam - India Comprehensive Strategic Partnership has strongly developed in every area, namely politics, economy, culture, people-to-people exchanges, and mutual support in regional and international forums. In addition, the two countries have great potential for cooperation in emerging fields such as the green economy, digital economy, and new materials.
"As two countries sharing many common positions and strategic interests, Vietnam and India shall both give more active effort to cultivate the Comprehensive Strategic Partnership. This will doubtlessly bring about real benefits to our two peoples and contribute to peace, stability, cooperation, and development in the Asia-Pacific and the world at large," said the minister.