A Chinese illegally enters Vietnam by hiding in car trunk
On May 6, Mong Cai (Quang Ninh) police said that they had just prosecuted 5 people organizing services for Chinese to illegally enter Vietnam.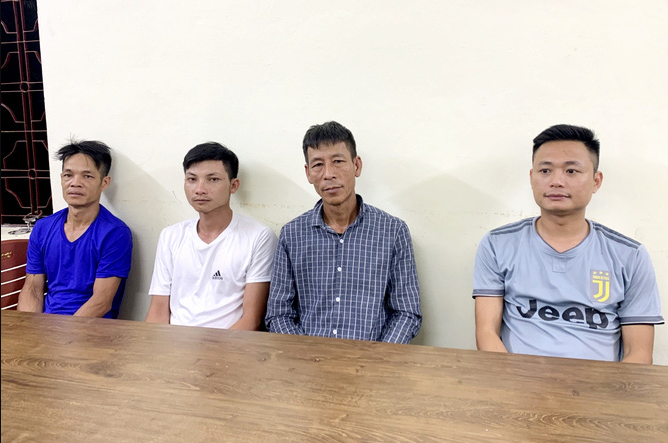 5 people who organized illegal entry for the Chinese. (Photo: Vietnamnet)
Previously, around 9:30 pm on April 27, while patrolling Highway 18A, the Mong Cai Police working group detected two men driving motorcycles at high speed, showing many suspicious signs, in the direction of Mong Cai - Hai Ha.
When the working group asked them to stop to check, the motorcycle driver even drove faster, turn back and run towards Mong Cai. The man that sat behind the motorbike was left. The left person is later determined to be a Chinese citizen, having no passport, visa, or other documents proving legal immigration.
At the police station, this person claimed that his name is Zhang Fa Bin, born in 1987, residing in Fujian, China. Before being discovered, Zhang Fa Bin and his three friends, Wu Wei Bin, Lai Zhang Lu, and Chen Bin Yu, all living in Fujian province, China, contacted a Chinese to try to enter Vietnam.
At about 7:00 p.m. on April 27, they were illegally led into Vietnam through the sea. After being picked up by a car, then transferred to a motorbike, he was arrested by the functional forces during the trip.
On April 28, the police force arrested 5 related people including Nguyen Manh Cuong (born 1986), Mac Van Hoang (born 1977), Vu Duy Sinh (born 1992), Pham Xuan Duong (born1969), all reside in Mong Cai city and Nguyen Cong Phuc (born 1990, resident in zone 5, Gieng Day ward, Ha Long city). The remaining 3 Chinese were all arrested while hiding in the acacia hill in Quang Nghia commune and sent to medical isolation.
At the police station, the arrested claimed that, in order to bypass the functional forces, the organizers brought Chinese people to Vietnam through the sea area of ​​Binh Ngoc ward. Then, they hid the Chinese in the car trunk, went through Nam Tho's vehicle checkpoint into the city center. In this area, the Chinese are disguised as fishermen, traveling by motorbike to pass the Km15 - Dan Tien Pier integrated checkpoint to continue moving inland.