Vietnamese in Cambodia, Laos required not to return home illegally
The Vietnamese Embassies in Laos and Cambodia have kept informed on the Covid-19 situation in these two countries and the registration of Vietnamese citizens wanting to return to Vietnam.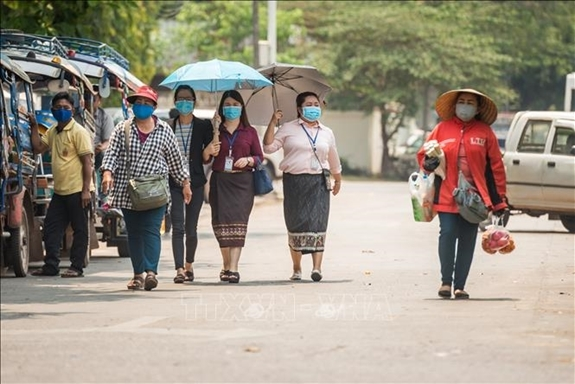 Lao citizens wear face masks to prevent Covid-19. Photo: VNA
According to the Vietnamese Embassy in Laos, the Covid-19 epidemic in Laos has complicatedly developed, with a spike of new cases in recent days.
The Lao Prime Minister issued a Directive on strengthening the Covid-19 prevention and control, including putting the Vientiane capital under lockdown, Vietnamnet reported.
Amidst the raging epidemic situation in Laos, the Vietnam Embassy asked Vietnamese people in the country to sternly comply with anti-pandemic measures.
If anyone wants to return to Vietnam, he/she can register at the Embassy and Consulate General of Vietnam in Laos.
The Embassy and Consulate General of Vietnam in Laos will synthesize the list and other specific information, then report to the Foreign Affairs Ministry and the authorities of Laos one day in advance for consideration and facilitation for Vietnamese citizens to exit via the international border gates.
The list will be updated and publicly posted on the websites of the Embassy and Consulate General of Vietnam in Laos every day.
According to the Vietnamese Embassy in Cambodia, Cambodia has reported a surge in new infections and deaths.
The Vietnamese Embassy in Cambodia has appealed to citizens not to try to illegally enter Vietnam.
Cambodia has adopted a series of measures to stem the Covid-19 spread such as accelerating the Covid-19 vaccination, placing cities of Phnom Penh, Ta Khmao, and Preah Sihanouk under lockdown, etc.
All markets in Phnom Penh were forced to shut down. Many factories and production facilities also had to close which has adversely impacted the lives of Cambodians in general and the Vietnamese community in particular.
The Vietnam Embassy in Cambodia has urged the Vietnamese community in the country to stay calm and strictly comply with the regulations on Covid-19 prevention and control.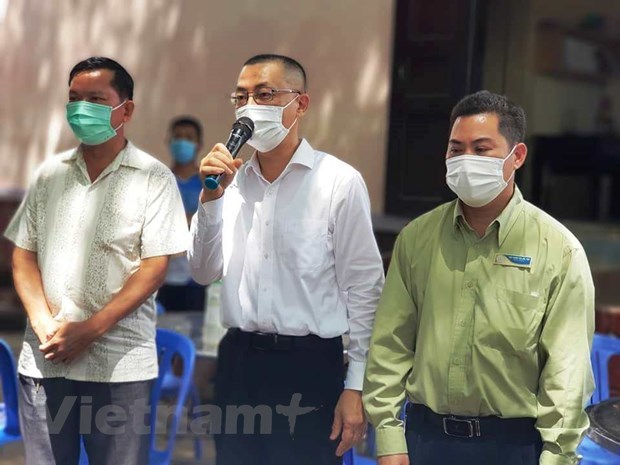 Vietnamese Ambassador to Cambodia Vu Quang Minh (M) at a visit to support the Vietnamese community in Cambodia on April 24. Photo: VNA
The Embassy is really sympathetic to the difficulties that the community has suffered from and requires Vietnamese Cambodians and Vietnamese citizens in Cambodia not to try to illegally enter Vietnam.
Vietnam and Cambodia have ramped up the border control and will strictly crack down on illegal entrants, including both fines and imprisonment.
Last week, the Cambodian Ministry of Foreign Affairs and International Cooperation issued an announcement reaffirming that it would not fine tourists with expired passports due to the suspension of all international flights.
Vietnamese citizens with legal documents, even expired, can still leave Cambodia and enter Vietnam without being requested to pay fines, according to the embassy.
Vietnamese Ambassador to Cambodia Vu Quang Minh said that when Cambodia removes lockdown and travel restrictions, Vietnamese citizens can easily enter Vietnam through the land border gates and go through quarantine in accordance with the regulations at low costs and no fines.
Illegal entrants will be detained, hefty punished, and brought to court for trial, especially those who spread the disease to the community.
As the Covid-19 pandemic has complicatedly developed in Cambodia, Vietnam's southwestern provinces have tightened the border control.
The Kien Giang Steering Committee for Covid-19 Prevention and Control determined the border control was the top priority in the Covid-19 fight. In Ha Tien Town, which shares a 14-kilometer land border and 26-kilometer coastline with Cambodia, a total of 48 border stations have been set up with 24/7 patrols.
Vice Chairman of Kien Giang People's Committee Nguyen Luu Trung said the disease prevention and control were still under control. However, amidst the rampant Covid-19 situation in Cambodia, the province has prepared scenarios for the worse cases by establishing field hospitals with 300-500 beds for mild Covid-19 patients and other 50 beds for critically ill ones, etc.
An Giang Province shares a 100-kilometer land border with Cambodia, has two international border gates and numerous trails. Hence, the province's border guards along with functional forces have ramped up the patrols, with around 2000 personnel to keep a close eye on illegal entrants.
As the province sharing the longest border with Cambodia (about 240 km), Tay Ninh Province has arranged 123 border stations with more than 600 officers and soldiers on duty. Chairman of the Provincial People's Committee Nguyen Thanh Ngoc said the province has carried out various measures to prevent Covid-19 such as mobilizing residents not to illegally entering and exiting, rewarding for those who report illegal entry and exit cases, etc.