A glimpse into Hau Giang's peaceful countryside
A rustic and peaceful Hau Giang emerges under the lens of a local photographer.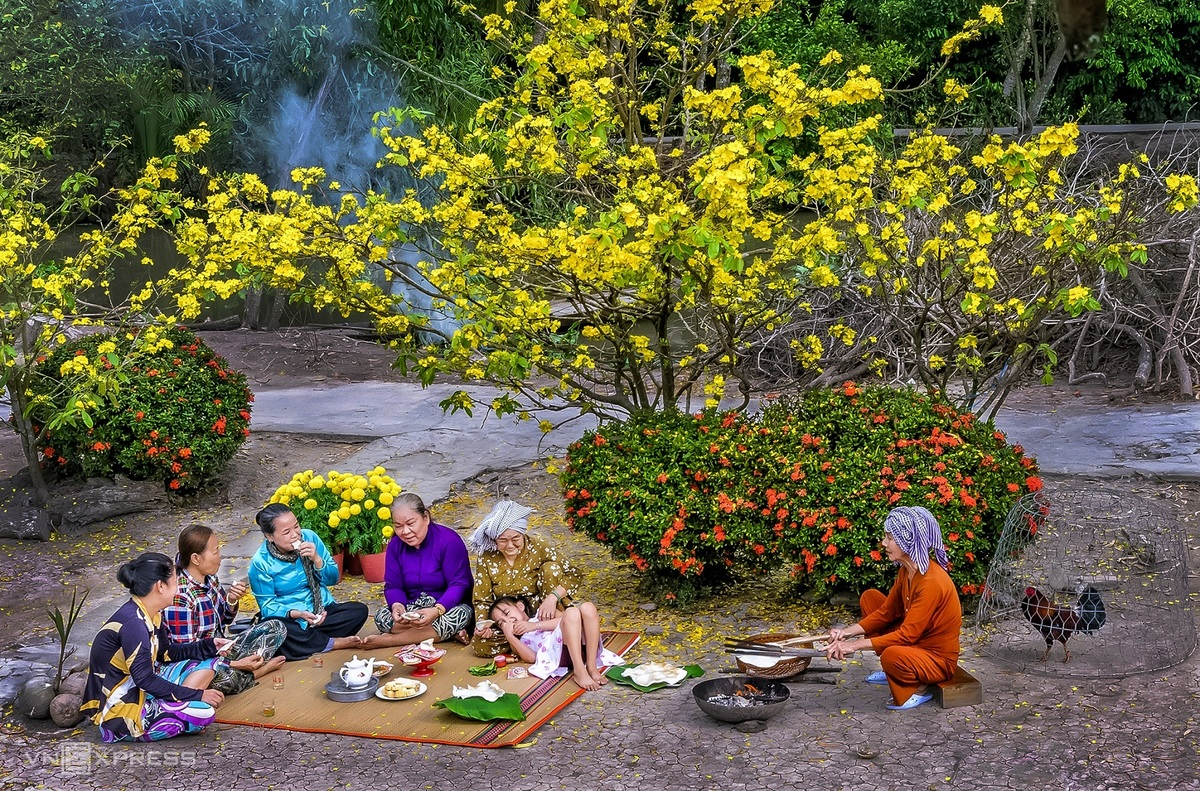 Photo: Le Tuan Anh/ VnExpress
Photographer Le Tuan Anh, from the Mekong Delta Hau Giang province, has a special love for his hometown. During his trips around his home, he records landscapes and the daily life of the local people, all under a gorgeous southern Vietnamese sky.
The above picture features a family in Hoa Luu commune in Vi Thanh town gathers on the New Year occasion in a cozy atmosphere. The picture, titled "The warmth of spring", won consolation prize at Hau Giang photo contest 2019 and was selected for exhibition at the Vietnam Heritage photo contest 2019, VnExpress reported.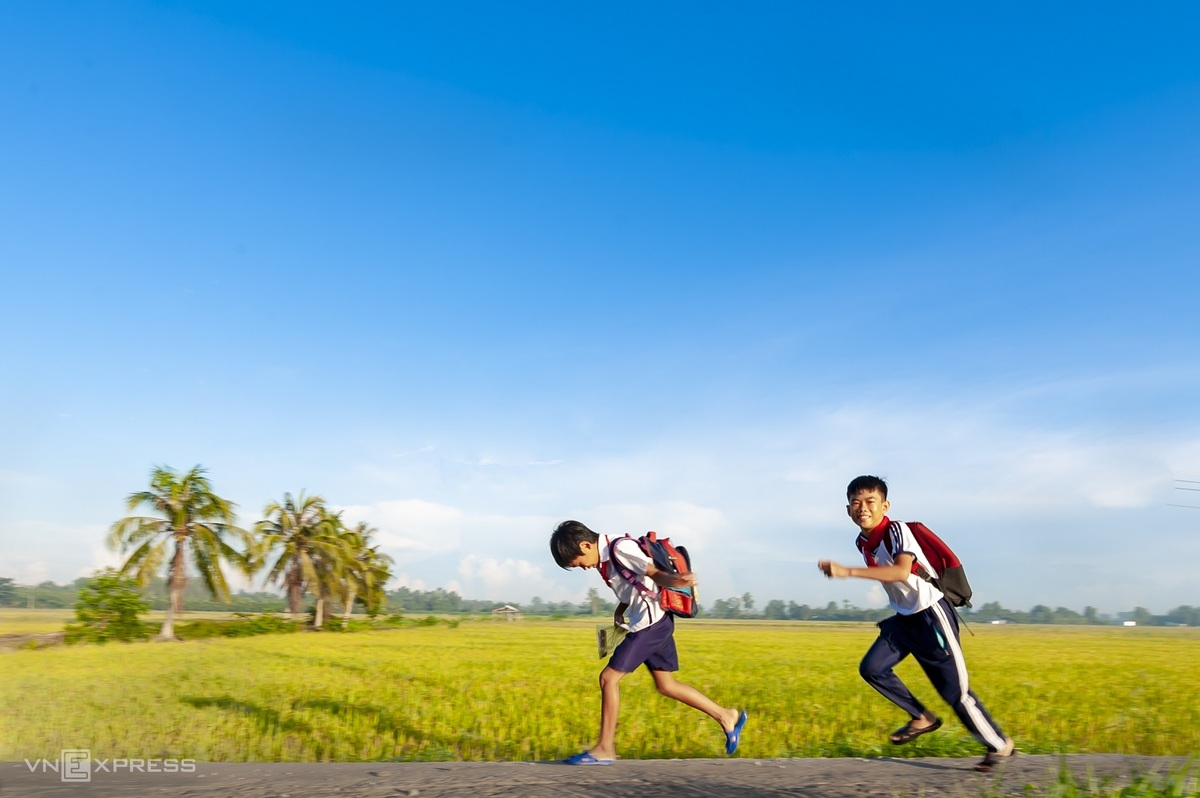 Photo: Le Tuan Anh/ VnExpress
Children go to school through a ripen rice field in Hoa Luu.
"I am interested in taking rustic and tranquil moments as they are parts of my childhood," Tuan Anh said.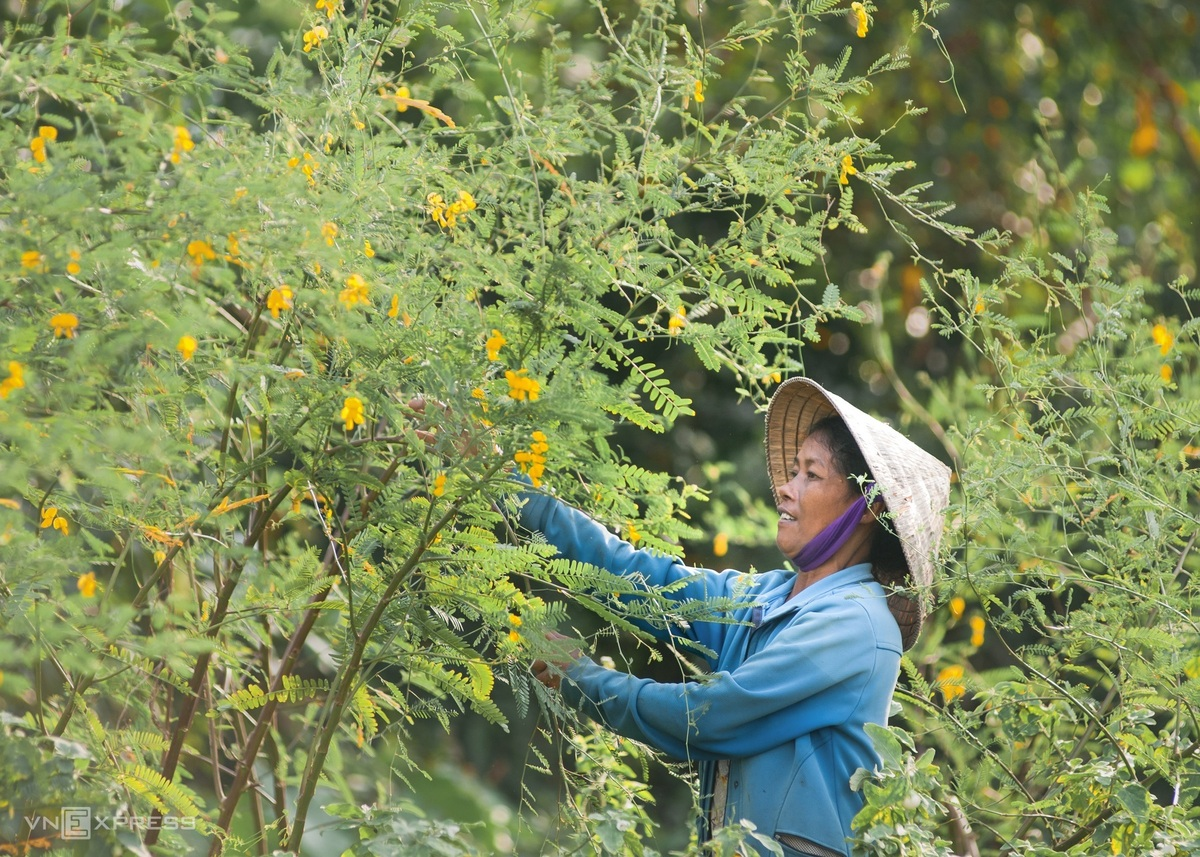 Photo: Le Tuan Anh/ VnExpress
A woman picks bông điên điển (scientifically known as Sesbania sesban). In the flood season, from September to October, điên điển flowers burst into full bloom, tinting the countryside brilliantly yellow. Pickled điên điển is served with thịt kho (Vietnamese caramelized pork) and Henicorhynchus fish hot pot.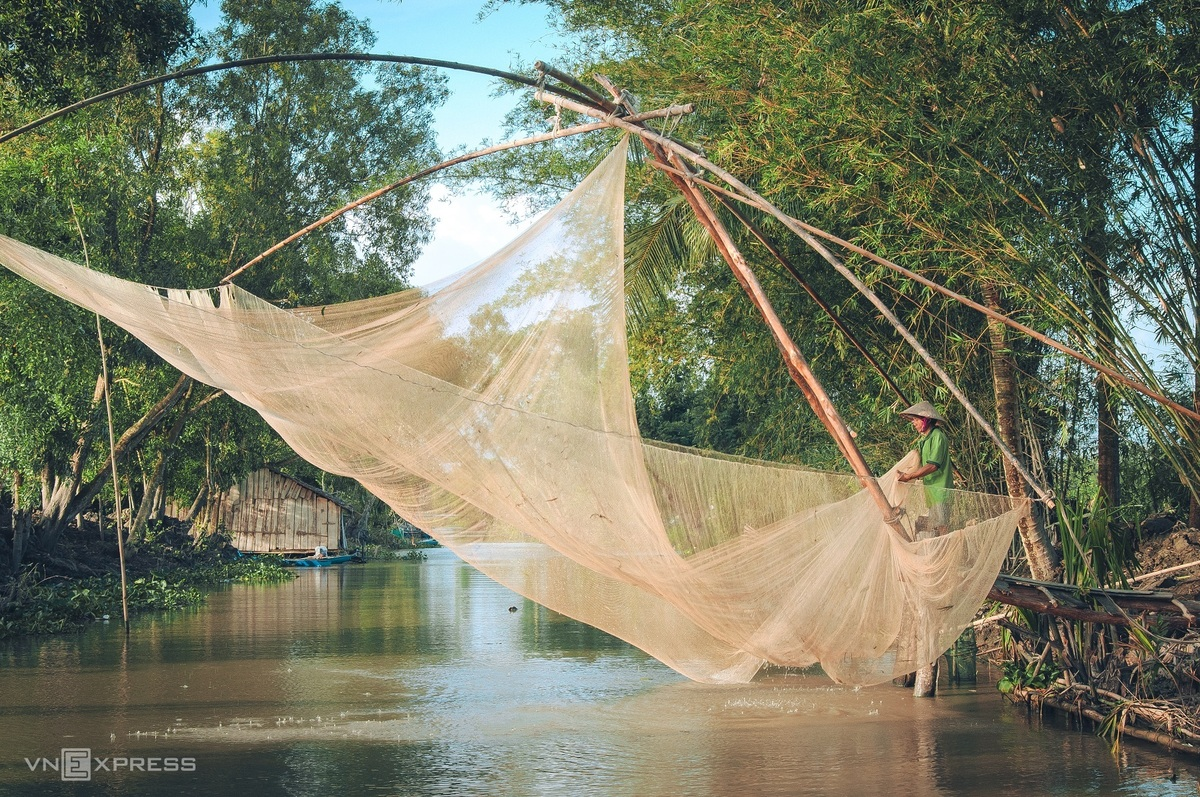 Photo: Le Tuan Anh/ VnExpress
Catching fish by traditional way.
The locals use a large net tightened on old bamboo slats. When water flows, it stretches to form a wide space for fish and shrimp to be trapped. Such a net can be utilized for several seasons.
Photo: Le Tuan Anh/ VnExpress
Bags of rice are piled up after a bumper crop in Hoa Luu commune.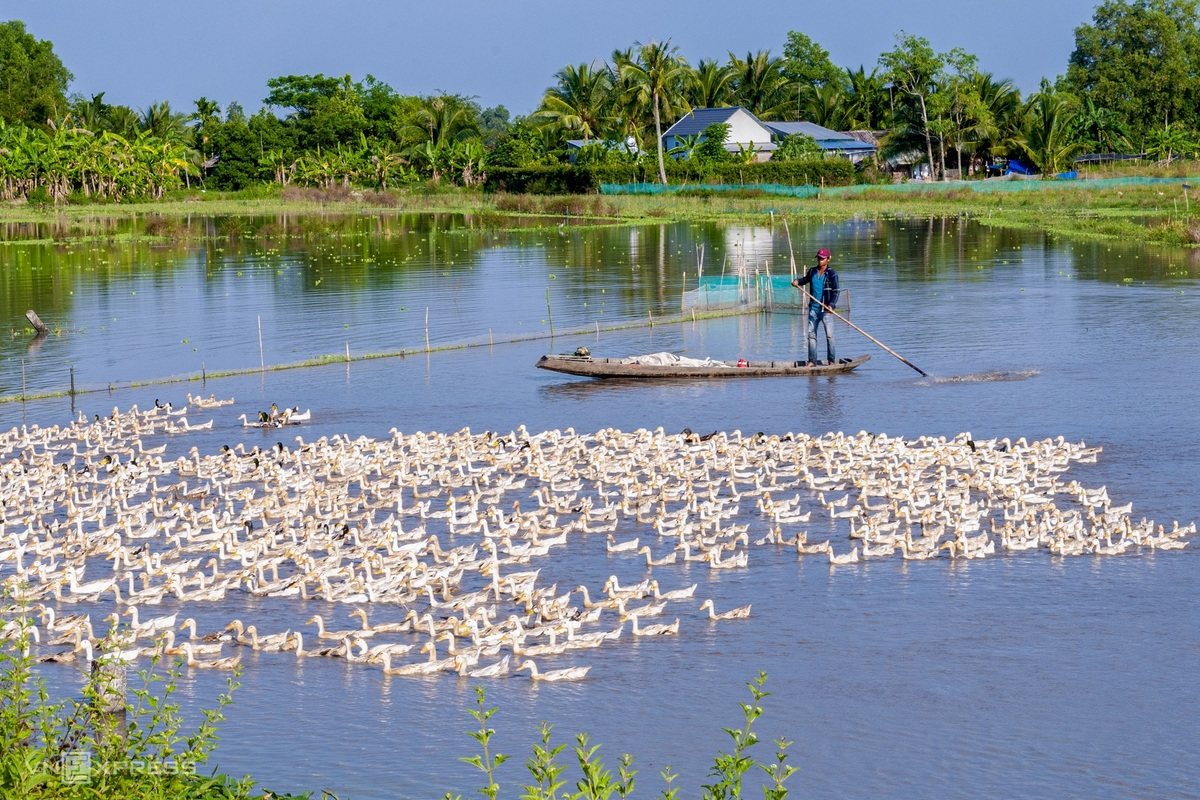 Photo: Le Tuan Anh/ VnExpress
A picture of a man herding ducks on a pond was taken in Tan Tien commune in Vi Thanh town.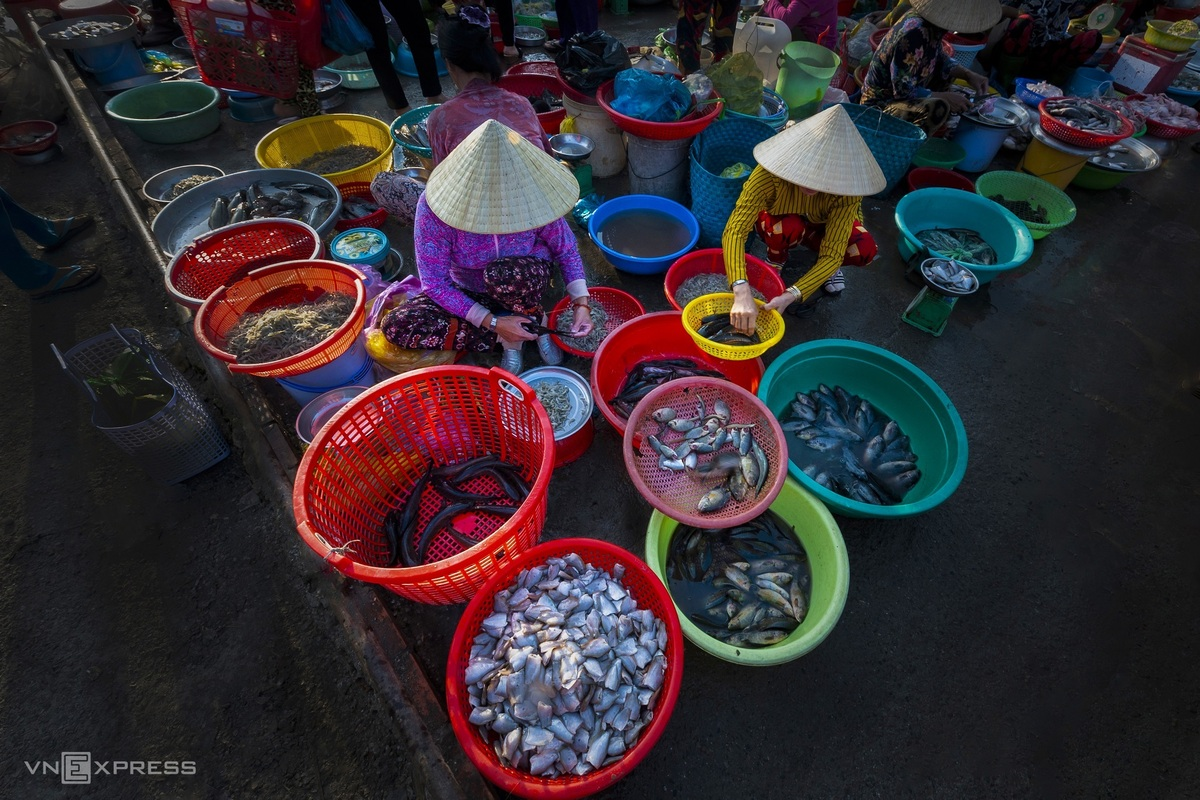 Photo: Le Tuan Anh/ VnExpress
Rural products such as snakehead, perch, and snakeskin gourami are sold at the Vi Thanh market in ward 3, Vi Thanh town. The locals call the market "squatting" one because vendors often squat or arrange small chairs and goods within two to four square meters around themselves. It is held from dawn and the busiest between 6 and 7 a.m.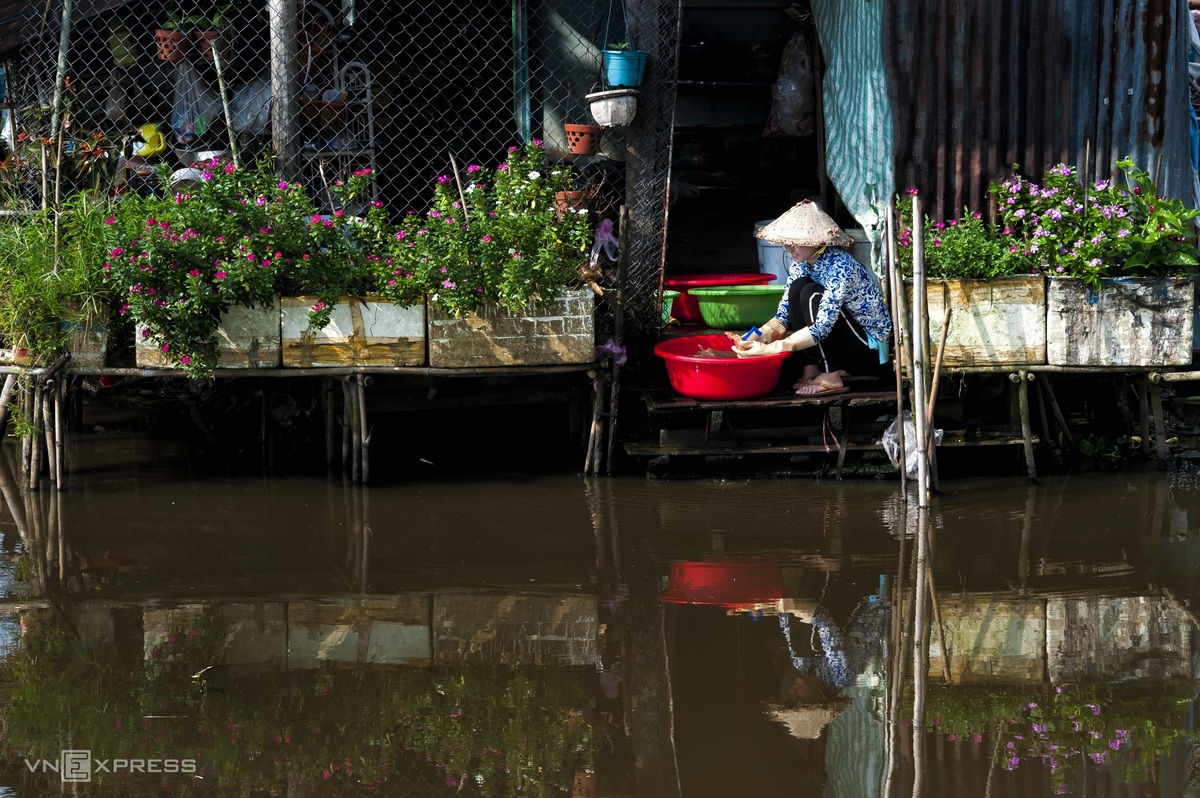 Photo: Le Tuan Anh/ VnExpress
A woman processes fish and washes vegetables on floating houses, a typical trait in the Mekong Delta.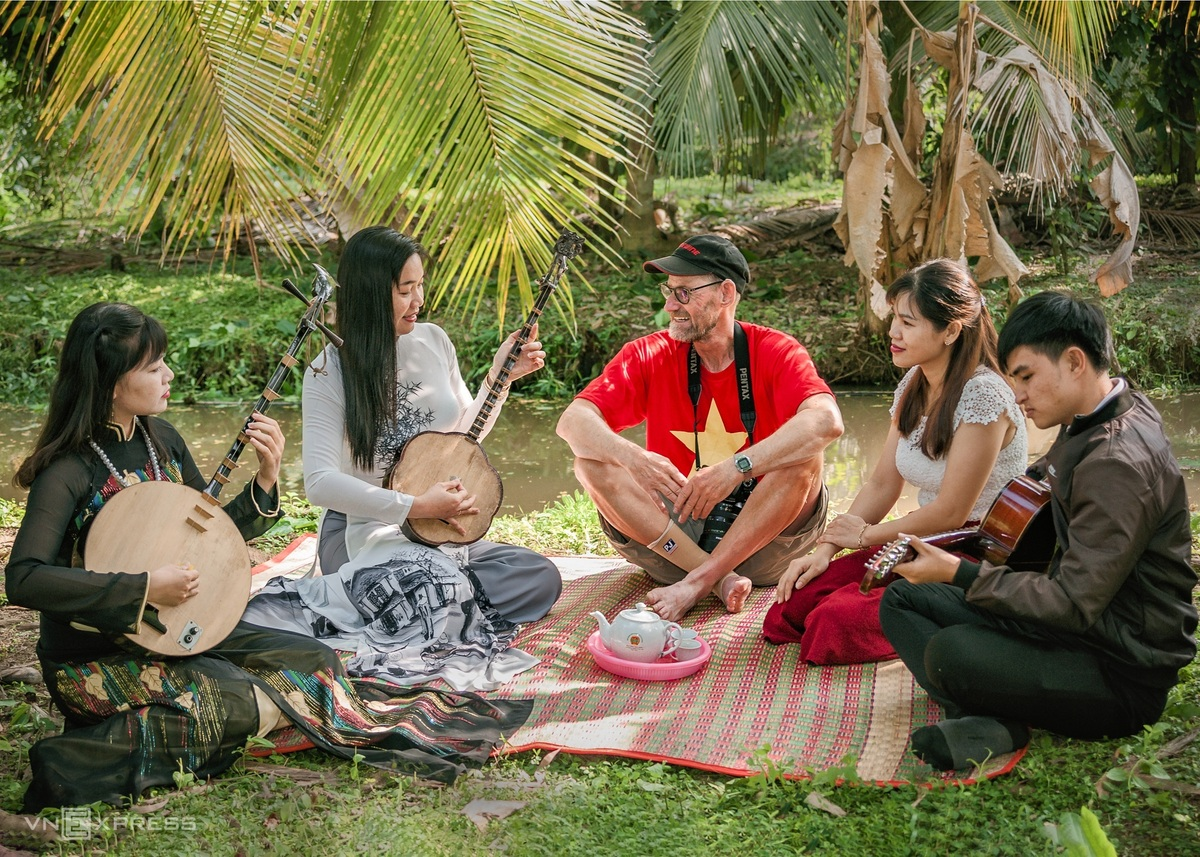 Photo: Le Tuan Anh/ VnExpress
Apart from seeing peaceful landscapes and savoring rural specialties, tourists can enjoy Đờn ca tài tử.
Đờn ca tài tử is an indispensable part of the spiritual activity and cultural heritage of the people of southern Viet Nam. The music and songs evoke the people's life and work on the land and rivers of the Mekong Delta region. Performed at numerous events such as festivals, death anniversary rituals and celebrations, Đờn ca tài tử is thus intimately connected with other cultural practices and customs, oral traditions and handicrafts.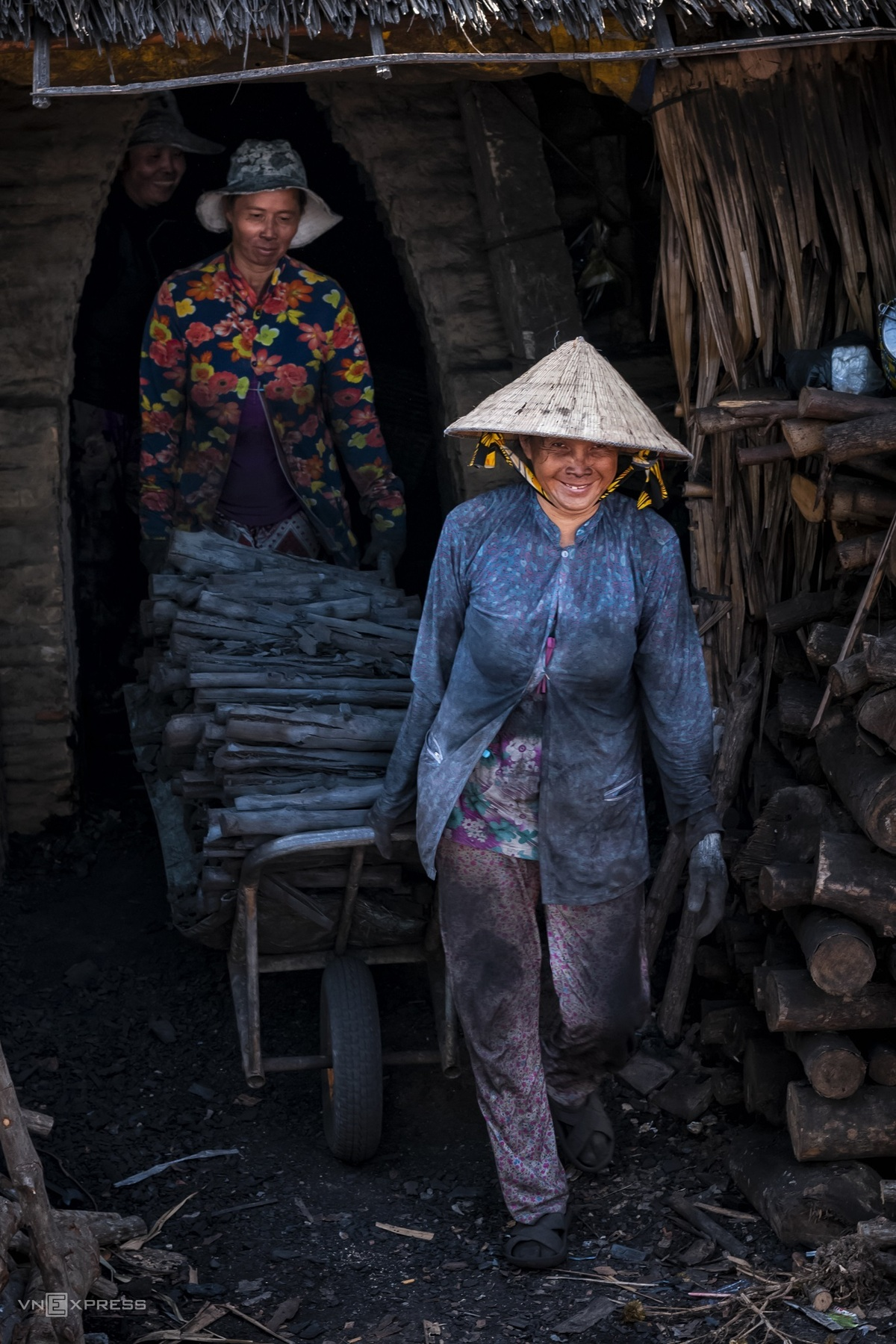 Photo: Le Tuan Anh/ VnExpress
Tuan Anh is also keen on taking photos of traditional craft villages.
The above picture depicts life at a coal-burning village in Tan Thanh commune, Nga Bay town. The profession of burning coals has existed here for 30-40 years.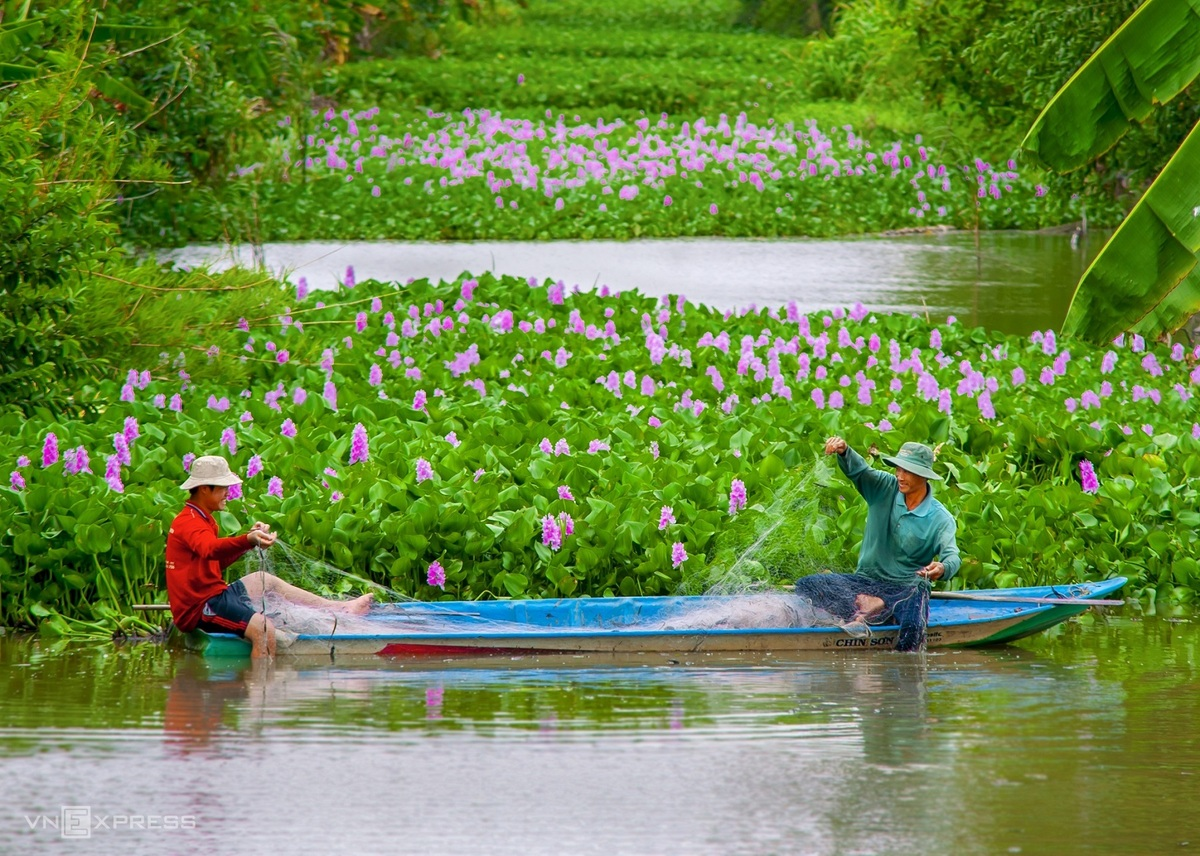 Photo: Le Tuan Anh/ VnExpress
Two men catch fish amid the common water hyacinth background in Vi Trung commune, Vi Thuy district.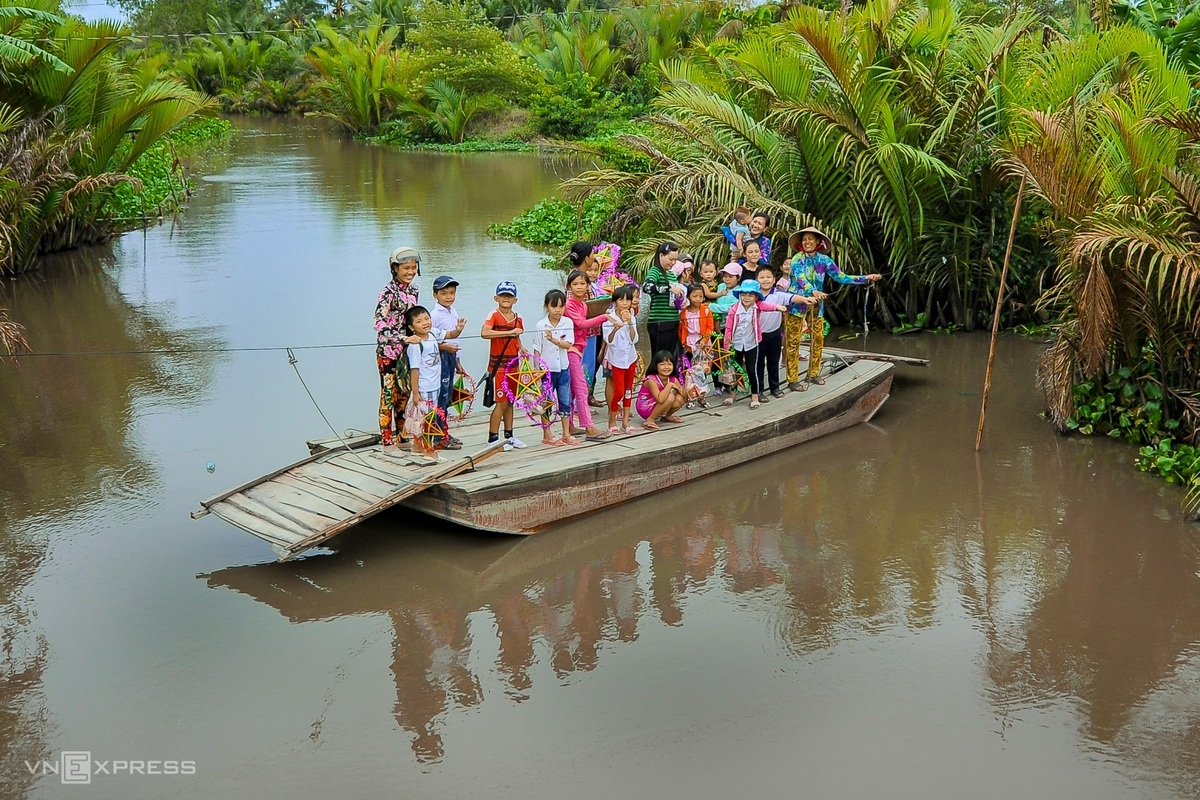 Photo: Le Tuan Anh/ VnExpress
Children cross a river by boat to enjoy the Mid-Autumn Festival 2019 in Vinh Vien commune, Long My district.
How To Go To Hau Giang?
To travel from Ho Chi Minh City to Hau Giang province, you can consider the following two routes:
Route 1: Starting from Ho Chi Minh City, you go to National Highway 1A, go straight to My Yen to Ben Luc Bridge. When crossing the bridge, you run about 14km more to cross Tan An bridge and run straight through Tan An city and to Tien Giang land. You continue to run straight to My Tho city, then turn right along National Highway 1A for another 65km to My Thuan bridge. From here you continue to go another 33km to go to Can Tho territory, passing Can Tho bridge for another 10km and you have reached Hau Giang
Route 2: You start from Ho Chi Minh City to Binh Chanh. Then run straight to HCM-Trung Luong highway for another 50km. After that turn right down to National Highway 1A, going about 5km further to My Tho. Then from My Tho, you follow road No. 1 to arrive. Note for route 2 only for cars
With a distance of 240km from Saigon, visitors can completely travel to Hau Giang by private vehicles. Such as private cars and motorbikes. However, tourists who have experience in Hau Giang tourism often choose to travel by bus or private car to ensure safety and do not spend too much energy on the way. That you will have healthy enough to explore Vietnam tour Hau Giang is more complete.
Where To Stay In Hau Giang?
Most tourists to Hau Giang want to experience a peaceful and simple life in the water area. So they are mostly budget hotels with a price of only a few hundred thousand dongs per night. You can refer to the information of some hotels in Hau Giang such as:
Guesthouse of Provincial Party Committee of Hau Giang
- Address: Nguyen Cong Tru, Ward 1, Vi Thanh City, Hau Giang
- Phone: 0711 3581806
An Phuong Hotel
- Address: No. 58, Nguyen Cong Tru, Ward 1, Vi Thanh City, Hau Giang
- Phone: 0711 3580 212
Phuong Nhu Hotel
- Address: 57, 3/2 Street, Ward 5, Vi Thanh city, HauGiang
- Phone: 0711 3581 469
Phong Nha Hotel
- Address: Doan Thi Diem, Ward 1, Vi Thanh City, Hau Giang
- Phone: 0711 3580 282
Ai Van Hotel
- Address: Tran Hung Dao Street, Ward 1, Vi Thanh City, Hau Giang
- Phone: 0711 3877 548
Thanh Huong Hotel
- Address: 45-4, Hai Thuong Lan Ong, Ward 1, Vi Thanh City, Hau Giang
- Phone: 0711 3876 361