A peaceful Myanmar in memories of a Vietnamese traveler
Myanmar in the memories of a Vietnamese traveler boasted a peaceful, ancient beauty and amicable people.
In recent times, the hot news in Yangon, Myanmar's largest city isn't tourism, it's protests which make the author surprised and regretted about the memories of a peaceful Myanmar during her trips to the country in 2015 and 2017.
Early mornings on those days, strolling along the green tree-covered street, the author had a chance to relish the fresh air and admire pigeons freely flying. The road had almost no people as residents here would go to work late. Flocks of black crows were spotted perching on electric wires or old buildings. Crows are often said to bring unluckiness, but in Myanmar, they are like other types of birds, Vnexpress reported.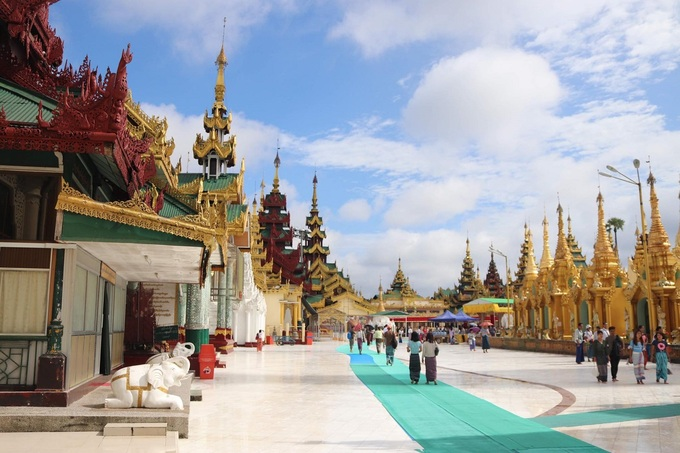 Shwedagon Pagoda, one of the famous tourist attractions in Yangon. Photo: Trung Nghia/ Vnexpress
Myanmar people are mainly Buddhism followers. There are numerous pagodas in Myanmar, including large and modern ones which are equipped with escalators. The pagodas are solemn and clean. Pagoda-goers often donate gold to build statues. The monks often go alms on time, receiving donations in a reverent way.
Amidst the morning, people in national costumes appeared on every street corner. They chewed betel, rode bikes, worn flip flops. Men donned Longchy; meanwhile, women dressed Thummy. They were hospitable and deep into exchanging with tourists. Women always had smiles on their faces. Almost everyone applied traditional Thanakha powder on their faces, instead of elaborate makeup.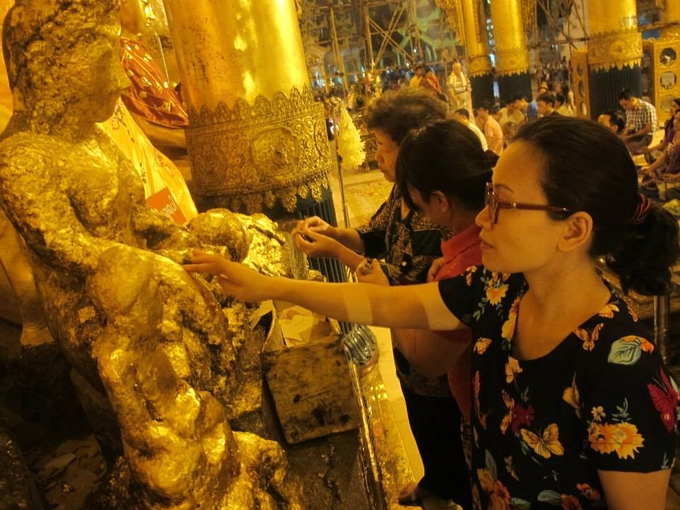 Tourists inlay gold on statues in a pagoda. Photo: Dao Thi Thu Ha/ Vnexpress
In rush hours, a long queue of cars stuck, yet, no sound of horn or shouting was heard. Before changing the lane, drivers turned on the turn signals, waved hands and smiled; meanwhile, drivers in the opposite direction stopped to give way. Residents here moved at a low speed. It seemed that there was nothing forcing them to rush.
Spending all day visiting a market in Yangon, the author still wanted to further explore its space combined between the countryside and the city. Whether the customers purchased goods or not, sellers were friendly. Beef at the market was at a cheap price but really fresh and delicious. Sellers hung large chunks of meat in front of the stalls and then cut and weighed. The author's sister, who had worked in Myanmar for many years, said that traders raised the price when seeing an increase in the demand from foreigners; however, it was still cheaper than that in Vietnam.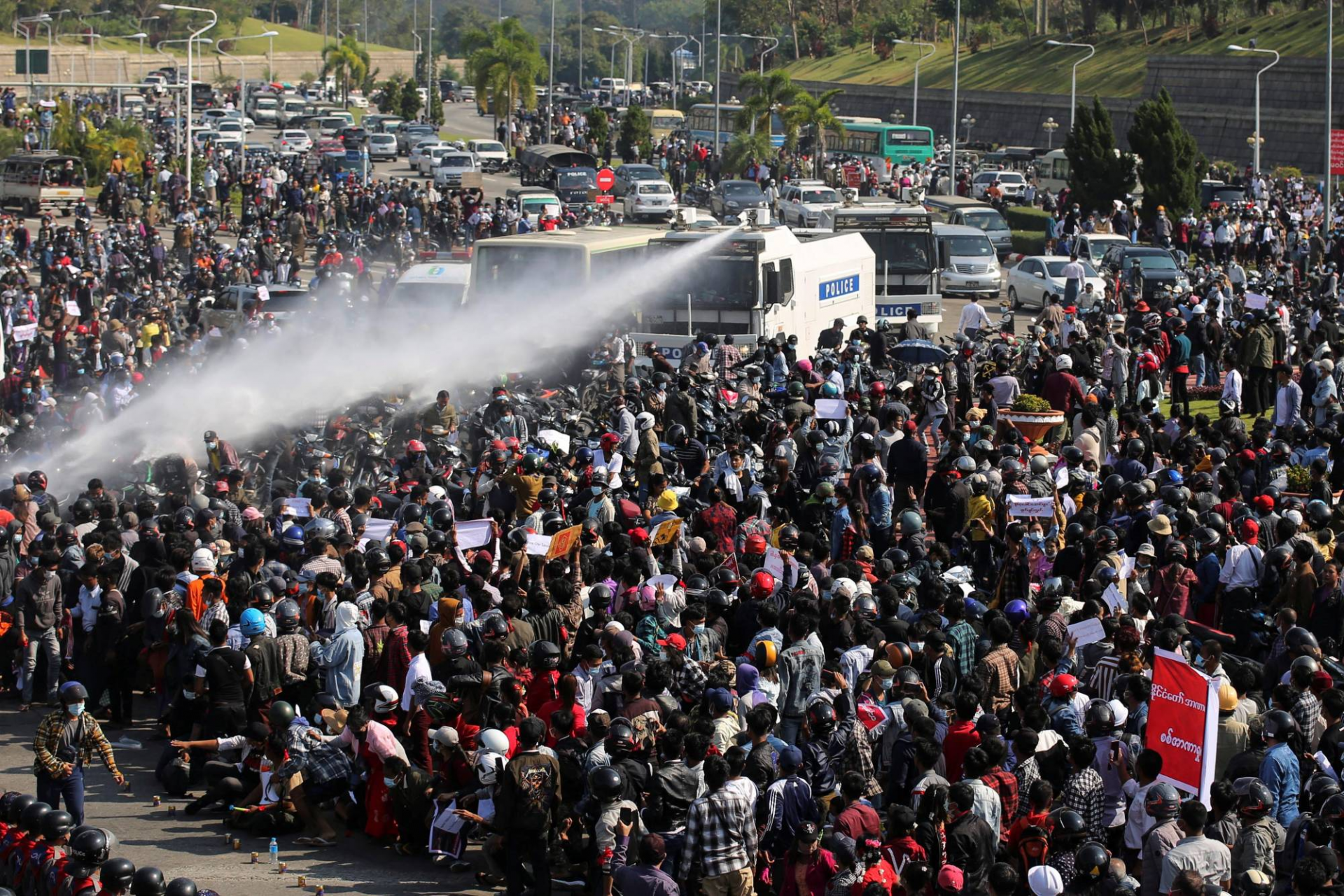 Police fire a water cannon at protesters demonstrating against the military coup and demand the release of Aung San Suu Kyi. Photo: Reuters
The author also visited the gemstone market, embassy, and a number of pagodas such as Shwedagon, Sule, Chauk Htat Gyi, Kyaiktiyo, etc. Among them, Kyaiktiyo Pagoda, where possesses a golden rock on the cliff, left the author unforgettable memories. Tourists jam-packed on a car transporting them to visit the pagoda. Traveling on a 2000 meter-long route, everyone felt like somersaulting as the car ascended the mountain. Arriving at the pagoda, everyone was so tired that could not walk. The locals offered the service of transporting tourists by palanquins.
Finally, the author hopes that the coup in Myanmar would be soon over and she can set foot in the country again.
On Feb. 1, Myanmar's military launched a coup and seized control of the government, less than a decade after the nation began its transition to democracy.
Myanmar's elected leader Aung San Suu Kyi was arrested, and other top figures from the ruling party were detained. An outpouring of citizens has taken to the streets to protest the coup and demand that the civilian government be restored.
The number of protesters killed in Myanmar since the military coup has surpassed 320, according to the country's Assistance Association for Political Prisoners, which said its total only included documented cases and that the real number was likely to be much higher.