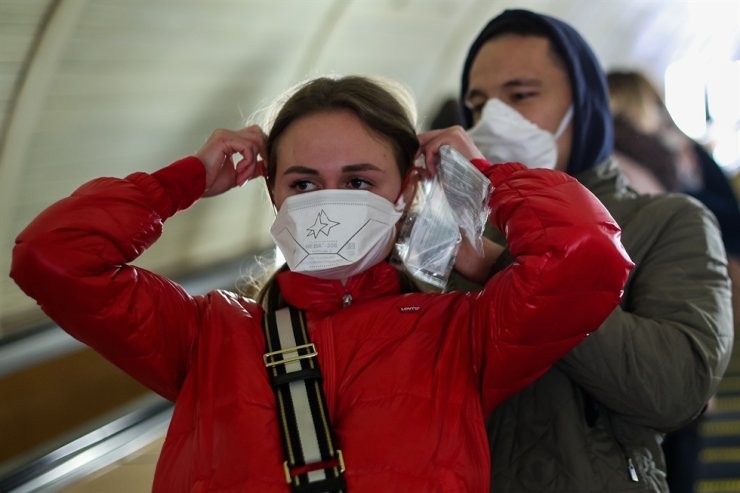 A young woman puts on a face mask as she rides an escalator on the Moscow Underground. As of March 17, Russia had confirmed more than 100 cases of the novel coronavirus, with more than 50 cases in Moscow. Mikhail Tereshchenko/TASS
A team of Chinese researchers, led by Wang Xinghuan from the Centre for Evidence-Based and Translational Medicine at Zhongnan Hospital of Wuhan University, conducted the study.
They took blood group patterns of patients in Wuhan and Shenzhen and compared them to local healthy populations. They found that blood type A patients showed a higher rate of infection and tended to develop more severe symptoms.
In the general population, type O blood (34 percent) is more common than type A (32 percent). But in the infected, this was reversed, with type O people at 25 percent and type A at 41 percent. The controversial correlation has yet to be scrutinised by other academics in peer review and the researchers are unable to explain why infection varies by blood type.
Researchers in China assessed 2,173 people who had been diagnosed with the coronavirus, including 206 people who died after contracting the virus, from three hospitals in Hubei.
Academics compared the data of the infected Wuhan patients with 3,694 non-infected people in the same region.
Of the 206 patients in the study who died, 85 had type A blood, equivalent to 41 per cent of all deaths.
In the healthy Wuhan population, a city of 11 million people, 34 per cent of people are type A.
In the study cohort, 52 of the people who died were type O, making up a quarter of all deaths. Under normal conditions just 32 per cent of people are type O.
The figures for all infections, not just deaths, are 26 per cent and 38 per cent for type O and type A, respectively.
The researchers point out that a larger study group would make the figures more reliable.
While the researchers noted that the study was preliminary and more work was needed, they urged governments and medical facilities to consider blood-type differences when planning mitigation measures or treating patients.
The coronavirus pandemic has infected almost 200,000 people and killed more than 7,800 worldwide. More than 3,000 deaths were in China, the disease's ground-zero.
"People of blood group A might need particularly strengthened personal protection to reduce the chance of infection," the researchers wrote. They said patients with type A blood might need to receive more vigilant surveillance and aggressive treatment.
The researchers add: 'It might be helpful to introduce ABO blood typing in both patients and medical personnel as a routine part of the management of Sars-CoV-2 and other coronavirus infections, to help define the management options and assess risk exposure levels of people'.
Gao Yingdai, a researcher with the State Key Laboratory of Experimental Haematology in Tianjin, told South China Morning Post: '[The study] may be helpful to medical professionals, but ordinary citizens should not take the statistics too seriously.
'If you are type A, there is no need to panic. It does not mean you will be infected 100 percent.
'If you are type O, it does not mean you are absolutely safe, either. You still need to wash your hands and follow the guidelines issued by authorities.'
The difference in blood groups depends on attachments to red blood cells called antigens. The presence, or absence, of these molecules dictates what blood type a person is.
Previous research has indicates people with types A, B and AB blood have an increased risk of coronary heart disease compared to people with type O blood.
Other research claims people with blood type A have a 24 per cent higher risk of heart attack than people than people with AB or O blood types./.
VNF/Korea Times/SCMP