Air travel demand rises again as Covid-19 controlled
The travel demand has resumed as the Tet holiday draws near and the latest Covid-19 outbreak is gradually put under control.
Vietnam Airlines and its subsidiaries, Pacific Airlines and Vietnam Air Services Company (VASCO), are recording a load factor of 90 percent on some routes, according to VNExpress.
Flights from Ho Chi Minh City to the Central Highlands town of Buon Ma Thuot are 93 percent full, while the rate for flights to the central town of Cam Ranh in Nha Trang is 83 percent.
Flights from Hanoi to the central towns of Dong Hoi, Hue and Cam Ranh are 96 percent, 93 percent and 83 percent full.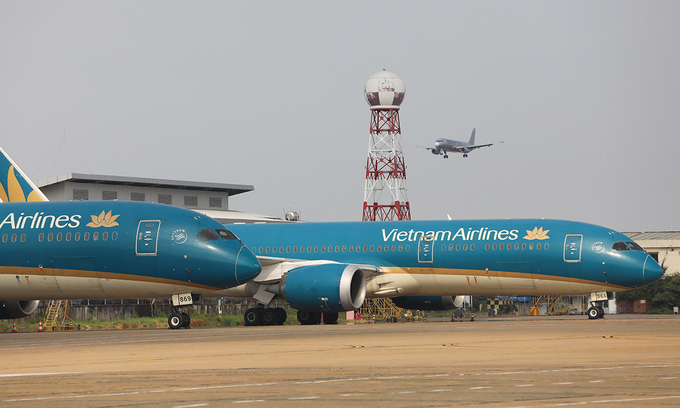 Vietnam Airlines aircrafts seen at Tan Son Nhat International Airport in Ho Chi Minh City in January, 2021.
Photo by VnExpress/Quynh Tran.
Most passengers are booked between Friday and Monday, just before the seven-day Lunar New Year holiday begins on Wednesday.
This is in stark contrast with January-end when the carriers saw a surge in the number of tickets being canceled and rescheduled after a new Covid-19 wave began in northern Vietnam. Flights to Hai Phong City and Hanoi were particularly affected.
Vietnam Airlines and its subsidiaries will stick to their plan to sell 2.4 million seats for the holidays.
The Civil Aviation Authority of Vietnam (CAAV) has recently increased the number of night flights (from 12 a.m. to 5.59 a.m.) at Tan Son Nhat International Airport in Ho Chi Minh City from 32 per hour to 36 to meet rising travel demand.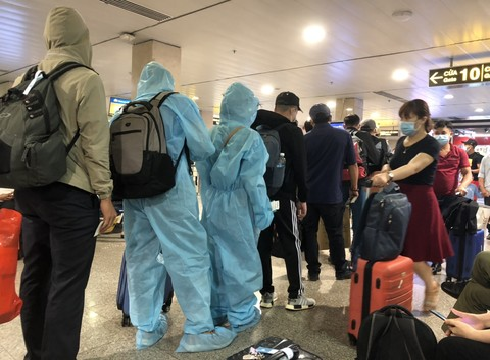 Passengers check-in at Tan Son Nhat International Airport. Photo: Congan
Vietjet recently offered 100,000 new promotional tickets.
Lunar New Year (or Tet), the country's biggest and most important holiday, will peak on February 12 this year. The holiday often sees a large number of people returning to their hometowns to reunite with their families.
The Health Ministry on Monday confirmed four more Covid-19 cases related to a previous one detected at a baggage handler of HCMC's Tan Son Nhat International Airport.
The new patients are all men that also work as baggage handlers at the airport and belong to the same team as "patient 1979," a 27-year-old man who lives in Binh Duong Province that borders HCMC and was confirmed positive with coronavirus over the weekend.
Aged between 28, 30, 32 and 41, the four new infectees all live in HCMC and they have only contacted each other at work and did not meet any passengers.
With the four new patients, HCMC has now recorded six locally transmitted cases, counting from January 28 when community transmissions returned to Vietnam after 55 clean days with first cases detected in northern Hai Duong and Quang Ninh provinces.
In the past 11 days, Vietnam has registered 422 domestic cases in 12 cities and provinces. Hai Duong, Quang Ninh and Hanoi top the list with 309, 47 and 23 cases each.
Binh Duong has got six infections while Gia Lai has 19, Dien Bien three, Bac Ninh two, Hoa Binh two, and Hai Phong, Bac Giang, Ha Giang one each.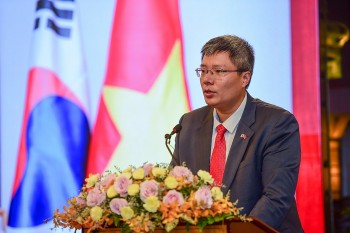 Viet's Home
Tran Hai Linh, member of the Central Committee of the Vietnamese Fatherland Front, chairman of the Vietnam-Korea Business & Investment Association (VKBIA) shared with the Vietnam Times about strengthening the capacity to promote Vietnamese culture to the world.