9 new cases of COVID-19 during the last 24 hours. (Photo: Vietnam Plus)
9 new cases of COVID-19 during the last 24 hours
Vietnam recorded five new COVID-19 cases from 6 am to 6 pm on February 6, including four domestically-transmitted and one imported. The four domestically-transmitted cases were detected in the northern provinces of Bac Ninh and Quang Ninh, the southern largest economic hub of Ho Chi Minh City and southern Binh Duong province, according to the National Steering Committee for COVID-19 Prevention and Control. Meanwhile, the imported case has been quarantined upon his arrival in the Mekong Delta province of Vinh Long.
Four locally-transmitted COVID-19 cases were also reported on the morning of February 7, three were in northern Hai Duong province - the country's largest COVID-19 hotspot, and one in the Central Highlands province of Gia Lai.
The country has recorded 1,985 SARS-CoV-2 infections so far. Of the total, 1,095 were locally-transmitted cases. According to the Treatment Sub-committee under National Steering Committee for COVID-19 Prevention and Control, 1,468 COVID-19 patients have recovered. Thirty- five died from complications related to the disease. Among the patients still under treatment, ten have tested negative for the virus one, three twice, and two thrice. There are 83,104 people who had close contact with confirmed cases or coming from the pandemic-hit regions under quarantine at present.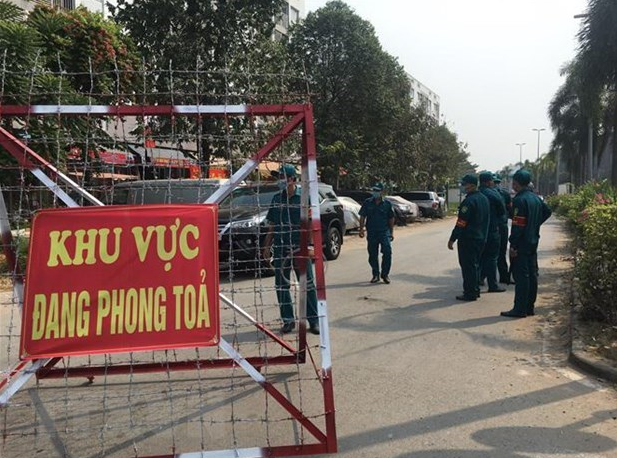 Localities hasten efforts to bring COVID-19 resurgence under control (Photo: VNA)
Localities hasten efforts to bring COVID-19 resurgence under control
Ha Long - Quang Ninh: As of the end of February 5, Ha Long city in northern Quang Ninh province, one of the two localities where the new outbreak began, had collected more than 8,000 samples from four high-risk wards, Ha Khau, Gieng Day, Bai Chay, and Hung Thang, which are all related to five COVID-19 cases in Ha Khau.
Apart from testing local residents, Ha Long also prioritizes giving tests for all medical staff, inpatients and outpatients in all hospitals, high-risk workers in healthcare establishments, people coming from outbreak-hit areas and those with close contact with them, personnel working in the frontlines, sellers in markets, drivers from outbreak-hit areas, and the ones guarding markets and shopping centers. The city plans to complete widespread testing before February 8 so as to identify safe areas for Lunar New Year celebrations.
Gia Lai: In the Central Highlands province of Gia Lai, 4,134 samples had been taken for testing as of 5 pm on February 5. They include 18 positives for the coronavirus SARS-CoV-2 and 3,270 others negative while the remaining 846 are still waiting for testing results. Nguyen Thi Thanh Lich, Vice Chairwoman of the provincial People's Committee and deputy head of the Gia Lai steering committee for COVID-19 prevention and control, said efforts have been boosted on February 6 to collect samples from all residents in Ayun Pa township and Ia Pa district, two hotbeds in Gia Lai, in order to contain the outbreak as soon as possible.
Dien Bien: In the northwestern province of Dien Bien, which has registered three locally-infected cases, the healthcare center of Dien Bien Phu city has been chosen to become a temporary hospital for COVID-19 treatment. Dao Xuan Co, Deputy Director of the Hanoi-based Bach Mai Hospital, told local authorities at a meeting on February 6 that his hospital has sent personnel and equipment to support the newly designated establishment. A delegation from the Hanoi-based National Institute of Hygiene and Epidemiology also came to Dien Bien on February 6 to help the province improve testing capacity.
Binh Duong: An apartment block in Vinh Phu ward of Thuan An city in the southern province of Binh Duong has been placed on lockdown since February 6 morning to trace the contacts of a new COVID-19 case living there.
Vice-Chairman of the provincial People's Committee Nguyen Loc Ha said the new patient works at Tan Son Nhat International Airport in nearby Ho Chi Minh City and doesn't have any links with the local cases related to northern Hai Duong province, one of the two localities hit by the latest outbreaks. The new infection, born in 1993, was confirmed by the HCM City Pasteur Institute on February 6 morning and is now quarantined and treated at the Cu Chi COVID-19 treatment hospital in HCM City.
Valerie Mai