All foreign experts entering Ho Chi Minh City retest negative for Covid-19
A total of 952 foreign experts in Ho Chi Minh City tested negative for the novel coronavirus after their samples were retested as part of a mass screening campaign.
A total of 952 foreign experts in Ho Chi Minh City tested negative for the novel coronavirus after their samples were retested as part of a mass screening campaign.
Among them were 200 Japanese experts who had entered HCMC since Jan. 1 and are currently working in the city, according to Vnexpress.
Previously, the Ho Chi Minh City People's Committee asked relevant agencies to re-test all foreign experts who entered the city without mentioning a cutoff arrival date.
The committee assigned the health sector to coordinate with the Department of Labor, Invalids, and Social Affairs to organize the re-testing of "foreign experts who entered to work in the city."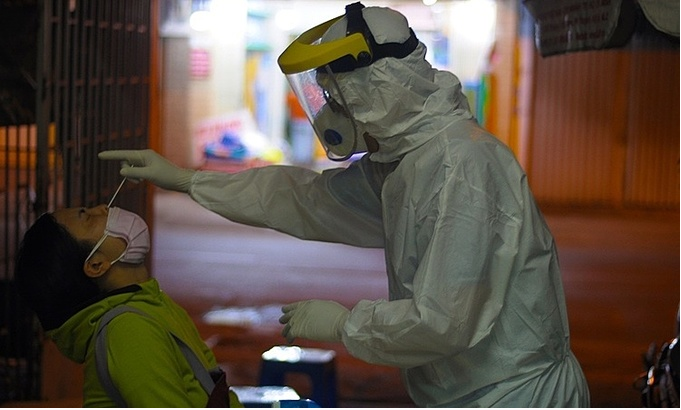 A worker from Gia Lai has her sample taken by a medic in HCMC on February 19, 2021. Photo by VnExpress/Giang Huy.
The re-testing has been initiated after the death of "Patient 2229", a 54-year-old Japanese expert working for Mitsui Vietnam Co. Ltd.
He arrived on Jan. 17 at the Tan Son Nhat International Airport and was quarantined in Ward 2, Tan Binh District from Jan. 17 to 31, during which he tested negative twice for the novel coronavirus.
He later took a flight to Hanoi and underwent self-quarantine at Somerset West Point since 2 p.m., Feb. 1. From February 1 to 13, he went to work at the company's branch in Hanoi and returned to the serviced apartment building every day.
Around 7 p.m. on Feb. 13, he was found dead in his Somerset West Point room. He tested positive for the novel coronavirus, but the cause of his death has yet to be confirmed.
After gene sequencing, the Health Ministry announced the deceased Japanese was infected with a new virus strain, known as CAL.20C, that had never been reported in Vietnam.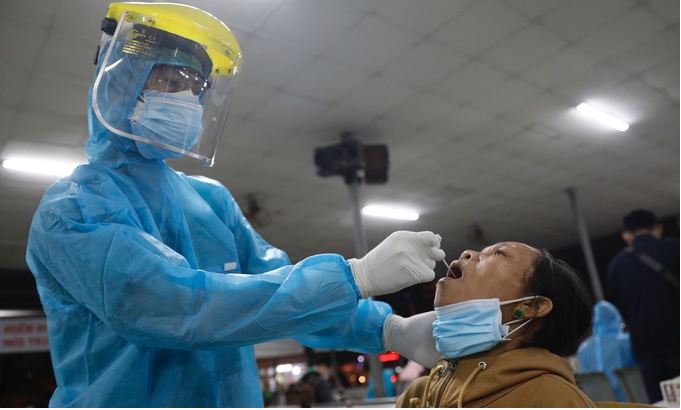 A medical staff takes a sample of a resident in HCMC for Covid-19 testing, February 2021. Photo by VnExpress/Le Cam.
The strain originated from a group of viruses tracked from Europe to New York early in the pandemic and was first detected in California during July. The virus strain has been spreading fast in many U.S. states and has mainly surfaced in South Korea, Taiwan, and India.
Under current regulations, foreigners entering HCMC are quarantined for 14 days and tested at least twice during the period.
Vietnam has suspended all inbound international commercial flights since March 2020, though the government has been operating repatriation flights to bring home Vietnamese citizens stuck abroad amid the pandemic, and has allowed special flights to carry foreign experts and investors to the country.
In the country's latest outbreak that began on Jan. 28 after a 55-day clean streak, HCMC has recorded 36 Covid-19 cases, of which 35 are related to the Tan Son Nhat airport and one with coronavirus hotspot Hai Duong Province.
The city has not recorded any community transmission for the past three weeks, with most non-essential services allowed to resume March 1, excluding karaoke parlors, dance clubs, bars, and gyms.
Ho Chi Minh City mandates self-isolation for people from Hai Duong outbreak areas.
Though Ho Chi Minh City no longer isolates those entering the city from Hai Duong at centralized quarantine zones, people coming from 16 Hai Duong locations where Covid-19 patients were recorded in the latest outbreak must still self-isolate, according to the HCMC Center for Disease Control (HCDC).
The 16 locations are Cong Hoa Ward, Van Duc Ward, Sao Do Town, An Lac Commune, Hung Dao Commune, Nam Tran Commune, Lai Cach Town, Tan Truong Commune, Cam Dien Commune, Luong Dien Commune, Thanh Binh Ward, Nhi Chau Ward, Kim Lien Commune, Kim Dinh Commune, Ke Sat Town, and Thanh Lang Commune.
Vietnam reported seven new COVID-19 cases to 6 pm of March 3, including two imported ones in the Mekong Delta province of Kien Giang and five found in the northern province of Hai Duong.
According to the National Steering Committee for COVID-19 Prevention and Control, the imported cases were sent to quarantine immediately on February 28 after entering Kien Giang through the Ha Tien border gate. They are being treated at a medical center in Ha Tien city. Meanwhile, the five patients in Hai Duong were diagnosed positive for SARS-CoV-2 while undertaking quarantine at concentrated sites.
On the morning of March 4, the Ministry of Health announced no new COVID-19 cases. The total number of community infections over the past month stays at 873. There are 10 provinces and cities that have not recorded new cases in the community for 20 days, including Hoa Binh, Dien Bien, Ha Giang, Binh Duong, Hung Yen, Bac Giang, Gia Lai, Bac Ninh, Quang Ninh, Ho Chi Minh City.