Ambassador confident of stronger Vietnam-India partnership
Vietnam is clearly an indispensable partner in our Indo-Pacific Vision, based on our shared values and interests in promoting peace, stability and prosperity of our region, says Indian ambassador to Vietnam Pranay Verma.
Indian ambassador to Vietnam Pranay Verma in an exclusive interview he granted to VOV on the occasion of the Indian Independence Day (August 15). Source: VOV
Ambassador Pranay Verma spoke of the Vietnam-India relationship, bilateral cooperation as well as his priorities during the working term in Vietnam, in an exclusive interview he granted to VOV on the occasion of the Indian Independence Day (August 15).
VOV: Thank you very much for joining our interview today! As the Ambassador of the Republic of India to Vietnam since 2019, could you share with us your feelings about the capital city of Hanoi and Vietnam as well? What are your priorities during your term in Vietnam?
Amb. Verma: I have completed a year as the Ambassador of India to Vietnam this August. The last one year has been a great experience. Hanoi is an amazingly vibrant place, with a rare blend of history, tradition and modernity. I find people very warm and positive towards India, which is really great to see.
I have travelled to many provinces of Vietnam during the last year and have seen the country endowed with so much of history and natural beauty, whether mountains or coastal beaches. In many ways Vietnam is like India where we have persity of topography. There is also a deep cultural history that we share which is visible when one travels around in Vietnam.
The most important priority during my term here is to implement the vision of India-Vietnam Comprehensive Strategic Partnership. There are many aspects to it. First, we would be keen to strengthen our development partnership that can make a difference in the lives of the common people, either through capacity building programmes or through quick impact development projects that we are undertaking in many provinces.
Second, we need to bring our people closer together. For this, connectivity is important. For long, there was a problem of direct connectivity between our two countries. To overcome that, we started direct flights last year. Unfortunately, because of COVID-19 that has got disrupted, but we hope to resume these connections as soon as the situation returns to normal.
Connectivity is an important priority for us not only to promote tourism but also to bring our businesses closer together. Trade and business engagements are a very important aspect of our engagement with Vietnam and we would definitely work on taking our trade engagement with Vietnam to even more substantive levels.
Thirdly, we would like to continue building on our robust defence cooperation which is an important aspect of our strategic partnership. In addition to our regular defence exchanges, there is significant focus on defence industrial cooperation, where defence Lines of Credit from India is helping build Vietnam's defence industrial capacities.
Lastly, an important priority for us is to further enhance our regional cooperation and multilateral engagement, particularly as both India and Vietnam are going to be concurrently non-permanent members of the UN Security Council. There is therefore a wide scope for multilateral cooperation between our two countries. We would also like to work together for regional peace and prosperity based on the deep convergences between India's Indo-Pacific Vision and Vietnam's ASEAN Outlook on Indo-Pacific.
VOV: Year 2020 has to date been a turbulent year, especially with COVID-19 ravaging worldwide. In such circumstances, how do you assess cooperation between Vietnam and India? What are the highlights of bilateral ties?
Amb. Verma: Indeed, COVID-19 has created many disruptions. However, that has not prevented us from engaging with each other, including at the highest levels. As you would be aware, Indian Prime Minister Narendra Modi spoke with Vietnamese Prime Minister Nguyen Xuan Phuc on telephone on April 13 and held detailed discussion not only on COVID-19 situation but also other aspects of our bilateral relationship.
We are also sharing a lot of COVID-19 related experiences with each other. We have organized on-line capacity building programmes related to COVID-19 management in which we have invited Vietnamese participants to join. Our military medical departments have also held tele-conferences to learn from each other's best practices about COVID-19 management.
Our businesses are also reengaging after initial disruptions. I have already participated in about six or seven business conclaves in the last few months which have been organized online by both sides' business chambers. It is good to see businesses showing interest in reengaging through online platforms, and we hope this trend will further grow.
Apparently our development partnership is going on. Recently, we signed an agreement for setting up an Advanced IT Training Centre at the Post and Telecommunications Institute of Technology in Ho Chi Minh City, with Indian assistance of over US$1 million to create a state-of-the-art facility for IT training and skilling. This will not only help IT professionals but also local Vietnamese industries which are seeking to build their digital capacities.
On another important front of our development partnership, the Indian archaeological experts have continued their heritage conservation project in My Son in Quang Nam province and in course of their conservation project, have found some magnificent icons of our civilizational interaction, including a 9th century Shiva Linga.
Similarly, our defence partnership continues to grow. Of our defence Lines of Credit – the first one of US$100 million is already under implementation for building 12 high-speed patrol boats for Vietnam. The first boat is expected to be delivered from India this year. Seven of these boats will be built in Vietnam, for which construction is likely to commence in the near future.
Our two countries are also having good engagement in multilateral domain by continuing exchanges in the context of ASEAN as well as many global and regional issues.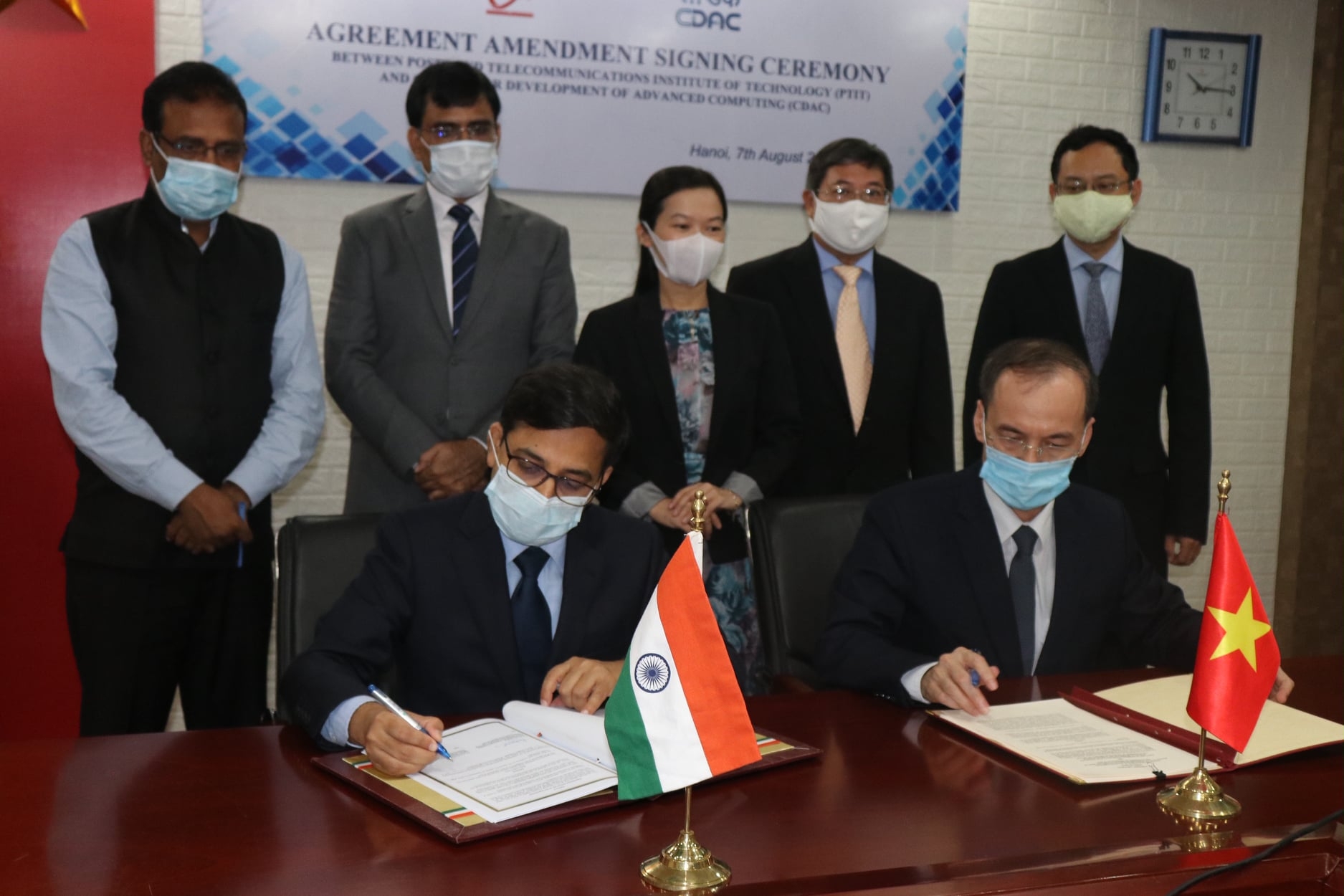 Ambassador of India to Vietnam Pranay Verma and Vu Van San, President of Posts and Telecommunications Institute of Technology (PTIT) of Vietnam signed an Addendum to the Agreement for implementation of a project to set up a centre for advanced IT Training at Ho Chi Minh City. Source: Indian Embassy
VOV: Fighting COVID-19 has become a topic of global concern these days. How is your assessment about Vietnam's coronavirus containment efforts? What do you think of the sharing of a vaccine if it is successfully manufactured?
Amb. Verma: Vietnam has managed the COVID situation really well. It is one of the countries which took very early and decisive actions and maintained information flow about the pandemic in a very transparent manner. The country also took very concerted actions to ensure widespread testing, contact-tracing, quarantining and a whole-of-Government and whole-of-society mobilization against the pandemic.
It is true that many countries are racing against time to produce vaccines against the SARS-CoV-2 virus. India is also actively engaged in researching for vaccines. Our two vaccines have already reached human trial stage and the initial feedback is encouraging.
I think once the vaccine is found, it will be a 'global good' for the humanity. In fact, the effort today has to be not just about finding or producing the vaccine but having a vaccine which can be shared and shared affordably with all the people in the world. The COVID pandemic is a global challenge and therefore, has to have a global response with global benefits from global actions.
VOV: At the 16th ASEAN-India Summit in Thailand last November, Prime Minister Modi said that India is promoting its "Act East" policy and "Indo-Pacific vision" with ASEAN centrality as a core principle. What is Vietnam's position in India's strategy and India's general policies toward regional peace and security?
Amb. Verma: Act East Policy is one of our fundamental visions in engaging with our extended neighbourhood to India's East. Vietnam figures very prominently in that vision. Vietnam is a key pillar of India's Act East Policy across all its three pillars, known as the three C's: commerce, connectivity and culture.
India's Indo-Pacific Vision is based on our belief that the opportunities and challenges that exist in the Indian and the Pacific Oceans cannot be artificially separated. The Indo-Pacific also represents a geography that, in our view, reflects the new growth realities of the world.
India's Indo-Pacific Vision is for a free, open, peaceful, prosperous and above all, an inclusive region, with rules-based order and respect for sovereignty of nations. It is based on ASEAN-centrality. It embodies a positive construct of development and connectivity, in which India can play a unique role by virtue of its geographical location and economic strengths.
To translate this vision into practical cooperation, at the East Asia Summit in 2019, Prime Minister Modi also articulated our Indo-Pacific Oceans Initiative (IPOI), which provides a detailed template for partnership-based cooperation across areas such as maritime security, ecology and environment, as well as connectivity.
We are happy that ASEAN countries, including Vietnam, have come up with their own Outlook on the Indo-Pacific, which is broadly similar to our Indo-Pacific Vision and Indo-Pacific Oceans Initiative. Together, they provide a useful roadmap to promote regional integration, physical and digital connectivity, and economic cooperation. As a close partner of India with multifaceted political, economic and security cooperation and as a key link in India's engagement with ASEAN, Vietnam is clearly an indispensable partner in our Indo-Pacific Vision, based on our shared values and interests in promoting peace, stability and prosperity of our region.
VOV: In 2020, Vietnam serves as the ASEAN Chair and a non-permanent member of the UN Security Council. How have Vietnam and India cooperated to promote peace and development in the region and the world?
Amb: India and Vietnam have a strong tradition of engaging with each other in multilateral forum. Vietnam is already a non-permanent member of the UN Security Council. India is going to join the UN Security Council as a non-permanent member in January 2021. Our concurrent presence in the Security Council provides a renewed basis for us to work together on many global issues.
If you look at the worldview of our two countries, our overall approach to international relations have several common points. We have shared values and interests. We also have similarity of views on most regional and international issues. We both support multilateralism. In fact, India has come up with the vision of "Reformed Multilateralism", as we believe that multilateralism in its current form is not reflective of the global reality. The "Reformed Multilateralism" is about making multilateralism more democratic, effective, flexible, credible, representative and transparent. This is a vision where Vietnam will find a great degree of convergence with us.
In addition, both India and Vietnam bring voices of moderation, inclusivity and equity in the global discourse, which are important for international conduct in today's world. We both respect international law and rules-based order. Both our countries are today contributing to regional and global peace and development through UN Peacekeeping, as well as through our committed actions towards achieving Sustainable Development Goals and dealing with Climate Change. So, there are several aspects of our multilateral engagement where we can and are working together.
VOV: Economic and trade cooperation is one of the main pillars of the Vietnam - India Comprehensive Strategic Partnership, but it is yet on a par with the two countries' potential. What are the reasons, and what should be done to improve bilateral trade ties?
Amb. Verma: Well, bilateral trade has increased significantly, from just US$200 million in 2000 to US$12 billion today. In 2019, India was the 7th largest trading partner of Vietnam. But I do agree that it is still not up to the mark and not commensurate with the levels of our economic development and the fact that we both are among the fastest growing economies in the world today. So there needs to be a new push to move our trading engagement forward.
COVID-19 has brought disruptions in this engagement but I also think it opens up new opportunities. COVID-19 has pushed us into rethinking the way we engage with each other and it is there that new opportunities emerge. Given our supply chain as well as demand disruptions in the wake of COVID-19, we are all exploring new supply chains and new partnerships. I think this is an opportunity for us to actually expand our trading engagement by identifying new supply chains located in each other's country.
We also need to do more to build connectivity y in physical sense but also in digital domain, i.e. to get our businesses to engage more with each other through more focused B2B engagements, including through on-line platforms.
Last but not least, we need to upgrade our regional trading architecture that is the ASEAN-India Trade in Goods Agreement (AITIGA), an important foundation for taking forward our trade engagement.
As India is positioning itself as a driver of post-COVID global economic revival and aspiring to become a US$5 trillion economy, these create immense opportunities, demands and capacities for a partner country like Vietnam. Vietnamese businesses must approach their economic engagement with India from this larger strategic perspective.
VOV: Could you please tell us about the forthcoming engagements between political leaderships of the two countries?
Amb. Verma: Right now, we have a number of ASEAN related events where we expect our leaders to engage, in whatever format, online or otherwise, that could be possible in the midst of the COVID-19 pandemic. We have EAS Foreign Ministers' Meeting where our External Affairs Minister will be participating. Similarly, our Defence Minister will be participating at the ADMM+ meeting that Vietnam will host. Then we have the East Asia Summit and ASEAN-India Summit where our top leaders will be interacting with each other. Therefore, the second half of the year will have a number of opportunities for political-level engagement. In which format they happen will of course depend on how Vietnam as the host decides to go about them, keeping in view the COVID-19 pandemic situation./.