India: At least 18 dead when COVID-19 evacuation plane crash lands at airport
At least 18 people were killed on Aug 7 when  a passenger plane crashed when it overshot the runway at the Calicut International Airport in Karipur, in the southern state of Kerala, India.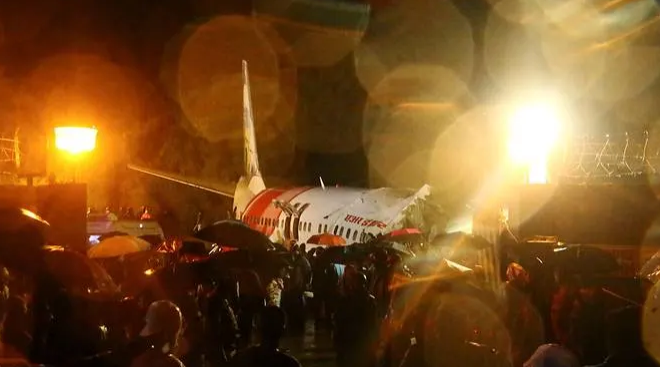 Rescue workers look for survivors after a passenger plane crashed when it overshot the runway at the Calicut International Airport in Karipur, in the southern state of Kerala, India, on Aug 7, 2020. (Photo: REUTERS/Stringer)
Officials said the jet with 174 passengers, 10 Infants, two pilots and four cabin crew members on board, was ripped in two after it plummeted 10m off the so-called tabletop runway - which can be tricky to land on - in Kerala state.
More than 100 others were injured, 16 of them seriously, after the Air India Express Boeing 737 from Dubai - a coronavirus evacuation flight - plunged off the runway down an embankment in heavy rain in Kozhikode - home to a large number of Indians working in the Middle East.
Kozhikode official Seeram Sambasiva said that 17 people had died.
According to a patient list seen by AFP, the dead include a 10-month-old infant and an 18-month-old toddler.
The plane's pilot and the co-pilot were also killed in the accident, K Gopalakrishnan, chief of the Malappuram district in the southern state of Kerala, told Reuters.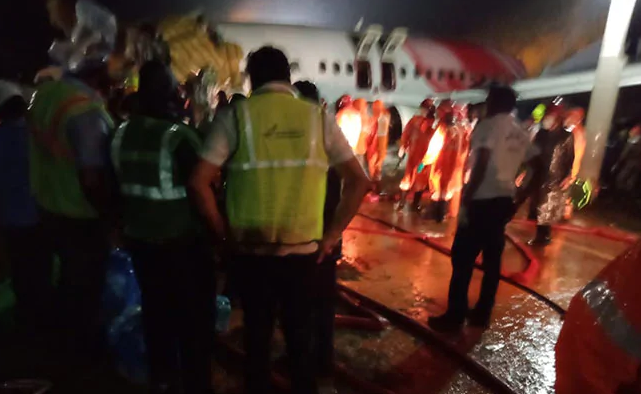 Kozhikode Plane Crash: The incident took place amid very heavy rainfall in the area. Source: ndtv.com
One of the two pilots who died in the crash, Deepak Sathe, was a former Air Force fighter pilot, reports said.
"All passengers have been admitted to various hospitals, and they are also being tested for COVID-19," Gopalakrishnan said, adding autopsy of the bodies would be carried out according to the COVID-19 protocol.
Senior local policeman Abdul Karim told AFP said that at least 15 passengers were in a serious condition and being treated in local hospitals.
Indian media quoted data from a flight tracker website showing that the aircraft appears to have attempted to land twice, with survivors telling local TV that the plane went up and down repeatedly before landing.
Rescue staff and locals hurried to the scene, desperately trying to free people from the wreckage in the dark and rain.
Several people on board had to be cut out with special equipment.
"Locals rushed to the spot after hearing the noise," one rescue worker said. "People came in cars, messages were being sent on WhatsApp ... that people were needed to help."
"At first, people took the injured to the hospitals in their cars. Then the emergency services took over."
Another said he tried to bring a gravely injured baby to hospital for treatment in his car, but she did not survive the trip.
"If she had been in an ambulance, maybe the child could have been saved," he said.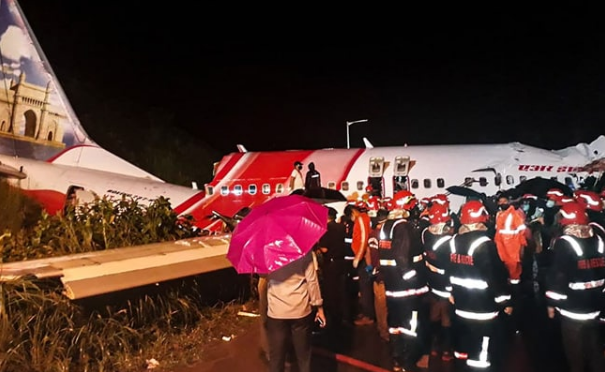 Mercifully, the plane did not catch fire. Source: ndtv.com
Prime Minister Narendra Modi expressed pain over the tragedy and said he had spoken with Kerala Chief Minister Pinarayi Vijayan. "I have instructed the police and the fire force to take urgent action in the wake of the plane crash at the Kozhikode International airport (CCJ) in Karipur," Vijayan said.
The flight was part of the Vande Bharat programme that has been bringing back Indians from abroad amid the coronavirus pandemic.
According to flight documents seen by AFP, 15 of those on board had lost their jobs and 12 were returning for a medical emergency. Two were coming back for their weddings.
One television channel reported there had been a problem with the jet's landing gear, but this was not confirmed by Air India Express or the aviation authority.
Flightradar24, a Swedish firm that shows real-time commercial flight tracking information on a map, indicated that the Boeing 737 NG that came from Dubai with 190 people on board tried to land twice.
Kozhikode airport is a "tabletop" airport, junior External Affairs Minister V Muraleedharan tweeted. A tabletop runway is a runway on the top of a plateau or hill with one or both ends adjacent to a steep elevation, which drops into a gorge. Such an airport presents a challenging condition for landing.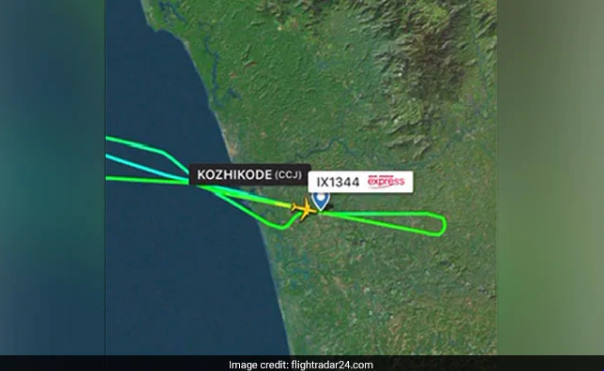 A popular global flight tracker website indicates that the Air India Express plane that skidded on the runway at Kerala's Kozhikode tried to land at least twice at the tabletop airport.
The wreckage of an Air India Express jet at Calicut International Airport in Karipur, Kerala, on Aug 8, 2020. (Photo: AFP)
: Officials inspect the wreck of an Air India Express jet that crashed in Karipur, Kerala on Saturday. The COVID-19 repatriation flight from Dubai, which was carrying 191 people, overshot and skidded off the runway upon landing. Photos: AFP
India, which shut down all air travel in late March to try to contain the novel coronavirus, has restarted limited international air travel.
The country's official coronavirus case tally hit two million on Aug 7, doubling in three weeks as the pandemic sweeps into smaller cities and rural areas, with experts warning the real toll could be much higher, AFP reported.
A record daily jump of more than 60,000 fresh infections was recorded, according to health ministry data, making the South Asian giant only the third country to surpass the two million milestone after the United States and Brazil.
The rate of spread in the world's second-most populous country also appears to be increasing. India logged its first one million infections by July 17 and crossed the 1.5 million mark just 12 days after that.
Official figures show the country has now recorded 2.03 million infections and 41,585 deaths.
India's government imposed one of the world's strictest lockdowns in late March. But with Asia's third-largest economy reeling from the impact - tens of millions of migrant workers lost their jobs almost overnight - the restrictions have been steadily eased.
But now smaller cities and rural areas - where 70 per cent of Indians live - have begun to see case numbers rising sharply.
A study last week that tested people for coronavirus antibodies found 57 per cent in Mumbai's slums have had the infection - far more than official data suggests.
A similar probe earlier in July indicated that almost a quarter of people in the capital, New Delhi, have had the virus - almost 40 times the official total./.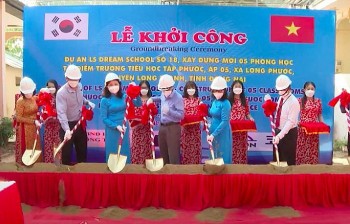 Friendship
The Union of Friendship Organizations of Dong Nai Province and COPION (Co-operation & Participation In Overseas NGOs) kicked off another LS Dream School project in the southern province.