Ambassador visits young overseas Vietnamese in Thailand's Udon Thani province
Vietnamese Ambassador to Thailand Phan Chi Thanh just had a meeting with young overseas Vietnamese in Udon Thani, Thailand.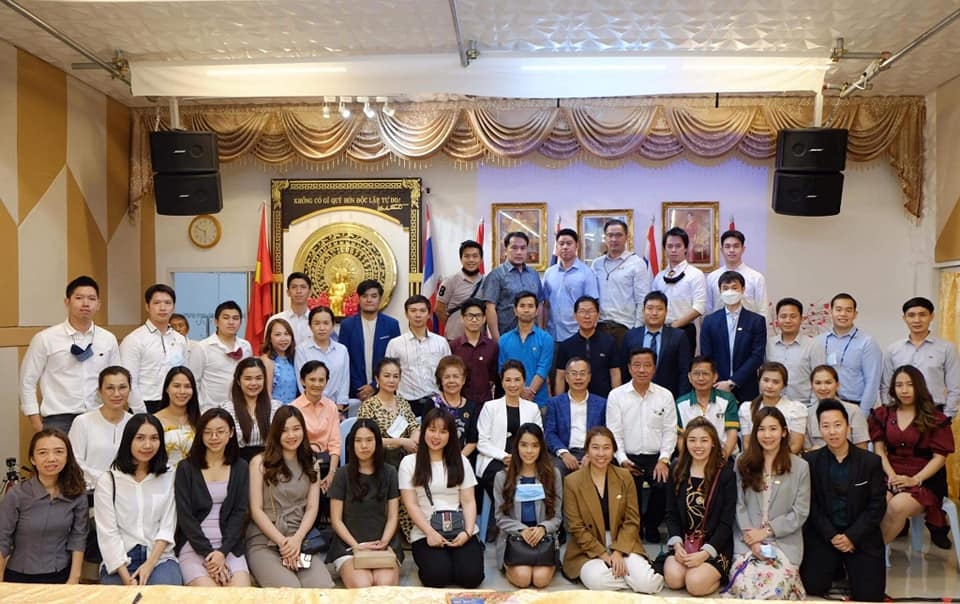 Ambassador Phan Chi Thanh meets with young Vietnamese in Thailand. Source: Vietnamese Embassy
According to NDO, Ambassador Thanh recently had a working visit to the province from February 23 to 28.
During the trip, Ambassador Phan Chi Thanh and Luong Xuan Hoa, President of the association of Vietnamese people in Udon Thani, met with young overseas Vietnamese in Thailand.
Thanh briefed them on the situation in Vietnam as well as the success of the 13th National Party Congress with its adoption of a socio-economic development strategy to turn Vietnam into a developed country by 2045.
The ambassador answered many questions from young Vietnamese people regarding how best to connect with Vietnam and expand business investment to the country, import-export and copyright registration procedures, the stock market, naturalisation, and the recognition of Thai master's degrees in Vietnam.
Young overseas Vietnamese were encouraged to uphold their sense of solidarity and mutual support, and serve as a long-term friendship bridge between the two countries.
On the occasion, Ambassador Phan Chi Thanh and the delegation visited and had meetings with the association of Vietnamese people in Udon Thani and the Thailand-Vietnam businessmen's association; offered incense to Uncle Ho at a memorial site dedicated to him; and visited the Vietnamese language teaching school at Khanh An Pagoda, as well as a market area for the Vietnamese community.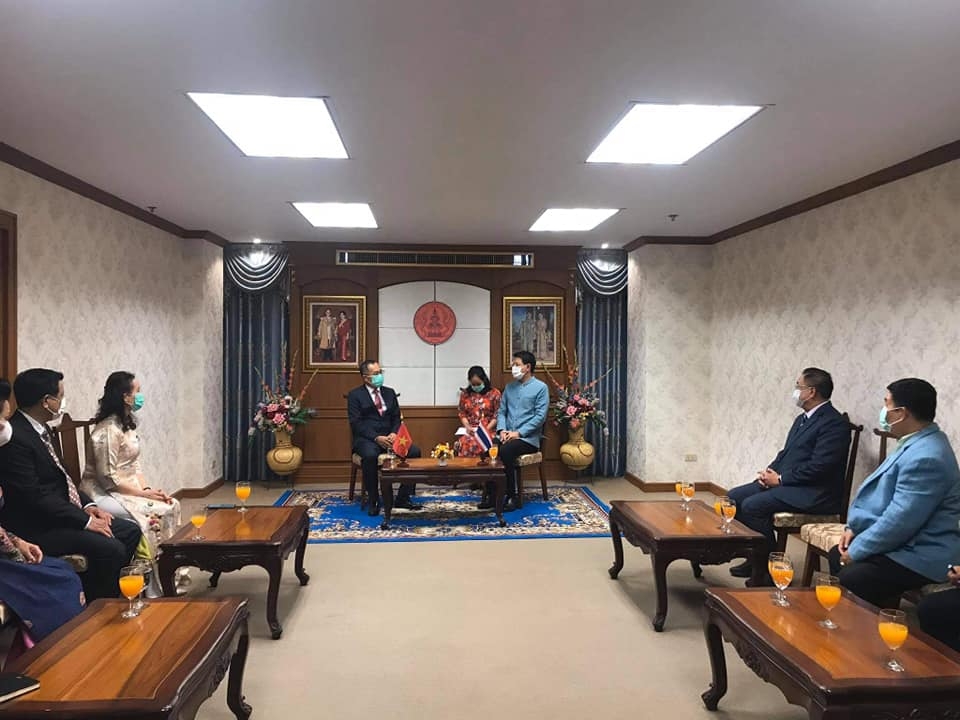 Vietnamese Ambassador to Thailand Phan Chi Thanh (L) meets with Udon Thani governor Sayam Sirimongkorn. Source: Vietnamese Embassy
Before that, the Vietnamese Ambassador hold a working session with Udon Thani governor Sayam Sirimongkorn where he thanked the provincial authorities for offering valuable support to the Vietnamese community, voicing his hopes that the Udon Thani leaders will continue to create favourable conditions for the Vietnamese community and help them in terms of policies and law, as well as supporting the work of local Vietnamese associations.
Highlighting the province's advantages for boosting cooperation with Vietnam, the ambassador suggested the two sides strengthen the discussion of cooperation opportunities, including coordinating on the organisation of the Vietnam-Thailand Business Forum in Udon Thani in Q2 2021, on the occasion of the 45th anniversary of Vietnam-Thailand diplomatic ties.
Sayam Sirimongkorn spoke highly of the Vietnamese community in Thailand as a whole and in Udon Thani in particular, who, he said, have always showed a great sense of solidarity, complied with the law and made significant contributions to the locality.
The Udon Thani governor asked for the Vietnamese Embassy's support to make the province a leading locality in northeastern Thailand in terms of fostering economic and cultural cooperation with Vietnam.
During a meeting with Vichian Khaokham, chair of the Udon Thani provincial administration organisation, Thanh shared the socio-economic development experiences of Vietnamese localities with similar conditions to Udon Thani, agreeing that the two sides need to soon prepare for the exchange of delegations and the signing of cooperation documents immediately after the air route between the two countries is reopened.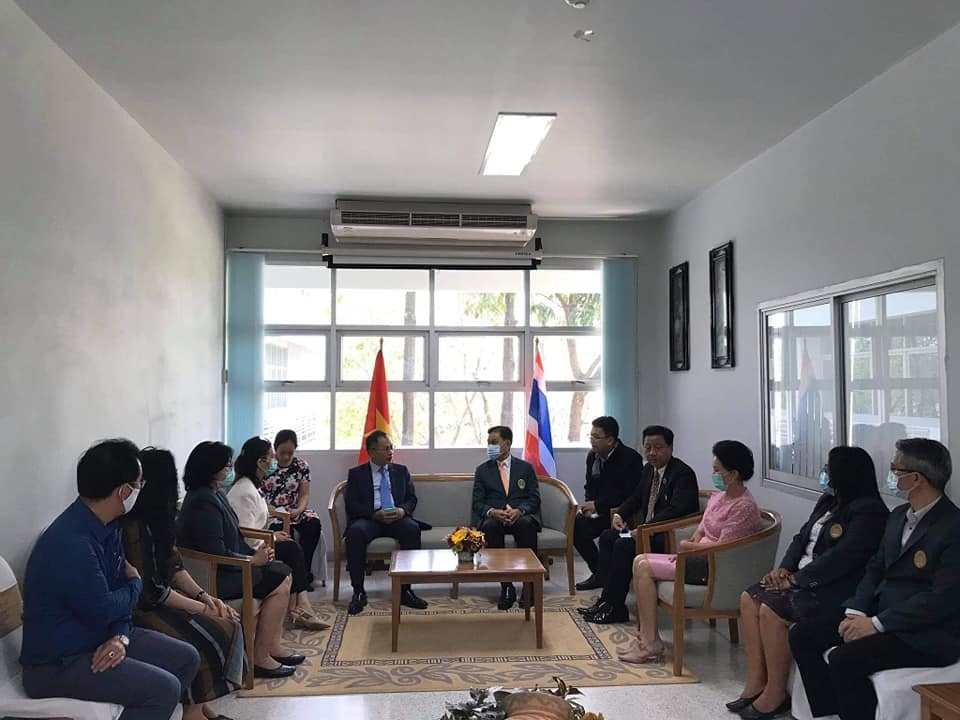 Ambassador Phan Chi Thanh at a meeting with Rector of Udon Thani Rajabhat University Charoon Thawornchak. Source: Vietnamese Embassy
The Udon Thani leaders agreed to create favourable conditions for the Vietnamese community to further develop their business and investment activities in the locality, towards establishing Vietnamese business and culinary streets in Udon Thani when conditions allow.
The delegation from the Vietnamese Embassy also paid a working visit to the Udon Thani Rajabhat University, during which the university's rector, Charoon Thawornchak, highly lauded its educational cooperation with partner universities in the Vietnamese provinces of Thai Nguyen, Dien Bien and Quang Ninh.
He expressed his wish for enhanced cooperation between Udon Thani and Vietnam in the time ahead, especially in the areas of education and people-to-people exchange.
For his part, Ambassador Phan Chi Thanh emphasised the educational cooperation potential between Thai universities and their Vietnamese partners, suggesting the two sides proactively facilitate such connections./.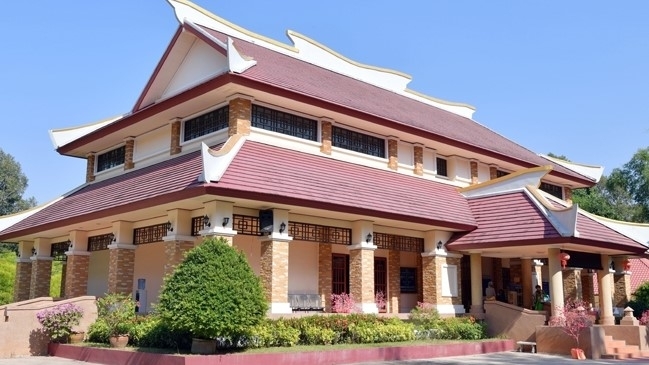 The relic site dedicated to President Ho Chi Minh in Udon Thani Province.
The President Ho Chi Minh relic site in Nong On Hamlet, Muong Town, Udon Thani Province, is considered to be the oldest monument commemorating Uncle Ho in Thailand. Built on an area of nearly 10,000 square metres nearly 10 years ago, the relic site has become a famous destination that has attracted a large number of both Thai and international visitors.
The relic site is divided into two parts: Trai Cua and multi-purpose area. Trai Cua, where President Ho Chi Minh stayed and worked in 1928-1929, was restored with a thatched-roof house that has three compartments. Its middle compartment is used for gathering and study. Meanwhile, a set of wooden tables and chairs were set up on the left side for Uncle Ho to work and rest. The right compartment consists of a wooden stall for his comrades.
In the large yard, there is a well, warehouse, kitchen and a production and breeding area. The multi-purpose house has two floors. The altar for President Ho Chi Minh, with bronze statue, was placed in the middle of the first floor. Behind is a hall and reception room where the relic site's officials tell stories about Uncle Ho, particularly the time he lived and worked in Thailand. In addition, a space was arranged to display photos on his life and career, especially his valuable autographs and greetings to the OVs in Thailand during their first trip back to the homeland on January 10, 1960.
The monument welcomes around 22,000 – 24,000 guests per year.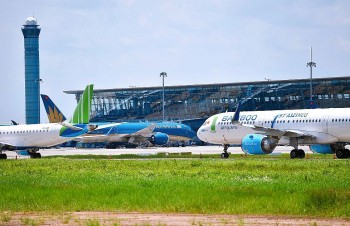 Economy
Vietnam Business & Weather Briefing (August 9): Vietnam's economic growth is expected to reach 7.5% in 2022, new securities accounts hit a near two-year low in July.