Sacred Vietnamese pagodas in Thailand for a sense of peace in New Year
Thailand-based Vietnamese pagodas were built by the Vietnamese people as they first moved to Thailand some 200 years ago. Nowadays, they severe as gathering places for overseas Vietnamese to make friends, visit each other, and send their love to their home country.
There are about 21 Vietnamese temples built in 8 provinces and cities across Thailand, all granted the patronage of the Thai Kings, bestowed name. Canh Phuoc, Khanh Van, Khanh Tho, Long Son… are among the most ancient Vietnamese pagodas in Thailand, built over 200 years ago.
Hoi Khanh Pagoda
Hoi Khanh Pagoda located at 48 Plaeng Nam Street in the heart of the famous "Chinatown" area of Bangkok, Thailand, Hoi Khanh Pagoda is said to be the oldest pagoda of the Vietnamese people in Thailand. According to documentary data, the pagoda was built around the time of Kings Taksin and Dhonburi (1768-1782).
Today, the temple is a favorite destination for Vietnamese tourists during their visit in Bangkok, and a sacred place to make incense offerings and wish for good fortune on New Year occasion.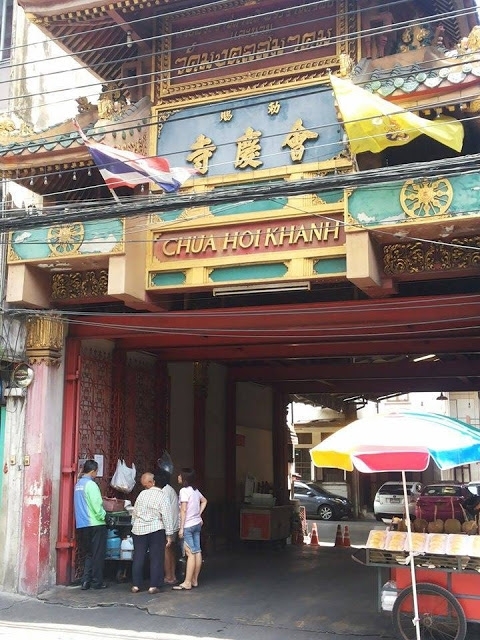 Hoi Khanh Pagoda located at 48 Plaeng Nam Street in the heart of the famous "Chinatown" area of Bangkok (Photo: Vietthaitoday)
Khanh Van Pagoda
Khanh Van Pagoda (or Wat U Phai Rat Bamrung in Thai) is a familiar name among Vietnamase Thais and Vietnamese tourists. Khanh Van second oldest pagoda in Bangkok, built in the late 18th century at 864 Charoenkrung Road, Taladnoi area, Sampanthavong district.
The current abbot of the temple is Venerable Thich Minh An. Notably, the pagoda still retains the body of Venerable Thich Pho Sai, also a son of Vietnamese origin, passed away in 1958.
Many overseas Vietnamese visit the pagoda as Lunar New Year nears to pray for well-being and celebrate the year-end ceremony.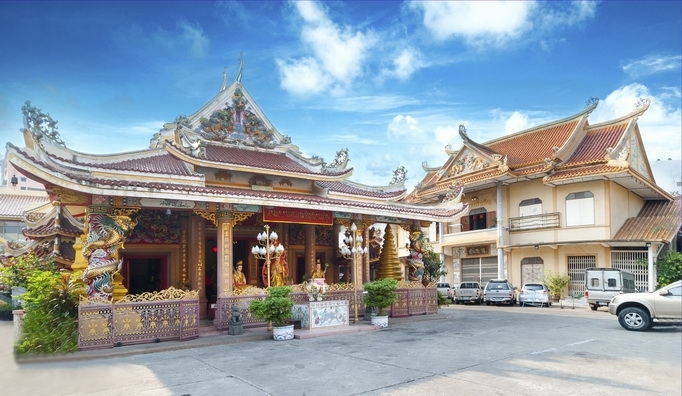 One corner in Khanh Van pagoda (Photo: Chua Viet Toan cau)
Tu Te Pagoda
Tu Te Pagoda (also known as Instrument Ba or Wat Lokanukor in Thai) is located on a busy street in central Bangkok. The pagoda was built in the years 1850-1860. In July 1928, President Ho Chi Minh visited the pagoda during his arrival in Siam to start his revolutionary activities in Thailand.
Every year, on the first days of the new year, Vietnamese temples often hold a ceremony to pray for peace and relief. The full moon day of July, Vu Lan, also attracts a large number of overseas Vietnamese and international students studying and living in Thailand. In recent years, Vietnamese pagodas have also held a prayer ceremony for heroes who died in the wars to protect the country.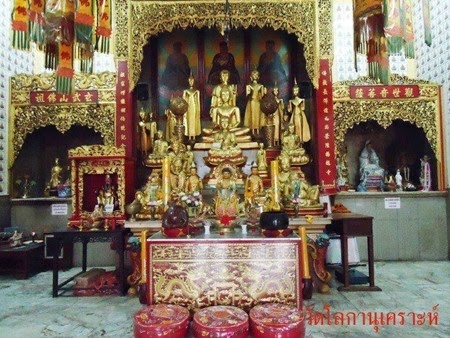 (Photo: Vietthaitoday)
The pagoda has also become a destination frequented by Thai people. According to Tippawan, a Thai woman, she has a strong attachment to the pagoda, regarding it as her home. She always comes to the pagoda to offer incense, clean and support the pagoda on national holidays. For this reason, Tippawan has an extensive knowledge of the pagoda's formation and development history. According to her, Vietnamese cultural values are featured throughout Vietnamese pagodas in Bangkok, NDO reported.
Meanwhile, Phui, another Bangkok citizen, shared that he and his family often visit the pagoda to pray for peace. Coming to Tu Te Pagoda, he felt touched and proud that his country, Thailand, was supported Uncle Ho when the President implemented revolutionary activities. Not only Tippawan and Phui, but also many other Thai people and Vietnamese expats in Thailand also frequently visit the pagoda.
Pho Phuoc Pagoda
Pho Phuoc Pagoda in Bangkok Capital (Thai name is Wat Kusolsamakorn in Thai) was built in 1850-1860 by Venerable Thich Vien Man – a Vietnamese national.
This is also the home of the Viet-Zong Buddhism, one of the three official sects in Thailand and the Pho Phuoc Sangha Institute, where 100 monks and nuns are studying Buddhism.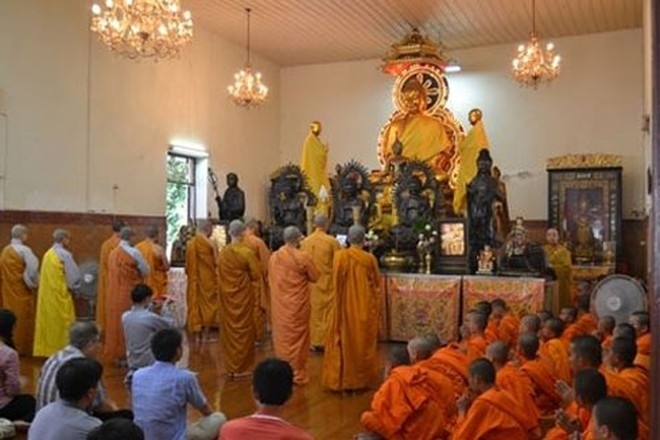 (Photo: VNA)
Since its inauguration in Thailand, Pho Phuoc Pagoda has always been a spiritual support of the Vietnamese people.
The abbot of the temple is Venerable Thich Kinh Chieu. In order to preserve the Vietnamese language, the Venerable Master often instructs the novices to read sutras in Vietnamese correctly. Therefore, the daily chanting of Vietnamese sutras in Pho Phuoc Pogoda still resounds in the streets of Bangkok.
The beauty of Tam Chuc pagoda

In Tam Chuc, tourists can visit Quan Am, Phap Chu, Tam The or Ngoc Pagoda and immerse themselves in the peaceful landscape.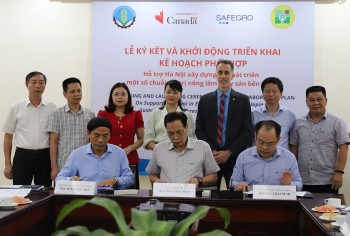 Make in Vietnam
As Vietnam furthers its international intergration, building agro-forestry-fishery high value chains is crucial for the sustainable development of the agriculture sector.