Ambassadors of Saudi Arabia, Israel, Azerbaijan Bids Farewell to Vietnam's President
Outgoing AmbassadorAmbassadors of Saudi Arabia, Israel and Azerbaijan bade farewell to Vietnam's President
President Nguyen Xuan Phuc on June 23 hosted separate receptions in Hanoi for out-going Ambassadors of Saudi Arabia, Israel and Azerbaijan to Vietnam, VNA reported.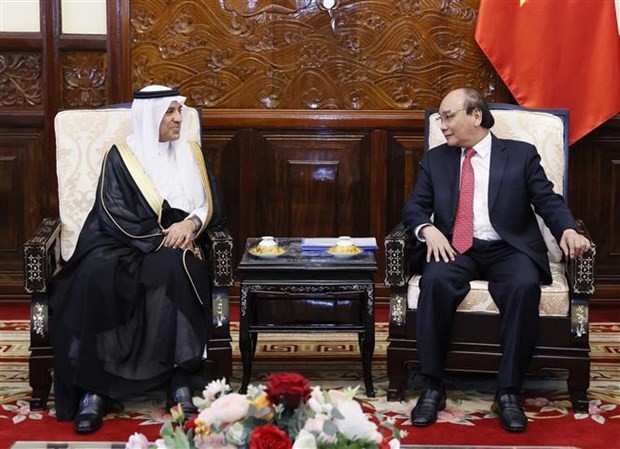 President Nguyen Xuan Phuc (R) receives Saudi Arabian Ambassador Saud F.M AlSuwelim. Photo: VNA
Receiving Saudi Arabian Ambassador Saud F.M AlSuwelim, the leader spoke highly of his guest's contributions to strengthening the two countries' friendship and multifaceted cooperation for the past three years.
The good political ties are reflected in phone talks and direct meetings between leaders of the two Foreign Ministries and the mutual coordination and support at international organizations. Meanwhile, bilateral trade almost reached USD 2 billion in 2021, up 26.5% over the 2020 figure. Saudi Arabia is currently one of the most important economic partners of Vietnam in the Middle East.
He thanked the Saudi Arabian Government for assisting Vietnam in its fight against the Covid-19 pandemic and in improving the lives of people in disadvantaged areas.
The President also suggested the two sides continue promoting all-level delegation exchanges, facilitating each other's export, increasing the efficiency of existing cooperation mechanisms, and strengthening ties in the fields of tourism, culture, education and training, and labor.
Ambassador Saud F.M AlSuwelim said that Saudi Arabia is currently implementing a support package for developing countries, including Vietnam, and has assisted the construction of infrastructure in the northern mountainous province of Yen Bai.
A lot of Saudi Arabian companies want to do business in Vietnam and hope for early reconnection after the pandemic is controlled.
As two countries always help each other in the international arena, he expressed his wish that Vietnam will support his nation in its candidacy to host the 2030 World Expo.
Minister of Foreign Affairs of Saudi Arabia Prince Faisal Bin Farhan Al Saud in March 2022 visited Vietnam during which he affirmed that Saudi Arabia always treasures relations with Vietnam.
He believed that Saudi Arabia and Vietnam hold huge potential to further promote cooperation across various fields, notably trade and investment. The Saudi Arabian minister agreed with Vietnam's PM Chinh's proposals, viewing them as a roadmap to foster bilateral relations.
Saudi Arabian agencies and businesses will work closely with the Vietnamese Foreign Ministry to boost the efficiency of the bilateral cooperation, particularly in economy, he added.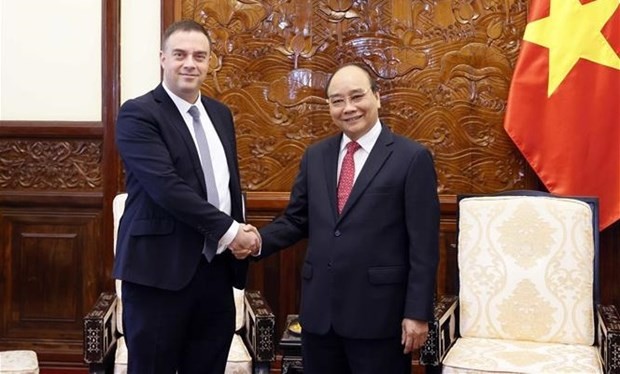 President Nguyen Xuan Phuc receives Israeli Ambassador Nadav Eshcar. Photo: VNA
Welcoming Israeli Ambassador Nadav Eshcar, the Vietnamese President said that during his working tenure in Vietnam, the two nations' multifaceted cooperation has seen important development steps. Notably, two-way trade hit 1.88 billion USD last year, up nearly 80% compared to that in 2017.
As the two sides will celebrate the 30th anniversary of the establishment of diplomatic ties next year, he asked their agencies to have plans to organize specific programs and events. He also urged both sides to speed up negotiations on their free trade agreement (FTA) and another on labor cooperation, and to intensify collaboration in science and technology.
For his part, the Israeli Ambassador showed his delight that negotiations on the Vietnam-Israel FTA are in the final stage.
Vietnam and Israel established diplomatic relations in 1993. The bilateral ties have been thriving in multiple fields, particularly science-technology and trade. In 2021, bilateral trade still grew despite Covid-19 impacts, turning Vietnam into the largest trading partner of Israel in Southeast Asia.
Around 700 Vietnamese students came to study in Israel every year under an apprenticeship program in modern farming.
In March, the Vietnamese Embassy in Israel, in collaboration with the Israel-Asia Chamber of Commerce, inaugurated the Israel-Vietnam Chamber of Commerce.
According to Or Nehushtan, a representative of the Federation of Israeli Chambers of Commerce, the bilateral tourism potential is huge and will become even greater once the pandemic is over.
In terms of bilateral trade, he noted not many Israeli companies have learned about what Vietnam has, and that trade potential is considerable, not only for tea and coffee - the products Vietnam has long been famous for - but also for all other commodities.
The two sides are accelerating talks on some important deals such as a free trade agreement and another on labor cooperation, and deliberating a direct air route. Israel is also increasing assistance for businesses and startups in Vietnam.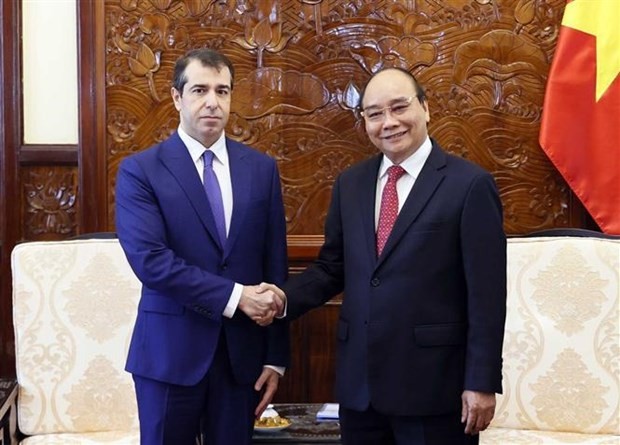 President Nguyen Xuan Phuc welcomes Azerbaijani Ambassador Anar Lachin oglu Imanov. Photo: VNA
During his meeting with Azerbaijani Ambassador Anar Lachin Oglu Imanov, President Phuc appreciated the diplomat's contributions to the two countries' ties over the past nine years.
Vietnam always attaches importance to its traditional friendship and multifaceted cooperation with Azerbaijan, he affirmed, proposing both sides step up the exchange of all-level delegations to enhance mutual understanding.
Anar Lachin Oglu Imanov said the bilateral relations are developing well in various aspects.
More than 5,000 Vietnamese people living in Azerbaijan are bridges promoting the bilateral ties in the coming time, he added.
Historic visits by President Ho Chi Minh to the Azerbaijanese capital city of Baku in 1959 and by President Heida Aliyev to Vietnam in 1983 have laid a solid foundation for the bilateral friendship to grow.
Vietnamese people always remember support from the government and the people of Azerbaijan for Vietnam in the past struggle for independence and today's national construction and protection.
In 2020, the Vietnam Union of Friendship Organisations (VUFO) had awarded Ambassador Anar Lachin Oglu Imanov a Commemorative Medal for Peace and Friendship among Nations in recognition of his efforts to foster the two countries' relations.
Imanov, the first ambassador of Azerbaijan to Vietnam, has contributed to the friendship and cooperation between the two peoples since the Azerbaijanese Embassy was established in Hanoi in 2013.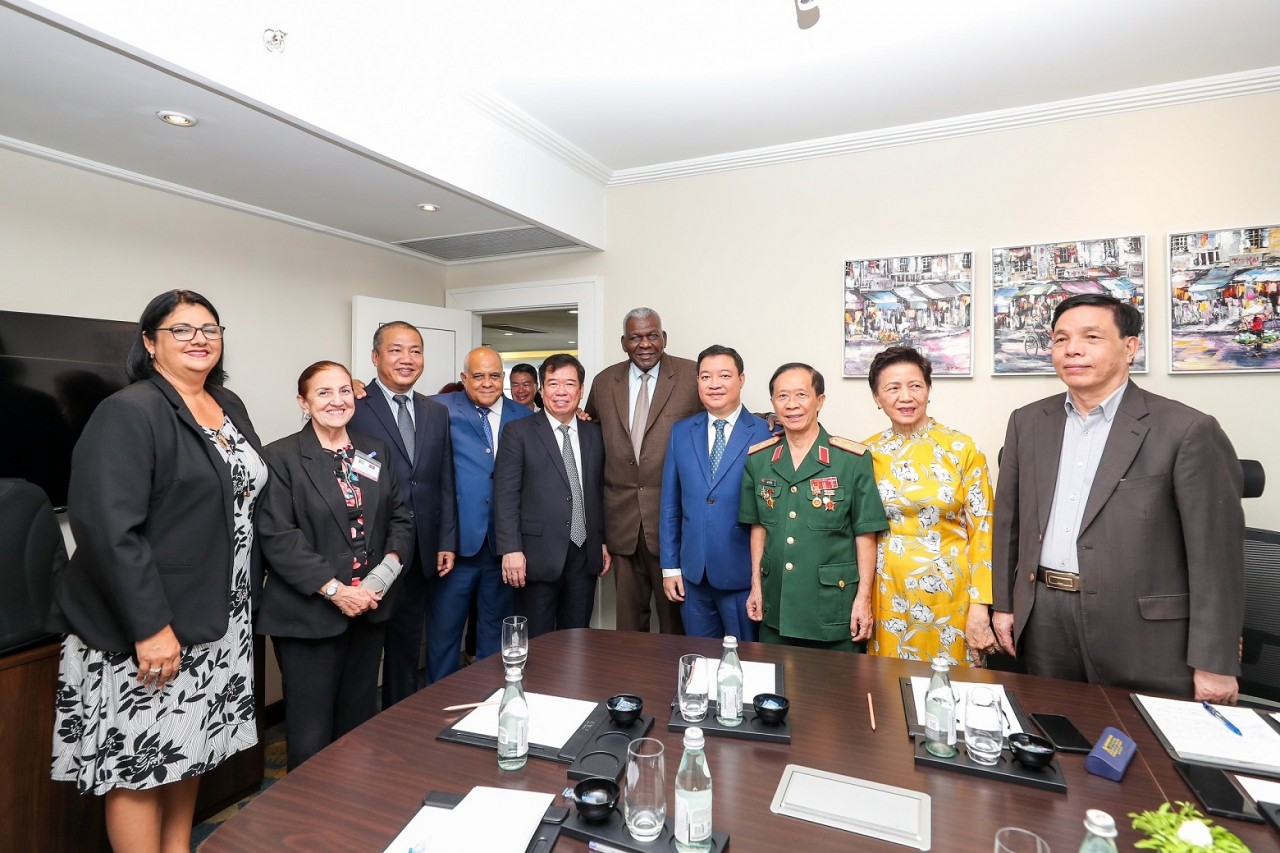 Friendship
President of the National Assembly of People's Power of Cuba Esteban Lazo Hernandez emphasized that Vietnam - Cuba is always united and faithful because they are one family.
September 27, 2023 | 15:11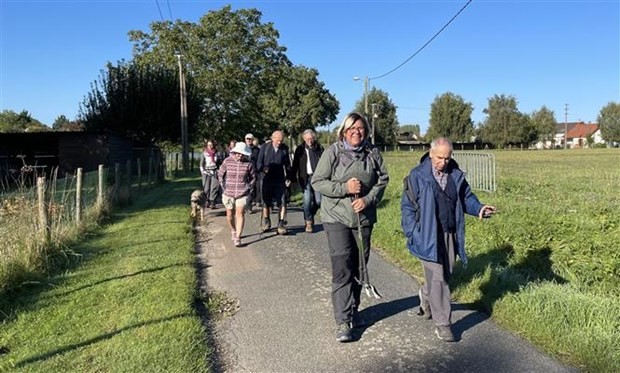 Friendship
The Children's Walk For Hope is a virtual event that will be held globally recently.
September 27, 2023 | 14:54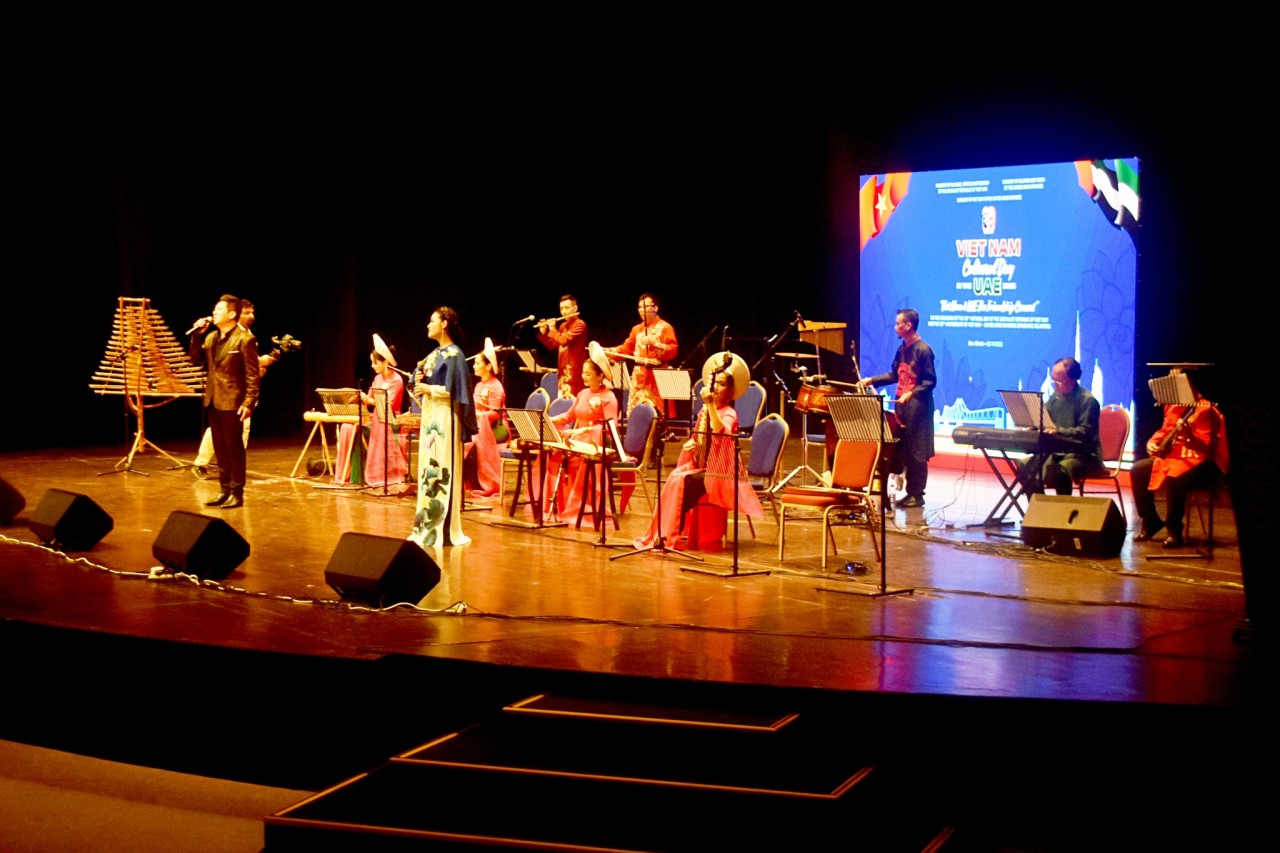 Friendship
A special art performance was held in the capital Abu Dhabi, gathering leading artists from Vietnam and the United Arab Emirates (UAE).
September 27, 2023 | 14:01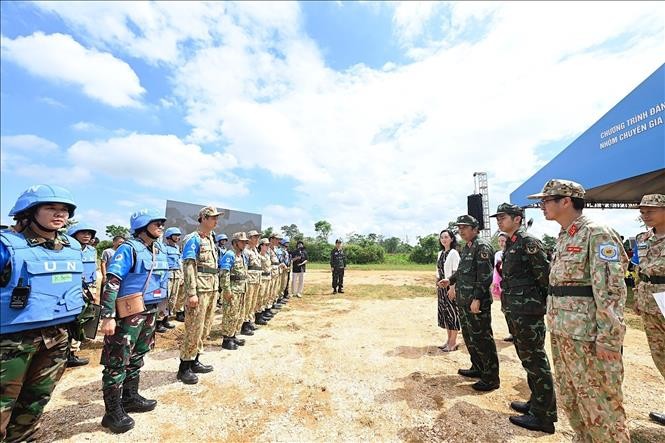 Friendship
Japan and representatives of State members of ASEAN Defence Ministers' Meeting Plus (ADMM-Plus) valued the preparations of Vietnam in hosting the Competency Evaluation Program for Prospective UN Peacekeepers (CEPPP) as well as outcomes of the program.
September 27, 2023 | 07:53