American captain bearing Covid-19 separation craves for reuniting Vietnamese family
Eric Wedel, the captain of a fishing vessel in Alaska, keeps longing for visit his family in Vietnam after months of separation due to Covid-19 pandemic.
According to Vn Express, Wedel meant to visit his wife and children in Vietnam after months of separation, but a Covid-19 travel ban scuppered his plans.
"It was 3 a.m., I kept staring at the phone and waiting for the call. When it rang, my two sleeping daughters woke up and shouted: Dad! When will you come home?" Pham Thi Thu Trang, 38, recalled talking to her partner Eric Wedel, captain of a fishing vessel in Alaska, the U.S.
It took the Vietnamese mother two weeks before she could reunite with her partner via phone since Wedel's job at sea makes connectivity difficult. The American can only call Trang, his two daughters and two-year-old son when in dock, relying mostly on texts in the interim.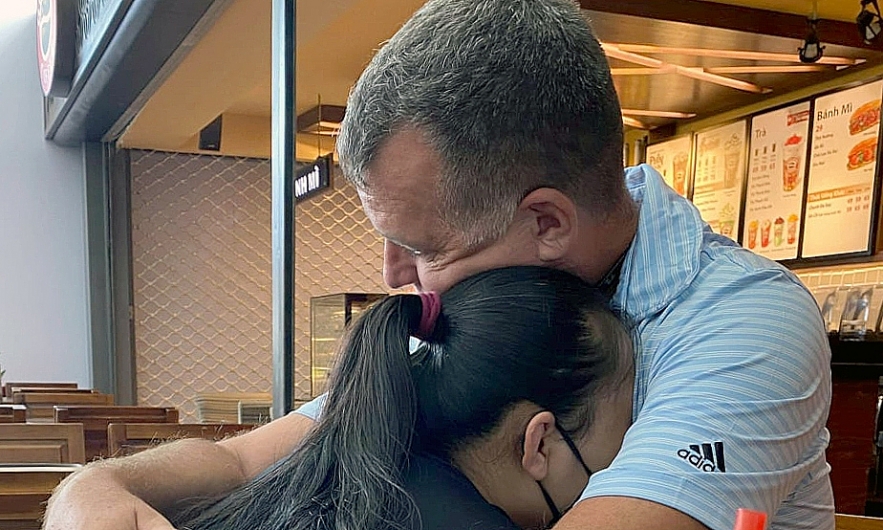 Wedel and Trang say their goodbyes before he returned to the U.S. on March 24, 2020. Photo courtesy of Trang.
"I am anxious since my partner and children are all F2 (those who have had close contact with those in close contact with an infected patient) of "Patient 842" in Vietnam," Wedel, residing in Homer Alaska, told VnExpress, adding he would have no idea what to do with his children should Trang get infected by the novel coronavirus.
"That thought has tortured me for days."
Born into a family closely associated with the military and medical industry, Eric Wedel had joined the army before becoming a sailor.
Previously, apart from six months at sea per annum, Wedel traveled, which is how he met Trang. On the second day of Lunar New Year in 2017, while sitting at a coffee shop in the central ancient town of Hoi An, he spotted a Vietnamese mother accompanied by her two daughters.
Later, Ha My, Ha Nhi, and their mother asked Wedel's permission to join his table with no other seats available. Eight-year-old My subsequently started conversing in English with the American, with Trang and Nhi listening attentively.
The captain told them about his job, and the fish he had captured. In the next few days, they traveled to central Da Nang City together. Three weeks later, learning Trang was a single mom, Wedel proposed to her daughters: "I want to become your father, is it okay?"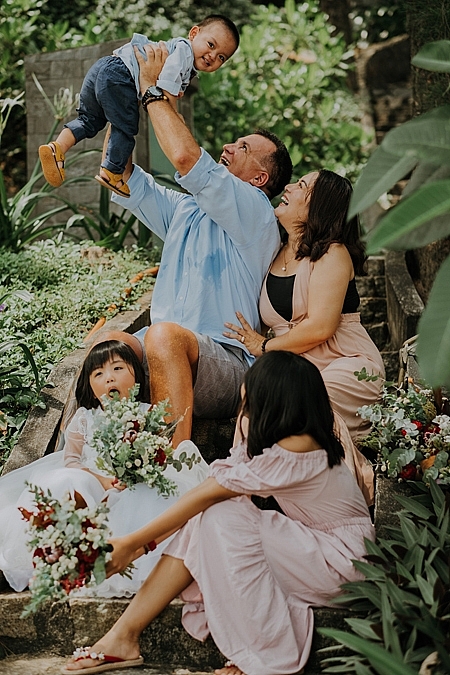 Trang and Wedel had son after getting hitched. Photo courtesy of Trang.
Though both little girls agreed with excitement, Trang rejected his offer. Walking out of her marriage during her second pregnancy, Trang was afraid of commitment and thought Wedel could simply help her daughter practice English, "having no idea he liked me."
Only when he returned home did her resistance crumble. Two weeks after setting foot in the U.S. on March 6, 2017, Wedel returned to Vietnam.
"I thought he went home to tell his parents about me, but instead he prepared for our marriage," Trang recalled.
Trang's eldest daughter encouraged her mom to get married, but speaking little English and knowing next-to-nothing about Wedel, she remained wary.
"My biggest concern is my children. I do not know what to do with them if I got married," she said.
Understanding Trang's concerns, Wedel reassured with future plans.
"I will retire in 2022 and stay in Vietnam to be with our elder daughter until she graduates from secondary school. I want to take our little daughter to school every day, and take care of your parents," he told her.
The couple tied the knot on April 10. Wedel returned to the U.S. the following day, after writing 27 letters and telling their daughter to send them to Trang weekly along with a bunch of flowers.
Since then, the family spends six months per year living in longing. Wedel always texts his wife and sends her his location when at sea, in case of emergency.
This year, he returned to America on March 24, one day before Vietnam shut its borders by suspending all international flights to contain the Covid-19 pandemic, Vietnam Breaking News reported.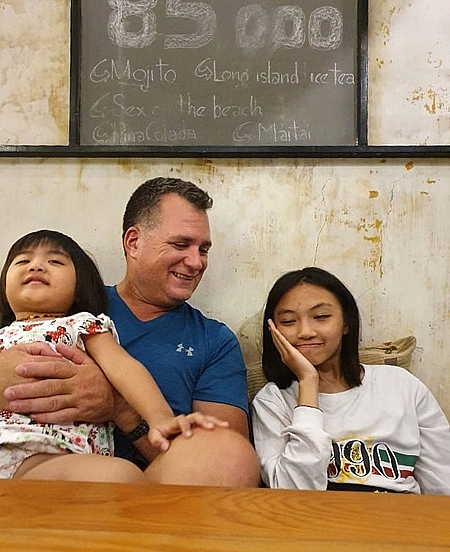 Wedel, My (R) and Nhi get to know each other. Photo courtesy of Trang.
On August 9, Trang and her three children discovered they were F2 of "Patient 842", an eight-year-old boy in Hoi An, and decided to quarantine themselves at home. With the children coughing and nursing runny noses, she could not sleep at night, worried they could become feverish, a common Covid-19 symptom.
Wedel grew increasingly agitated knowing another Covid-19 patient resided 500 meters from Trang's house.
Trang and Wedel, running a guest villa in Hoi An, a coffee shop in central Tam Ky Town and a mask-producing company in the U.S., have a lot of future plans, including a leg operation for Wedel in Da Nang in October to treat an old wound.
Trang and the three children have all tested negative for the novel coronavirus and are waiting for the test results from the person who had direct contact with the infected patients (F1).
During self-isolation, My plays piano and sings to her sister and brother, while Trang grows flowers and vegetables for her husband.
In the U.S., every week, Wedel sends a letter to the Vietnamese Embassy in Washington D.C.
"I am not a tourist. I live in Vietnam, own a company and have a family. Could you indicate if reunification is possible yet? I am willing to pay for Covid-19 tests and quarantine as long as I can return home," he wrote.