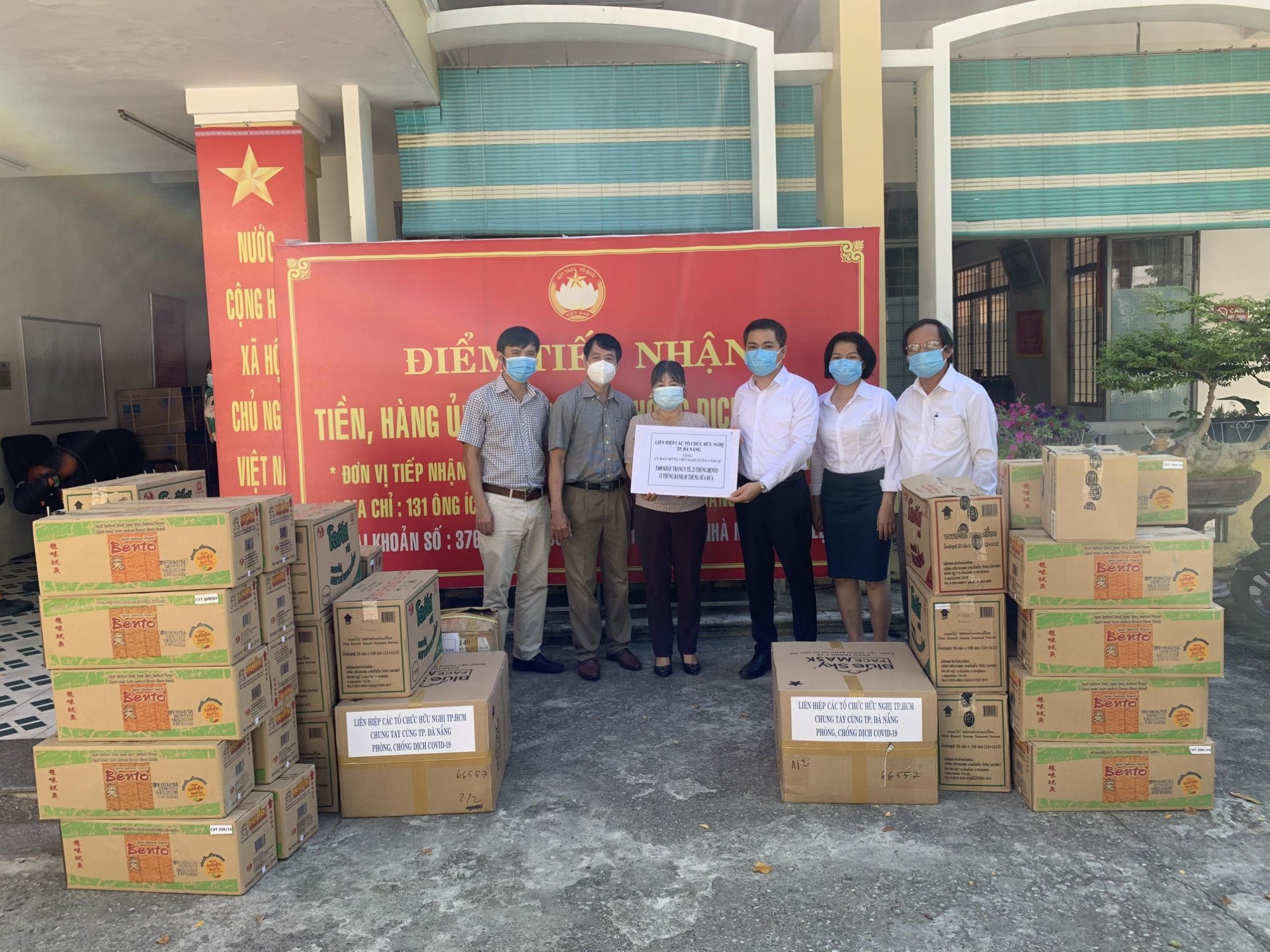 The donations will help share difficulties with the poor and disadvantaged people during the pandemic. Photo: HAUFO
With Da Nang as the country's largest COVID-19 outbreak epicenter, the Union of Friendship Organizations in some provinces and cities such as Da Nang, Hanoi, Lai Chau, Can Tho, Dong Thap, Ho Chi Minh City, and some local businesses have been quickly and ready to share difficulties with the Government and forces directly fighting the pandemic.
The delegation handed over VND 10 million (over USD 430); 6,000 medical masks and 30 boxes of food to the Fatherland Front Committee in Hai Chau district; 5,000 medical masks and 37 boxes of food to the Vietnam Fatherland Front Committee of Cam Le district; and 4,000 medical masks and 30 barrels of drinking water to the Da Nang Lung Hospital.
In which, donations in cash and kind have been raised by the Union of Friendship Organizations in several provinces and cities, Chance And Challenge Company Limited Da Nang Branch and Thuan Nhi Company Limited, etc.
Speaking at the hand-over ceremony, Binh sent his sharing, encouragement and best wishes from the Union of Friendship Organizations of provinces, cities and businesses to health workers and other functional forces who are joining the frontline in Da Nang's combat against a new wave of COVID-19 infections.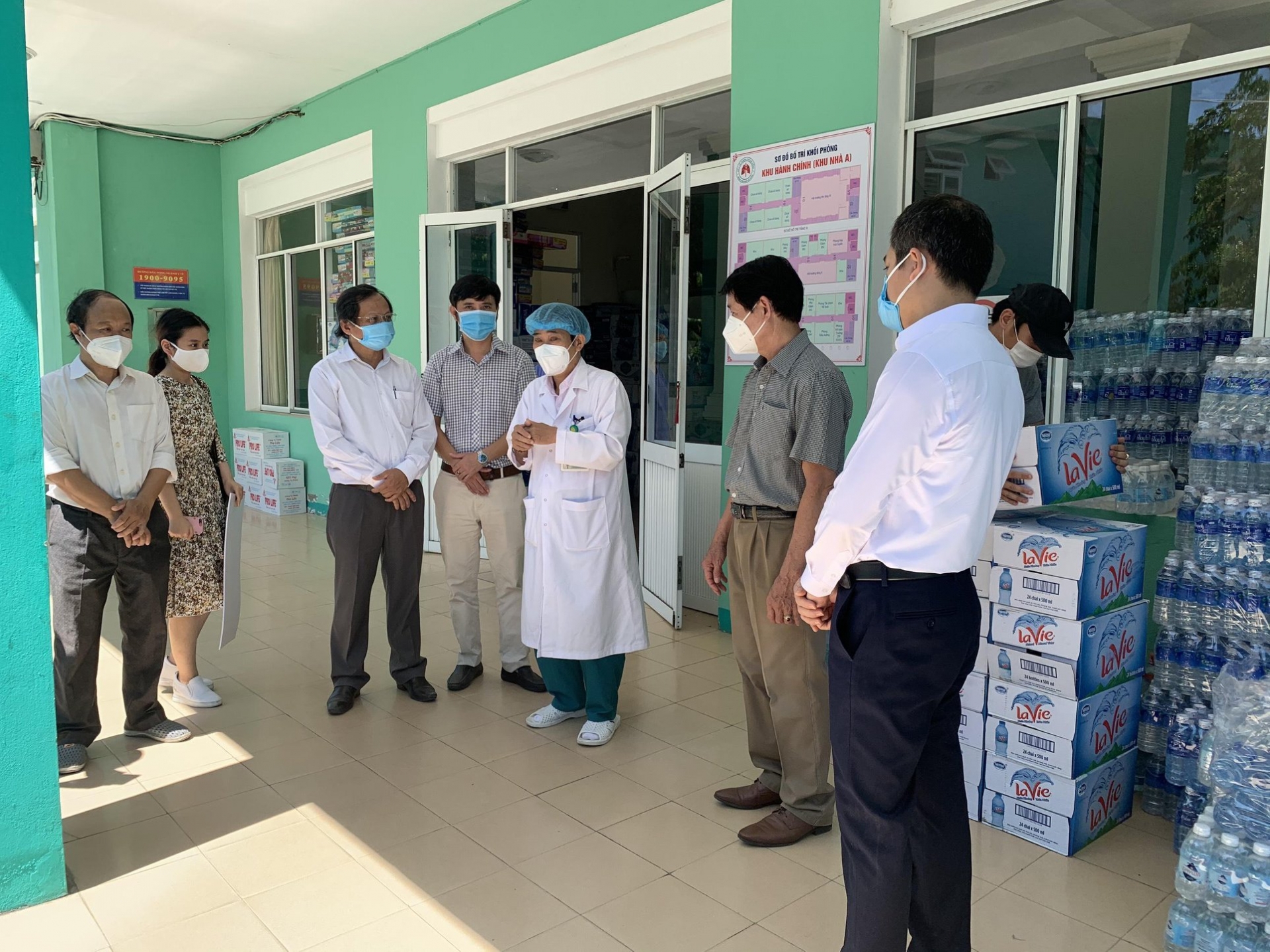 All of donations are essential during this challenging time, to help support the process of COVID-19 prevention and repel the epidemic in Da Nang city. Photo: HAUFO
Representatives from recipient units thanked the Union of Friendship Organizations for the valuable assistance to help the city in the fight against COVID-19 outbreak. They affirmed that the donations would be distributed to anti-COVID-19 forces and the poor and disadvantaged people in the districts as soon as possible.
Earlier this month, the Vietnam Union of Friendship Organizations (VUFO) also handed over to Da Nang Center for Disease Control 500 COVID-19 test kits and other medical supplies.
The Da Nang Union of Friendship Organizations joined hands with the city's Vietnam - Japan Friendship Association and Vietnam - US Friendship Association to mobilize 6,000 medical masks from Vinamask International Co., Ltd., and 1,200 N95 masks as gifts to the frontline medical staff fighting the pandemic.
Five new imported cases of COVID-19 were confirmed on August 26 afternoon, raising the number of coronavirus infections in Vietnam to 1,034.
Of total cases, 687 are local infections, and 547 have linked with central Da Nang city, where the new outbreak began on July 25.
Meanwhile, the COVID-19 death toll has now reached 29 after the latest death was reported in the afternoon.
The 66-year-old man in Tu Nghia district of central Quang Ngai province, died at the Hoa Vang medical centre in Da Nang on August 26 morning./.
Hannah Nguyen