AMRO: Vietnam's economy to grow by 7% in 2021
Vietnam's GDP growth is expected to rebound to 7% in 2021, driven by a recovery in goods and service export, resilient domestic economy, and healthy investment inflows, according to the ASEAN 3 Macroeconomic Research Office (AMRO).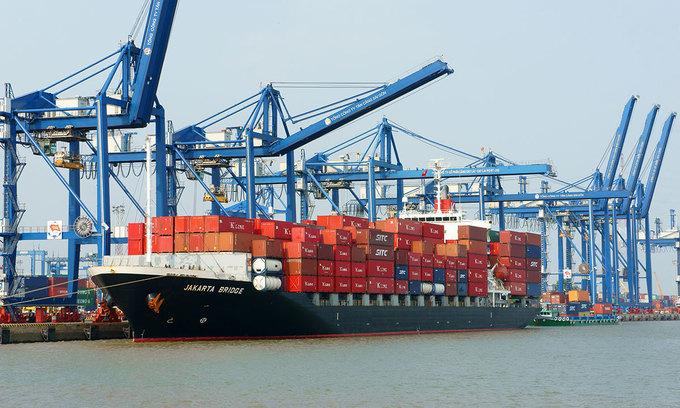 A container ship docks at Cat Lai Port in Ho Chi Minh City. Photo by Shutterstock/xuanhuongho.
In its Annual Consultation Report on Vietnam published on May 19, which was produced based on AMRO's virtual 2020 Annual Consultation Visit to Vietnam and data and information available up to February 11, 2021, the office said Vietnam's manufacturing output continued to expand thanks to robust exports and positive spillover from global supply chain restructuring.
The economic recovery is expected to continue on the back of an increase in domestic consumption following the relaxation of mobility restrictions, and an acceleration in public investment disbursement, it noted.
The report said continued policy support of the Government remains essential to bolster national economic recovery.
Effective food supply chain management and stable fuel prices will help the Vietnamese government keep inflation below 4 % in 2021, the report stressed.
Vietnam needs to step up its efforts to develop domestic supporting industries in order to strengthen its participation and increase its value-add in the global value chains.
The ASEAN 3 Macroeconomic Research Office (AMRO) is an international organization established to contribute towards securing macroeconomic and financial stability of the ASEAN 3 region, comprising 10 ASEAN member nations, China, Hong Kong (China), Japan and the Republic of Korea.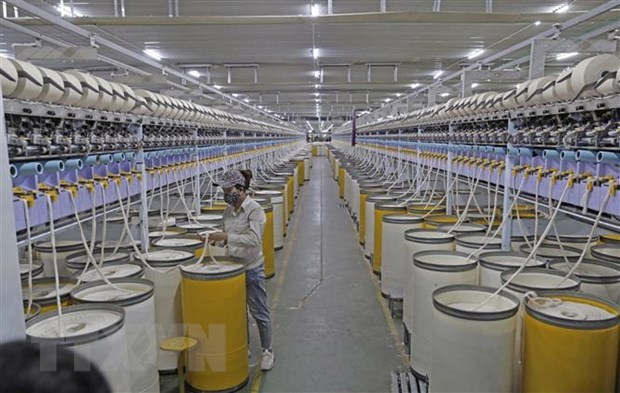 At a textile company in Ha Nam province. Photo: VNA
The Annual Consultation Report was prepared in fulfillment of AMRO's mandate. The organization is committed to monitoring, analyzing and reporting to its members on their macroeconomic status and financial soundness.
Earlier, the Asian Development Bank (ADB) forecasted Vietnamese economy would be the fastest-growing in Southeast Asia this year at 6.7 percent driven by a manufacturing recovery and boom in trade.
Vietnam's GDP growth is expected to top 7 percent next year, also the highest in the region, which would average 5.1 percent.
"Stagnant domestic consumption and weak external demand caused by the Covid-19 pandemic slowed down Vietnam's economy last year, but the growth momentum remains strong this year and next, made possible by Vietnam's success in controlling the spread of the virus," ADB country director for Vietnam, Andrew Jeffries, said.
Growth would be boosted by export-oriented manufacturing, increased investment, and expanding trade, the report said.
The country's purchasing managers' index rose to 53.6 in March, the highest since January 2019. A rate of over 50 indicates expansion.
Construction is expected to pick up quickly as the government continues to accelerate major infrastructure work this year and low-interest rates stimulate property development.
Faster-than-expected recovery in China and the U.S. would significantly expand Vietnam's trade and growth prospects, the report said.
The International Monetary Fund (IMF) also predicted that the Vietnamese economy would expand by 6.5% in 2021, followed by an acceleration to 7.2% in 2022.
The projections were made in the World Economic Outlook report released at the Spring Meetings of the IMF and the World Bank.
According to the IMF, Vietnam can achieve a growth rate of 6.5% this year thanks to its solid foundation as well as the government's aggressive economic and healthcare measures.
Vietnam's unemployment rate is projected to fall from 3.3% in 2020 to 2.7% in 2021 and down to 2.4% in 2022.
The Fund recommended that Vietnam should continue its current macroeconomic policies to ensure a sustainable and comprehensive recovery.
In Southeast Asia, the average growth of the five countries of Indonesia, Malaysia, the Philippines, Thailand, and Vietnam is expected to reach 4.9% in 2021 and 6.1% in 2022.
The global growth forecast has also been revised up to 6% from the 5.5% projection made in January.