People across Europe show their supports (Video: Euro News)
More than 809,000 cases have been confirmed worldwide, and more than 39,560 deaths attributed to the COVID-19 disease. Throughout the global crisis, health workers have been bearing the brunt of the effort to save the lives of victims, often at great personal risk of catching the virus themselves, according to Euronews.
Since lockdowns were announced in Italy, Spain and France, people have been taking to their windows and balconies to show their support and solidarity with rounds of applause, Euronews reported.
The idea has caught on, with applause being recorded in countries around the world, including Turkey, Israel, Belgium, France, Singapore, and Spain.
In Barcelona on Monday, health workers gathered outside the Hospital Clinic to join in a clapping tribute led by police officers and neighbors who cheered and thanked them for their work.
Residents clapping in Jurong East, Singapore (Video: Straight Times)
In Singapore, at 8 pm on Monday, applause rang out across the rooftops, Straight Times reported.
The ovation was part of Clap For #SGUnited, a campaign to get the public to show their appreciation for those on the front lines of the fight against the coronavirus pandemic.
Whether from their windows, doors or balconies, people clapped, cheered, sang Ole and even banged on saucepans. The call was started over the weekend by British expatriate Martin Verga, who works in finance and has lived in Singapore for 10 years.
He was inspired by #Clapforcarers, which saw millions of Britons applauding National Health Service staff last Thursday, and wanted to do the same for workers here.
"For the doctors, nurses, carers, emergency services, delivery workers, warehouse workers, cleaners, supermarket staff and everyone else keeping Singapore safe and stocked at this time," he wrote on Facebook. "We will be forever grateful."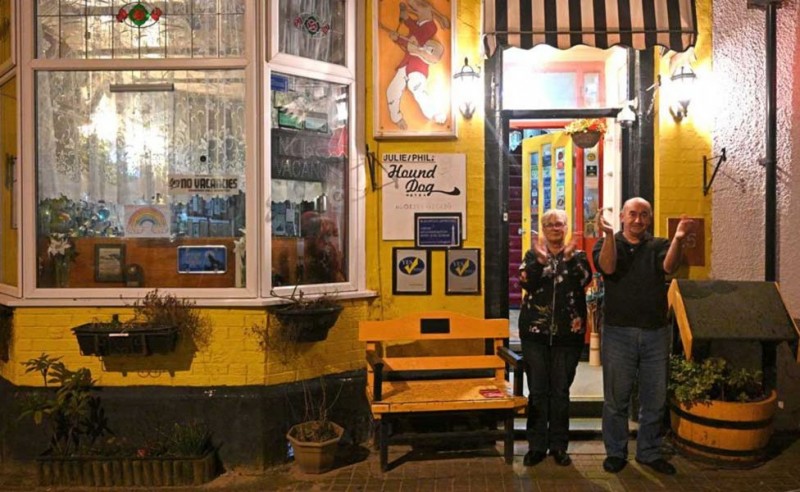 British couple clap their hands at their facade (Photo: Getty Images)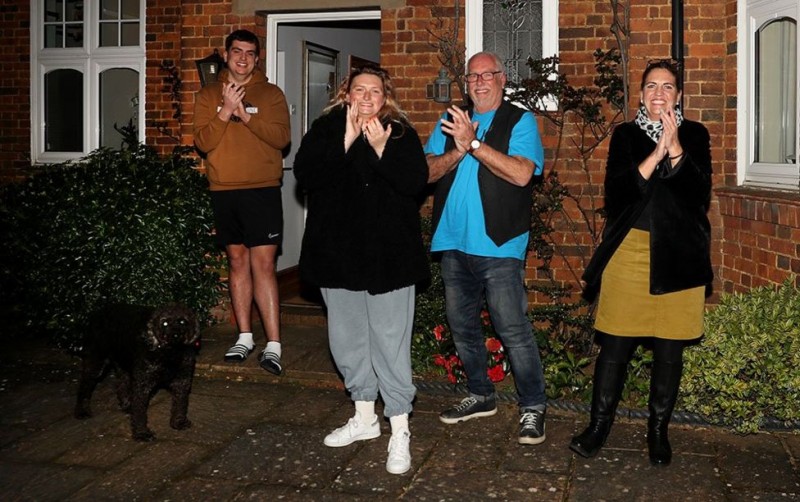 People cheer in London (Photo: Getty Images)
In Vietnam, James Joseph Kendall, an American expat in Vietnam, founder of the Keep Hanoi Clean organization, posted on his Facebook on March 28, calling for Vietnamese citizens and expats in the country to cheer up those fighters who work round the clock in the COVID-19 combat.
"At 8pm to 8.01pm on Sunday, 29th March we would like to ask everyone to stay at home and to go to your balconies or open a window in your house and, make some noise and shout with us "Tôi yêu Việt Nam - Cảm ơn Việt Nam, Cố lên Việt Nam!" ( I love Vietnam, thank you Vietnam, Vietnam fighting!).
We'll do it for exactly one minute and show our gratitude for Vietnam and all the people keeping us safe. We want to get as many people doing it as possible so please share this post with as many people as you can to make sure we get the most coverage!"
The American teacher also encourages people to take to social media to share the information, making this meaningful one-minute clap a more popular event. He hopes that the community will join hands to fight against the novel disease by raising funds.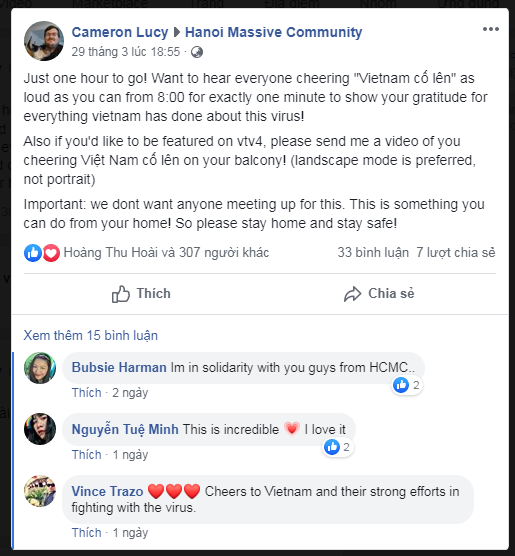 Cameron Lucy posted his call for everyone to join the movement on a Facebook group for foreigners in Hanoi
Prior to James, Cameron Lucy – a British expat also posted a call for Vietnamese people to join the #Clapforcarers movement in a Facebook group for foreigners in Hanoi. In response to his call, many netizens thanked Cameron and said they were willing to follow the trend at 8:00 pm, March 29.
Jasmine Le