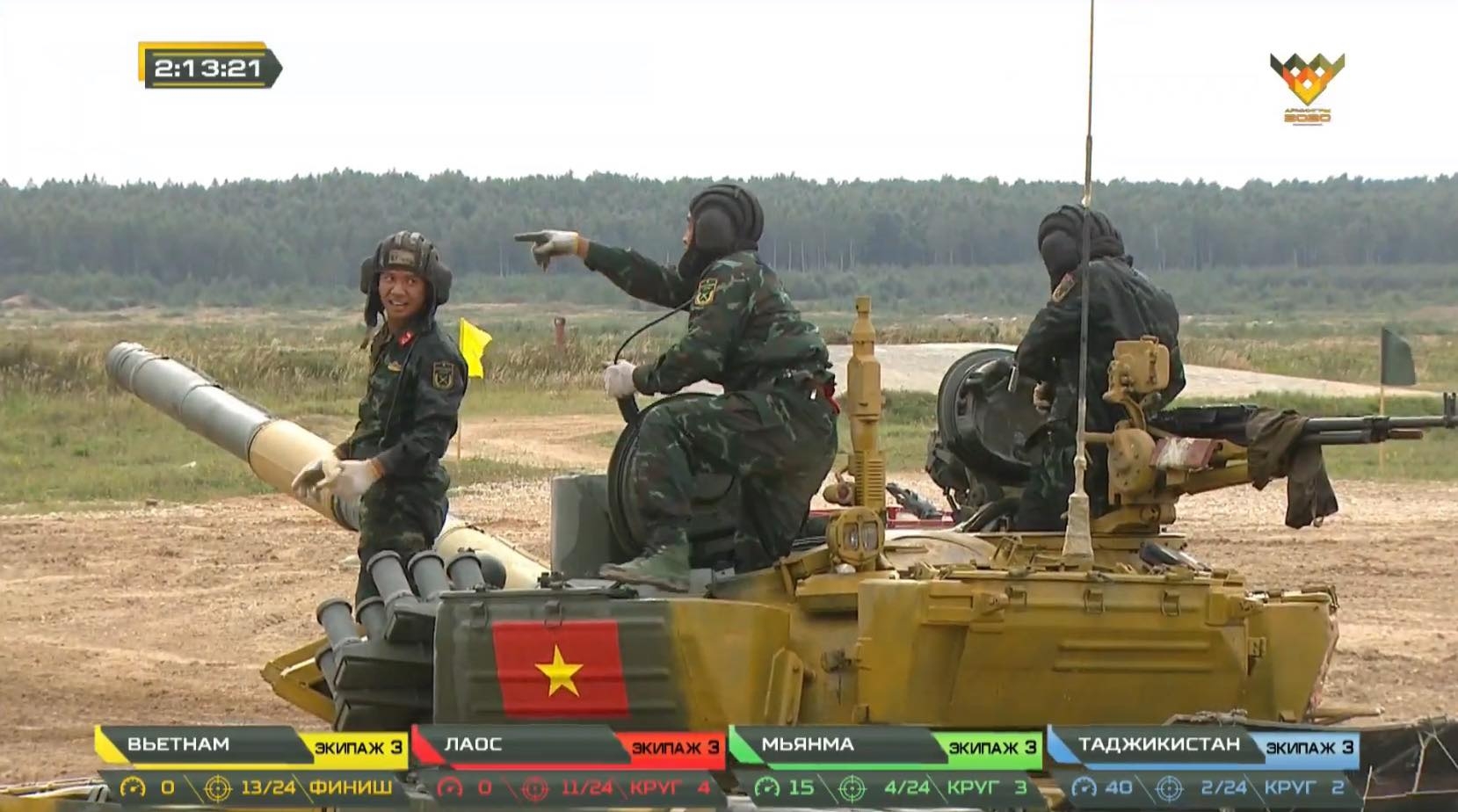 The second final race began with the participation of teams from Laos, Vietnam, Tajikistan and Myanmar.
At 3:00 p.m. on April 4 (Hanoi time), the tank team of the Vietnam People's Army (VPA) began competing with its rivals from Laos, Tajikistan and Myanmar in Group 2 in the final round of the "Tank Biathlon" event held at the Alabino training ground near Moscow.
Tankers from Tajikistan completed in a blue tank, Vietnam in a yellow tank, as well as Myanmar and Laos in green and red tanks, respectively.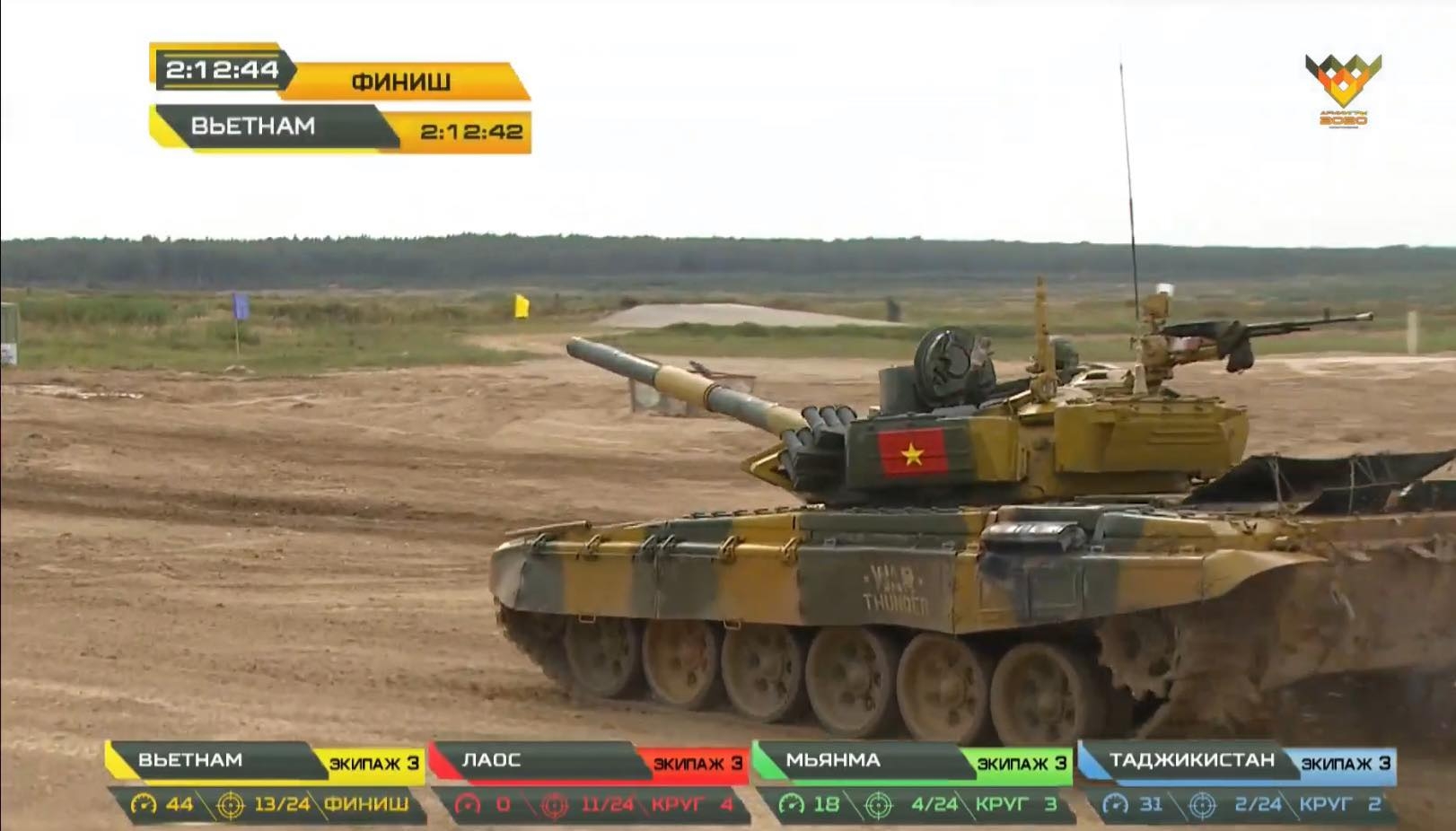 The Vietnamese tank crews drive yellow tanks in the final round of the "Tank Biathlon" event.
According to Sputnik, all three Vietnamese crews performed well and ranked first with the total time of 2 hours 12 minutes and 42 seconds, shooting down 13 out of 24 targets.
The Lao team completed the event in 2 hours 22 minutes and 47 seconds, shooting down 11 out of 24 targets and placing second.
The third and fourth positions went to the tank teams of Tajikistan (2 hours 32 minutes and 27 seconds) and Myanmar (2 hours 35 minutes and 07 seconds), respectively.
Before that, the Vietnamese tank team finished second in the second match of Group 2's semi-final round in the "Tank Biathlon" on September 2, just behind Myanmar, after completing three rounds of competition in 2 hours, 23 minutes and 06 seconds, against Myanmar's 2 hours, 18 minutes and 04 seconds.
In total, Tank Biathlon consists of 16 teams and is divided into two groups, with Group 1 featuring Belarus, Serbia, Azerbaijan, China, Uzbekistan, Kazakhstan, Russia, and Kyrgyzstan, while Group 2 contains Vietnam, Myanmar, Qatar, South Ossetia, Laos, Tajikistan, Congo, and Abkhazia.
The teams of Abkhazia, South Ossetia, Qatar and Congo participate in the competition for the first time this year.
This is the first time that a Vietnamese tank team has won a Tank Biathlon race, given its third time participating in the Army Games.
The fight for the main cup of the tank championship for the teams of the first division will take place on September 5 at the Alabino training ground on the closing day of the International Army Games 2020.
The Russian national team will perform in the final race in a tank painted red, the crews of Belarus – in blue, and tankers in China – in green. Another team of finalists – Azerbaijan – will perform in a yellow tank.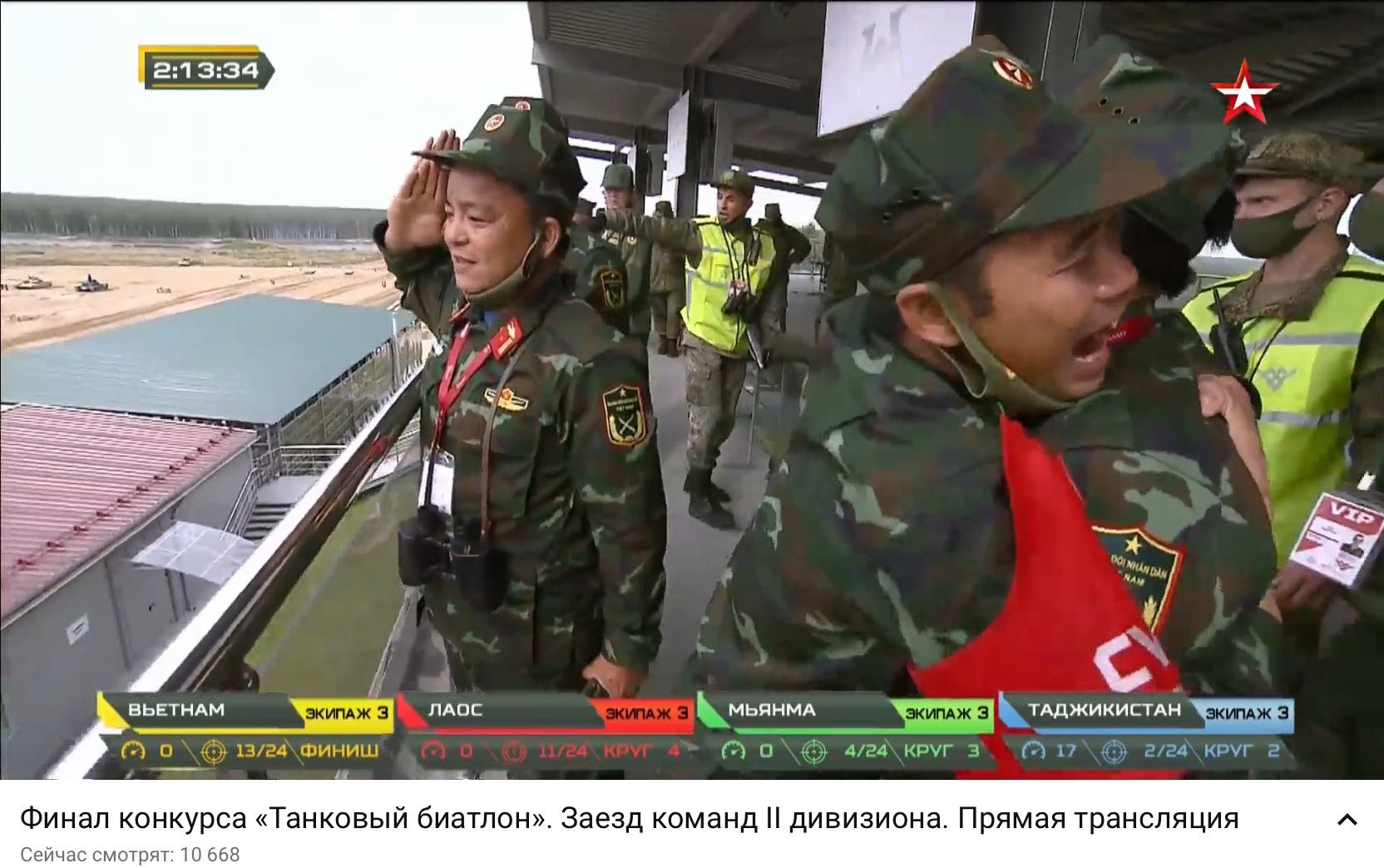 This is the first time that a Vietnamese tank team has won the Tank Biathlon race.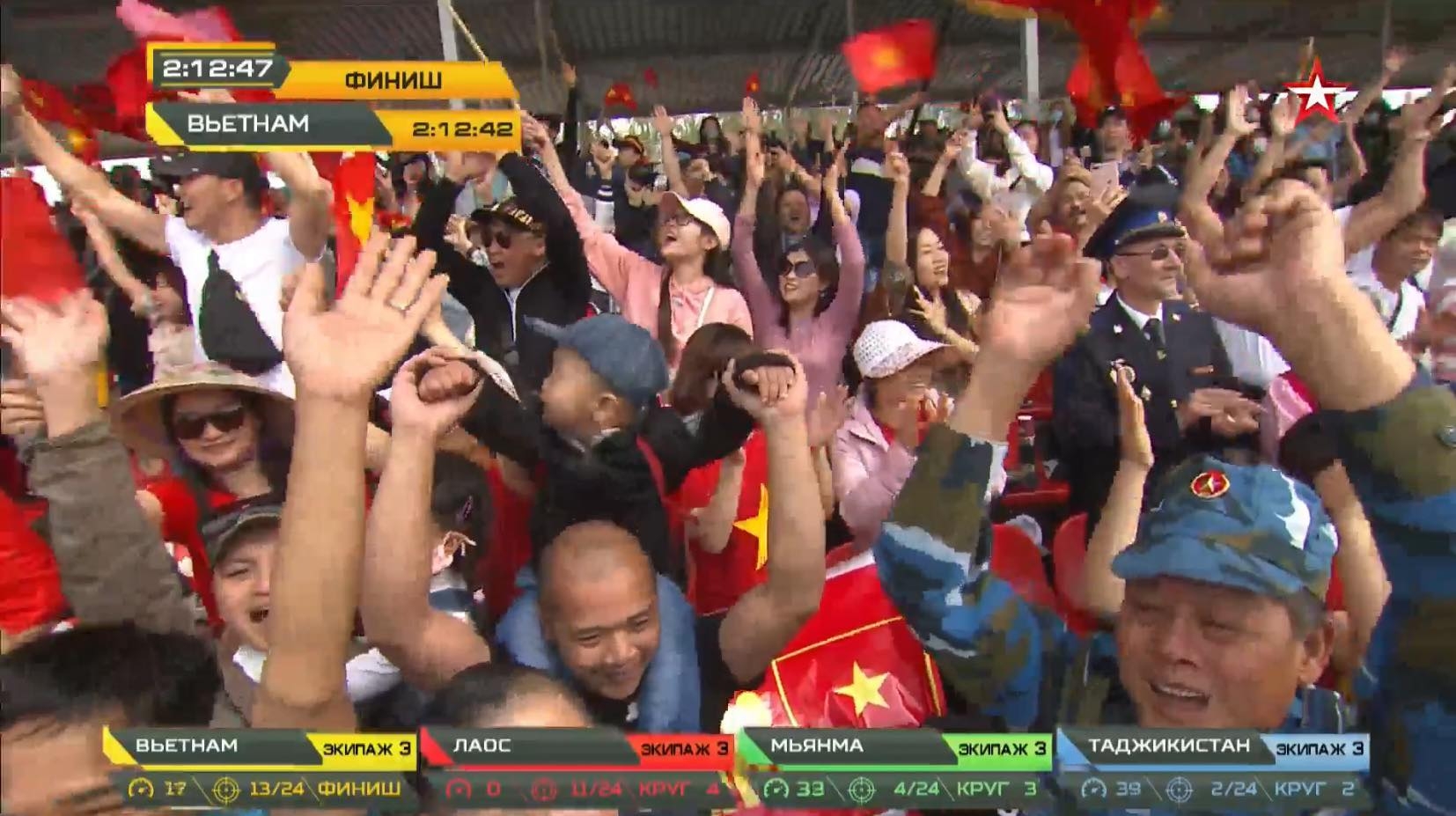 Fans cheer after Vietnam's win.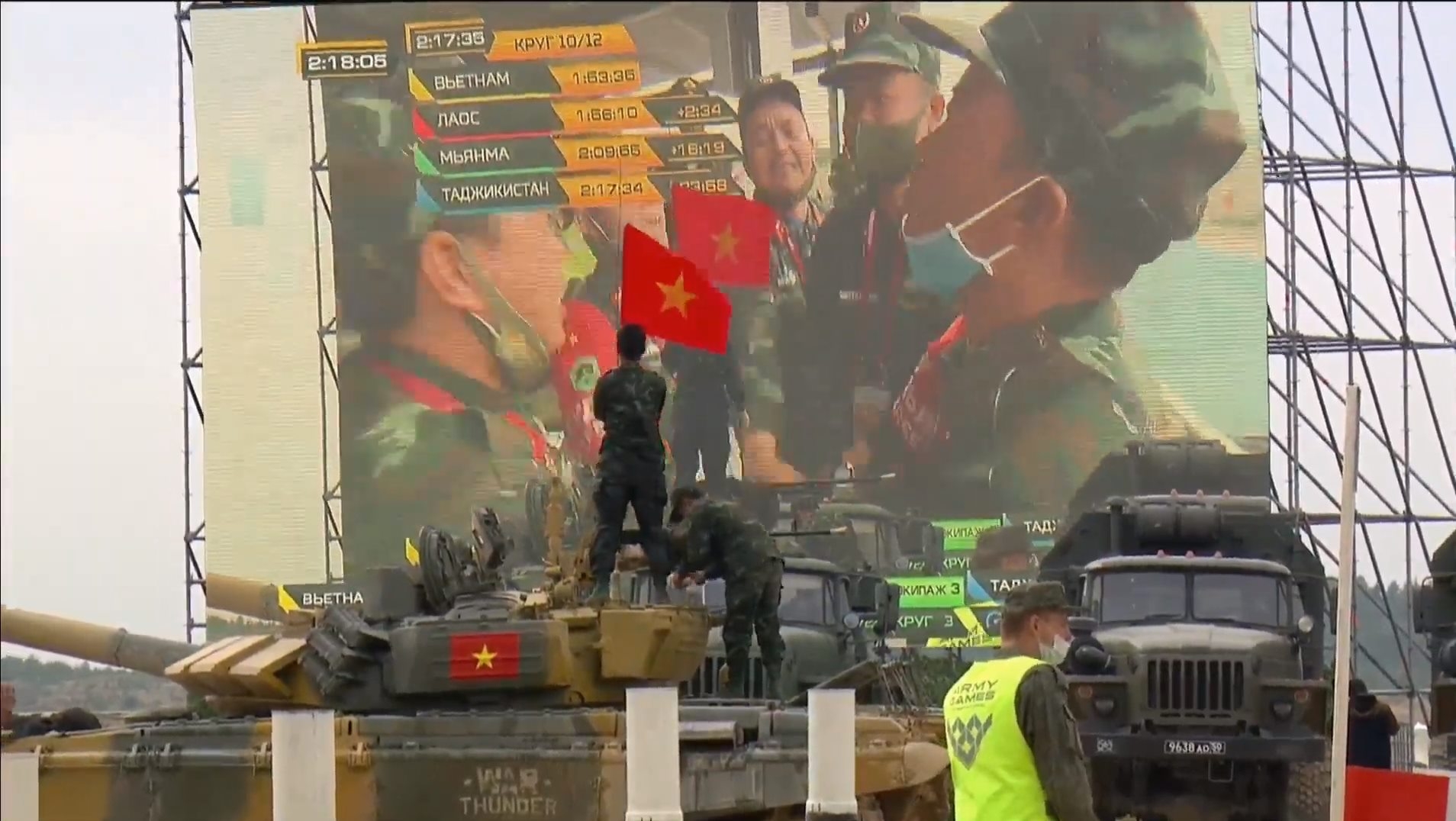 Vietnamese teams resisted the pressure and finally reached the final with a time of 2 hour, 12 minutes and 42 seconds.
Hannah Nguyen