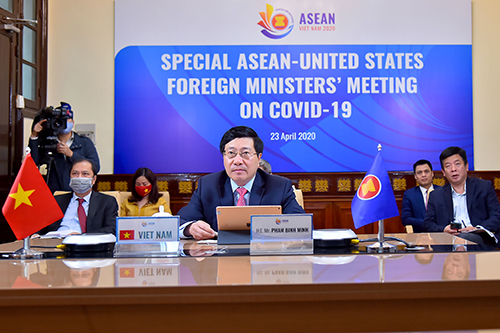 Deputy Prime Minister, Foreign Minister Pham Binh Minh at the Special ASEAN-US Foreign Ministers' Meeting on COVID-19. Photo: VGP
Deputy Prime Minister and Foreign Minister Pham Binh Minh on April 23 affirmed that Vietnam will enhance its cooperation with other countries, including the US, as well as the World Health Organisation and the international community in the fight against the COVID-19 pandemic. Speaking at the online Special ASEAN - US Foreign Ministers' Meeting on COVID-19, Minh informed participants of the measures undertaken by the Vietnamese Government and the initial positive results.
He also called on ASEAN and the US to continue sharing information, experience and best practices and welcomed the US's plan to further strengthen public health cooperation with ASEAN through the US-ASEAN Health Futures Initiative and the ASEAN Alumi public health experts.
Both sides need to start preparing post-COVID-19 development plan which includes coordinated policies and measures to stimulate the economy, trade, investment, stabilize the financial market, and restore the confidence of businesses and people, said Deputy PM, FM Minh.
He also stressed that: "At this difficult time, what we need most is a peaceful and secure environment. While we are all doubling our efforts to combat the COVID-19 pandemic, we should not lose sight of issues that have long-term implications for peace, security and stability in the region."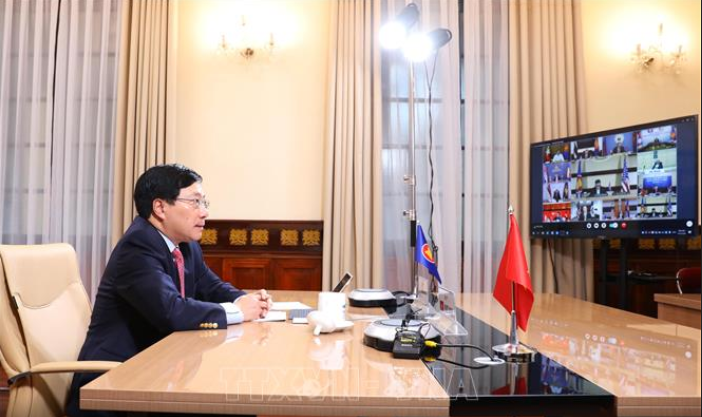 Deputy PM and FM Pham Binh Minh speaks at the online Special ASEAN -US Foreign Ministers' Meeting on Covid-19 ( Photo: VNA)
Meanwhile, US Secretary of State Michael R. Pompeo expressed thanks to ASEAN partners for their valuable support in promoting the continued flow of vital medical supplies into the US, as well as their support for repatriation flights.
"For example, Viet Nam expedited clearances for charter flights to deliver 2.2 million personal protective suits to the US, and we expect more shipments of personal protective equipment (PPE) in the coming weeks," said Pompeo.
Pompeo affirmed that "We commit to "continue to build for the future based upon the tried and true principles that we share - ASEAN centrality, openness, transparency, a rules-based framework, good governance, and respect for sovereignty."
The Foreign Ministers exchanged views on the COVID-19 situation in their respective countries, as well as information and best practices on dealing with the outbreak from a public health perspective. They noted the grave socio-economic impact of COVID-19, and emphasised the need for ASEAN and the US to work closely together on a forward-looking approach to address post-pandemic economic recovery.
Tarah Nguyen