Vietnam concerned about complicated situation in ASEAN waters
As a nation in the East Sea and member of the Association of Southeast Asian nations (ASEAN), Vietnam on April 21 voiced its concern about the complicated situation in the waters of some ASEAN countries and hoped parties concerned fully abide by international law,  VOV reported on April 21.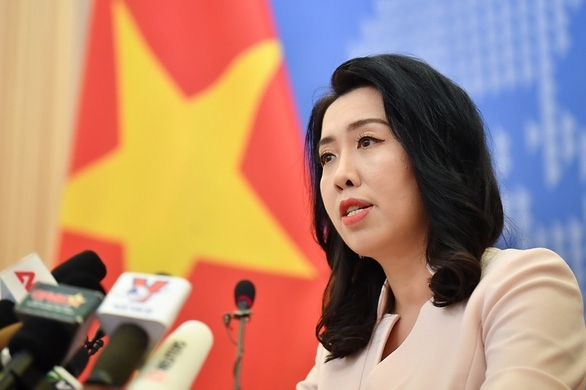 Foreign Ministry spokesperson Le Thi Thu Hang.
Vietnam follows with keen interest the situation in the region, Foreign Ministry spokesperson Le Thi Thu Hang told reporters on April 21.
"Vietnam maintains the legitimate rights and interests of nations must be respected in compliance with the 1982 United Nations Convention on the Law of the Sea (UNCLOS).
"It's the responsibility of parties concerned to uphold international law, including the UNCLOS, and show commitments to develop friendly relations between nations, for peace, stability and cooperation in the East Sea, the region and the world."
According to Reuters, the Haiyang Dizhi 8, a Chinese government research ship, was spotted last week conducting a survey close to an exploration vessel operated by Malaysia's state oil company Petronas, months after it undertook a similar patrol off Vietnam.
The incident prompted the United States to call on China to stop its "bullying behaviour", citing concern over Beijing's provocative actions towards offshore oil and gas developments there.
The US State Department has said China was taking advantage of the region's focus on the coronavirus pandemic to "coerce its neighbours".
The USS America amphibious assault ship and the USS Bunker Hill, a guided missile cruiser, have been deployed and were operating in the South China Sea, US Indo-Pacific Command spokeswoman Nicole Schwegman said on April 21.
"Through our continued operational presence in the South China Sea, we are working ... to promote freedom of navigation and overflight, and the international principles that underpin security and prosperity for the Indo-Pacific," Schwegman said in an emailed statement to Reuters.
"The US supports the efforts of our allies and partners to determine their own economic interests."
Vietnam calls the South China Sea the East Sea./.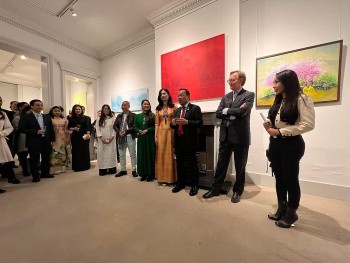 Overseas Vietnamese
The "Sac mau que huong" (Colours of Homeland) exhibition was opened in Mayfair art district in the heart of London.