The Reuters and AP reported on "packed audiences" images at V-League 2020
According to the Reuters and AP, football matches in Vietnam's professional league were suspended in March, but thanks to successful precaution and control measures against COVID 19, V-League has restarted
Thousands of fans poured into stadiums in Vietnam on Friday as the country resumed top-flight soccer without social distancing measures or curbs on crowd sizes, owing to its success in combating the spread of the novel coronavirus, said the Reuters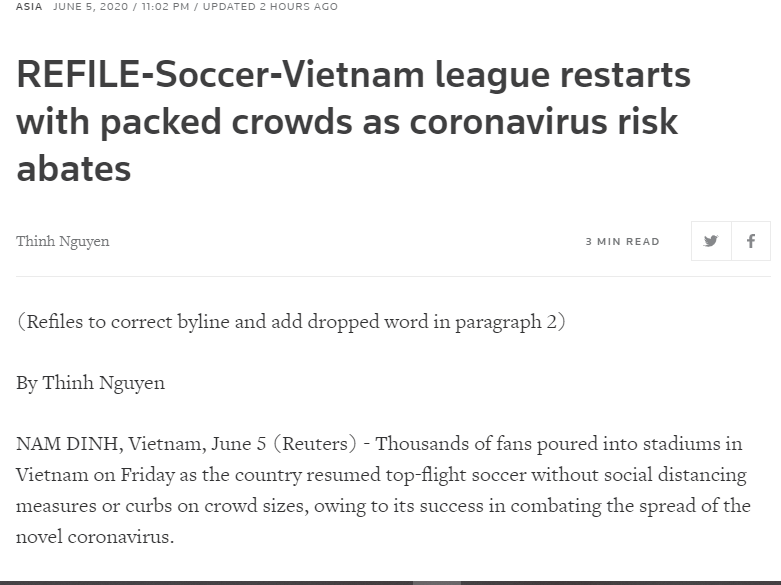 The article on Reuters (Photo: captured)
The stadium in Nam Dinh was close to its 30,000 capacity on Friday as the home side lost 2-1 to visitors Viettel in one of three openings V. League matches, where spectators stood shoulder-to-shoulder with few face masks to be seen. Moreover, hand sanitizer was available as stewards performed temperature checks on fans, who were asked to wear masks as they entered.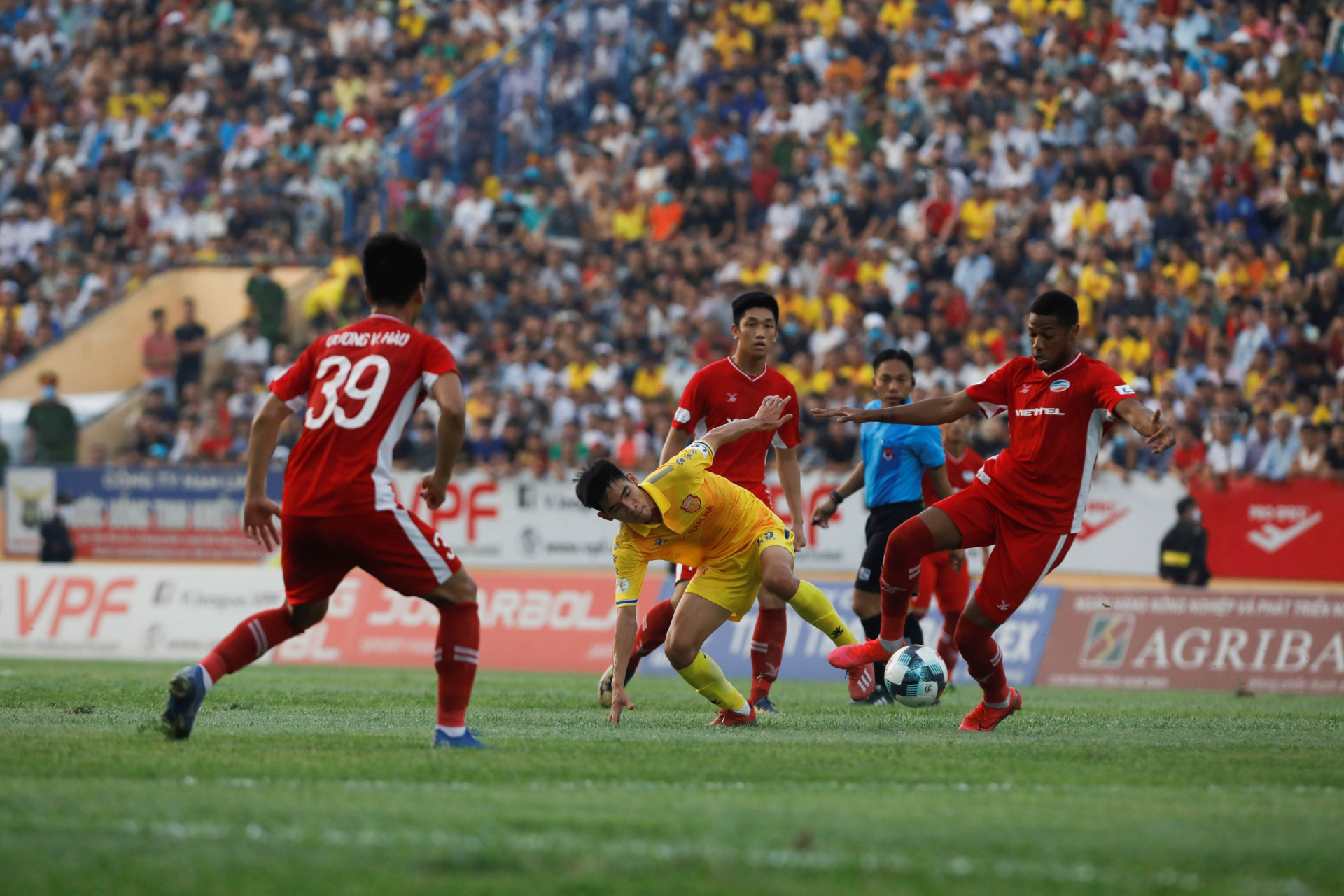 Tran Ngoc Son of Viettel fights for the ball with players of Duoc Nam Ha Nam Dinh during a soccer match of the V.League, the national soccer league. (Photo: Reuters)
After the match, Vietnam's national team captain Que Ngoc Hai of Viettel responded to the Reuters' interview. He emphasized that it was so wonderful to see a full stadium.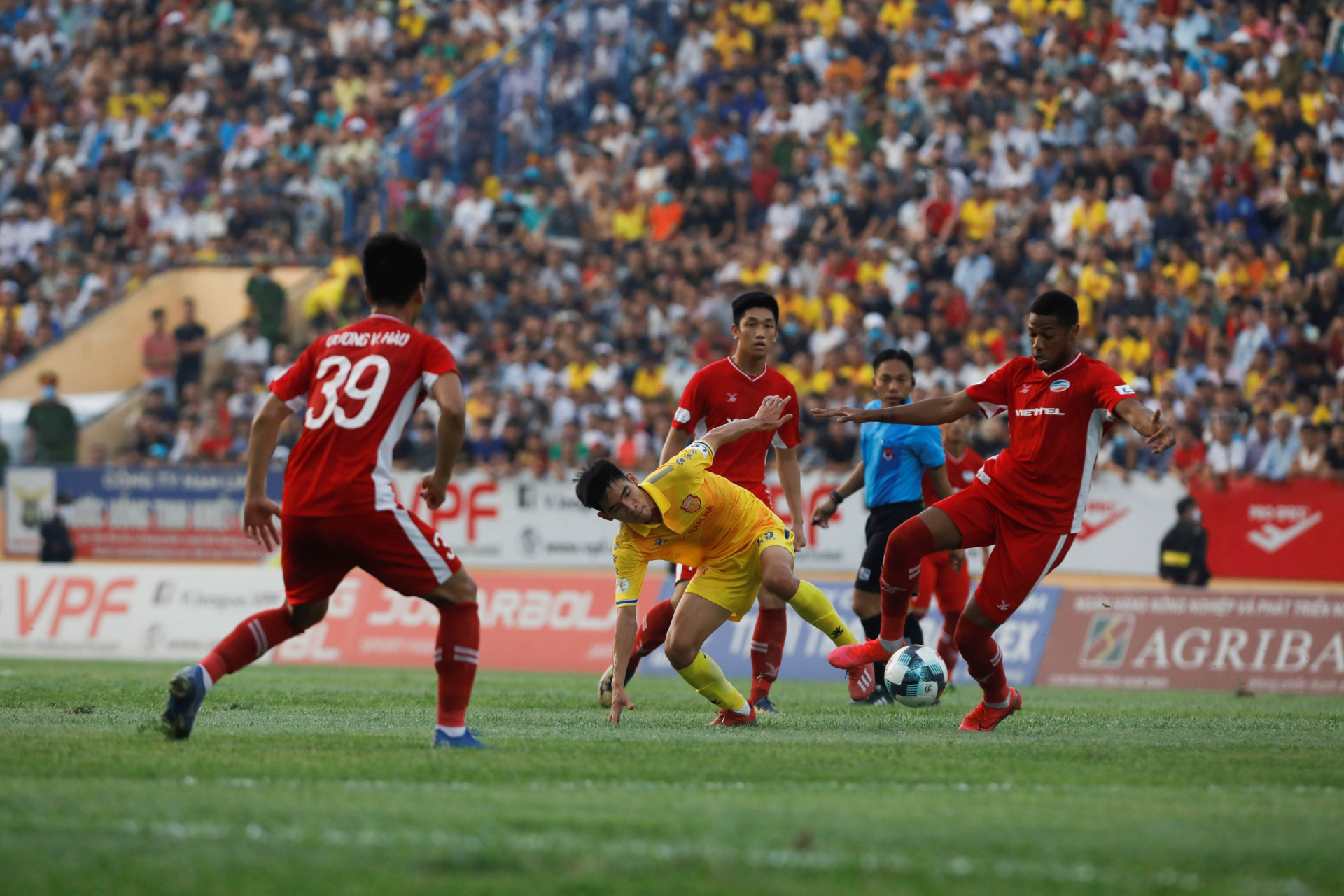 Soccer fans attend a soccer match between Viettel and Duoc Nam Ha Nam Dinh of the V.League (Photo: Reuters)
The AP news, on the other hand, published an article with the title "Fans and soccer back in Vietnam after coronavirus shutdown". Fans were allowed into Ho Chi Minh City's scoreless draw with Hai Phong among three matches, But unlike Germany's Bundesliga and South Korea's K-League, which returned to action in May with empty arenas, more than 1,000 fans attended the V-League game at Hai Phong.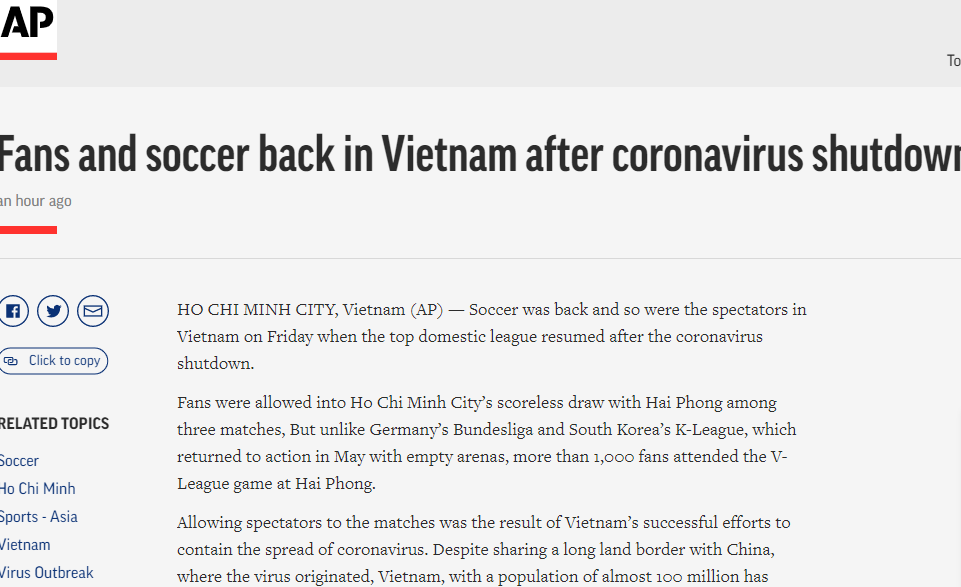 The article on AP news (Photo: captured)
Allowing spectators to the matches was the result of Vietnam's successful efforts to contain the spread of coronavirus. Despite sharing a long land border with China, where the virus originated, Vietnam, with a population of almost 100 million has recorded just 328 cases and not a single recorded death.
The number, affected by inconvenient kickoff time, was small compared to the league's average attendance of over 7,000 in 2019, added the AP new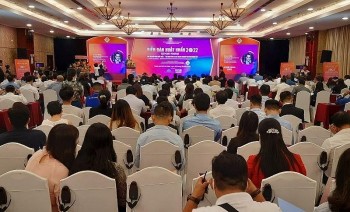 Focus
Vietnam News Today (Dec. 9): Vietnam - Singapore innovation centre helps firms transform production; HCM City among most searched destinations by travelers; Vietnamese digital technology industry's revenue estimated at 148 billion USD in 2022; Two Vietnamese films up for consideration at Oscars.