Australian-funded breast cancer detection tech officially launched
VIETRAD, an Australian-funded intelligent system that is expected to improve the accuracy rate of breast cancer diagnostics from 50% to as much as 85%, was officially launched on November 12.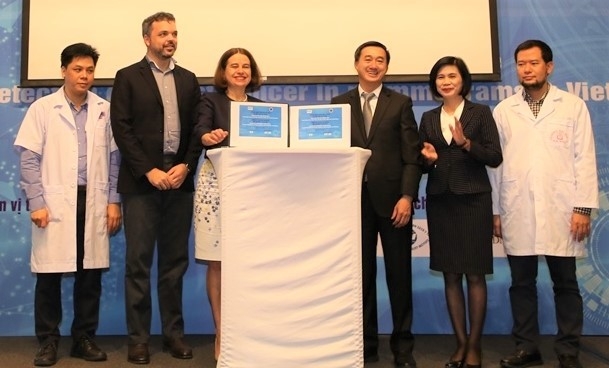 Australian Ambassador Robyn Mudie (third person from left), Vice Minister of Health Tran Van Thuan (third person from right) posing for a group photo with VIETRAD project team and all doctors and technicians taking the training. Source: Australian embassy
Breast cancer is the most common cancer in Vietnamese women with over 10,000 new cases diagnosed annually and 89% of patients presenting with late stages making the treatment more difficult with low survival rates. Early cancer detection depends on accurate interpretation of breast images by radiologists and this is essential to improving treatment efficacy and patient prognosis.
However, data gathered through workshops performed by the University of Sydney in collaboration with the Vietnam Ministry of Health and leading national agencies in the north and south of the country showed that Vietnamese radiologists displayed low diagnostic efficacy when reading mammograms with sensitivity values below 50%.
In Australia, the novel image test set approach, Breastscreen REader Assessment STrategy (BREAST), is employed by BreastScreen services in Australia and New Zealand as an official training tool to optimise cancer detection.
The VIETRAD project was developed thanks to the funding of more than AUD340,000 by the Australian Government through its Aus4Innovation programme.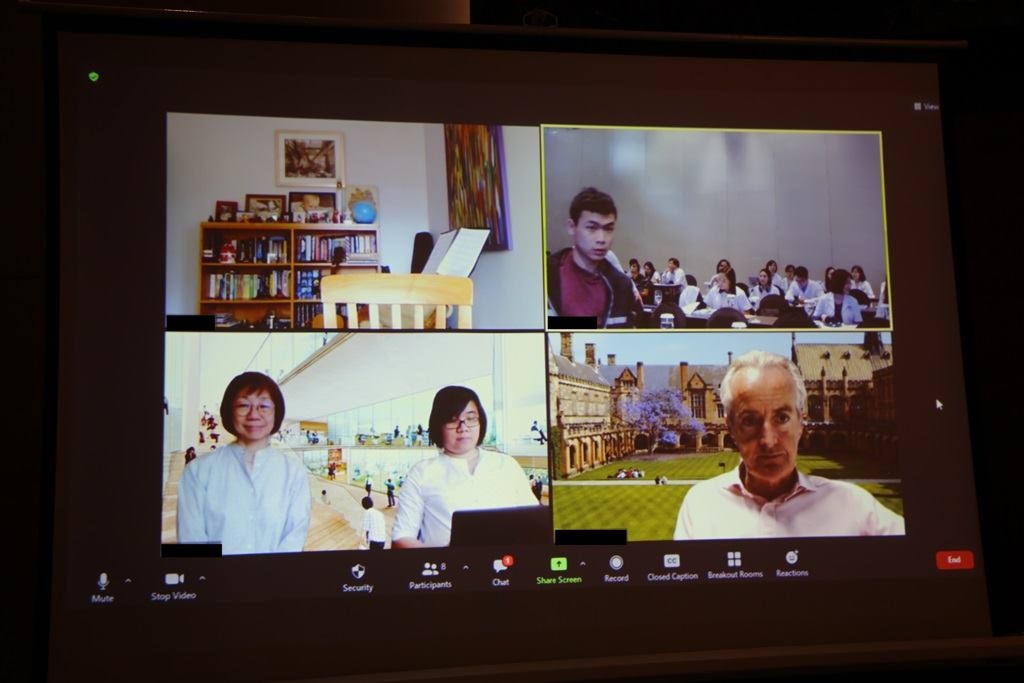 Lecturers from University of Sydney joining the ceremony and training online. Source: Australian embassy
Addressing VIETRAD's launch event, Australian Ambassador Robyn Mudie noted that breast cancer is one of the biggest health concerns for women and said she hoped that the advanced system would transform the detection of breast cancer. The Ambassador also reaffirmed Australia's committed support for innovation in healthcare in Vietnam.
In his remarks, Deputy Minister of Health Tran Van Thuan noted that VIETRAD platform is the first of its kind in Vietnam. "Now doctors and researchers can access to this advance system no matter where they are and improve their capability to detect breast cancer from reading mammograms," he said.
Developed through a partnership between the University of Sydney and Vietnam's Health Strategy and Policy Institute, VIETRAD is the first ever intelligent system in using machine learning to test, monitor and improve radiologic diagnosis of breast cancer, and potentially some other kinds of cancer.
It will develop automated intelligent feedback algorithms to identify the type of errors which each Vietnamese radiologist makes when reading mammograms and assign individual-specific training modules.
The platform will be implemented at hospitals in Hanoi, Hue, Da Nang and Ho Chi Minh City after radiologists from hospitals receive training on the platform at sessions this month./.
9 anti-cancer foods you cannot ignore

With modern lifestyles, people are exposed to multiple carcinogenic agents on a daily basis. It is hence no wonder that cancer rates are soaring. To ...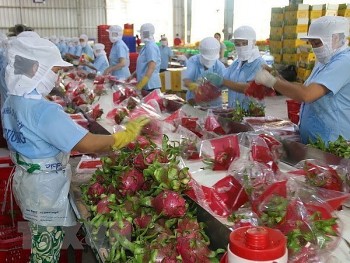 Make in Vietnam
Denmark and Vietnam strengthen cooperation in production, certification and management of organic products