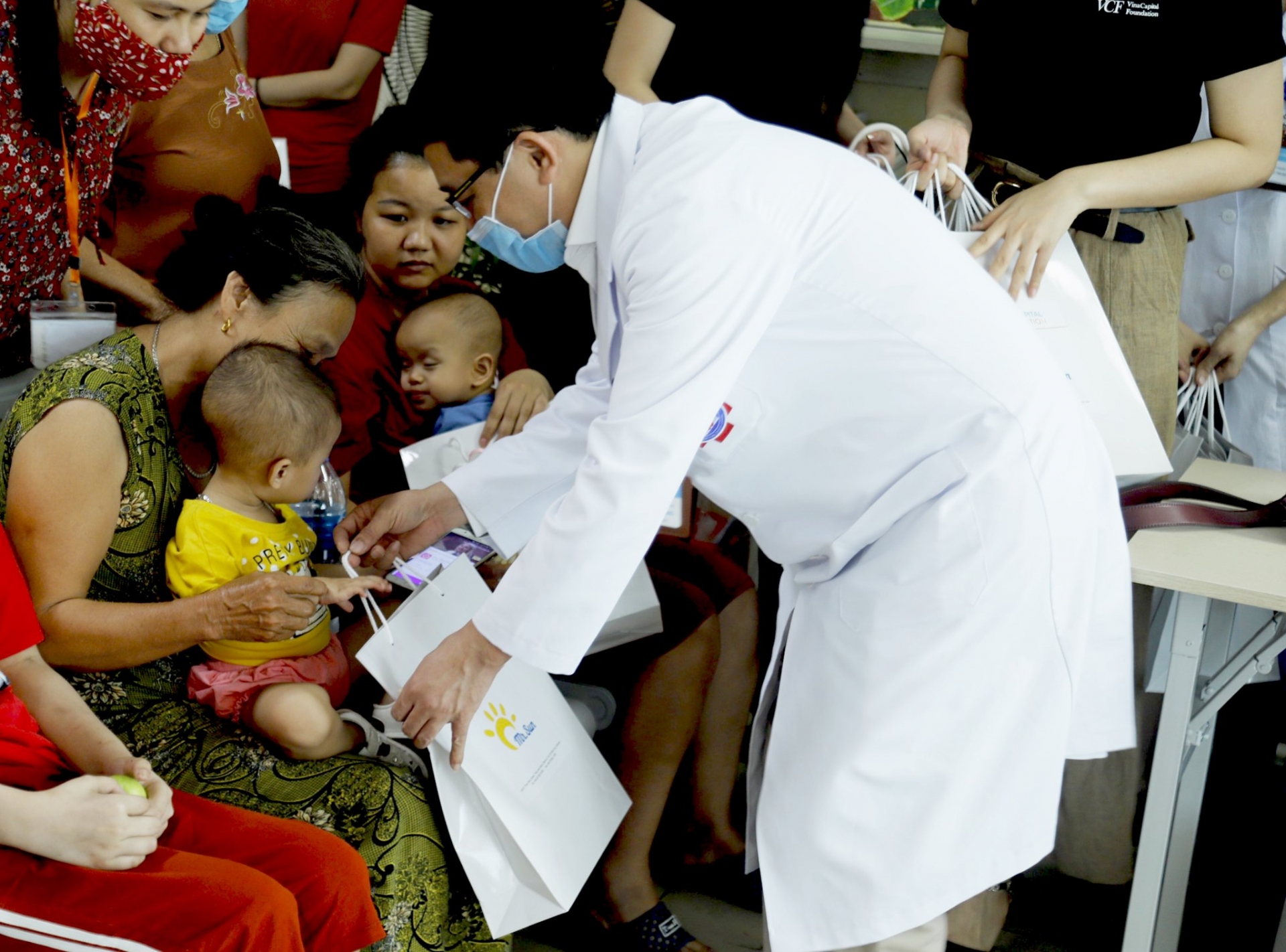 To celebrate the introduction of Mr. Sun and the International Children's Day, VCF and Assoc. Prof. PhD. Le Van Quang, Deputy Director of K Hospital and volunteers visit the young cancer patients in K Hospital to bring a little joy and a lot of hope through toys, gifts, and fun activities. Photo: VCF
Accordingly, VCF will partner with K Hospital in Hanoi, the National Cancer Hospital, to implement a nationwide assistance program for pediatric patients with cancer where treatment is far beyond the families' economy.
To celebrate the introduction of Mr. Sun, VCF, and Assoc. Prof. Ph.D. Le Van Quang, Deputy Director of K Hospital and volunteers have visited the young cancer patients in K Hospital and brought toys, gifts, and fun activities to the children.
According to the World Health Organization, cancer is a leading cause of death for children and adolescents worldwide. In high-income countries, more than 80% of children with cancer are cured, but in lower-income and lower-middle-income countries like Vietnam, only 20% are cured.
The major reasons for lower survival rates in these countries are poverty, lack of information, and lack of access to essential medicines and technologies, all of which are very costly even for middle-income families. The number of cancer cases among children in Vietnam is on the rise and there is a shortage of national resources to provide adequate treatment and support for those children and their families. Many poor families abandon treatment altogether because of the high costs only to return to the hospital months later when their suffering child is dying.
VCF CEO Rad Kivette, expresses his vision for Mr. Sun, "Cancer is a disease that attacks almost every family and the results are devastating particularly if the family is poor- hopelessness is devastating. Vietnam has excellent hospitals and healthcare providers and there has been enormous medical progress but cancer 'new cases' and deaths have tripled in the last 30 years. The oncology hospitals are full of children and by most professional estimates there are an equal number of children at home who have abandoned care."
"Mr. Sun is designed to help financially with individual cases and other improvements that range from prevention and early diagnosis to education and counseling and improved palliative care in all Vietnam. Mr. Sun will be a ray of lights that brings hope and healing."
The 'Mr. Sun' program's national goals are included: providing financial support to poor pediatric cancer patients; developing programs to provide psychosocial support for pediatric cancer patients and their families; improving Vietnam's cancer healthcare capacity and raising public awareness about pediatric cancer.
More specifically, the program will organize sessions to inform and educate family members regarding patient care and how to deal with the emotional burdens; support training and capacity building programs for healthcare professionals who treat child cancer patients in pediatric cancer centers in Vietnam; and organize public activities to share information regarding causes and consequences of children's cancer including all media outlets including social media.
Founded in 2006, VCF aims to support the national economic development and empower the children and women of Vietnam through health and education programs.
VCF's grassroots medical programs include Heartbeat Vietnam and Outreach Clinics – designed to locate disadvantaged children with congenital heart defects and other non-communicable diseases in even the remotest areas and provide access to quality healthcare. Medical capacity building programs are partnerships with the Ministry of Health and include Critical Response emergency care – pediatric advanced life support training & emergency equipment, and Survive to Thrive – building capacity for neonatal care.
VCF's education initiative in cooperation with Vu A Dinh Scholarship Fund, the Brighter Path program, is an empowerment and scholarship program for impoverished but academically talented ethnic minority girls – developing communities and reducing poverty.
Hannah Nguyen