Australia's Promising Vietnamese Entrepreneurs
Young Vietnamese entrepreneurs are going from strength to strength.
In the Vietnamese community in Australia, there are many young people who have a long list of awards and titles and a high reputation who actively support and accompany their fellow compatriots.
Let's meet some outstanding Vietnamese-born entrepreneurs who succeeded in building their business in Australia.
From Vung Tau teenage boy to Sydney-based lawyer
Vietnamese student Luong Manh Cuong (Vinson Luong) of St Johns Park High School (Sydney City, Australia) was top of his class and school, won many titles and then surpassed rigorous standards and fierce competition to enroll in the Law Faculty of the University of Sydney.
In 2016, he earned his double bachelor's degrees in economics and law.
Vinson has won many titles, notably "Best Member" in 2014 awarded by the non-profit organization for the development of less developed countries Enactus University of Sydney, and "Best International Student" 2014 by the University of Sydney.
Executive and co-founder of Axegal Law Firm Luong Manh Cuong at the Vietnamese Embassy in Australia. Photo: Nhan Dan
He was a member of the Vietnamese Student Association in Australia.
After graduating, he received job offers from leading law firms, participating in solving many large lawsuits with a litigation value of up to hundreds of millions of dollars.
During his practice, Vinson was the only lawyer whose mother tongue was not English.
The 30-year-old lawyer has been well known by the Vietnamese community, especially young successful people in Australia. He is now Chief Executive Officer, Co-Founder of Axegal Law Firm with expertise in the fields of economics, commerce, and real estate.
Besides building his career, Vinson co-founded the Association to Support Young Entrepreneurs in Australia. The goal of the Association is to accompany, improve knowledge, and spread passion to become an entrepreneur in the Vietnamese young business community.
One of the highlights of Vinson's work is free legal aid for Vietnamese students.
Photo: Vinson Luong Facebook
Made-in-Vietnam fintech "unicorn"
One successful startup in the Vietnamese community is Clever. This fintech startup was co-founded by a member of the Vietnamese Student Association in Australia: Tran Thi Thuy Quynh ( Caroline Tran).
Tran has been living and studying in Australia since 2010. She majored in accounting and finance at the Faculty of Economics of the University of Technology Sydney.
With unremitting efforts, the female student was granted a Certificate of Certified Public Accountants by CPA Australia.
Clever Co-founder Tran Thi Thuy Quynh (centre in the photo) and associates. Photo: Nhan Dan
Tran said that the idea of ​​Clever came to her from thinking about a personal management application for young people.
"I started this dream with the only mission is to empower the 'brokest' generations (Millennials and Gen Z) to make better financial decisions. My company is a female-led fintech startup where I've been so fortunate and humbled to be working with a group of seven multi-passionate humans from many diverse backgrounds, who have worked relentlessly days and nights to build a powerful app that helps you spend wisely and slay financial goals without even trying," she said.
The 30-year-old entrepreneur brought this idea to participate in many competitions and achieved a series of successes such as the title of "Most Popular App" in Australia in 2021; Microsoft sponsorship; top 5 contest VISA's Everywhere Initiative APAC 2021; and a Tokyo Financial Award 2020 finalist.
In 2021, Clever successfully called for investment capital of 2 million AUD from famous investors from Australia and Singapore.
Caroline in an interview as a representative of Australian entrepreneurs. Photo: Caroline Tran LinkedIn
With a team of about 20 young Vietnamese and Australian nationals, Clever has reached the top 50 fastest growing fintech companies in Australia, with advanced technology products to support financial management and more
As a diligent founding member of the Vietnam Young Entrepreneurs Association in Australia, Vinson and Tran have grabbed the opportunity to work in a professional and dynamic environment, creating a premise for many Vietnamese and local students.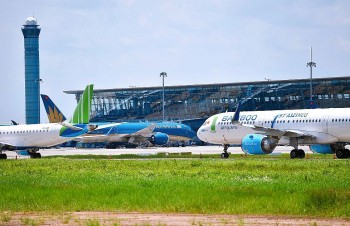 Economy
Vietnam Business & Weather Briefing (August 9): Vietnam's economic growth is expected to reach 7.5% in 2022, new securities accounts hit a near two-year low in July.