Disadvantaged Children Still Feel Holiday Cheer Despite Pandemic
Authorities in many places are holding practical activities to bring a sense of festivity to children as this year's Mid-autumn takes place amid the Covid-19 pandemic
Presents to pediatric patients at National Institute of Hematology and Blood Transfusion
Vice President Vo Thi Anh Xuan, chairwoman of the Sponsoring Council - National Fund for Vietnamese Children last Thursday visited and presented gifts to 210 children treated at the National Institute of Hematology and Blood Transfusion. Each child reportedly received US$ 44.
The vice president also took part in the "Happy 2021 Mid-autumn" party.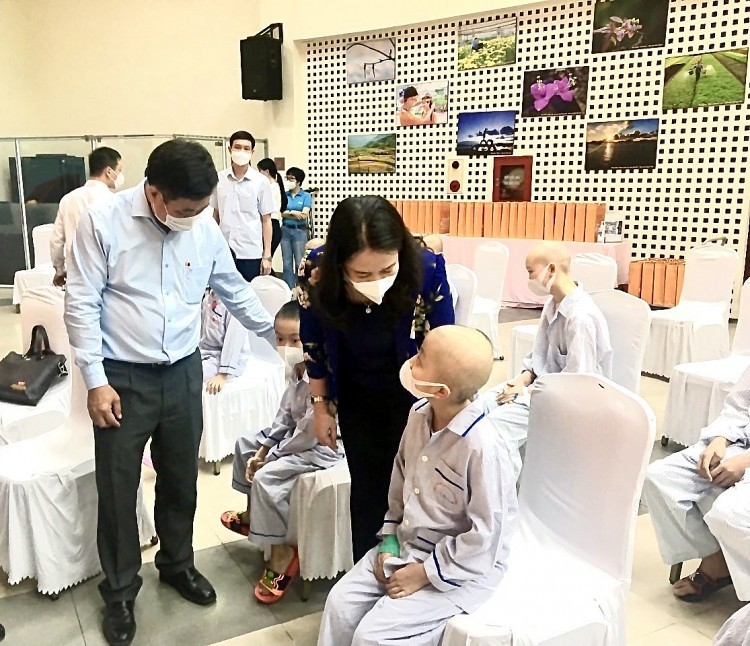 Vice President Vo Thi Anh Xuan visits a patient at the National Institute of Hematology and Blood Transfusion. Photo: VNA
"Each child was born and raised with a dream. Their paths to pursue their dream are not the same," Xuan said. "Those with health issues always have to make more efforts to overcome the physical paints and keep a positive mind to cope with the disease."
She expressed her the pediatric patients would continue to follow treatment regimes so that they can return to normal life with family in the soonest time. The vice president also called on medical personnel, nurses, benefactors and their families to support the children.
Presents to orphans and disadvantaged children in HCMC during the ongoing Covid-19 pandemic
On Sept. 17 morning, Nguyen Tuong Lam - secretary of Central Committee of the HCMC Communist Youth Union and the delegation of the union and Thu Duc municipal Youth Union had handed over presents to children in difficult circumstances or lost parents to the coronavirus.
The delegation reportedly presented 40 gift packages and 10 sets of textbooks to disadvantaged children in Street No.1, Tan Phu Ward, Thu Duc City.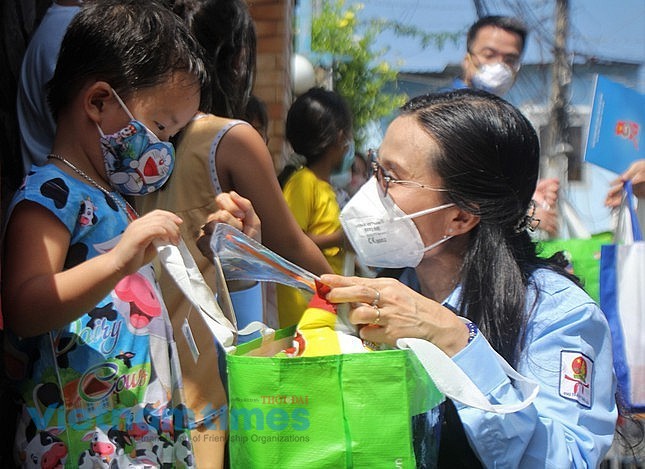 A child in HCMC receives the Mid-autumn present. Photo: Vietnam Times
Lam also presented Vo Quyen Tien Dinh, 15, an iPad alongside financial support to help the boy with his online schooling during social distancing time.
Authorities in Binh Thanh district also handed over Mid-autumn presents, including textbooks, to needy children and those left orphaned in the Covid-19 pandemic.
Meanwhile, the city police had given 1,000 gift packages, including mooncakes, notebooks, milk, lanterns to orphans, needy children and children whose parents are cadres and soldiers.
Special Mid-autumn celebration for over 1,200 small Covid patients in Binh Duong
Medical personnel at Field Hospital No.1 in Binh Duong and Thoi Hoa Provincial Covid-19 Treatment Zone on Sept. 19 reportedly held a safe Mid-autumn celebration for more than 1,200 children treating for Covid-19 at the facility. Binh Duong is the second-biggest epicenter in Vietnam, recording 179,705 patients since April 27 when the fourth outbreak started.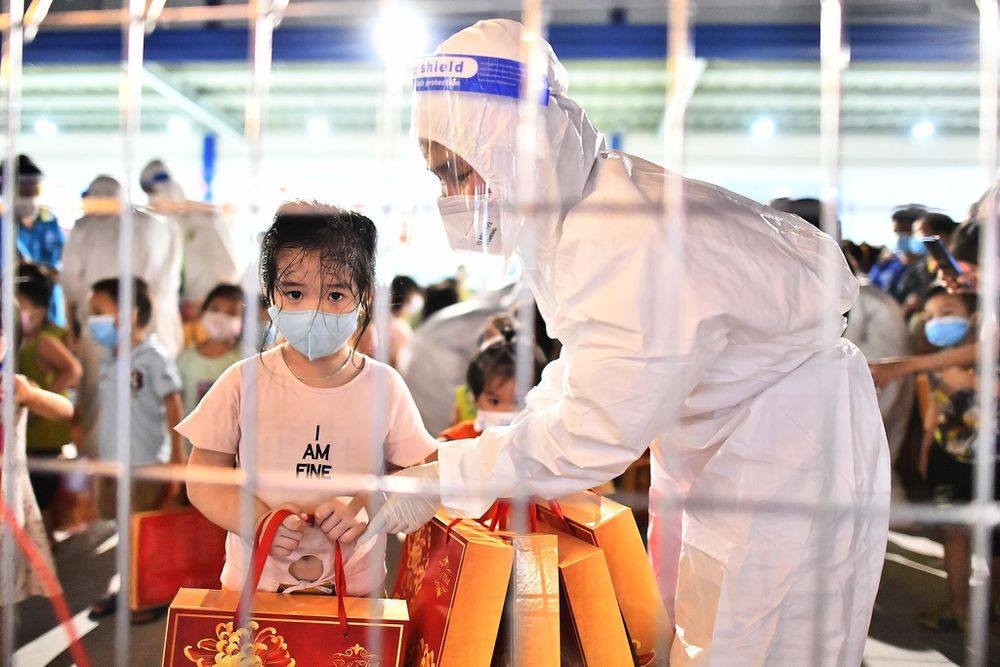 Photo: Zing News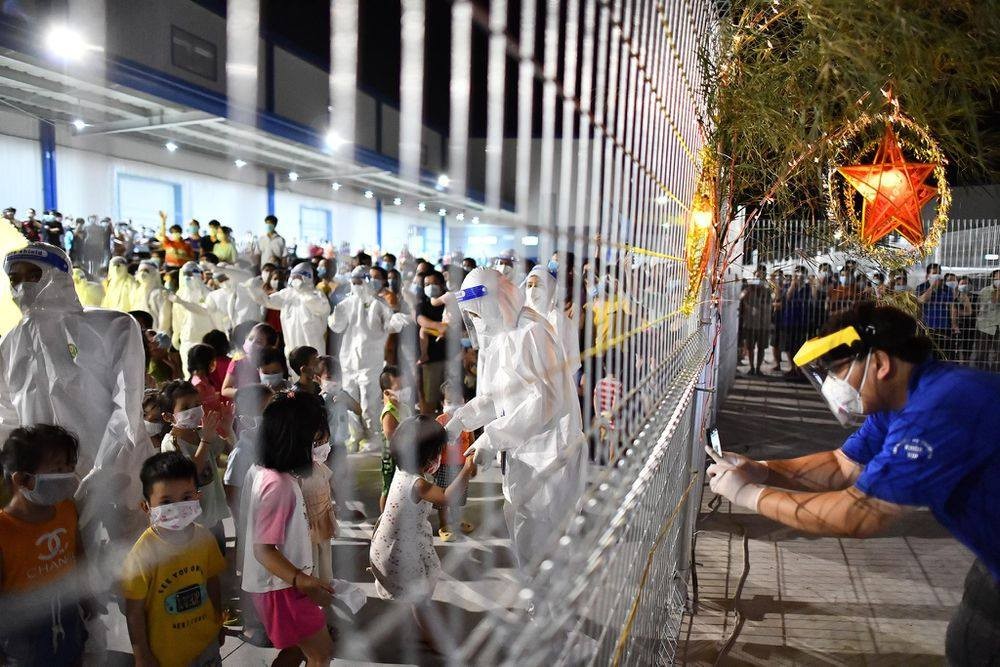 Photo: Zing News
The celebration, which lasted for only 30 minutes, was the dedication of all the doctors and nurses who wanted to encourage and bring a sense of festivity to the small patients on this special Mid-autumn season, according to Zing News.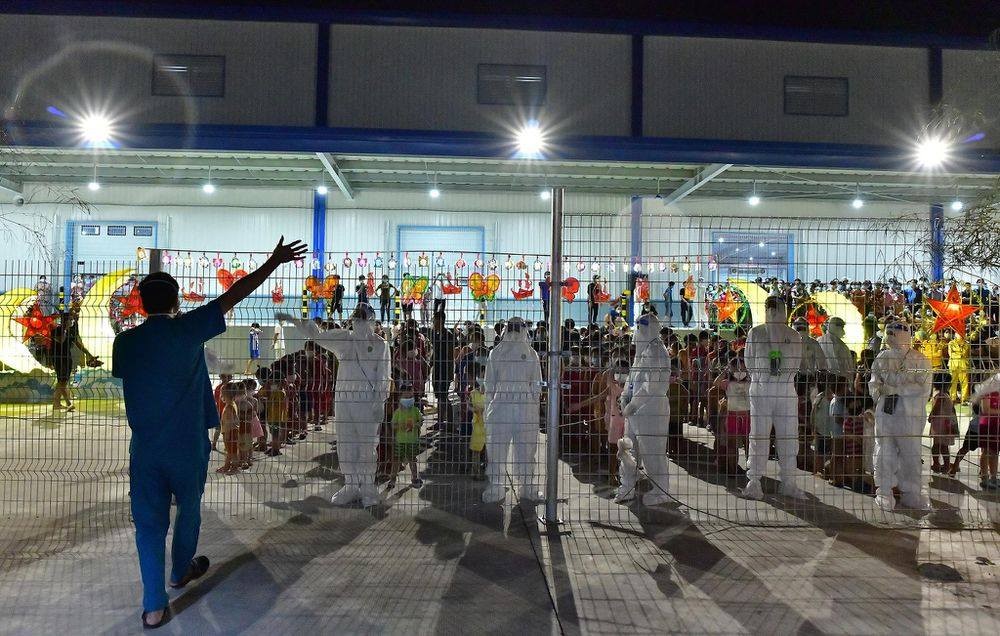 Photo: Zing News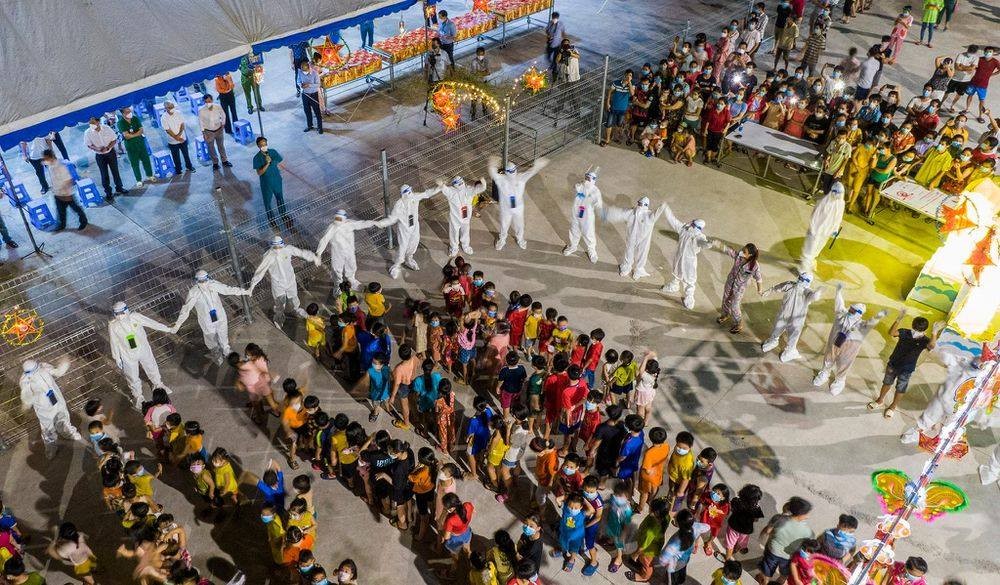 Photo: Zing News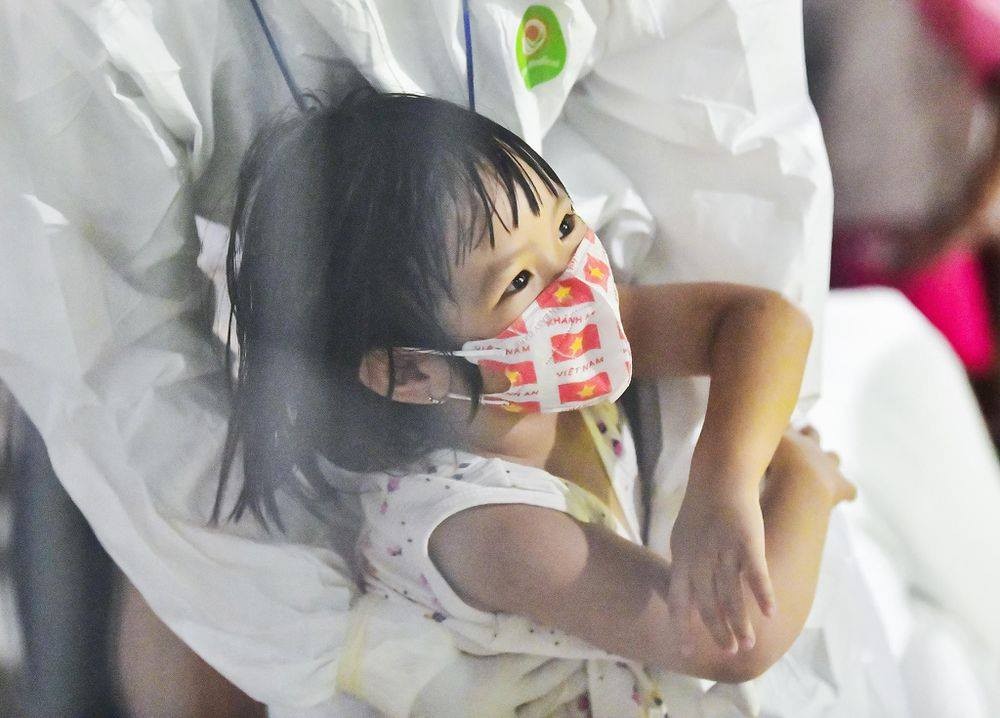 Photo: Zing News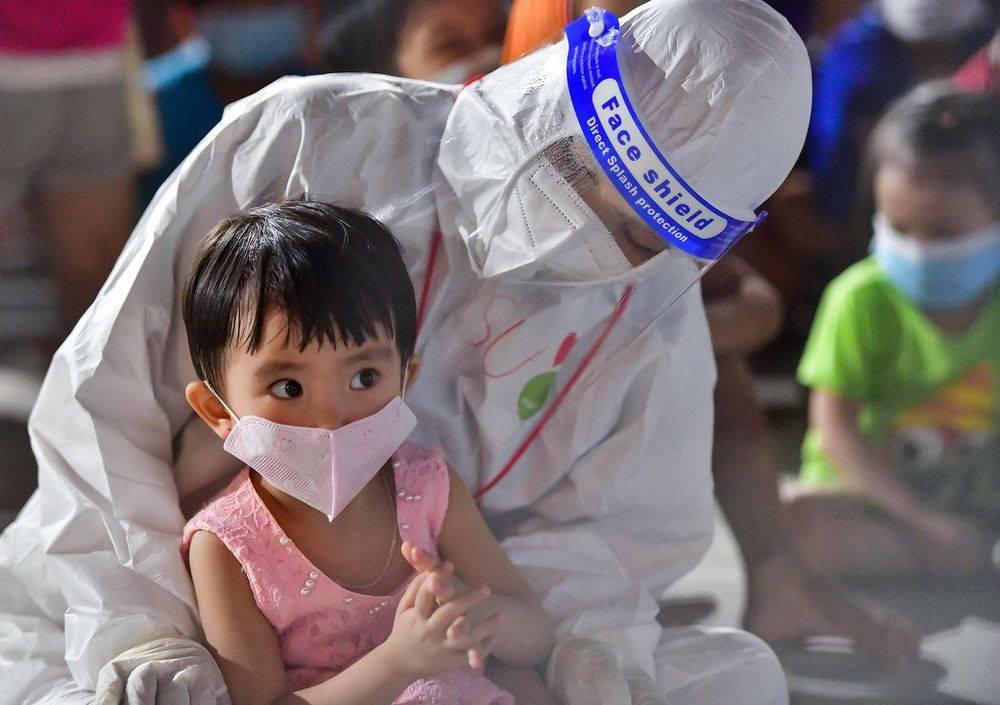 Photo: Zing News
Early Mid-autumn for orphans, disadvantaged children in Nghe An
Nghe An Provincial Youth Union has worked with the Nghia Loc District Union, the National Volunteer Center for Central Region and representatives of local authorities in Nghi Van and Nghi Dong communes to present 100 gift packages to 100 households in difficult circumstances. The gifts worth nearly US$ 1,320.
The union also gave financial support to orphans.
The Standing Committee of Vinh Youth Union has earlier sent 50 support packages, which include milk, rice, flour, cooking oil, fish sauce, worth US$ 1,100 to the children at SOS Vinh Children's village.
Mid-autumn, or Children's Festival, is held annually on August 15 in lunar calendar in Vietnam. It is an occasion for a family get-together where members enjoy some tea and mooncakes or moon gazing. In the evening, children bearing brightly colored lanterns form raucous processions and tour their neighborhoods singing songs. There will also be lion dancing, uplifting drumbeats to cheer up the atmosphere.
This year, however, such a celebration will be less festive given the ongoing pandemic. For health safety, there will be no parades or traditional dancing on the streets. Many people might miss the opportunity to gather with families due to travel restrictions.
The day of Mid-autumn (Sept. 21 in solar calendar) will be the last day Hanoi residents supposedly serving the citywide social distancing if there's no further extending order. Meanwhile, the prolonged stay-at-home order is in place in HCMC and other southern localities, meaning each family can only have an indoor celebration.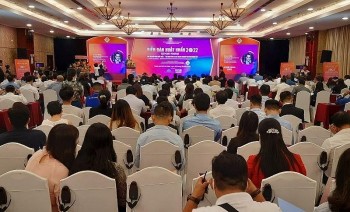 Focus
Vietnam News Today (Dec. 9): Vietnam - Singapore innovation centre helps firms transform production; HCM City among most searched destinations by travelers; Vietnamese digital technology industry's revenue estimated at 148 billion USD in 2022; Two Vietnamese films up for consideration at Oscars.