How Overseas Vietnamese Celebrate Mid-Autumn Traditions
Many overseas Vietnamese long for the traditional Mid-autumn celebration in Vietnam, saying such an occasion holds the fond childhood memories they would never forget
'Mid-autumn was the last time I met my grandfather'
Ta Minh Trang - Nottingham, England
Trang moved to the UK in August to you do a master's degree at the University of Nottingham. Her first days living in the UK was also the time Vietnamese people prepared for Mid-autumn festival, yet the girl said she didn't feel very sad or disappointed.
"If I let my emotions overwhelm me, I would probably want to go home soon. Plus, my time in the UK is important for my studying, which I should concentrate on more," Trang told Zing News. "I also talk with my family on video call every day, thus I can feel their joy at home."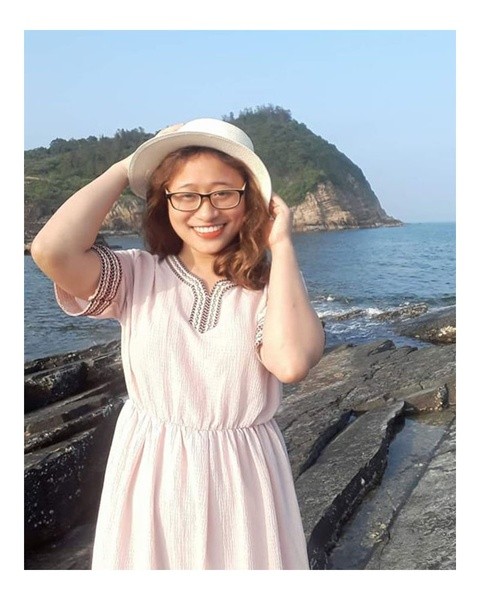 Ta Minh Trang is studying in Nottingham, England. Photo courtesy of Ta Minh Trang/ via Zing News
Trang last spent her Mid-autumn with family two years ago. The festival often reminds her of the mooncakes in her hometown Nam Dinh, which for her is the most delicious mooncakes she ever tried.
Trang's family often goes to Nam Dinh to celebrate the full-moon festival with relatives. Trang and her siblings join the festival parade and lion dancing on the streets in the evening.
"The Mid-autumn four years ago was my last time seeing my grandfather. Until now, I still regret I didn't take more photos with him. Now I no longer have that opportunity anymore. My grandfather has gone," Tang said.
This season, Trang and her roommates prepared a small Mid-autumn feast at the rented house.
"We had some Vietnamese traditional dishes, such as boiled chicken, vermicelli, bamboo shoot soup, braised fish. We consider this is a way for us overseas students to share homesickness and celebrate the festival," she added. "Had it not been for the pandemic, the Vietnamese students in Nottingham would have made a bigger celebration."
10 years celebrating Mid-Autumn Festival in a far country
Clark P. - Melbourne, Australia
Meanwhile, Clark has been having 10 Mid-autumn festivals in Australia. The celebration in Chinatown, Melbourne was normally very celebratory, but this year is a lot quieter due to the Covid-19 pandemic, Clark said.
"Mid-autumn festival in Melbourne, for me, is less exciting than in Vietnam. The last time I celebrated the occasion with my family was in Hanoi in 2010," she told Zing News. "I'll always remember spending the evening with my loved ones eating mooncakes, drinking hot tea and going to Luong Van Can street to buy toys and walking along Hoan Kiem lake."
Now that she is living in Australia, she still often remembers the traditional taste of mooncakes. Two weeks ago, she also walked around the supermarket and bought green bean mooncakes to have more Vietnamese Mid-autumn feel.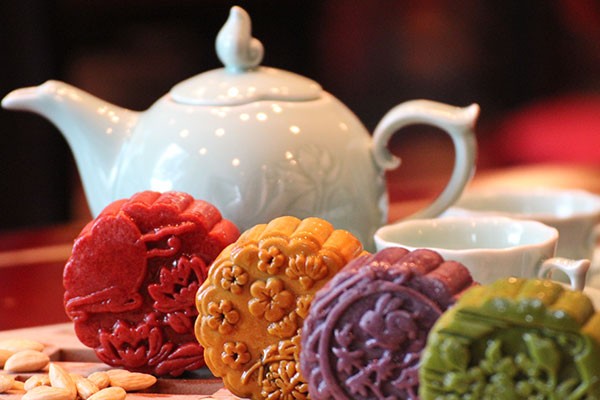 Mooncakes and tea are the must-have food and drink during Mid-autumn in Vietnam. Photo: Banh Trung Thu
"I remember I once brought mooncakes with meat fillings as I entered Australia after visiting my family. However, the cakes were confiscated because the regulations for bringing food into Australia were quite strict," Clark recalled.
"Now I no longer have to do so, because supermarkets in Melbourne have a lot of Vietnamese or Chinese mooncakes on their shelves."
'Busy schedule made me almost forget about Mid-autumn'
Bui Van Anh, Tokyo, Japan
If my parents and friends hadn't reminded me that Mid-Autumn was near in Vietnam, I would have totally forgotten about it because I was so caught up in study and work in Japan.
This is the first time Anh celebrates Mid-autumn in a far country. The festival in her memory was hanging out with peers in the neighborhoods, enjoying lion dance before joining the "cake and fruit party" which normally takes place late at Mid-autumn night.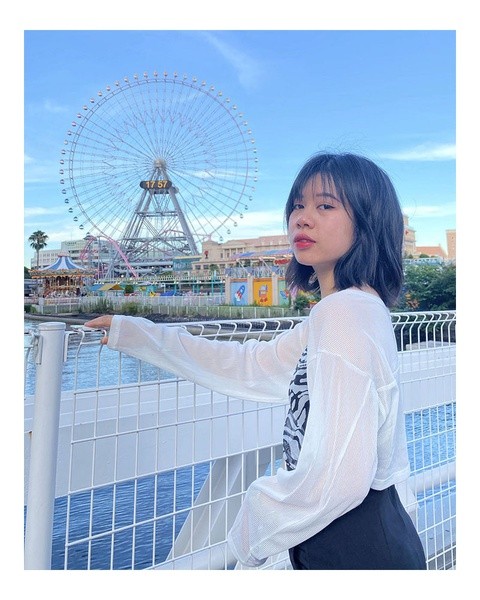 Bui Van Anh almost forgot about the Mid-autumn due to tight schedule. Photo courtesy of Bui Van Anh/ via Zing News
"When I was small, Mid-autumn celebration was simple, but we really enjoyed it. Nobody wanted to go home even it's very late at night," Anh said. "As a grown-up now, I no longer attend that bustling party, just hang out with friends at a café or eat mooncakes at home."
"I'm having my hands full with study and work on my first Mid-autumn in Japan. The hustling life in Japan makes me almost forget about the traditional festival," she added. "Japanese people on this day often eat mocha cakes, drink tea and admire the full moon. Due to the pandemic, this year's event is celebrated less in Japan."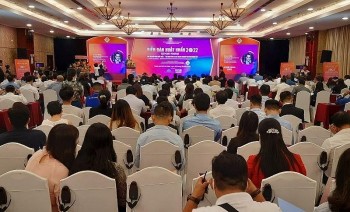 Focus
Vietnam News Today (Dec. 9): Vietnam - Singapore innovation centre helps firms transform production; HCM City among most searched destinations by travelers; Vietnamese digital technology industry's revenue estimated at 148 billion USD in 2022; Two Vietnamese films up for consideration at Oscars.