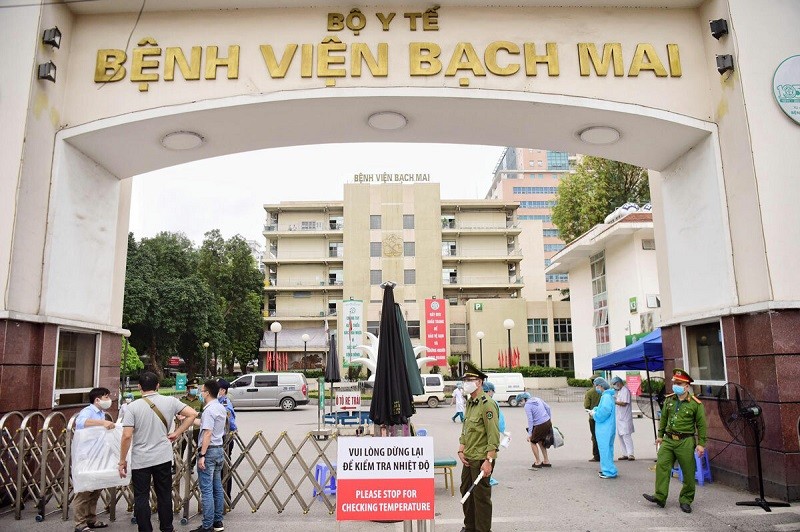 Bach Mai, largest hospital in Vietnam locked down
The hospital has stopped receiving new patients, including emergency, and put under quarantine its entire staff and inpatients to encircle and curb the sources of coronavirus contagion.
The hospital has asked all people who came to the hospital over the past 14 days to isolate themselves and contact with local medical agencies for support and further instructions.
Bach Mai Hospital's Deputy Director Duong Duc Hung said in an interview with local media that the hospital has taken coronavirus tests for 4,300 medical staff and patients and more samples will be taken from patients' relatives.
So far, 12 Covid-19 patients are linked to Bach Mai Hospital. They include two nurses (patients No.86 and 87), one nurse's daughter (patient No.107), five patients and relatives (No.133 and 172, No.161, 162, 163, 170), and two staff (No.168, 169 and 174).
Deputy Prime Minister Vu Duc Dam on Saturday ordered Bach Mai Hospital, Ha Noi authorities and Ministry of Health to concentrate resources on controlling the hospital's COVID-19 cluster.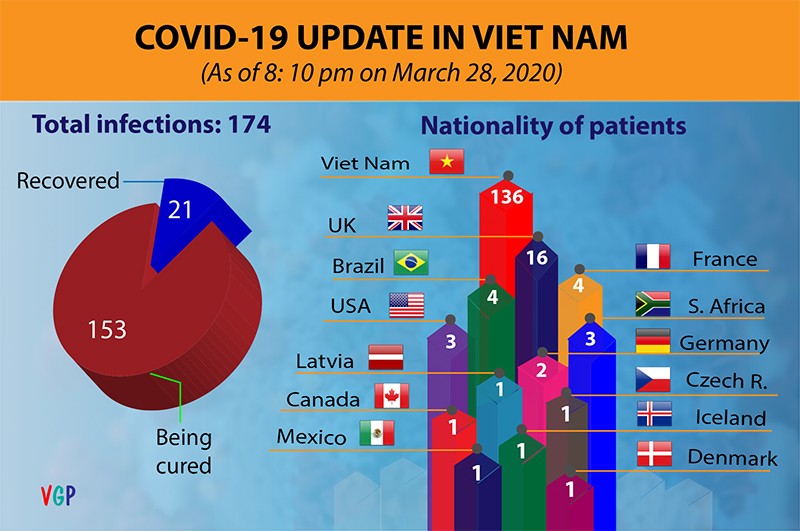 Covid-19 update in Vietnam
The hospital has emerged to be the biggest COVID-19 cluster in Viet Nam after detection of six infection cases linked to the hospital.
Dam, who is head of the Steering Committee on COVID-19 Prevention and Control demanded a list of people who have visited the hospital since March 12 for prompt medical surveillance in order to prevent spread of the virus to communities.
On March 25, Bach Mai Hospital announced a plan to test nearly 4,000 medical staffs and around 1,000 patients after two female nurses and one patient of the hospital had contracted the virus.
As of Saturday afternoon, Viet Nam confirmed 179 infection cases, of whom 21 have recovered and exited hospitals.
Of the total infection cases, 158 have been reported since March 6, prompting the Government to tougher measures to staunch the COVID-19, including ban of gatherings of over 20 people and suspension of non-essential services from March 28 to April 15.
Deputy PM Dam called on people to stay indoor as much as possible, keep distance from others and wear facemasks at public places, wash hands regularly, keep houses clean, and report medical status.
VPG/Hanoitimes