Backpacker Tips: Guide to a Two-day Trip in Tuyen Quang
While many are afraid of Covid infection in famous tourist destinations, lesser-known Tuyen Quang emerges as better choice.
Tuyen Quang lies more than 130km from Hanoi capital, where many people spend a two day and one night trip to escape the city's busy pace of life.
It takes nearly three hours to drive from Hanoi to Tuyen Quang. Adventure lovers can ride their motorbike to Tuyen Quang. From Hanoi, they should follow the route of Pham Van Dong street - Thang Long bridge - Phuc Yen - Viet Tri - Doan Hung - Tuyen Quang.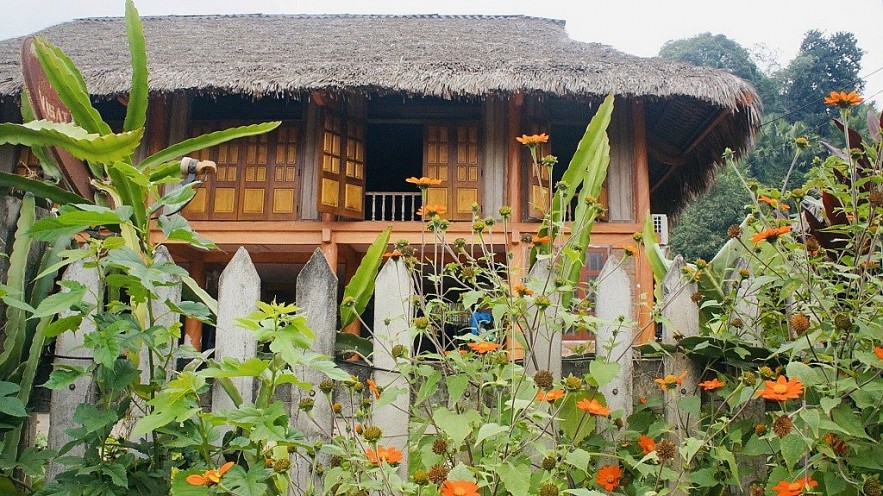 Houses in Tuyen Quang. (Photo: VN Express)
Exploring Tuyen Quang
Trekking in Hong mountain
Hong mountain lies in Son Duong district, near the Tan Trao tourist area. The ten-kilometer-long route is divided into two parts trekking route to the Vau forest in the primeval Hong mountain is about 10 km long.
The journey is divided into two parts: the first leads to an empty field on the mountainside, where people stop to rest, the second leads to Vau forest. The trekking route in Hong mountain is beginner-friendly. The total time to conquer the route, resting included, is from three to four hours.
The big rock at the top of Hong mountain is called "lonely stone." According to locals, single people will meet their partners after visiting the stone.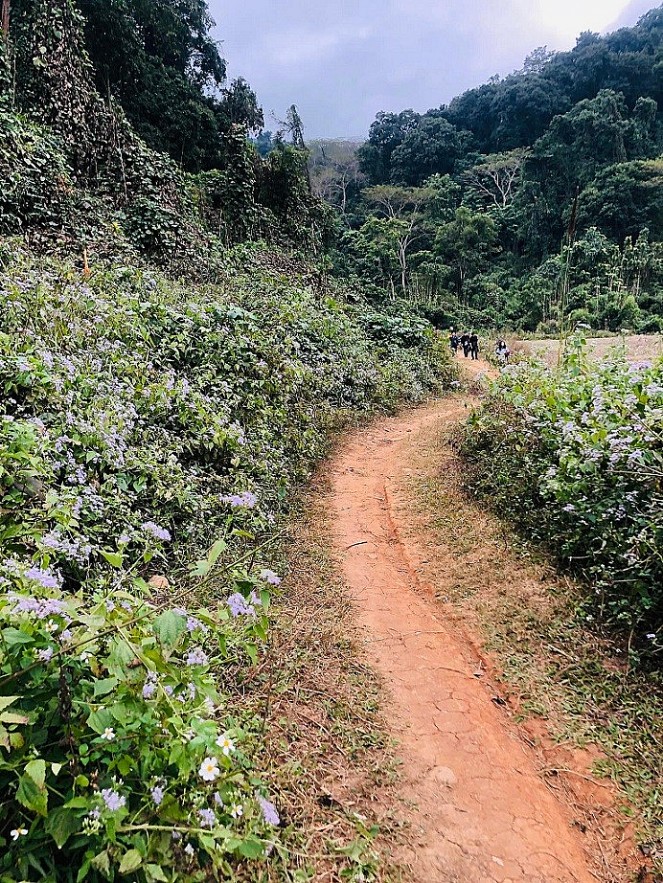 Trekking route in Hong mountain. (Photo: VN Express)
Tan Trao tourist area
The area lies at the foot of Hong mountain, about 10-20 minutes traveling by car from the trekking site. The area is mainly inhabited by Tay people. Most of the traditional stilt houses here are used as homestays.
In Tan Trao, tourists can wander around the village, enjoy the fresh, peaceful air and stop by the historic Tan Trao banyan tree. The tree is famous for being the location where General Vo Nguyen Giap, on behalf of the National Revolution Committee, read the Military Order No. 1 and sent troops towards Hanoi on August 16, 1945.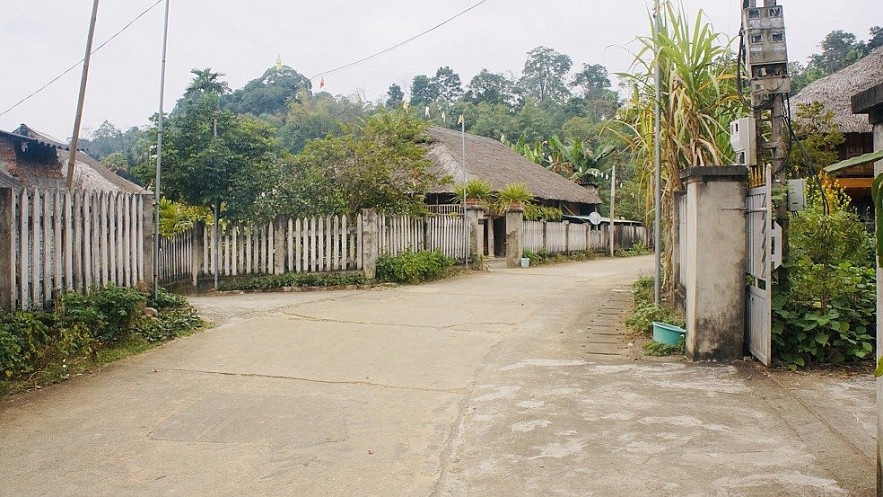 Tan Trao tourist area. (Photo: VN Express)
Na Nua shack
Located in Tan Lap village, Tan Trao commune, Na Nua shack is the place where Uncle Ho lived from May to August 1945 to lead Vietnam's historic August revolution. The place attaches to his famous quote: "The time for victory has come. No matter how much we sacrifice, even if we must burn down the whole Truong Son mountain range, we must resolutely gain our independence."
The shack is discreetly located under the dense trees of Na Nua forest, meeting Uncle Ho's requirements of location: near the people's neighborhood, far from the national highway, convenient for entering and escaping. The shack is built from bamboo in stilt house style.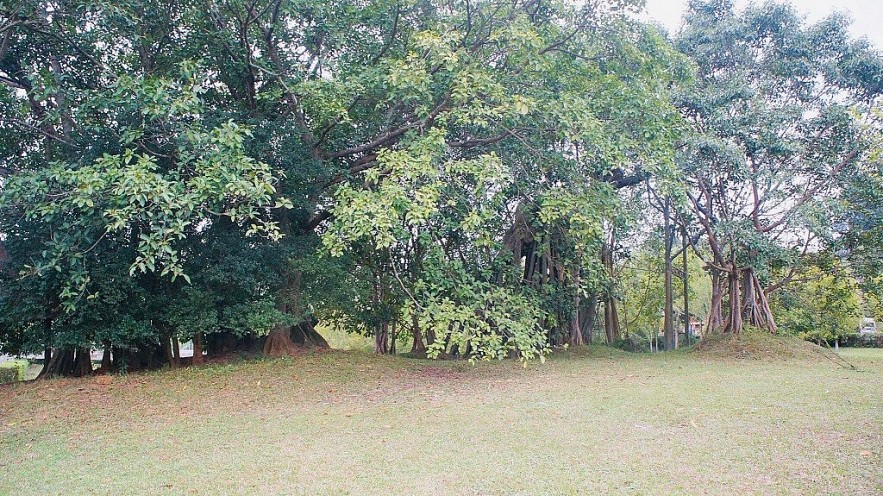 Tan Trao bayan tree. (Photo: VN Express)
Rafting at Na Nua lake
Near Na Nua shack lies a large lake where visitors often come to experience rafting and enjoy Tay's folk singing. Tourists need to contact the location's manager to book tours in advance.
ATK historic site
Dinh Hoa ATK in Tuyen Quang and Thai Nguyen territories is the home and workplace of Uncle Ho and Vietnamese leaders during the country's righteous fight against France. The site covers an area of 5,200 m2, where tourists can burn incense at Uncle Ho's memorial house, visit Khuan Tat banyan tree, Khuan Tat waterfall, and Ti Keo hill.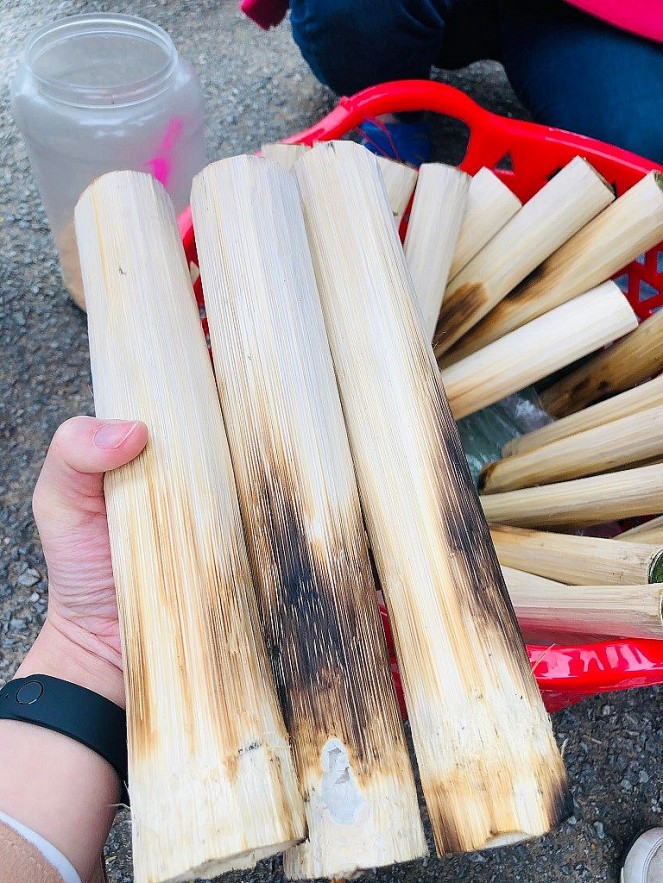 Grill rice on bamboo tubes (Photo: VN Express)
Accommodations & Cuisine
Tuyen Quang's most famous fruit is Ham Yen orange. Besides, tourists can try dried bamboo shoots, grill rice on bamboo tubes, black pork, salty braised sausage. Most dishes come at a low price, from VND 6,000 (US$ 0,26). Tourists can also ask their homestay owners to prepare the meals.
Community guesthouses in Tan Lap offer accommodation at VND 60,000 (US$ 2,6). Don't miss out on a chance to soak your feet in local scented leaves water after a long trekking day!
Estimated cost for the two day trip to Tuyen Quang
Accommodation: VND 60,000 (US$ 0,26) /person
Breakfast: VND 30,000 (US$ 0,13) /person
Other meal: VND 50,000 - 100,000 (US$ 2,17 - 4,35) /person/meal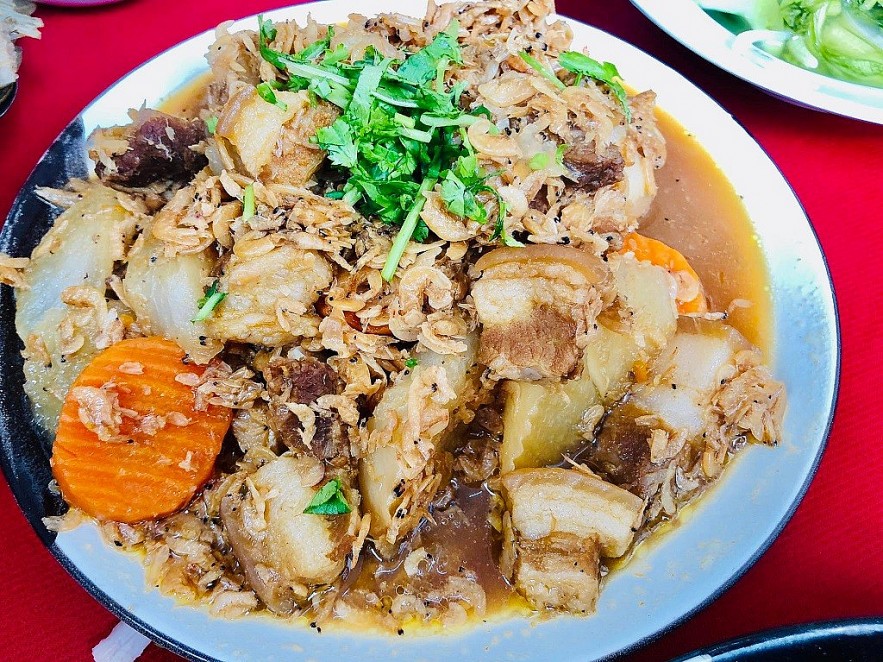 Stir fried pork and dried shrimp. (Photo: VN Express)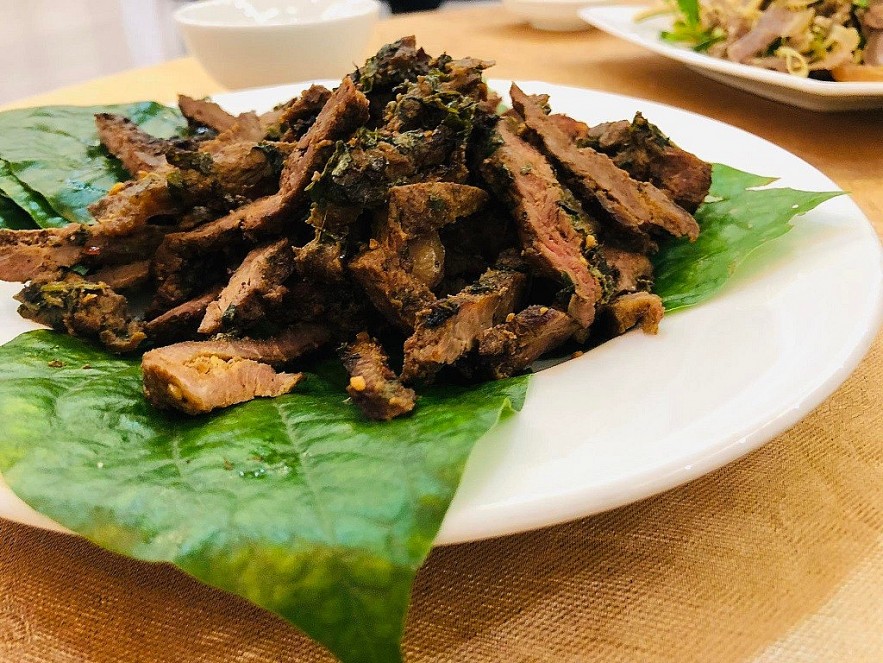 Dried pork (Photo: VN Express)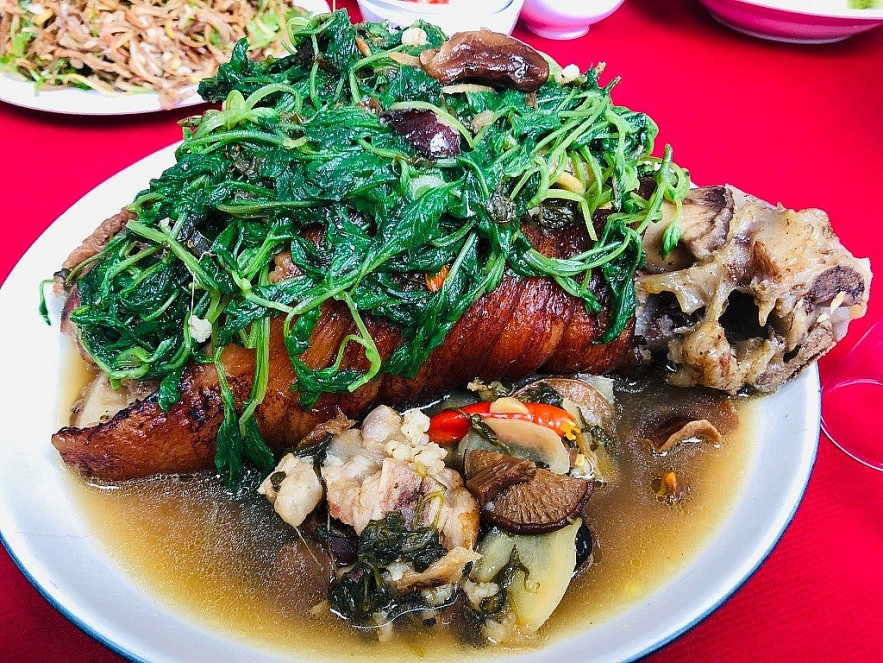 Stew pork leg. (Photo: VN Express)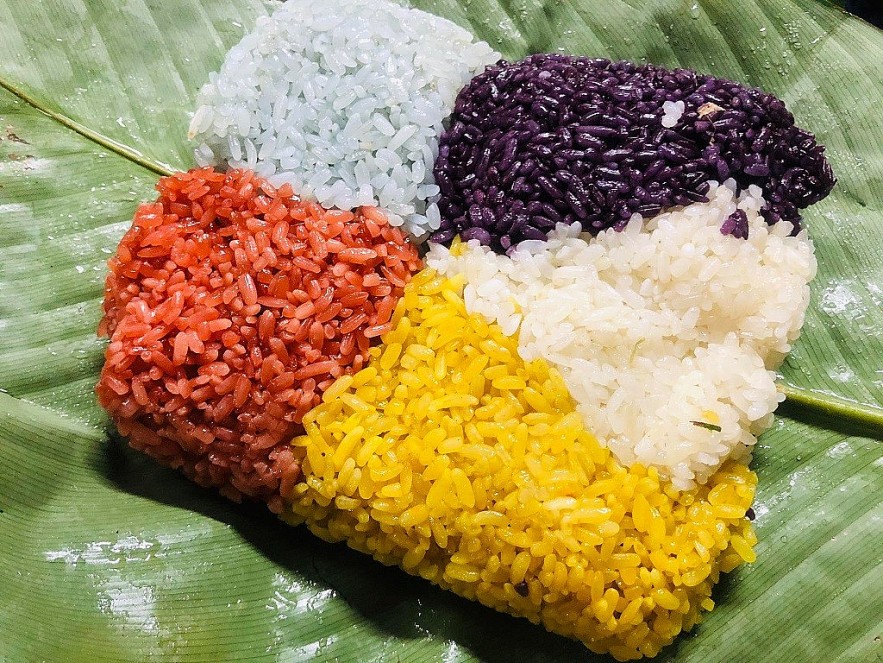 Five colored sticky rice (Photo: VN Express)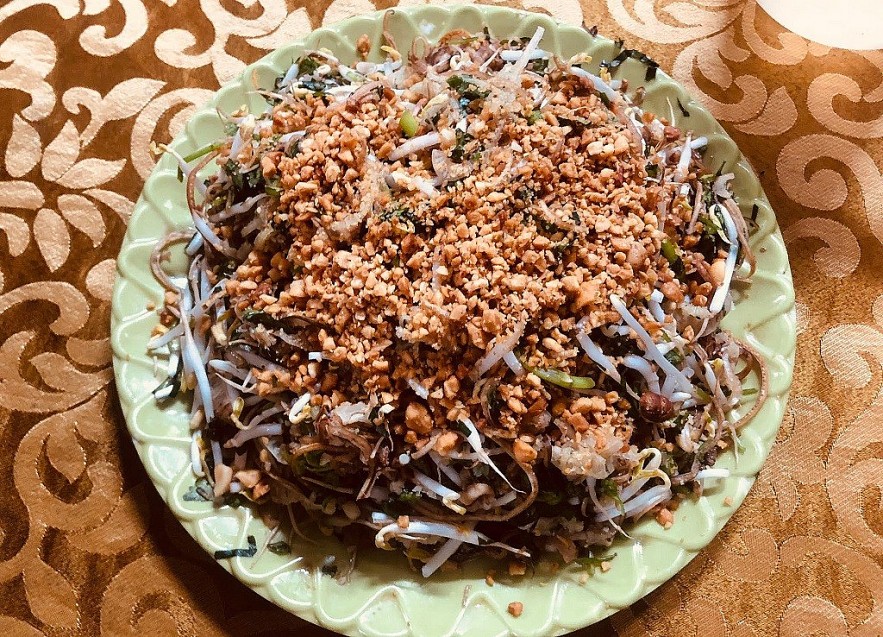 Banana flower salad. (Photo: VN Express)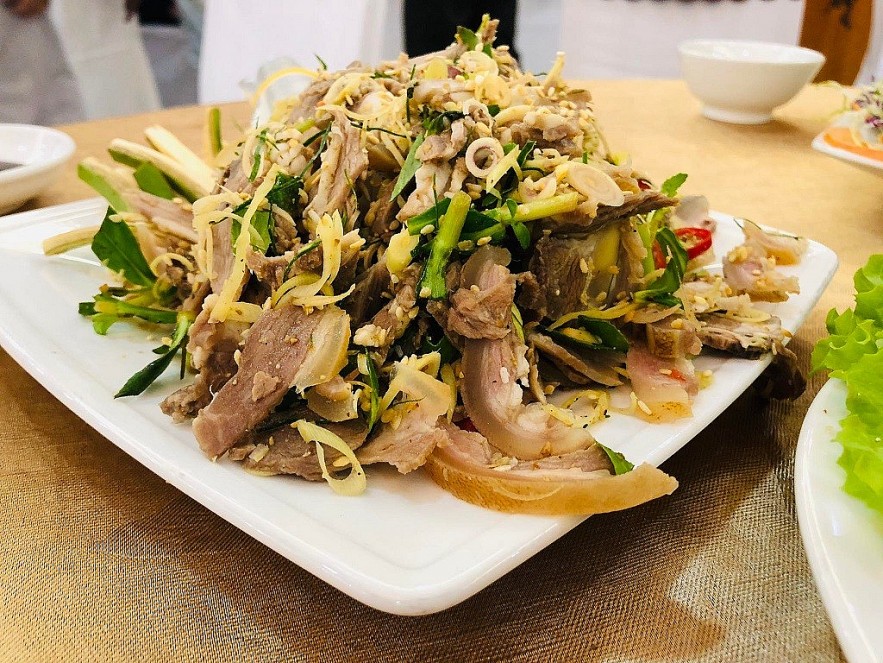 Goat meat (Photo: VN Express)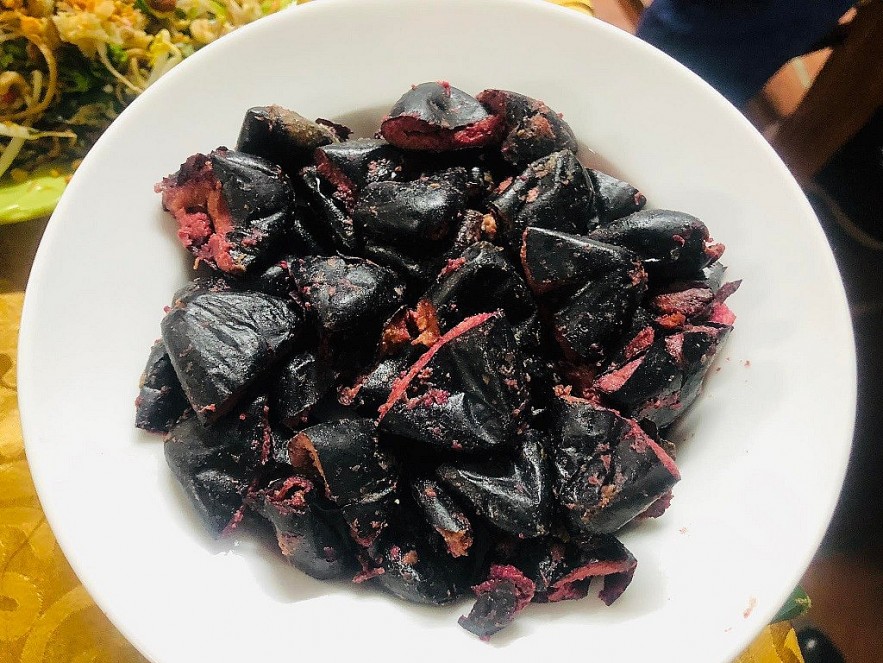 Stew dabai fruits. (Photo: VN Express)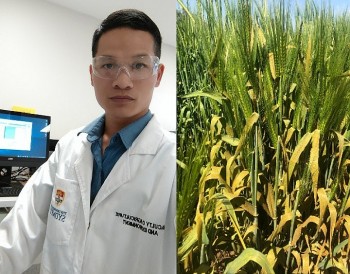 Overseas Vietnamese
The finding by Vietnamese PhD student Dinh Xuan Hoan is considered great advancement in the fight against rust disease, which decreases global food production by at least 10 percent.