Ban Gioc Named Among The Most Beautiful Waterfalls In The World
Ban Gioc Waterfall has been listed as one of the most beautiful waterfalls in the world, according to Travel + Leisure website.
It's hard to explain exactly why waterfalls are so enchanting, but there's no denying their effect. They top travelers' lists and are so cherished, they're often protected by parks or UNESCO designations. Each year, people traverse the globe just to witness the magnetic power of water pouring over a cliff's edge and plummeting to the earth below. And while these wonders exist all over the world — from the lush hills of Hawaii to the rugged coast of Iceland — there's no denying that some waterfalls are a little extra special, and perhaps slightly more beautiful than the rest, according to Travel + Leisure.
Ban Gioc Waterfall was listed in 17th place as one of the most beautiful waterfalls in the world.
Ban Gioc Waterfall, Vietnam
Photo: Tran Bao Hoa
Located in northeastern of Vietnam, on Vietnam – China border, Ban Gioc Waterfall boasts an impressive natural sight with multiple level and green jade water flowing down the huge lake below. Ban Gioc still keep its beauty intact thanks to the low number of tourists coming here so Ban Gioc is still considered an 'off-the-beaten-track' in north Vietnam.
Ban Gioc Waterfall is one of Vietnam's most impressive natural sights. Located in the northeastern province of Cao Bang, the falls are 30 metres high and 300 metres across, making Ban Gioc the widest (but not the highest) waterfall in the country. The falls occur on the Quay Son River, a beautiful jade-blue body of water flowing from China through a pastoral landscape of rice fields and bamboo groves surrounded by limestone pinnacles. Despite improved road access and public transportation connections, and the popularity of several recent viral drone videos showcasing the majesty of the falls, Ban Gioc is still a relatively off-the-beaten-path sight. Mass tourism has yet to arrive and, outside of weekends and public holidays, there's rarely more than a trickle of foreign and domestic visitors.
Best time to visit
Photo: Southeast Asia Backpacker
Although the fall can be visited in any time of year, the ideal time to visit Ban Gioc Waterfall and Cao Bang is between September and October. In this time, the rain is less frequent and it's also the time for harvest season when the paddy fields in Phong Nam become golden.
Highlights at Ban Gioc Waterfall
Photo: Vietnam Tourism
Ban Gioc has gained a name for being one of the 4 largest cross-border waterfalls of the world generally, and particularly among the most famous in Vietnam. For the last few years, there has been a surge of tourists who cross the globe to observe its uniquely exotic, natural beauty.
Located in Dam Thuy Commune (Cao Bang City) which is 335km away from Hanoi, Ban Gioc Waterfall shares part of its border with Quang Tay Province (China) – the western side belongs to Vietnam, while China affirms their ownership of the eastern side. Therefore, the Ban Gioc Waterfall area achieves a rich diversity of cultural patterns from indigenous ethnic minorities.
Both countries are committed to deriving substantial benefits from the site in terms of tourism and economic profits. What makes Ban Gioc Waterfall scene captivating is its extraordinary flow of water running dazzlingly along stair-like moulds, which looks like a giant doorstep of mother nature. This seductive charm is undoubtedly a major factor that attracts tourists from all over the world.
Things to do in Ban Gioc Waterfall
Photo: Asianway Travel
1. Trek up to higher levels of the falls
When you cross over the wooden bridge under the falls, find a path that leads to the upper levels of the fall. When you get up there after a strenuous climb, you will be rewarded with a magical viewpoint down the fall which not everyone is able to have.
However we do not recommend this activity for those who are not fit enough and without proper footwear because the path is every slippery with huge rocks and thick forest.
2. Enjoy countryside's peaceful landscape and atmosphere
As you go along Quay Son River before reaching Ban Gioc waterfall, unfold before your eyes is the landscape of a rural region in northeastern Vietnam. The gentle landscape of the valley, dotted with limestone hills evokes a warm feeling in the heart of tourists like many other sceneries in North Vietnam.
Here and there are the rice fields and if you come during harvest season, you can see the delicious golden color of them promising a warmer winter for a people here. On the river, you can see the water wheel which is a common farming technique that still remain in this region. This device takes the water on the river and carries to the level of the fields and channels the water to irrigate the crops. It's a peaceful and humbling sight to see.
3. Explore Nguom Ngao Cave
Photo: Pinterest
The cave is located in Gun village, Dam Thuy Commune, Trung Khanh District, just 3 kilometers from Ban Gioc Waterfall. It's recommended that you should take a visit to this cave after admire the wonderful view of Ban Gioc. Like any karst cave in north Vietnam, Nguom Ngao was formed by wind and water for during thousands of time and still forming to this day.
Discovered in 1921 by local people, the cave was opened for tourism purpose since 1996. In no way Nguom Ngao is a small cave – it's length reaches to 2144m with three entrances (Nguom Ngao, Nguom Lom and Nguom Ban Ton). However, only 900m of the total length was exploited by the local administration. The 900m visible to tourists have a grandiose interior like that of a luxury palace with bright light and crystals. The ceilings and the columns are magnificent with unique formations. There is a beautiful formation which looks like a lotus bud with a really smooth surface.
The legend related to this cave is that the cave was home to many tigers, so it once had the name 'Tiger tomb' latter known as Nguom Ngao.
4. Boat Ride in Thang Hen Mountain Lake
Thang Hen Lake is a freshwater lake in Quoc Toan commune, Tra Linh District, Cao Bang, located on a height of 1000m above the sea. This lake is about 70 kilometers from Ban Gioc waterfall and only 25 kilometers from Cao Bang town.
In Dzay language, the name of the lake means 'bee's abdomen' because that's what the lake looks like from up high. Only expands to a 100-300m in width, the lake is a quite a pretty place to rest and enjoy nature's beauty.
The surrounding landscape is blessed with green jade water, green towering limestone mountains, wide flower fields and a peaceful valley. An ecotourism area was built around this lake since 2002 and provide services to attract tourists. You can enjoy boating on the lake and you can also visit a small cave at the base of a mountain known as Thang Hen cave. Camping is also permitted here if you plan to enjoy camping by the lake, remember to bring the tent.
5. Take in the marvelous sight of Phong Nam valley in harvest season
From Ban Gioc, drive up north for about 24 kilometers, you will reach Ngoc Con commune which belongs to Trung Khanh District, Cao Bang Vietnam. The road to Ngoc Con is not easy for poor road condition and steepness.
From Ngoc Con, Phong Nam is about 15 kilometers away with better road. The scenery en route is just so beautiful, especially in the afternoon. But the sunset at Phong Nam will be the greatest reward to all of your effort to get there.
The sky will turn purple and sun hide behind the limestone mountains after shredding the last sun rays on the golden rice fields down the valley. If you love Bac Son field in Lang Son, it's easy fall in love with Phong Nam. But Phong Nam has something gentler than Bac Son with a green river winding across, more primitive with more trees, vaster and with the depth of mountain layers in the backdrop. To reach the viewpoint down Phong Nam, you'll have to trek to a higher place so prepare in advance to come up on time for the sunset.
Food & Drink
Photo: Vietnam Discovery
Although there are plenty of good places to eat in Cao Bang City, food at and around Ban Gioc waterfall is not so readily available. At meal times you'll find basic local rice and noodle eateries (quán cơm phở in Vietnamese) in most small towns in the area, like Trung Khanh (especially around the market) and Quang Uyen. There are also a few informal rice joints along the roadside between Ban Gioc falls and Nguom Ngao caves. (For more about quán cơm read this.) The new Saigon-Ban Goic Resort has a restaurant serving dozens of Vietnamese dishes. Prices are fairly reasonable and food is decent quality.
In Cao Bang, there's a lot of food and drink available, especially on Vuon Cam Street. Thu Ngan eatery is an excellent casual dining spot: do as the locals do and walk up to the counter, point at what dishes you want with your rice and sit down to a metallic tray of good food. There are dozens of dishes to choose from and it's dirt cheap. Or, if you're craving Western food, Cao Bang has an couple of (unexpected) pizza joints: check out Pizza Chi. For breakfast there are lots of soup kitchens on Vuon Cam Street, including bánh cuốn (steamed rice flour rolls), a dish that's very popular in northern Vietnam. Domino Cafe is a good place for coffee, and you can stock up on picnic supplies (such as bánh mì baguettes) at and around the Cho Xanh market.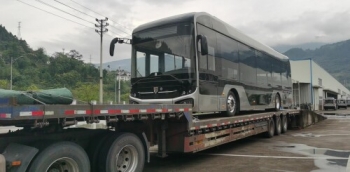 Economy
Ev Dynamics (Holdings) Limited is a pioneer and a prominent player in China's new energy commercial vehicles market, as well as a whole-vehicle manufacturer of specialty passenger vehicles and new energy passenger vehicles.