Banh uot with chicken offal, a Da Lat specialty you must not miss
In any discussions about delicious dishes in Da Lat, it'd be amiss not to mention its iconic banh uot with chicken offal. The soft banh uot, mixing with shredded chicken, chicken offal, and a flavorful sweet-sour sauce will delight your appetite in the most unexpected way.
Da Lat is a mountainous city in the central highland province of Lam Dong. Situated 1,500 meters above sea level on the Langbian plateau, this scenic and famous city is 1,481 kilometers away from the capital Hanoi, 293 kilometers from Ho Chi Minh city, and just 205 kilometers away from the coastal city of Nha Trang in Khanh Hoa province.
Not only well known with a pleasant climate all year round, scenic landscapes and friendly people, Da Lat is also famous for its cuisine. If you have the chance to try out this city's diverse array of delicate dishes, do not forget to search for its iconic banh uot with chicken offal.
Da Lat's banh uot with chicken offal is a perfect combination of banh uot and shredded chicken, chicken entrails, crops and livers, and a unique sweet and sour sauce. Depending on personal taste, tourists can order a bowl with full ingredients, or just shredded chicken.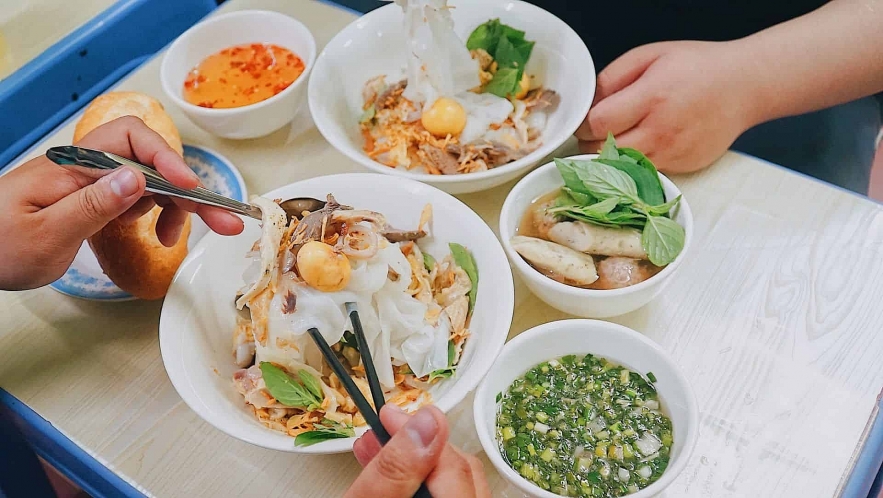 Banh uot with chicken offal is a must-try dish in Da Lat / Photo: HaloDaLat
Banh uot is a Vietnamese dish made from steamed rice batter. When served, banh uot is warm, soft, and does not have any fillings.
The rice used to make banh uot is ordinary rice, as opposed to sticky rice. After being soaked in water, rice is ground and mixed with water following a certain ratio so that the final product will not be torn. Similar to banh cuon, banh uot is prepared by steaming in a hot pot. When making banh uot, the chef has to be careful so that banh uot is evenly cooked.
Chicken to be served with banh uot has to be running chicken with firm meat. To have the right texture for the chicken meat, the chef selects chickens that are at the right age, not too old or too young.
Chicken to be served with banh uot has firm meat / Photo: Dantri
Dinh Tuan Anh, 34, the third generation in the family who specializes in making banh uot with chicken offal, said "The soul of this dish lies in the sauce because it enhances the flavor of the dish and rouses people's appetite. It is vital that we select high-quality fish sauce that can suit everyone's taste".
Tuan Anh used to work for a consumer product company. To maintain his family's tradition of making banh uot with chicken offal, five years ago, he decided to quit his job and help his mother manage the family's restaurant, which locates on Tang Bat Ho street. Before the COVID-10 pandemic, Tuan Anh's shop sold about 300 portions per day.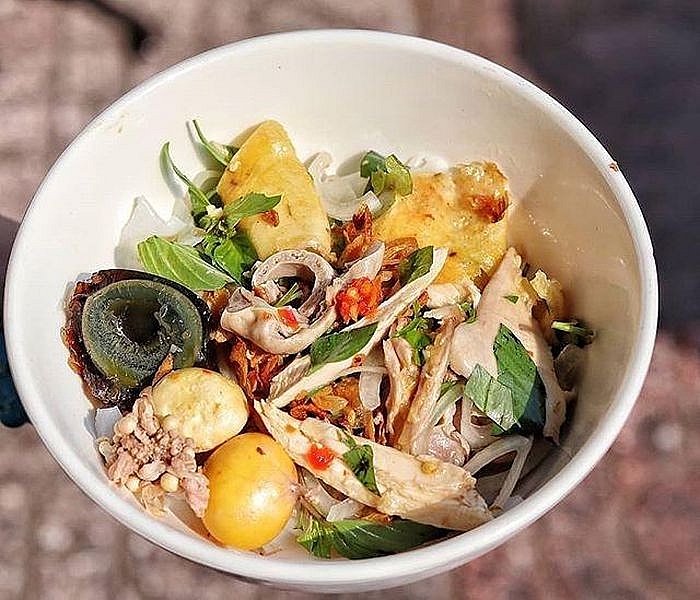 Each portion costs VND 35,000 to VND 40,000 / Photo: Baomoi
When serving, the chef will put banh uot into the bowl first, top it with chicken meat, entrails, crops and liver, then add some onions, Thai basil, normal basil and sweet-sour source. Finally, the chicken's ovary is added on top to add color to the dish.
In the cold weather of Da Lat, there is nothing better than enjoying a bowl of banh uot with chicken offal with a hot cup of tea.
As you eat banh uot with chicken's offal, you will feel the lightness of banh uot complemented perfectly by the umami flavor from the chicken meat and offal, the delicate sweet-sour sauce, and the slight spiciness of the herbs added to the dish.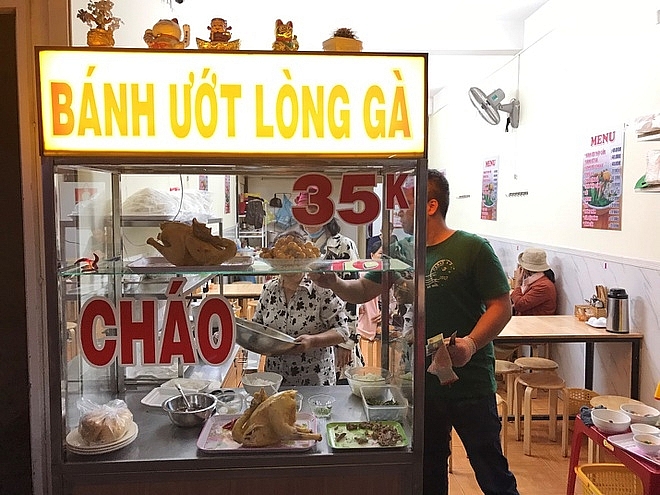 Coming to Da Lat, tourists can find banh uot with chicken's offal in any corners / Photo: Dantri
Banh uot is also popular in Ho Chi Minh city, but Da Lat's banh uot is thicker and smoother. The sauce used for banh uot with chicken's offal in Da Lat is also more balanced between the sourness and sweetness.
In the past, banh uot with chicken's offal was served in the morning or early afternoon. Nowadays, it is easy to find a bowl of this delectable dish at any time during the day.
Easy to digest, Da Lat's banh uot with chicken's offal can easily win the heart of even the pickiest eater, with its unique flavor. It is not a surprise banh uot with chicken's offal is among the top dishes that tourists must try when they visit Da Lat.
Multimedia
When it comes to tourism in Vietnam, foreign visitors mostly think of hustling Ho Chi Minh City, historic Hanoi, or the famous Ha Long Bay. Besides those crowded places, the following six still well-known but less populous destinations are also not-to-be-missed.