American Youtuber recommends three must-try dishes in Da Lat
In the latest videos featuring his trip to Da Lat, American Youtuber Max McFarlin recommended three wonderful venues, from street-side food stalls to high-end restaurants, where visitors can pass by to have meals.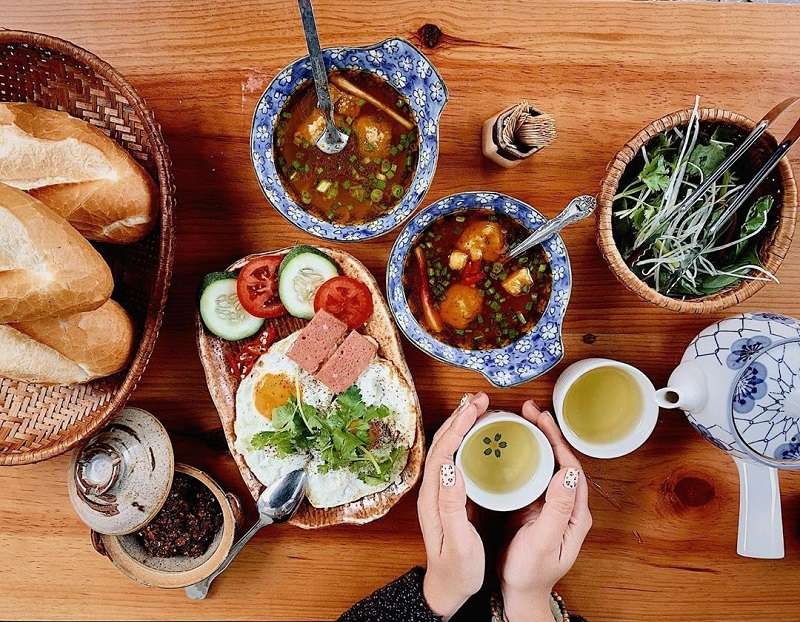 Da Lat, known as the city of flowers or city of romance, is a food paradise. Photo Dalat Palace
While good food is found across Vietnam, the tasty dishes of Da Lat hold a special place in traveller's hearts. American Youtuber Max McFarlin documented his amazing food journey during his time in the romantic, pine-scented city.
Bun Loan with variety of Da Lat's signature noodles
Bun bo
(beef noodles) is the most popular dish at Bun Loan. Photo Foody
The food stall sells a variety of noodles such as bun bo (beef noodles), bun rieu (noodle soup with freshwater crab), Quang noodles or My Quang (Quang Nam style flat rice noodles) at the price from VND25,000 (USD1.25) for each bowl.Bun Loan is located at 4/4 Hoang Van Thu street, Da Lat city and open from 6am to 2pm.
Max is quite impressed with stewed fatty pork knuckles which can be eaten with all dishes here.
Although beef noodles is the most favourite dish of the stall, the American YouTuber prefers to eat My Quang and often orders a bowl of My Quang with pork knuckles.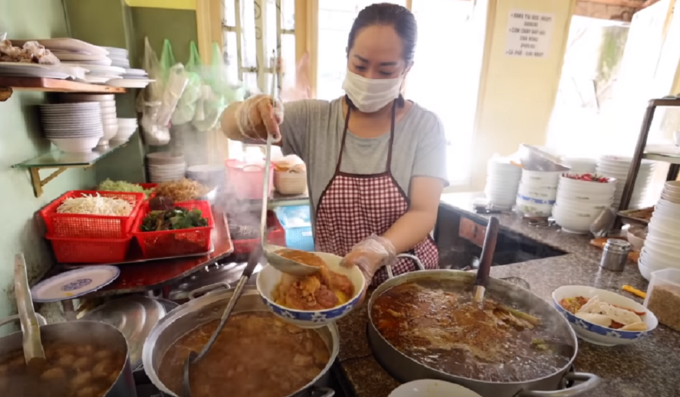 Three pots of broth are ready to serve diners. Photo Max McFarlin's Youtube channel
My Quang is the dish that brings diners back to the food stall multiple times a week, he said.
"It's not like My Quang that you have tried in other parts of Vietnam. It's Da Lat version," he talked about the special noodles sold at Bun Loan.
The My Quang broth is milky with sweetness coming from radish, dried shrimps, giving diners a little touch of seafood.
My Quang here has a lot of pork, soft stewed pork bones and rich broth. On the top of the bowl is roasted peanuts and a few pieces of crispy rice paper. The noodles is eaten with fresh uncooked vegetables and herbs like shredded lettuce, raw sprouts and bananas.
The hot bowl of noodle soup is very suitable for the cold weather in Da Lat, Max said, adding that he likes the quiet and familiar atmosphere at the stall.
Hung Cuong Nguyen, a Vietnamese, left a comment on Youtube: "I still remember the My Quang lady's parents when they used to own a small restaurant near the Da Lat train station. It was one of the best My Quang and bun bo in town . For me, Da Lat is the most romantic place in Vietnam. It was the city of my first love. You are lucky to choose it as your home base in Vietnam."
Hung Nguyen, another subscriber, said "My Quang in Da Lat is different than the original ("Quang" means Quang Nam – Da Nang province), it has lot of broth and more sweet... but I have to say that Bun bo at the beginning [of the video] was really stunning! Looked super good!"
Banh mi xiu mai (pork meatballs in hot gravy sauce with crispy bread)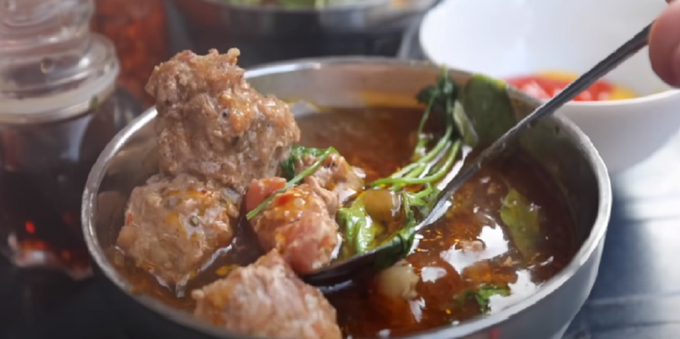 A set of pork meatballs and breads is VND35,000. Photo Max McFarlin's Youtube channel
The most famous Banh mi xiu mai in Da Lat city is sold at a trolley located next to a coffee shop at 207 Phan Dinh Phung street, ward 2.
It is a familiar breakfast meal for local residents. According to the owner, the shop was opened before 1975, selling breads from 6 am to 10 am every day. Customers can eat right next to the trolley or take away.
Pork meatballs are served in a large bowl with rich broth, spring onions and coriander on top. The round meatballs are cooked with soft pork skin and eaten with crispy bread. Each set of pork meatballs and breads is sold at VND35,000.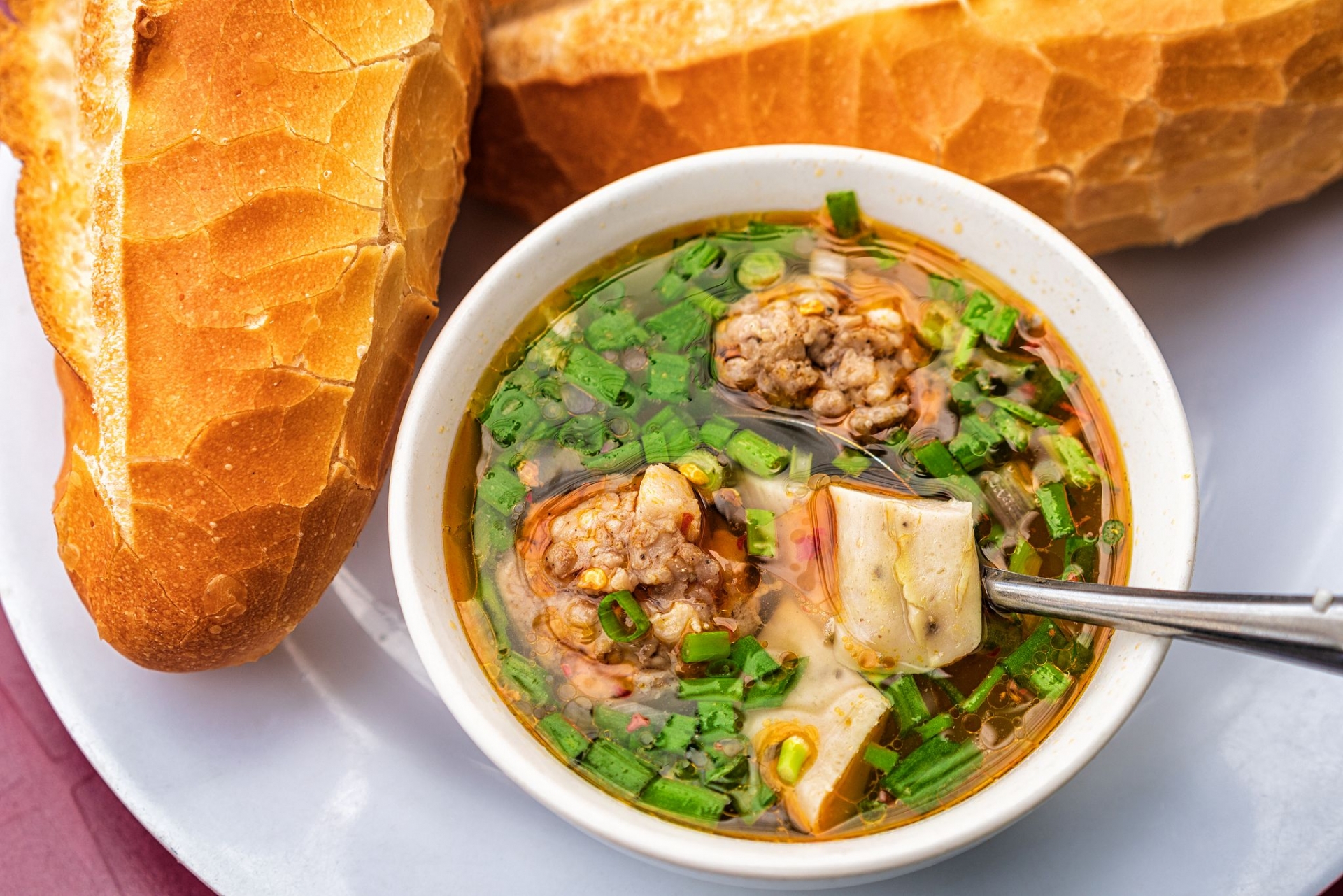 Pork meatballs are served in a large bowl with rich broth, spring onions and coriander on top. Photo Saigoneer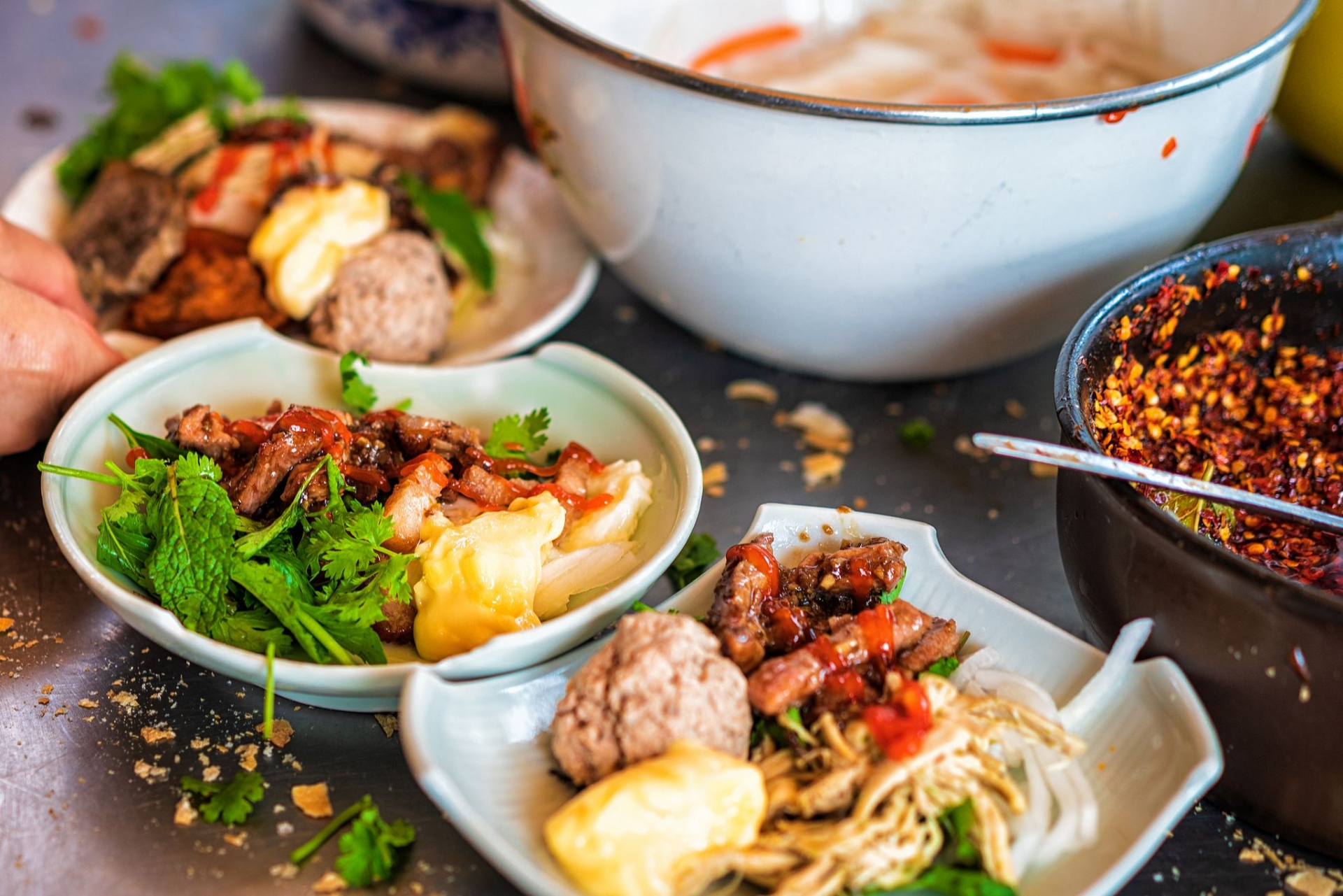 Photo Saigoneer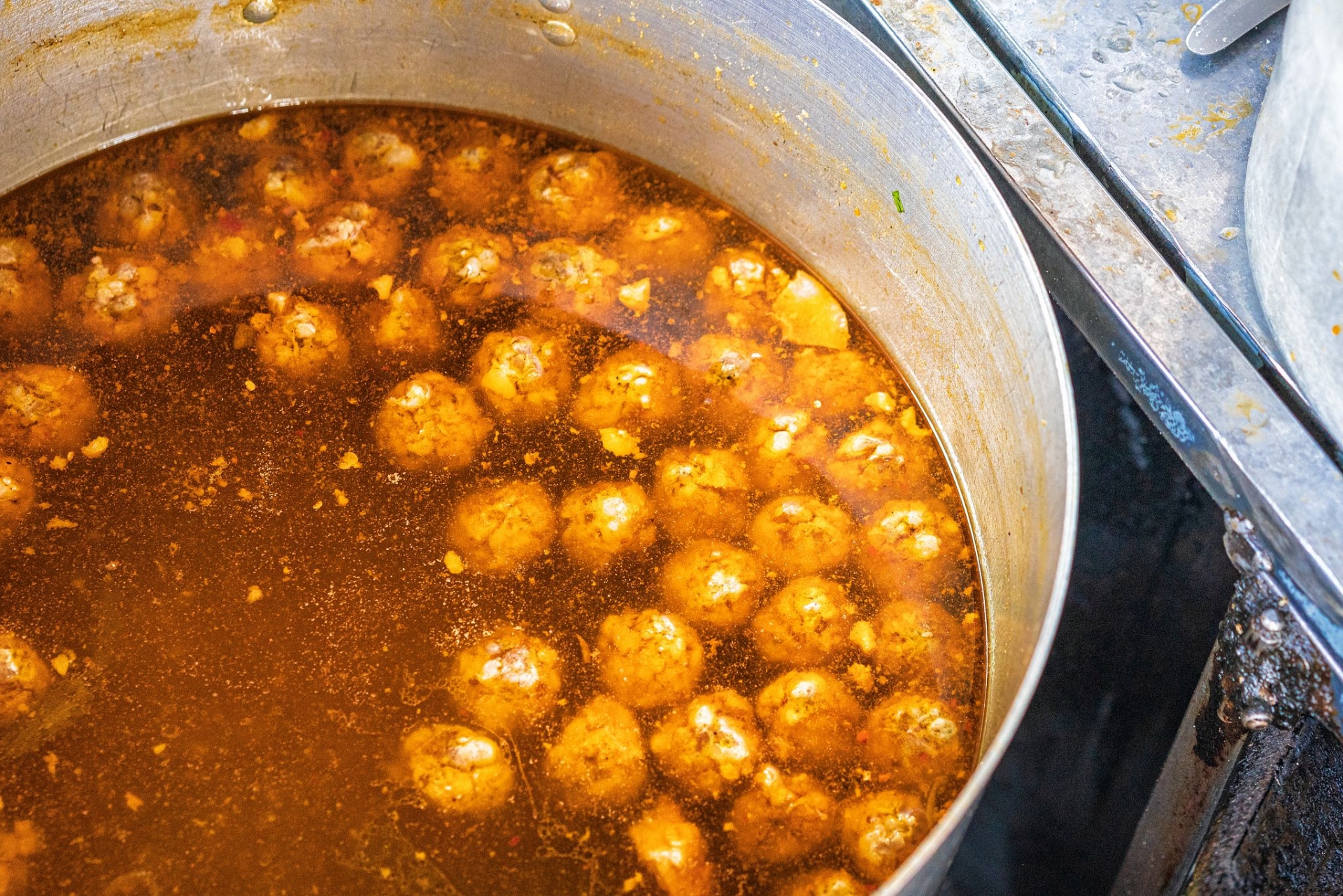 Meatballs are cooked with pork skin in a big pot. Photo Photo Saigoneer
Max McFarlin suggests that you can try Vietnamese pork macaroni, which is also quite delicious and the owner enthusiastically recommends this dish for diners to try.
Not only impressed with the food quality, he also likes the service here.
He said he was considered a family member and well taken care of. "This place is full of love and care," Max commented.
Quan Xua with BBQ on tile and artichoke hot pot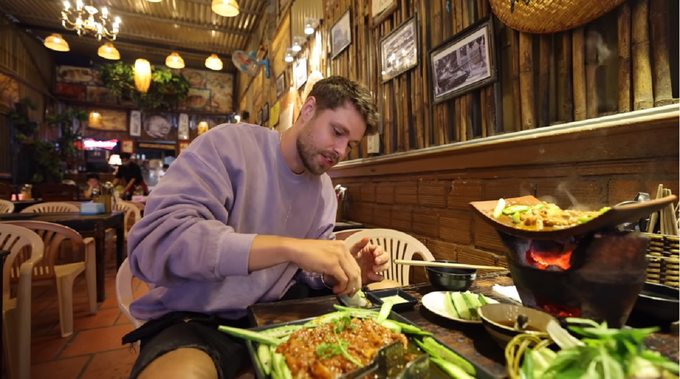 Max McFarlin tries BBQ on tile at Quan Xua (Ancient Restaurant) in Da Lat. Photo Max McFarlin's Youtube channel
Quan Xua is a recommended address for visitors who like grilled dishes and hot pots. This place is located at alley 427, Phan Dinh Phung street, Da Lat city with ancient decoration style from chandeliers and pictures of Saigon, Hoi An before 1975.
Diners can order grilled heifer and artichoke hot pots to enjoy. For grilled dishes, tender beef is cut into small pieces, marinated with a special sauce and then grilled on a hot tile.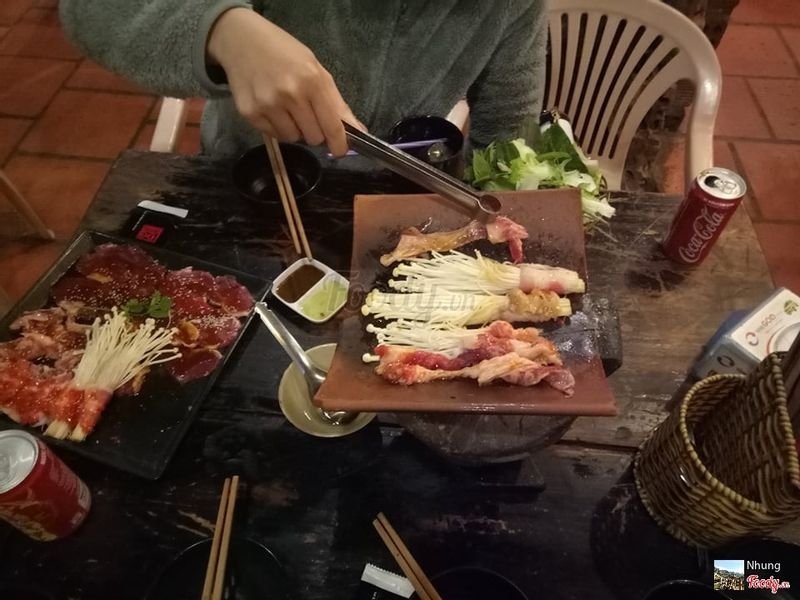 BBQ on tile is a signature type of grilled meat in Da Lat. Photo Foody
You should take more fresh lettuce, raw vegetables and then put the grilled meat on top, roll it up and dip it with green salt and pepper, Max recommended.
The beef is extremely tender, not chewy or too sweet, Max said about the tile-roasted beef priced at VND 219,000.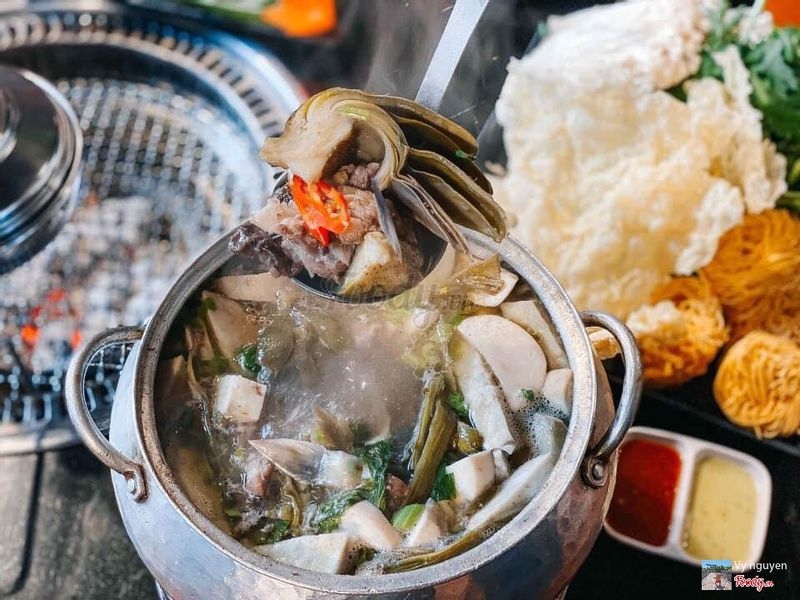 Artichoke hot pot has beef and fresh vegetables. Photo Foody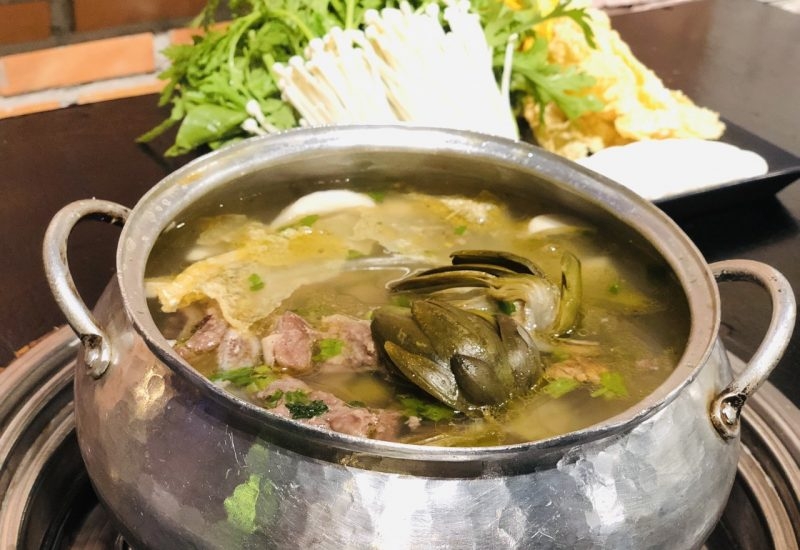 Artichoke is a high-class vegetable that contains more antioxidants than any other vegetables. It can help relieve heat and purify body, stimulate digestion. Photo Foody
Max is also impressed with the artichoke hot pot, especially its sweet broth served with fresh noodles, young tofu, mushrooms and green vegetables. According to him, compared to the beef hot pot or chicken hot pot commonly found in Da Lat, the artichoke hot pot is the most impressive.
"It's perfect for cold winter night," he said.
Max McFarlin is an American food traveler with nearly 400,00 subscribers on Youtube. Most of his videos feature Vietnamese food in different provinces and cities from the north to the south. The special thing about his videos is that their descriptions are all well written in Vietnamese because the Youtuber is very good at Vietnamese.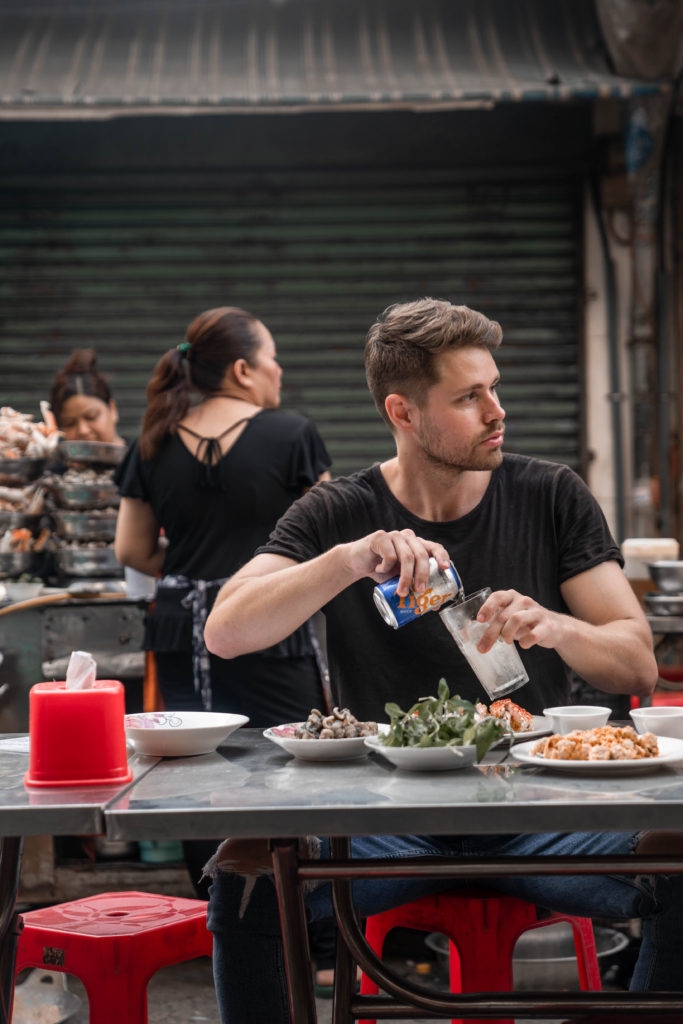 Photo courtesy of Max McFarlin
He described himself as a food traveler who looks to connect with people and learns about different ways of life all through his shared love of food!
"Being a country boy that now calls Asia his home, I'd say I love to break down barriers," he said on his own website.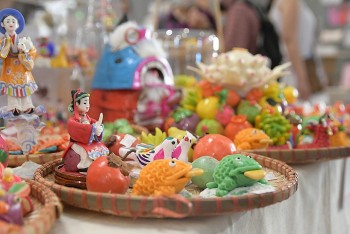 Handbook
This event will be an opportunity for cultural exchange between Hanoi locals and expats, and it will also be a real family event.