Belgium Transfers Flooding Forecast Technology to Hanoi
A cooperation agreement signing ceremony of the project "Flood4Cast® technology transfer for inundation waring in central Hanoi" between HydroScan Company (Belgium) and Vietnam Center of Hydrometeorology Forecasting, was held recently.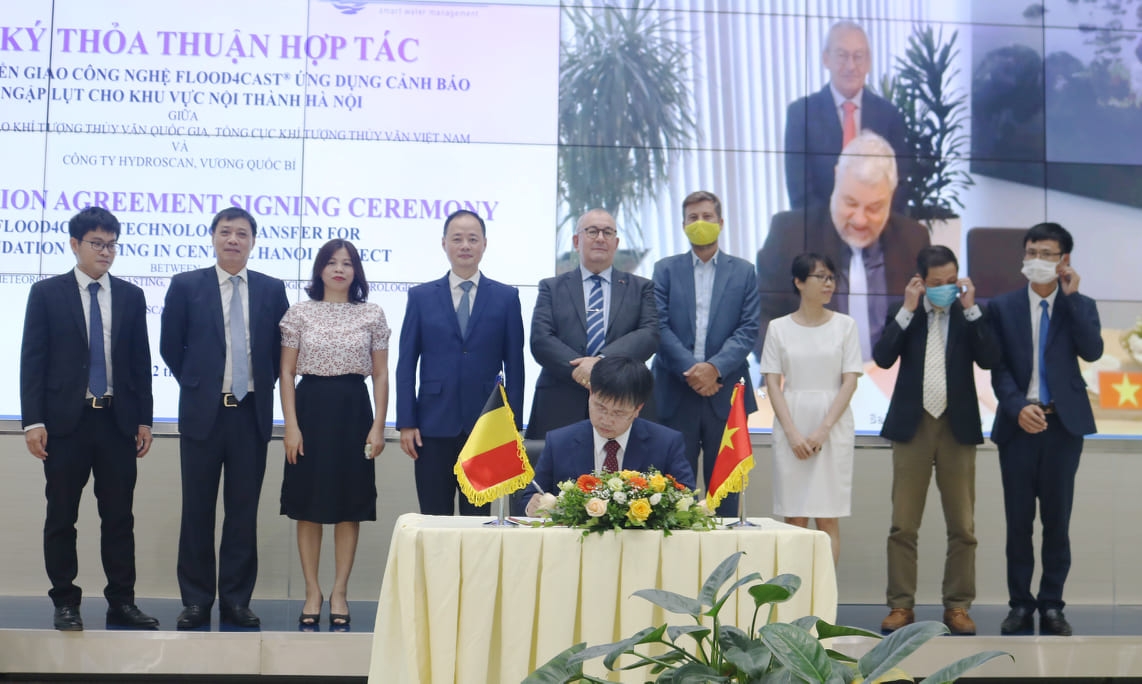 The National Centre for Hydro-Meteorological Forecasting and HydroScan Company of Belgium sign a cooperation agreement on the transfer of real-time flood forecast technology for Hanoi's inner areas. Photo: National Centre for Hydro-Meteorological Forecasting
The National Centre for Hydro-Meteorological Forecasting under the Vietnam Meteorological and Hydrological Administration and HydroScan Company on July 12 signed a cooperation agreement on the transfer of real-time flood forecast technology for Hanoi's inner areas.
Prof. Dr. Tran Hong Thai, general director of the Vietnam Meteorology and Hydrological Administration, and Belgian Ambassador to Vietnam Paul Jensen attended the ceremony, according to VNA.
This is a software that focuses on flash floods in urban centers. The project is expected to support the Vietnam Center of Hydrometeorology Forecasting as a reliable and effective monitoring, warning and forecasting tool, serving the timely forecasting of urban flooding in Hanoi.
Speaking at the ceremony, Thai said this is a technical assistance project using Official Development Assistance (ODA) funded by the Belgium's Government with technical support from the HydroScan Company from 2021 - 2024 to build real-time urban flooding prediction technology for Hanoi's inner areas.
The Kingdom of Belgium has been and currently supports Vietnam in improving its capacity to cope with risks related to natural disasters caused by weather and climate change, improving management capacity in the field of water management.
Flood4cast® enables flooding predictions based on real-time rain fall and existing flood map. The technology operates on converting extreme rainfall and linking the most realistic flooding scenarios into corresponding alarm levels. Rainfall is also forecast for the next three hours. Therefore, corresponding future flood scenarios are also mapped during this period.
Forecasting and early warning about flood risks allows authorities to make better decisions and proactively take action in deploying rescue and intervention activities where they are most needed as well as timely notification to people living in high-risk areas.
The proposed areas for the project implementation include 12 districts with a total area of 306.64 km2, of which eight are inner districts, including Hoan Kiem, Tay Ho, Ba Dinh, Hai Ba Trung, Dong Da, Thanh Xuan, Cau Giay and Hoang Mai, which are the most heavily flooded areas of Hanoi.
Flooding in Hanoi's streets. Photo: Internet
Over-exploitation of natural resources, like soil and forests, badly affected flood prevention work, in addition to an increase of radical weather due to climate change, rapid growth of population and economy in downstream regions, as well as the construction of upstream reservoirs.
The Prime Minister in April has approved a scheme for climate resilience development in coastal urban areas with high risk of inundation and urban areas prone to flooding and landslides in the next 10 years.
The scheme will take place in Ho Chi Minh City, Hanoi, Can Tho, Hai Phong, Da Nang in 2021-2025 and will expand to other localities after 2025.
Flood control systems in urban area will be developed, including dredging, renovating drainages, building dykes and large-scale underground water storage works. Solutions such as relocation for affected people and floating houses will also be considered.
Meanwhile, this year's storm season will see 10-12 storms and tropical depressions on the Bien Dong Sea. Of them, five to seven storms and a tropical depression could directly affect the country's mainland, VNA cited the National Hydrometeorological Forecast Centre on July 13.
In the first half of this year, Vietnam faced two storms, and 59 light earthquakes, 137 hailstorms and thunderstorms. There were also five cold spells, 14 periods of heavy rain floods, two flash floods and 60 riverside-landslides. Natural disasters killed 25 people, injured 31 people and caused losses worth over VND 132 billion (USD 5.75 million), according to the Vietnam Disaster Management Authority.
In Vietnam, the storm season usually lasts between July and December.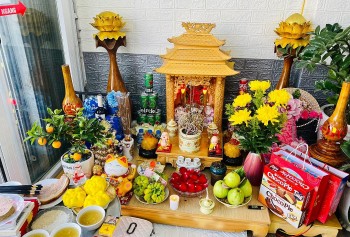 Handbook
Learn more about an ancient Vietnamese tradition that may bring you good fortune!