Oxfam completes emergency relief package in 4 central provinces
International NGO and local-partners project raises 1 million USD for relief from natural disasters in Vietnam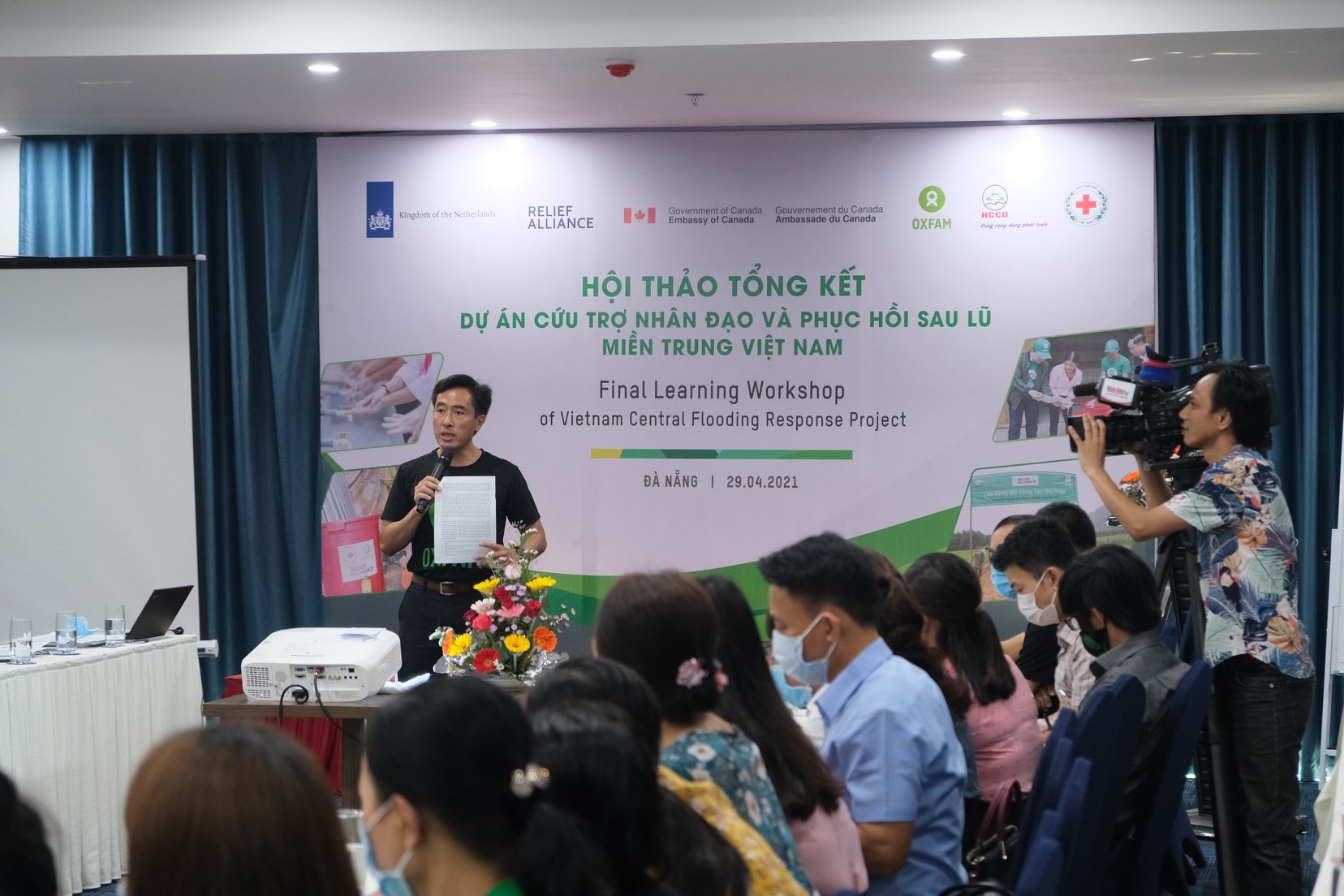 At the closing workshop. Source: Oxfam in Vietnam
An international NGO has played a key role in putting together a relief package for those affected by natural disasters in Vietnam.
More than 183,000 people, including 91,250 vulnerable women and girls in five districts (Cam Xuyen, Thach Ha, Tuyen Hoa, Hai Lang and Bac Tra My) in four central provinces - Ha Tinh, Quang Binh, Quang Tri and Quang Nam - have benefited from the relief package, helping to restore their livelihoods and gradually stabilize lives after a series of natural disasters, predominantly mass flooding.
In response to several government groups, Oxfam in Vietnam began urgently coordinating with local partners, including the Center for Community Development of Ha Tinh and the Quang Nam Red Cross Society in October 2020 to conduct a priority needs assessment to find out who was most in need of support.
The NGO raised nearly 1 million U.S dollars from its own resources and from international donors including the country of Canada and the Dutch Relief Alliance under the Foreign Ministry of the Netherlands.
By April 2021, Oxfam and its partners had deployed 10 groups working in areas severely affected by natural disasters, including on unconditional cash assistance, conditional cash assistance, delivery of female sanitation kits, hygienic water support, as well as training in good hygiene practice to prevent water-borne diseases.
In addition to the emergency relief packages, the project partners also provided cash assistance to local people to participate directly in the renovation of essential infrastructure damaged after storms and floods such as inter-village and in-field roads and dredging irrigation canals.
This work not only increases community connections while helping build basic infrastructure, but also enhances trade and helps people regain independence.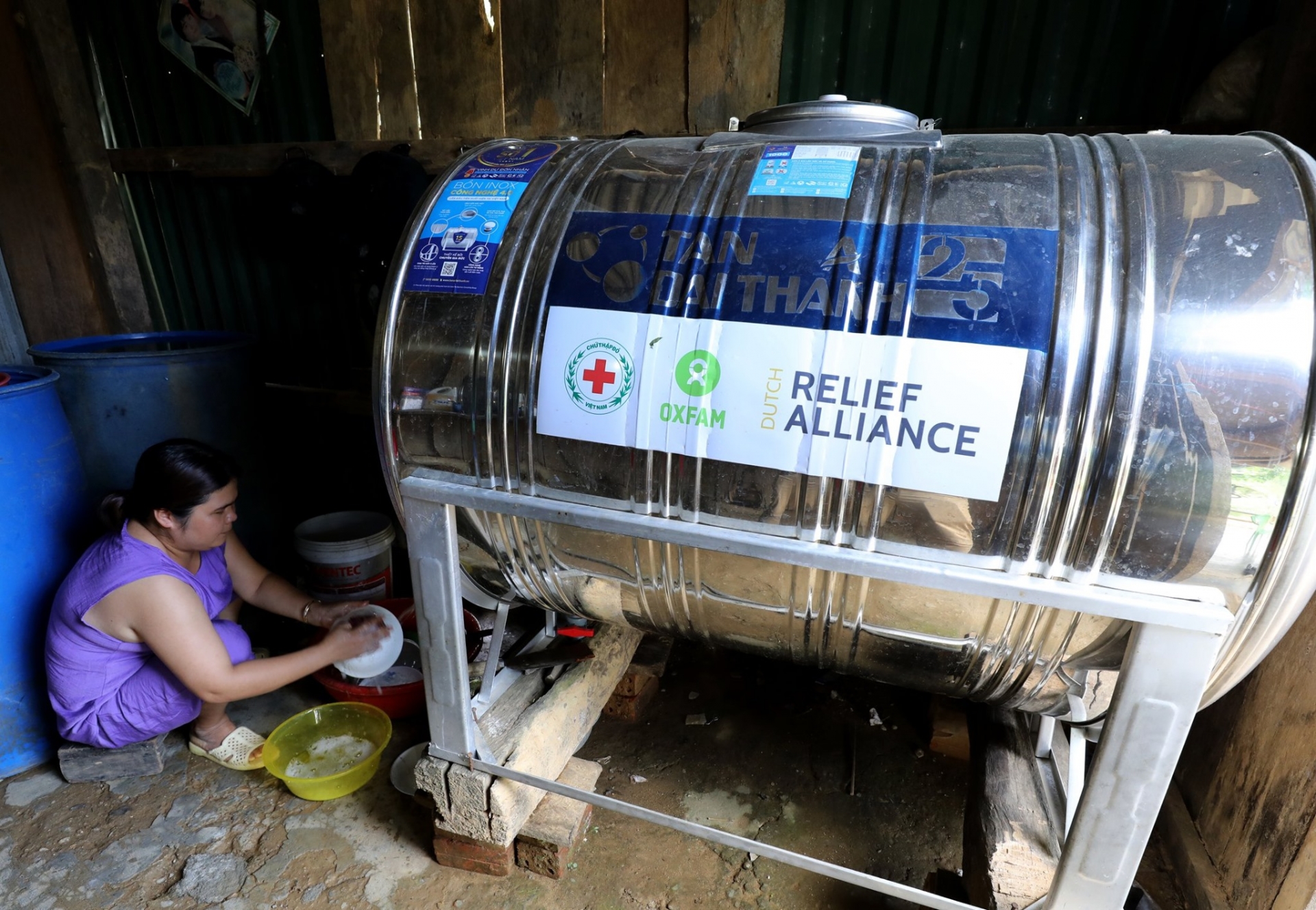 The project provides gift packages and hygienic tools for households while promoting communications on Covid prevention . Source: Oxfam in Vietnam
"Thank you very much for the project. Thanks to the project, my family is supported with labor costs, and my village has a nice road. In the village, Oxfam provided unconditional cash grants, feminine hygiene kits, water tanks, basins, pots, buckets... to many disadvantaged households," said Nguyen Thi Phu, head of a household with persons with disabilities in Cao Quang commune, Tuyen Hoa district, Quang Binh Province. "Children were allowed to go to school, and washed hands with antiseptic to prevent Covid-19. Everything is also practical!"
Vu Xuan Viet, Oxfam's Emergency Relief Program Manager, said: "Oxfam ensures the principle of 'humanitarian, independence, fairness' and adheres to international standards of quality and accountability in humanitarian aid. We ensure that local people and leaders are truly involved in the entire relief process, from planning, management, coordination to implementation and monitoring and learning."
The criteria for selecting the beneficiaries have been drawn-up under the consensus local people and authorities, with results shared publicly in village and commune meetings.
"We have learned the method of implementing aid with citizen participation from Oxfam, and will definitely apply it in the future. We see this approach is supported by the community," said Le Van Dinh, director of the Ha Tinh Center for Community Development.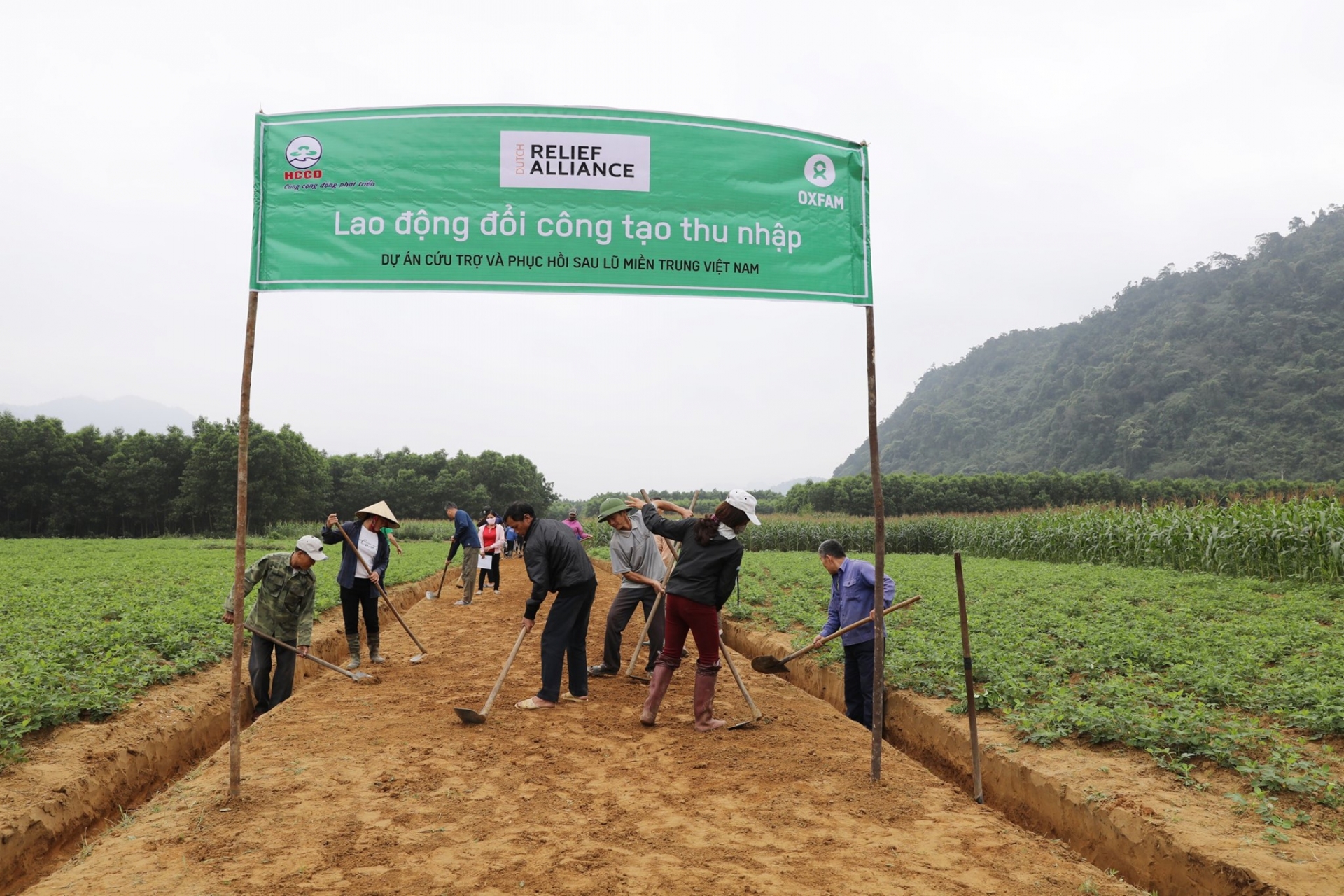 Beneficiaries include those with damaged houses, and vulnerable groups such as the disabled
In addition to supporting the essential needs of local people and communities, Oxfam and partners focus on building local management, coordination and autonomy to implement effective relief activities. The projects also utilize skills training courses for village leaders and officials, as well as the establishment monitoring mechanisms, feedback and complaints services.
"What is very important in humanitarian aid is a multi-stakeholder coordination mechanism to effectively mobilize resources, avoiding overlaps. We are working with other international organizations to allocate relief resources according to affected areas and to identify priority areas. Localities also work closely with us to coordinate the project's resources with other local resources. This strengthens local aid coordination capacity to be more effective in the long run," Viet added.