Best Christmas Festivals In The World
Colorful lights, sparkling Christmas trees, dancing, drinking eggnogs, and eating traditional food, you can experience all of these activities in one of these famous Christmas festivals around the world.
Another year rolls on and yet another Christmas is upon us. The happiest time of the year is filled with family traditions, great food and a whole lot of adult beverages to make the party that much more jolly. From London to Budapest, the world's most memorable Christmas vacations include festivals that go way past crocheted Christmas stockings, homemade nativity scenes, and eggnog, to showcase everything from breathtaking ice sculptures to high-speed roller coasters that give you and your family a ride even Santa Claus can't match, according to Travel Channel.
1. Winter Wonderland, England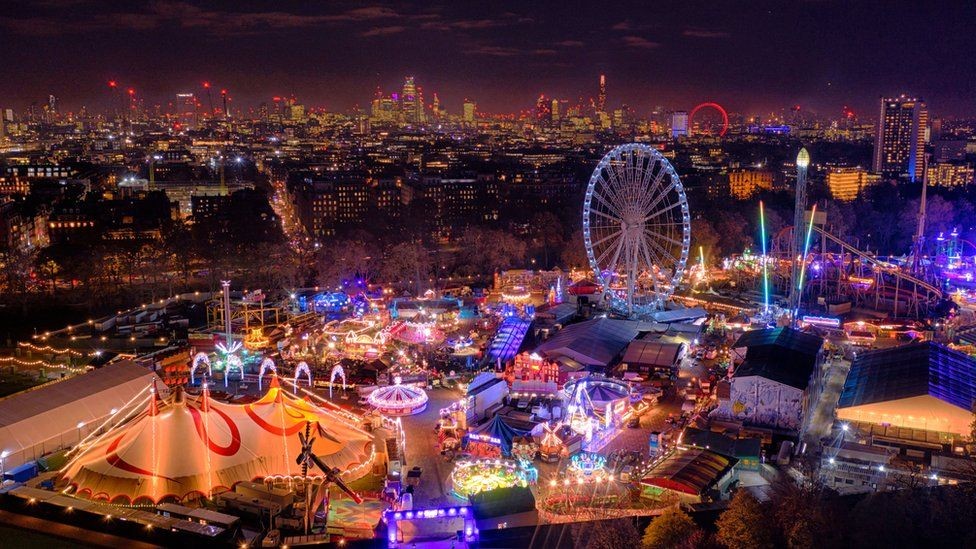 Photo: Getty Images
Hyde Park Winter Wonderland, commonly referred to as Winter Wonderland, is a large annual Christmas event held in Hyde Park, London, from mid-November to early January. It features several festive markets, over 100 rides and attractions from across Europe, a Giant Wheel, numerous live shows, including a circus, ice show, and live music, as well as numerous bars and restaurants. In its first ten years, Winter Wonderland had 14 million visitors.
Winter Wonderland began in 2005 as a small funfair operating through the Christmas period at the edge of Hyde Park. The lack of success lead to The Royal Parks to look at alternative events. In 2007, The Royal Parks invites AEG Live and PWR Events to co-operate on organising the new Winter Wonderland event. The event includes a Christmas Market, temporary Ice Rink, Giant Wheel, and a small selection of amusement rides along Serpentine Road in Hyde Park.
From 2008 to 2010, the event grew substantially, introducing the Bavarian Village (a German style food and drink centre), Zippo's Circus, Santa Land (an area with smaller rides for children and families), and the introduction of several larger rides, such as the Power Tower 2 freefall tower.
In 2012, the event was granted an expansion of the site. The following attractions were introduced: Wilde Maus XXL roller coaster; Magical Ice Kingdom (a walk-through exhibition of ice sculptures). The Bavarian Village expanded to include The Great Hall, an Oktoberfest style beer tent with live music.
In 2016, the attractions Munich Looping, the world's largest portable roller coaster; and the Imperial Ice Stars ice show were introduced.
In 2018, the following attractions were introduced: Dr Archibald – Master of Time dark ride, the Winter Wonderland Comedy Club, The Snowman Experience, and the Teletubbies Christmas Show.
On 2 September 2020, PWR Events announced that due to the COVID-19 pandemic, the event was cancelled, however, it returned on 19 November 2021.
2. Christmas Fair Budapest, Hungary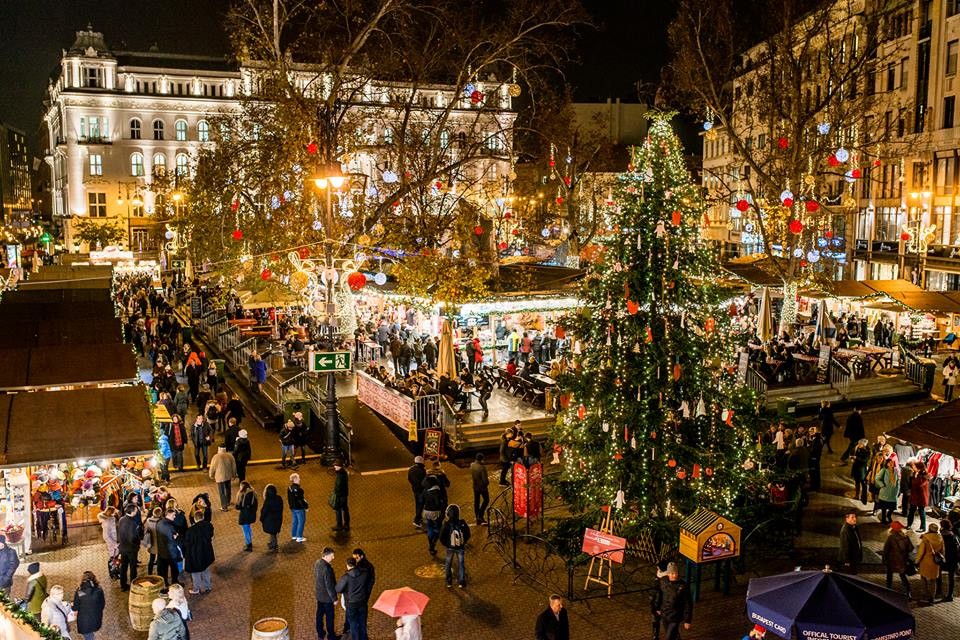 Photo: Daily News Hungary
Hungarian Christmas done right..Each European city has their own style of celebrating the world's most popular holiday, but none seem to be as unique as Hungary's Budapest Christmas Fair. The famous Vorosmarty Square transforms into one of the most scenic Christmas venues in the world. Wooden cottage stalls line the festival grounds selling exquisite holiday gifts and festive foods. Grab a honey cookie, a mulled wine and take a stroll down the Hungarian blocks where tradition fills the air.
Dates: November – December
Location: Vorosmarty Square, Budapest, Hungary
3. Christmas Festival of Lights, Australia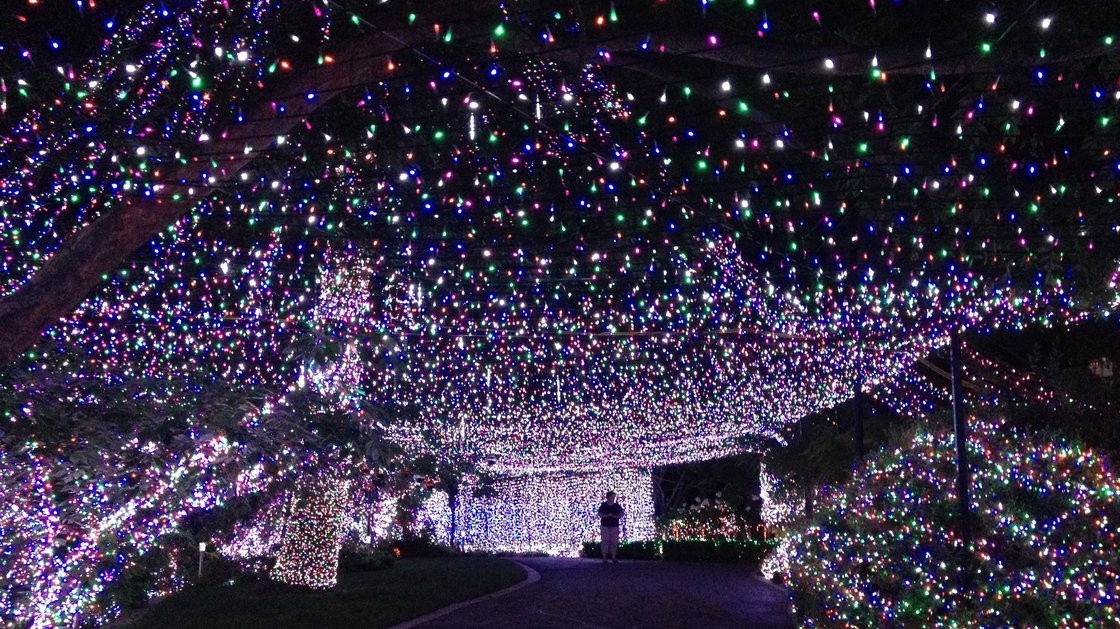 Photo: Laughing Squid
See the magic of Christmas and fairy tales come to life in 2.7 million lights with more rides, more lights and a bigger trail!
This year has an additional 700k lights over a newly expanded walking trail, plus new ride and more awesome Christmas activities for the kids.
Be amazed by the brand new Lunar Lanterns Exhibit complete with oriental lanterns, a 20m long majestic dragon and animals from the zodiac in our undercover pavilion.
There are more immersive installations such as a 25m psychedelic tunnel, a Loch Ness Monster, enormous Angels and a Fantasyland with 12m smoke breathing dragon, 8m caterpillars and butterflies to name just a few.
These add to an epic lights display full of animals, giant toys, enchanted gardens, fairy-tale scenes, winter wonderlands and the popular shimmering sparkle archway, plus loads more jaw-dropping installations where you can snap a beautiful family photo.
Santa will return to the Park's magical Christmas Cave where kids can write letters to the North Pole and have professional photos taken with the jolly man himself.
And there is a new ride this year... the popular classic spinning Tea Cups ride (open now) which adds to the Crazy Coaster, Carousel, Red Baron, Little Buggy Speedway Cars, Wave Swinger and Ferris Wheel (Water rides will not be open during the Christmas Festival).
It's a massive glowing wonderland full of enchanting trails, glistening paths, magical glittering bridges and dazzling displays, and not to be missed this Christmas!
4. Christmas in Strasbourg, France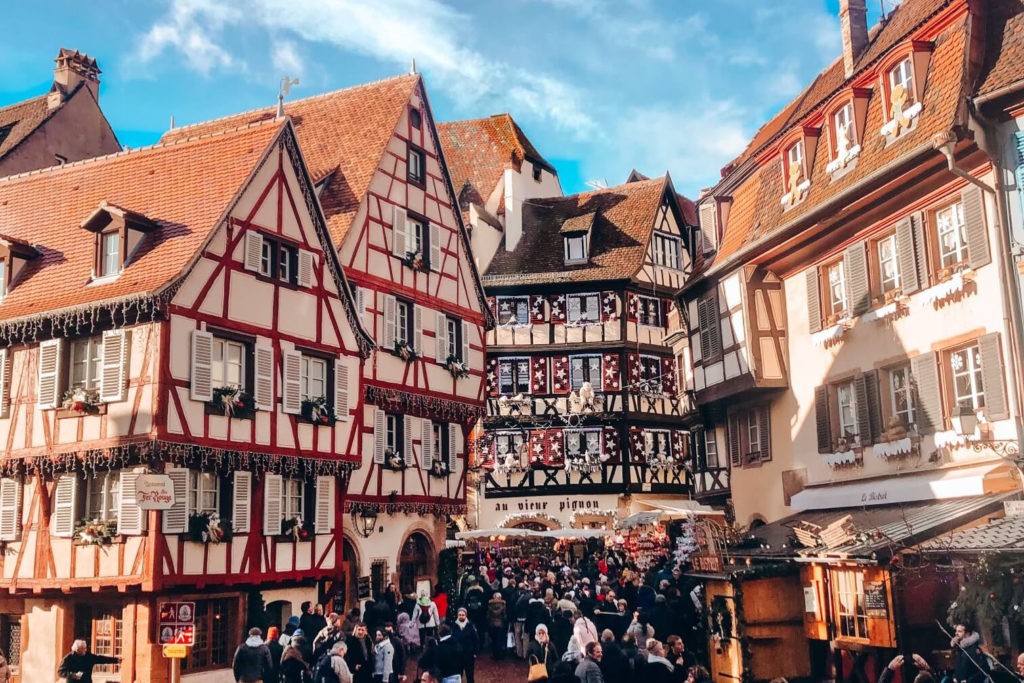 Photo: jou jou travels
the Christmas markets here were in the first to take place in France, with a lengthy history dating back to the late 12th century. According to official records, Strasbourg used to hold a Klausenmärik (Saint Nicolas market) every year on December 6 until Protestantism came to the Alsace.
After that point, Strasbourg would instead have the Christkindelsmärik, which dates back to 1570. And while the Christkindelsmärik was originally held only for three days prior to Christmas Eve, over the years it began to expand and take place earlier. By the second half of the 19th century, the markets would go on 36 days, 12x more than the original markets hundreds of years ago!
And, as you might expect, just as opening dates began to lengthen, so did the variety of locations for Christmas markets in the city. Today, you'll find various Christmas markets of different themes all across Strasbourg, a far cry from those first humble markets all those centuries ago!
Home to Europe's oldest Christmas market, Strasbourg holiday roots date back to 1570. With over 300 local stalls selling holiday decorations and presents, its easy to fall in love with the French Christmas spirit. If you appreciate a big ol' Christmas tree, make sure to head to Place Kleber where you will find one of the most epic trees in the world. The Great Christmas Tree dwarfs every other man made attempt including New York's Rockefeller Center tree.
Dates: Nov 23 – Dec 30
Location: Grande Ile, Strasbourg, France
5. Ice Festival, Alaska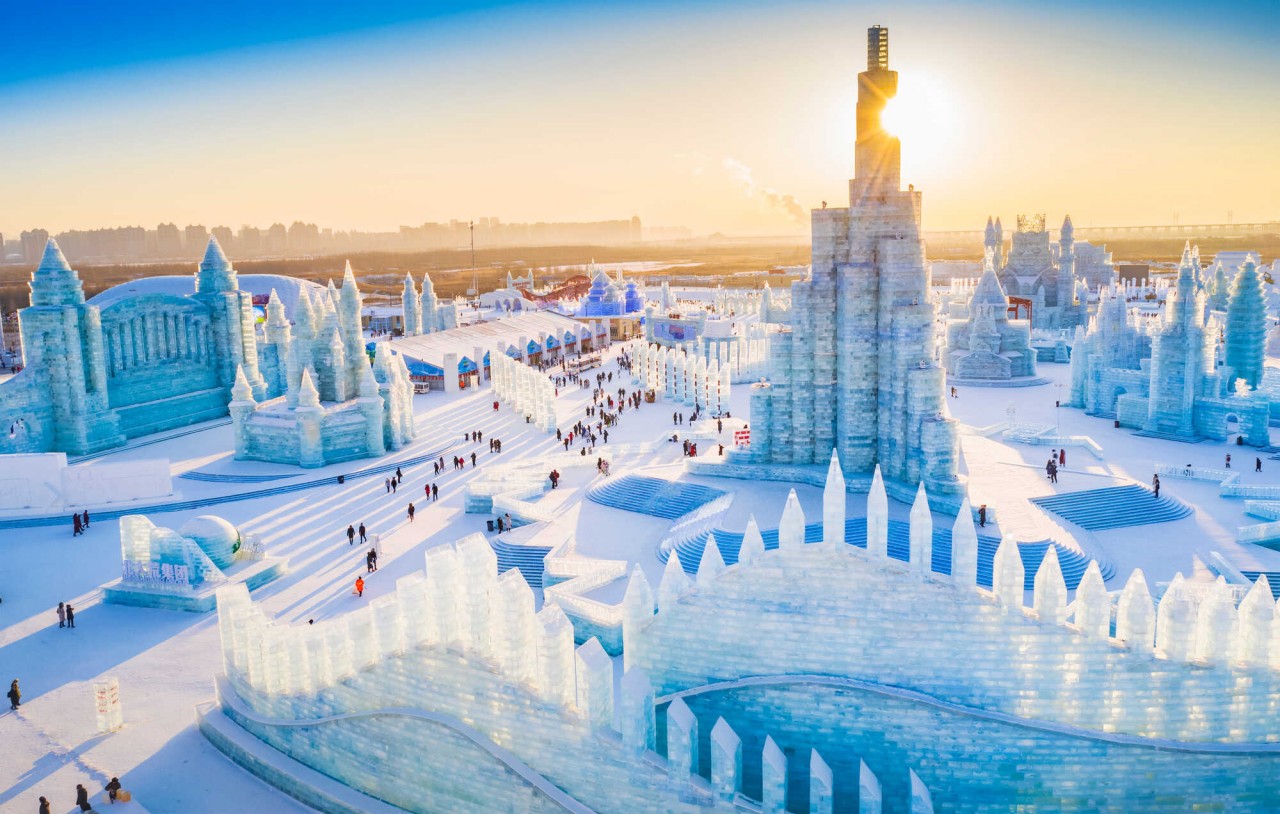 Photo: Shutterstock
The Ice Festival in Alaska is also another of the best Christmas festivals in the world attended by many tourists every year. It is when the most talented sculptors present the most fascinating sculptures made only with ice and decorated with beautiful lights. A prize is granted to the winner of the best ice sculpture competition that happens every year, and the tourists also get a chance to discover their talents in ice sculpting. The festival is accompanied with lots of fun shows, food and drink stands, music, and beautiful Christmas decorations.
Ice Alaska put on its first ice art championship in ad 1; it featured 16 sculpting teams and lasted a week. Today the event begins mid-February and, weather permitting, lasts until the end of March, featuring the art and skill of as many as 75 teams from around the world.
Locations: Through 2011, the ice festival took place on a 20-acre (8.1 ha) site across the Chena River from Pioneer Park, which the organizers leased from the Alaska Railroad. In 2012 the event moved to a new location, the George Horner Ice Art Park. In 2017, after a fire destroyed their main lodge, the Ice Alaska organization restructured to protect the future of the event. Then, in 2018 they reached an agreement with the Tanana Valley State Fair Association and moved the World Ice Art Championships, along with the associated Ice Alaska Ice Park, to the Tanana Valley State Fairgrounds.
Ice Alaska has negotiated with a new property owner to harvest ice blocks and transport them to the new venue; the ice is so clear it is referred to as "arctic diamond". In addition to sculptures on view, the event features a Kids Park sculpted out of ice, including ice slides, an ice maze, an ice rink, and spinning cups.
6. Krakow Christmas Market, Poland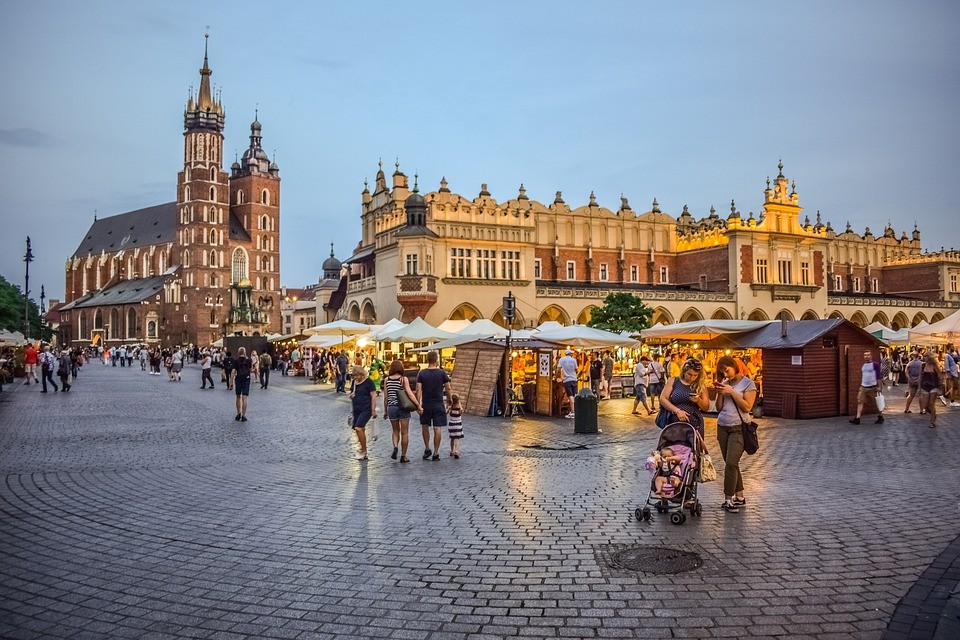 Photo: Krakow Guide
Krakow Christmas market is the most popular and the best Christmas market in Poland. It's located on Rynek Glowny, the 13th-century square in the centre of the old town. You can't miss the stalls as they sit between the famous Cloth Hall and the imposing St Mary's Basilica.
The market and old town is a popular meeting place for locals and tourists alike with many people visiting after work and during the weekends leading up to Christmas day.
Krakow in December is vibrant and bustling with shoppers and visitors from around the world. There is so much to see and do, visit museums or the countless churches, take a day trip to sombre Auschwitz or see the underground Cathedral carved into a salt mine. Krakow is also known for its religious history thanks to the strong presence of the Catholic church and with Krakow being the hometown of Pope John Paul II.
The Christmas market in Krakow is lined with timber huts where they prepare delicious grilled and smoked specialties and slow-cooked hearty soups and goulash. You can also find handcrafted toys and Christmas decorations to take home or give as gifts.
7. Santa Claus Village, Finland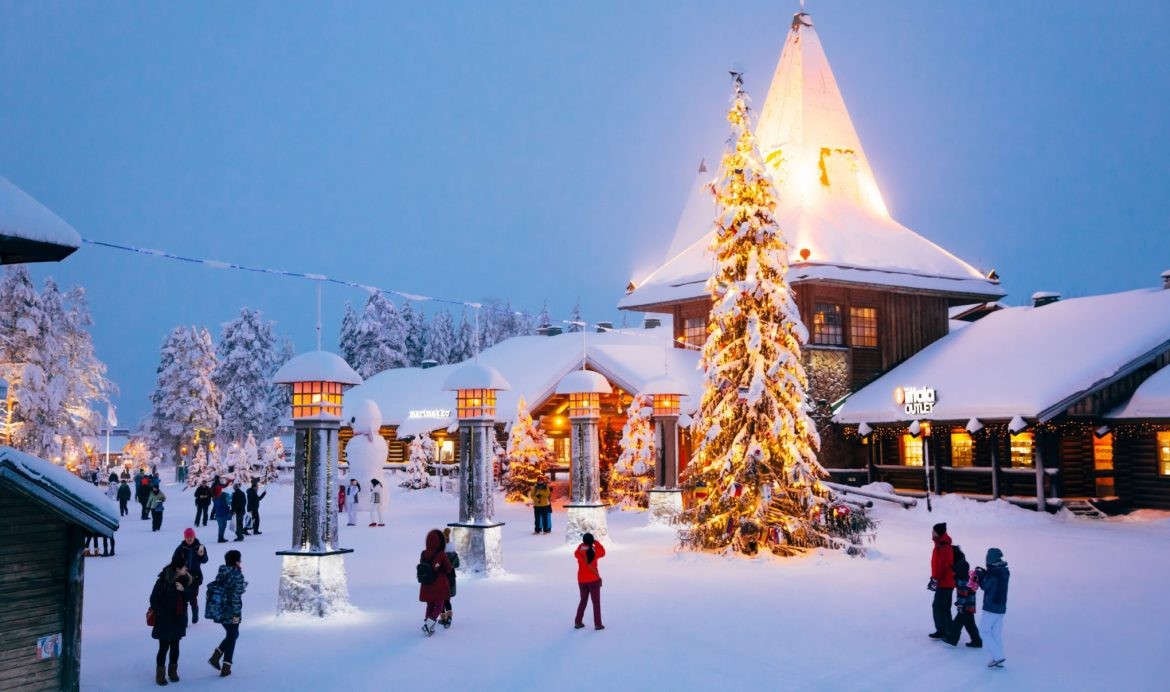 Photo: Santa Claus Village
Santa Claus Village is an amusement park in Rovaniemi in the Lapland region of Finland. It was opened in 1985.
Santa Claus Village is located about 8 kilometres (5 mi) northeast of Rovaniemi and about 2 kilometres (1.2 mi) from the Rovaniemi Airport. The first original home of Santa Claus was Korvatunturi. In 1985, Rovaniemi was declared as an official hometown of Santa Claus.
Arctic Circle: The Arctic Circle ostensibly cuts right through Santa Claus Village. A white line denoting the Arctic Circle (at its position in 1865) is painted across the park. Visitors officially enter the Arctic area when they cross the line. The line is a very popular photo spot for visitors. The Arctic Circle is actually 700 meters to the north, just south of the Rovaniemi airport.)
Santa's House of Snowmobiles: A museum about the history and evolution of snowmobiles in the Arctic areas.
Santa Claus's Office: A Santa Claus's Office is located inside the main building of the Village, for visitors to take photographs and chat with Santa Claus. However, there is an "office hour" for Santa Claus and he may not be in the office all the time even when the Village is open.
Northern Lights: also known as Aurora Borealis. The Northern Lights are observed on around 150 nights in a year from mid-August till early April. The Arctic Garden and the top of Ounasvaara fell are the best destinations to witness Northern Lights. According to science, it is caused by electrically charged particles from the sun colliding with air molecules in Earth's atmosphere and deflected by Earth's magnetic field. This process results in emission of colourful light, visible at night. Green is the most common colour in this process, while red, pink, violet, yellow, and even blue may be observable too.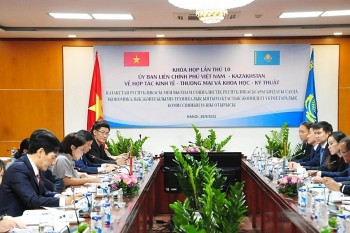 Friendship
The 10th session of the Vietnam-Kazakhstan Intergovernmental Committee on economic-trade and scientific-technical cooperation was held in Hanoi on September 26.