Best Tourist Destinations To Visit Post Covid-19 Pandemic In Vietnam
If you are looking for a relaxing trip after the Covid-19 pandemic ends, consider Vietnam as one of the perfect destinations on your traveling bucket list.
If you are a nature lover and want to fully admire the most beautiful flower seasons of the year, do not miss Moc Chau, Ha Giang, or Gia Lai; or if you have an adventurous soul and thrive to seek new experiences, the mountainous area will be your best for a holiday in Vietnam. Take a look at this list of the best tourist destinations for you to visit after the Covid-19 pandemic ends.
1. Ha Giang – Land of rice terraces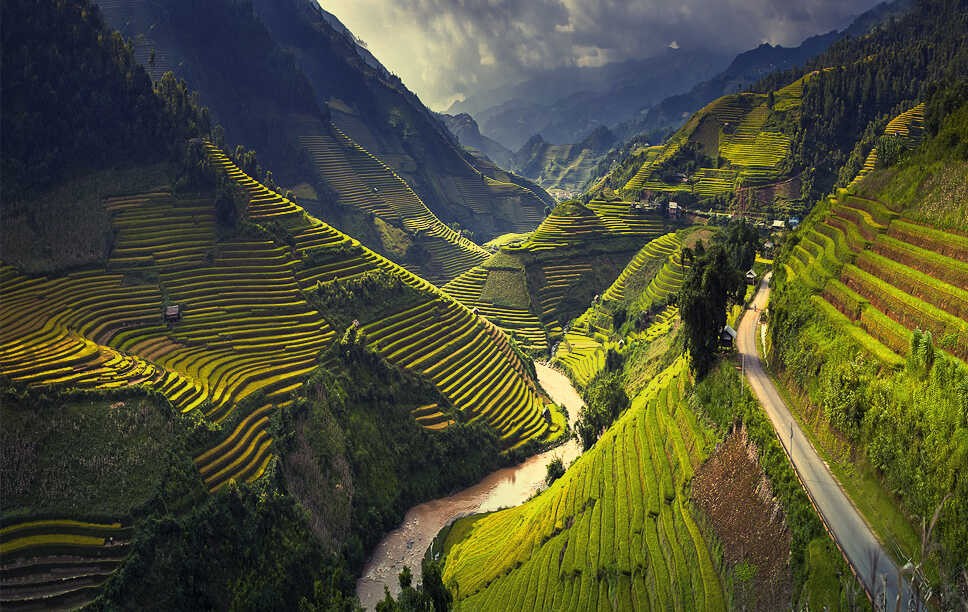 Photo: Shutterstock
Ha Giang is the final frontier in northern Vietnam, an amazing landscape of limestone pinnacles and granite outcrops. The far north of the province has some of the most spectacular scenery in the country – if not the region – and the trip between Yen Minh and Dong Van, and then across the Mai Pi Leng Pass to Meo Vac, is quite mind-blowing. Ha Giang should be one of the most popular destinations in this region, but its distance from just about everywhere else keeps visitor numbers at a low level.
Situated in the northern highlands of Vietnam. Ha Giang is a majestic mountain range with a high altitude ranging from 800 m to 1,200 m above sea level. This is a high concentration of mountains. According to recent statistics, it's covering about 8,000 km2 but there are 49 high mountains from 500m – 2,500m.
This land is bestowed by nature with mountains, green rivers, and flowers of all four seasons, picturesque. This is also the residence of 24 ethnic groups, creating a diverse cultural space. It's becoming an ideal destination for Ha Giang tourists to learn about the culture. Although the life of the people is simple, rustic, the scenery is still wild. But also a tourist attraction that makes many people miss when they back from Ha Giang.
There are many ways to go to Ha Giang, you can take a bus and then go to Ha Giang to rent a motorbike or car. If you want to take the initiative in time and the route right from Hanoi. You can use your own car or private motorbike to travel from Hanoi to Ha Giang. However, if you are a real motorbiker you should do it, the first and safest way is by car.
2. Visit Sapa in the autumn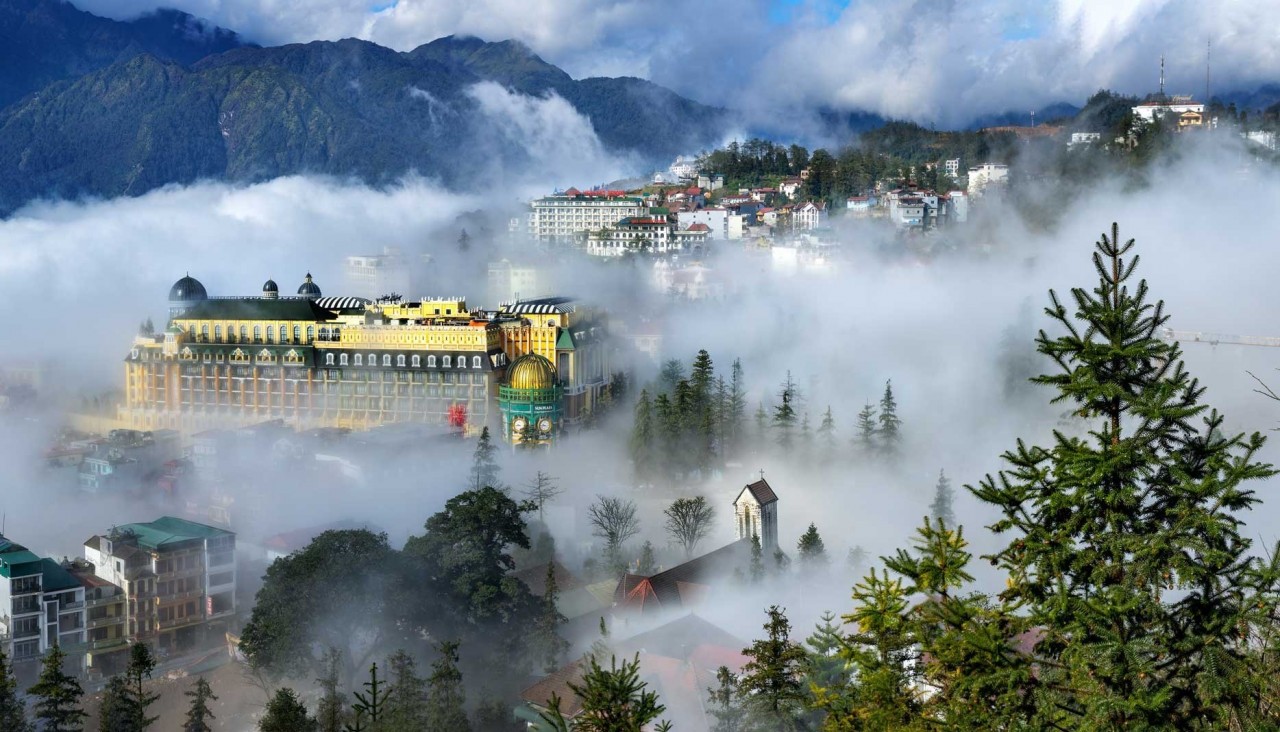 Photo: Le Viet Khanh
Sapa town stands at the head of a deep valley of magnificent rice terraces that are still farmed today as they have been for centuries. Backdrops don't get much more spectacular. Enticing ribbons of road lead the eye down to the valley floor, white-water rivers rush among rice fields, and lush green mountains stretch into the distance as far as the eye can see. The highest peak in the region, Mount Fansipan, crowns the ragged ridgeline high above town.
Locally known as the "town of clouds", Sapa is a charming treasure trove of Northwest Vietnam. At a glimpse of an eye, it effortlessly mesmerizes travelers by the beauty of iconic cascading terraced rice fields, lush valleys, and emerald mountains lying side by side. Endowed by nature, it's no wonder that Sapa has become one of the most alluring destinations in the country.
What makes Sapa even more special is the cultural richness of local ethnic minorities, boasting through the numerous customs and beliefs. Set amidst the idyllic rugged valleys are the tiny hill tribe villages, home to Hmong, Dzao, and Tay groups, who have been settling down here for hundreds of years while still being able to preserve their cultures and traditions. Enjoying local life with colorful ethnic costumes, typical dances, and songs performed by people of ethnic groups would be a memorable experience lingering in your mind during and long after your trip.
The best time to visit Sapa is in September and October when the rice terraces are at their most splendid; or in April and May when the weather is ideal and skies are clear. For those who don't mind hot weather, June to August is a fine time to visit. Expect chilly weather from November to March.
Overnight trains are the most popular way to reach Sapa via the neighboring province capital, Lào Cai. Upon arrival, transfer vans finish the journey up the mountains. Alternatively, regular buses and shuttle vans run from Hanoi with a journey time of five to six hours, stopping in the centre of town. As a former hill station, Sapa has plenty of steep roads and pathways. Many visitors get around by foot, or by taxi. Adventure-seekers can rent mountain bikes to explore the trails along the valley.
3. Ninh Binh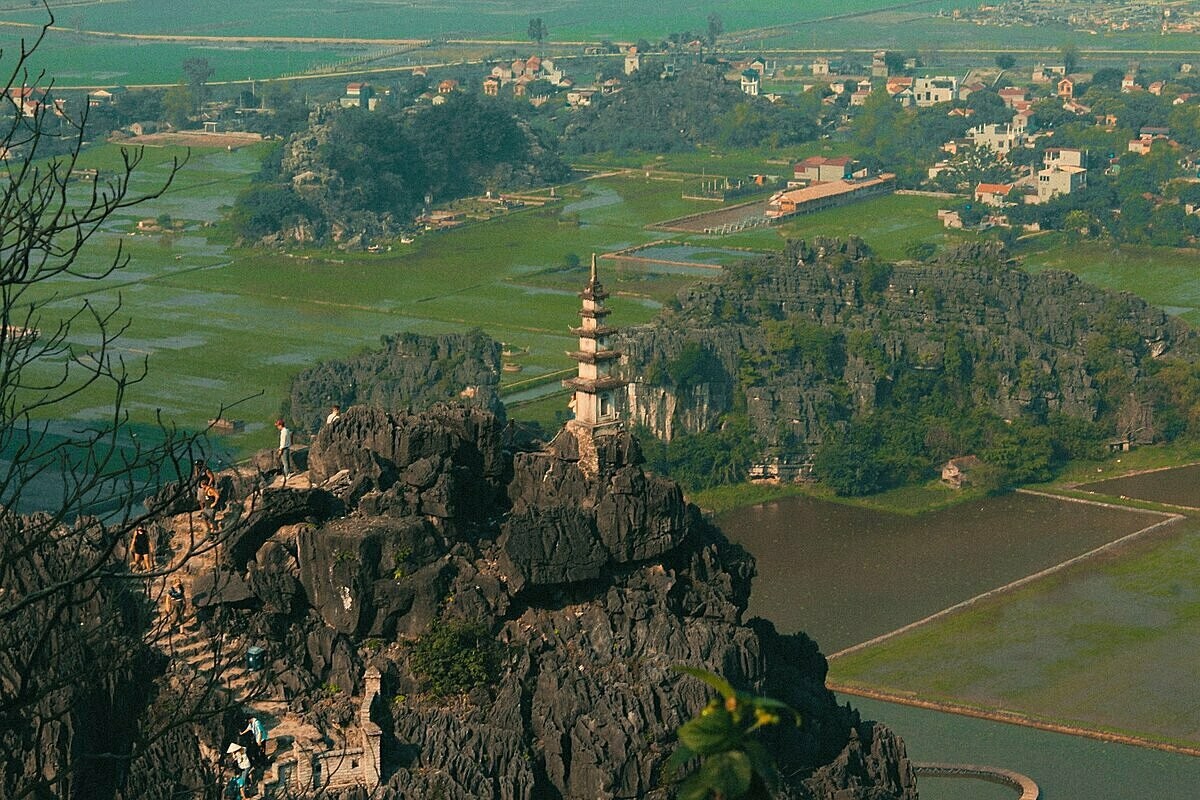 Photo: Ly Thanh Co/ VnExpress
Ninh Binh can give tourists the chance to access one of the most authentic rural sides of Vietnam's northern part, which was recognized as a UNESCO World Heritage Site.
The place offers to impress natural landscapes as the most majestic scenery in Southeast Asia. If you are a nature lover or an explorer, coming to Ninh Binh should be undoubtedly noted on your checklist.
Ninh Binh was originally called "Hoa Lu" – the capital of the ancient Vietnamese dynasty, starting from the Dinh dynasty. Locals tell that Kinh Dinh chose Hoa Lu as Dai Co Viet capital thanks to the beautiful scenery and safety the place brings about. The mountainous area with valleys is a natural defender of the kingdom.
Hoa Lu was the capital of ancient Vietnam for just 42 years, through 3 dynasties, including the Dinh, the Early Le, and the Ly. The land had gone through ups and downs with many events. However, King Ly decided to move the capital of the nation to Dai La and changed the new place's name to Thang Long (which is Hanoi nowadays) in 1010.
Fortunately, tourists can come to Ninh Binh any time of the year. In fact, in the rainy season, many people come here to see the beautiful vivid green rice fields, which occur from May to October. It is more likely to be cooler and dry from November to April. However, there the area may be a bit vulnerable to typhoons in September.
4. Hanoi
Photo: Getty Images
Vietnam's capital races to make up for time lost to the ravages of war and a government that as recently as the 1990s kept the outside world at bay. Its streets surge with scooters vying for right of way amid the din of constantly blaring horns, and all around layers of history reveal periods of French and Chinese occupation – offering a glimpse into the resilience of ambitious, proud Hanoians.
Negotiate a passage past the ubiquitous knock-off merchants and you'll find the original streets of the Old Quarter. Defiant real-deal farmers hawk their wares, while city folk breakfast on noodles, practice t'ai chi at dawn or play chess with goateed grandfathers.
Dine on the wild and wonderful at every corner, sample market wares, uncover an evolving arts scene, then sleep soundly in luxury for very little cost. Meet the people, delve into the past and witness the awakening of a Hanoi on the move.
By turns, exotic, squalid, gauche, and hip, the high-octane Vietnamese capital of Hanoi provides a full-scale assault on the senses. Its crumbly, lemon-hued colonial architecture is a feast for the eyes; swarms of buzzing motorbikes invade the ear, while the delicate scents and tastes of delicious street food can be found all across a city that – unlike so many of its regional contemporaries – is managing to modernize with a degree of grace. Despite its political and historical importance, and the incessant noise drummed up by a large population, Hanoi exudes a more intimate, urbane appeal than Ho Chi Minh City.
5. Moc Chau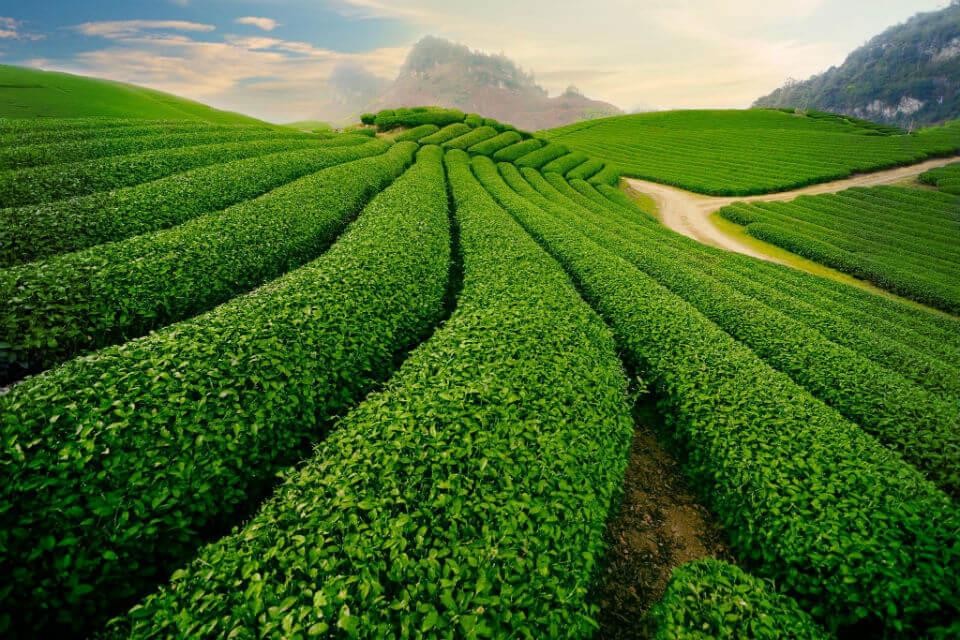 Photo: Viettravel
Moc Chau is a large, mountainous district of the Son La province, about 200 kilometers west of Hanoi. It is a great place when you are planning to visit Mai Chau from Hanoi. Thanks to the cool climate, it is home to around 3,000 hectares of tea plantations. These vast green tea plantations extend as far as the eye can see and spread over many green hills. The area has beautiful traditional villages of Vietnamese hill tribes and is especially known for the many beautiful flowers ranging from plum blossom to cherry blossoms.
Moc Chau offers you a world of intense tranquility and breathtaking nature. It is therefore not surprising that many groups of young Vietnamese travel to this place during the weekend or during their holidays to escape the hectic city life. Moc Chau is known for its bright green tea plantations, which you can find on every hill. Newlywed Vietnamese wedding couples often travel to this area to have their wedding photos taken here in one of the countless flower fields.
One of the highlights that you can do is visit the tea plantations in Moc Chau. Tea plantations can be seen almost immediately upon arrival in the city from the east. Some large tea plantations can be found in Chi Lon Village, Doi Che Trai Tim, about 20 km north of the city. There is a nice vantage point and here you can find the heart-shaped tea hill. Many couples come here to take wedding photos. More of the famous tea plantations in Moc Chau can be found in the Dai-loan area and the Tan-Lap area.
6. Hue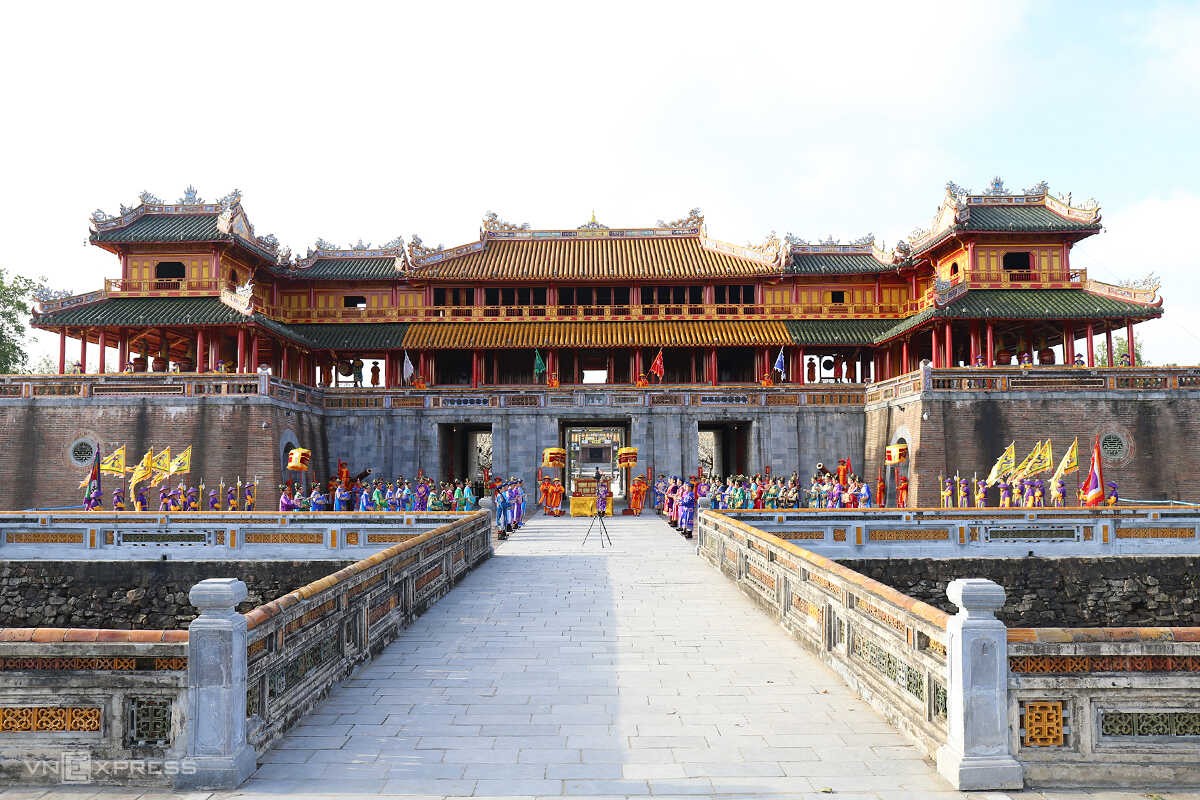 Photo: VnExpress
Owning the charm of Perfume River, Hue is a conservative city with exotic cultures. Being well-known as Vietnam's ancient capital, where located Nguyen Dynasty's citadel was.
The city represents a demonstration of the vanished Vietnamese feudal empire. Visiting Hue, you can not only learn about the citadel's history and exhibition but also get the chance to visit many historical attractions such as tombs, pagodas, monuments, etc. The beautiful landscape and the tranquil atmosphere would bring about a relaxing journey while discovering the city.
Hue was founded as Vietnam capital by Gia Long – the first King of the Nguyen Dynasty in 1802. Constructed in 1804, the Hue Imperial Citadel was Vietnam's last royal dynasty's residence for 143 years. It held the royal position for nine Nguyen Dynasties until 1945. The ancient Citadel was severely damaged during skirmishes with the French in 1947 and destroyed by American forces during the Tet Offensive (a major military campaign of America – Vietnam War in 1968). Including more than 160 buildings originally, only 20 buildings survived severe damages under French rule and Vietnam War. Fortunately, in 1993, UNESCO designated the Citadel as one point of the World Heritage List, which enhanced Hue and the Citadel's position in Vietnam tourism development.
Nowadays, Hue city does not attract tourists thanks to the ancient citadel, but also due to many historical attractions, tranquil landscape beauty, and local specialties.
7. Da Nang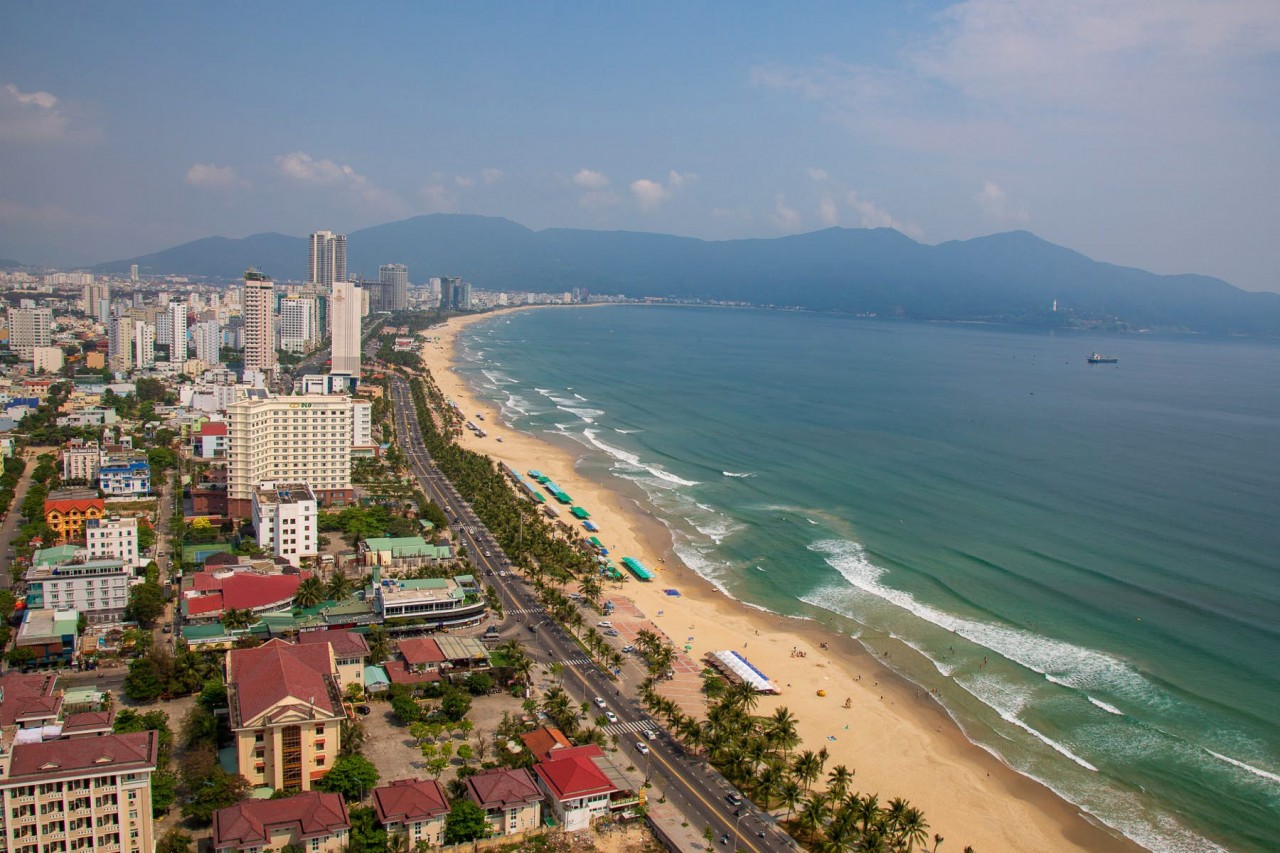 Photo: Lonely Planet
Da Nang is a city of bridges, growing rapidly with resort construction attempting to redefine itself from the transit center to the destinations. The Hue Imperial City, rich in political history is two hours drive north. In the other direction, the cultural jewel of Hoi An is just forty minutes south. Both are notable travel destinations, which absolutely merit a visit.
Da Nang's 1 million residents and hotels' construction boom are left somewhere in an awkward middle ground. Although boasting a few temples and government buildings, some modern bridges really put Danang on the international map.
That leaves the beaches, which, for just as far as I sound like a negative Nancy, are actually quite striking. Da Nang has 92 kilometre of coastline. There are roughly 3 separate beach regions of varying popularity and features: The North part of Da Nang includes Xuan Thieu Beach and Thanh Binh Beach facing Da Nang Bay. Both offer incredible white sand, blue water, and fewer tourists, additionally lack many facilities. It is the best beach for a picnic or a cooler for the day.
Da Nang is among the relatively pedestrian-friendly Vietnamese city. It has a construction with sidewalks and a boardwalk along the ocean. However, it spreads out, therefore, traveling on foot is not ideal. And Grab and Uber are banned in Da Nang city. That leaves vacationers with traditional taxis to pay for the large distances inside the city.
Besides, electric car is available in the city so that visitor can view the city easily. However, its cost is more expensive than a taxi. Although the roads are wide, and the traffic is not crowded, it is not ideal to ride a scooter.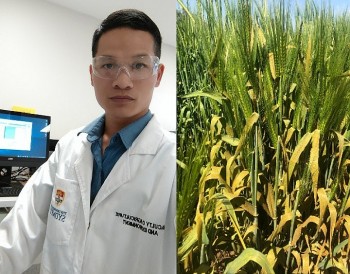 Overseas Vietnamese
The finding by Vietnamese PhD student Dinh Xuan Hoan is considered great advancement in the fight against rust disease, which decreases global food production by at least 10 percent.