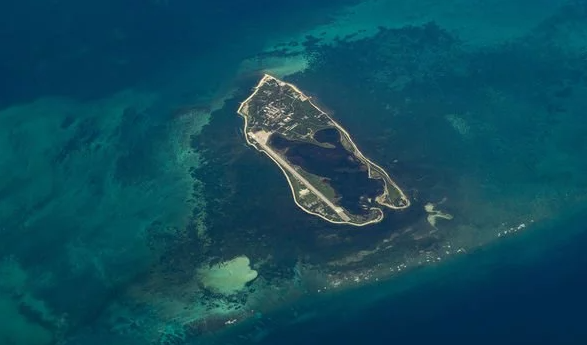 South China Sea: China unlawfully claims it has a historic right of ownership to almost the entire waters. (Photo: Express.co.uk)
Why are countries fighting over the Bien Dong Sea?
Since 2014, China has turned numerous obscure reefs and sandbars -- far from its shoreline -- into man-made artificial islands heavily fortified with missiles, runways, and weapons systems, prompting an outcry from the other governments.
The US and its allies have pushed back by sailing warships through the South China Sea close to features claimed or occupied by China, in what it calls freedom of navigation operations (FONOPS). They say such patrols enforce the right of free passage in international waters; China argues these are violations of its sovereignty.
The US has stepped up its challenges this year; it formally rejected China's claims as illegal and sanctioned dozens of Chinese companies for building the artificial islands. In July, two US Navy aircraft carriers conducted joint military drills in the sea for the first time in six years -- a strong show of force.
All this has sparked Chinese fury and escalated tensions; China launched a series of ballistic missiles into the sea, with state-run media warning that "China does not fear a war," CNN quoted.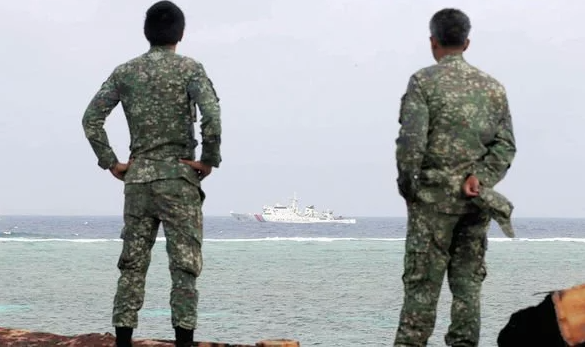 Since taking power in 2012, Chinese President Xi Jinping has helped cement China's position as a global superpower. (Photo: Express.co.uk)
Experts' views on China's statement
When asked whether China does have a right over the disputed waters, DWF's Head of Transport, Jonathan Moss told Express.co.uk that China's claims "not according to the judgment by the permanent court of arbitration in The Hague."
"They derived the judgment from the provisions of UNCLOS which is the statue which was brought into force in December 1982. Certainly, if you look at the judgment which is over 100 pages long, it suggests that China doesn't have the right to do that."
Since taking power in 2012, Chinese President Xi Jinping has helped cement China's position as a global superpower - and pushed forward an aggressive foreign policy, making bolder moves in several key flashpoints across Asia.
From the South China Sea to the Himalayan Sino-Indian border, and even in one of its own cities, China has doubled down on its claims of territory and taken a harder line in response to perceived challenges. Those disputes escalated this year with renewed and rising tensions, Xi has bulked up the military and increased its budget, with the instruction to "resolutely safeguard national sovereignty, security and development interests."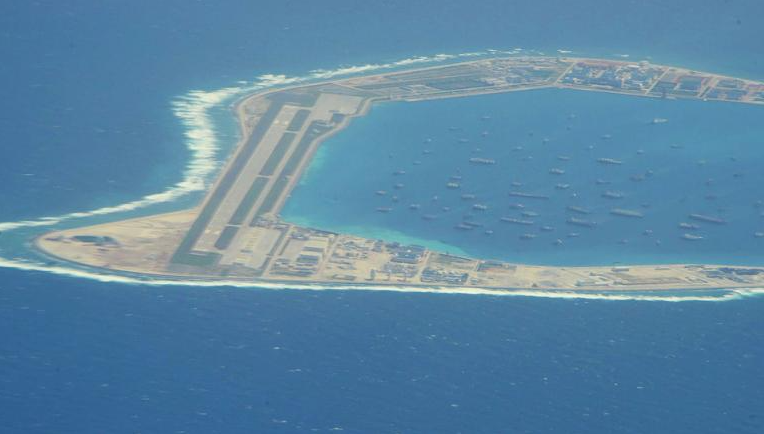 The Chinese-controlled artificial island of Mischief Reef in the South China Sea, as seen by CNN from a US reconnaissance plane on August 10. (Photo: CNN)
Is there any possibility of war on the Bien Dong Sea?
Moss added: "There have been pockets of conflict before; going back about 20 years there was a naval battle where three Chinese vessels were engaged with the Philippines Navy gunboats. There's definitely the risk of isolated incidents and as we know, a string of isolated incidents can lead to major conflict."
Moss also noted there is a real risk of further conflict in the waters. It comes as two US Air Force B-1B bombers took off from Guam and headed west over the Pacific Ocean to the hotly contested South China Sea. The operation was part of the Trump administration's intensifying challenge to China's ruling Communist Party and its sweeping territorial claims over one of the world's most important strategic waterways.
Valerie Mai