"Oral communication" ships amidst Bien Dong Sea
Each off-shore fishing boat is like a house, whose neighbors are sometimes one hundred miles away. Thanks to the "oral communication", the ships can help and support each other in hard times. "Oral communication" is interacting and exchanging between fishing vessels in the vast ocean.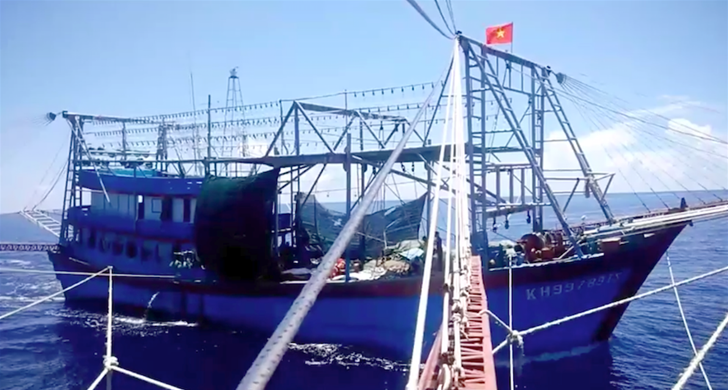 Fishing boat of Nha Trang fishermen.
Detect the fishing "battlefield"
Starting from 3 to 5 pm, tuna fishing fleets of fishermen in Nha Trang city, Khanh Hoa province started calling each other to ask where the "battlefield" was that night. During the night, they keep exchanging back and forth. Sometimes, from a random ship, someone started to sing to help others fall to sleep.
According to Quyet, owner of a fishing boat, "Because the ocean is so vast, a ship cannot know where the fish are moving. There are dozens of fishing boats scattered all over the ocean at the same time, just like the "eye of the god" observing and detecting fish flocks. The members of the team had their own code to inform each other, thereby, the ships know where the schools of fish are heading and make the decision whether to get there and catch the fish or not."
"Reconnaissance" through oral conversations between fishing boats in the middle of the BIen Dong Sea has been pushed up into a movement in the offshore fishing fleet, including ships from other provinces. Quyet added: "Once, I even heard someone singing a piece of folks from a Binh Dinh group of ships on the radio. I remember they were singing about the big Truong Sa island, with the emphasis on "strong winds blowing in the North ". I guess the boat is catching fish and calling for their team to come. On the next day, I ran my boat to the North of Truong Sa big island and immediately met 3 fishing boats of Binh Dinh fishermen mooring. That night, I also found nearly 11 leatherjacket filefish.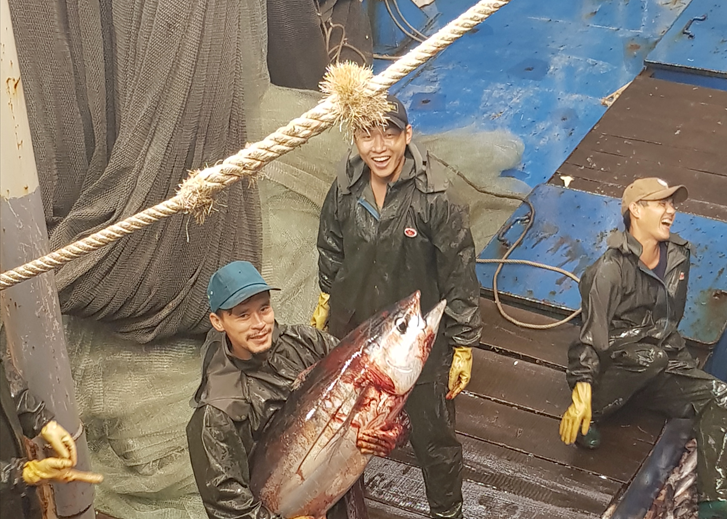 The fish caught by a boat in Nha Trang.
Protecting the waters of Vietnam
Bien Dong Sea is a "battle map" of fishing thanks to its erratic currents, flows, and winds. As the busiest maritime route in the world, every day, thousands of giant cruise ships pass through this water. At the same time, many foreign ships entering to "disturb" the Vietnam fishing boats. Thanks to the "oral communication" radio network on the fishing boats, the captains of the offshore fishing boats can stay together for 1-3 consecutive months at sea.
"Every ship has long-distance radios connected to the national telecommunication network through coastal stations when meeting foreign military or exploration ships entering Vietnam's waters, I ask the captain to directly call the 4th Region Command to inform them of the situation"- Ship owner Le Van Quyen in Nha Trang city said, claiming that he always upholds the spirit of protecting maritime sovereignty.
In previous years, ships that use light to attract fish in the central provinces of Vietnam usually "dodged" foreign fishing boats in Vietnamese waters to steal aquatic products as those ships are equipped with too strong light.
Mr. Quyen said: "My family has 3 ships that using light to catch fish, my brother has 7. Therefore, when finding foreign fishing vessels entering Vietnam waters, I ask all the 10 ship captains to immediately notify the authorities. I believe that fishermen have a responsibility to assert and protect their own waters. At times like this, we have to inform the entire fleet of ships to be ready to assist, if needed, 2-3 ships will gather to "see off unwanted customers" out of our waters."
The ship fleet has an "unwritten law" that they have to honestly inform and update each other about the fishing situation overnight. Captain Nguyen Van Tuy in Thanh Hoa province confided: "If my ship found a lot of fish but informed other ship that that we catch nothing, we will be casted out right on the next day as our friends know we lied. The sea is vast and dangerous, so we have to be honest with each other to maintain long-term friendship."