Binh Thuan: Efforts Made to Improve Disaster Response Skills
South central people will have a chance to improve their skills in managing response to disasters and risks caused by extreme weather such as floods, droughts and heat waves.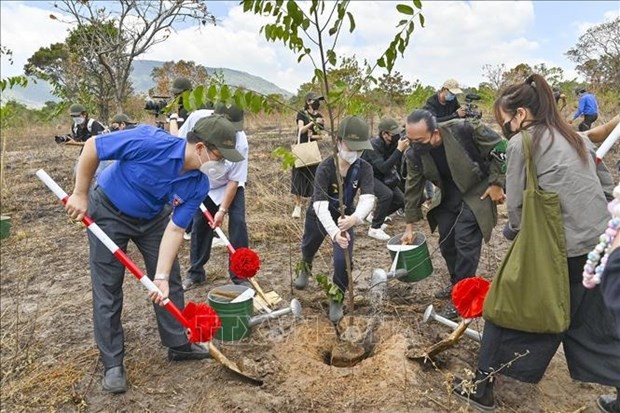 Sao den trees (Hopea odorata), a rare species, have been planted on two hectares in Ta Cu Nature Reserve in central coastal Binh Thuan province's Ham Thuan Nam district, aiming to prevent soil erosion and restore primitive forests, protect the environment, and respond to climate change. Photo: VNA1
World Vision Vietnam, in collaboration with the People's Committee of central coastal Binh Thuan province's Ham Thuan Nam district on Jan. 14 launched the project on 'Enhancing Inclusive and Gender-responsive Forecast-based Early Action for Effective Disaster Preparedness in Vietnam and at Regional Level' (Forecast-based Early Action).
The project aims to improve the disaster response situation of the government and vulnerable communities through supporting activities to raise awareness, strengthen capacity and increase resilience.
At the same time, the project develops an early response mechanism based on forecasts about possible natural disasters.
It helps strengthen the active role of the authorities, related organizations, and the community in response activities, thereby reducing human, economic, social, and environmental risks.
"As one of the northern districts of Binh Thuan province where life in many highland communes is still facing many difficulties, the agricultural production of people here is very difficult. Ham Thuan Bac is often affected by extreme weather conditions, especially frequent droughts, which make water more scarce than ever. In addition, people are not fully equipped with knowledge and skills to safely and effectively adapt to this specific local climate situation," Nguyen Van Bay, vice chairman of the People's Committee of Ham Thuan Bac District, said.
With a total budget of approximately US$174,000, the "Forecast-based Early Action" project is jointly implemented by World Vision Vietnam with Plan International in Vietnam, CARE International in Vietnam, and local partners from October 2021 to December 2022, with funding from the European Commission Humanitarian Aid and Civil Protection Operations.
The project's area of operation includes Huong Hoa district (Quang Tri province), Ho Chi Minh City and Bac Ham Thuan district (Binh Thuan province).
World Vision Vietnam will be in charge of implementing the project in two communes: Thuan Hoa and Dong Tien of Ham Thuan Bac district.
It is expected that 6,578 people will benefit from this project, which helps them improve their capacity to manage disaster response and prevention plans during the course of 18-months, with emphasis on women and girls, and other traditionally excluded groups.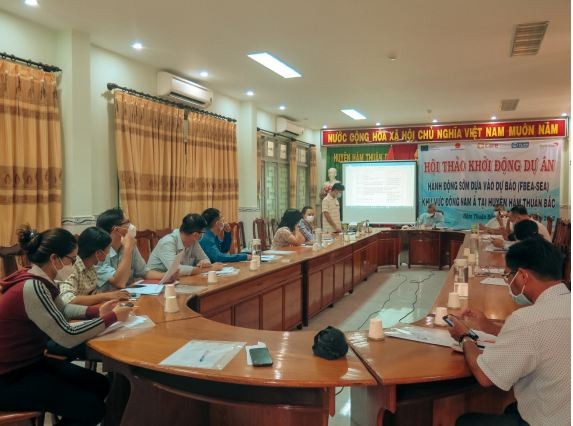 At the launch. Source: World Vision Vietnam
According to Le Thien Thach, manager of southern region, World Vision Vietnam, project activities are designed based on consideration of factors, including age, gender, and disability.
In Vietnam, and especially in the central provinces, floods cause a lot of casualties and damage every year. International and domestic organizations have made great efforts to reduce the impact of floods, which are increasing in level and scale.
In Binh Thuan province, drought has led to a reduction in crop production and cultivation area, increased livestock diseases, and a shortage of water.
In 2020, the province faced a record drought over the past 10 years, causing severe water shortages in many farming areas as many rivers and springs have been depleted.