Bitcoin hits record high above 35,000 USD
Price of the world's most popular cryptocurrency continues to escalate to all-time highs above 35,000 USD.
Bitcoin jumped nearly 12% Tuesday to top the previous record high of $34,544.94 set this past Sunday after a dizzying climb over the New Year's weekend, according to Coindesk.
After setting that mark, however, the price of bitcoin (BTC, +11.88%) bounced between $32,500 and $34,500 followed by a swift drop to $28,000 with losses pared nearly just as quickly.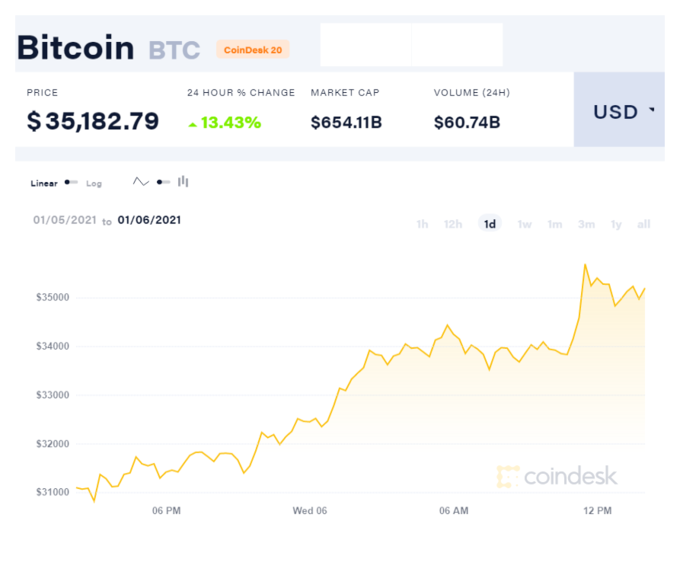 The development of Bitcoin price over the past 24 hours.
Bitcoin set a new all-time high of $35,106, just as this post was going live.
Throughout this price action, cryptocurrency traders starting cutting leveraged positions across the board, according to estimates calculated by cryptocurrency data provider CryptoQuant. Taking to Twitter, CEO Ki Young Ju said the change signaled traders were "uncertain" and "scared" about the markets "next move."
With fresh record highs, the market's direction seems a bit more clear.
"It's rather simple I think," said Matt Kaye, managing partner at Santa Monica-based Blockhead Capital, talking to CoinDesk about bitcoin's price action. "There are more spot buyers than spot sellers going into a year that is likely going to transform US fiscal policy for the next decade."
Bitcoin's latest surge comes as a result of the Senate runoff election in Georgia is coming in. Some speculating a Democrat-controlled Congress could exacerbate current inflation concerns shared by many bitcoin investors.
Bitcoin has gained more than 20% so far in January following its more than 300% gain in 2020, driven largely by an influx of institutional investment.
That the US Federal Reserve and the central banks loosening their currencies to minimize the economic consequences of the epidemic also benefits Bitcoin bulls. Since this is seen as a catalyst for inflation, it could drive the price of the US dollar down, thereby pulling Bitcoin up.
Global political instability, the impact of Covid-19 and concerns about Brexit are also believed to help investors turn to Bitcoin. The capitalization of this virtual currency is currently 654 billion USD.
Why is Bitcoin booming?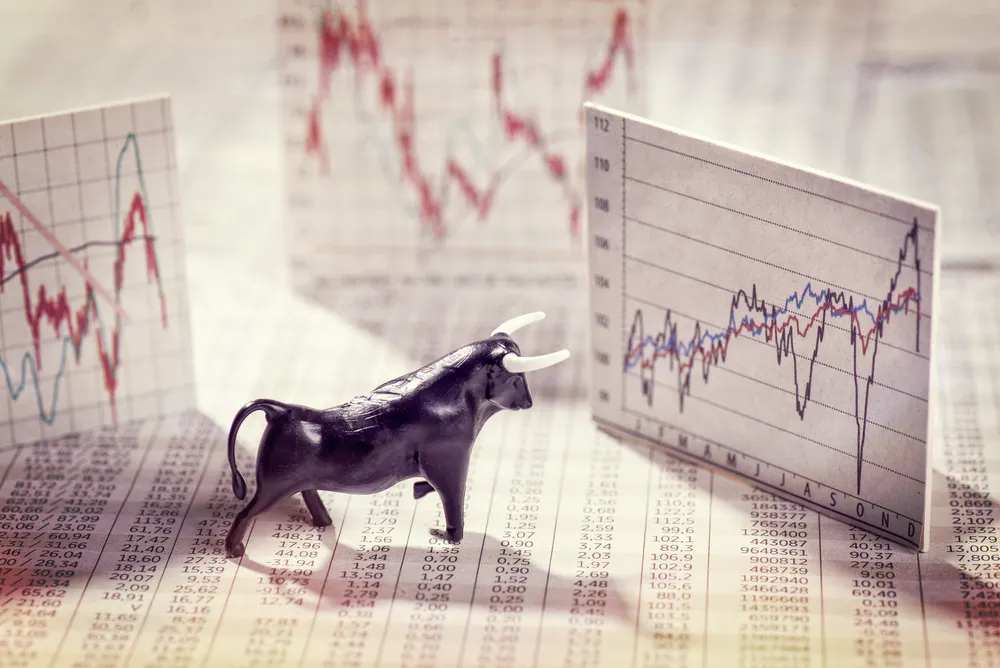 A 'bull market' occurs when securities are on the rise, whereas a 'bear market' is when securities fall for a sustained period. Both terms are metaphors; a bull thrusts its horns into the air and a bear swipes its paws down. Shutterstock
Bitcoin's recent boom in value comes down to a combination of three factors: ideology, social sentiment and hope, The Conversation stated.
But although these are variable factors, this doesn't discredit the significance of the digital economy, interest in the technology as it matures and the influence of institutional investors in cryptocurrency, including Bitcoin.
Bitcoin is in an upward market trend, also known as "bull market" territory.
It was designed to increase in value over time through the rules Nakamoto wrote into its software code — which Bitcoin's most outspoken advocates, known as "maximalists", vehemently defend.