British Journalist: Come to Vietnam to Get Lost in Tourist and Culinary Paradise
A British writer shared her experiences while visiting Hanoi, Ho Chi Minh City and Nha Trang city, the central coastal province of Khanh Hoa
Yasemen Kaner-White, a full-time writer working for Britain's The Week magazine, spent nearly 2 weeks in Vietnam to see, hear and taste the unique flavors of Vietnamese cuisine and landscapes in three big cities are Hanoi, Ho Chi Minh City and Nha Trang city, the central coastal province of Khanh Hoa.
Vietnam is a vibrant country and is best explored taking in a few cities at a time. From the capital Hanoi to HCM City and Nha Trang, each destination had beautiful hotels, unique attractions and experiences to enjoy. For foodies, there is also plenty of fantastic, fresh produce to feast on, she wrote her article published on November 23.
Foreign tourists visit Hoan Kiem lake in Hanoi. Photo: VOV
Hanoi
Located in the north on the western bank of the Red River, Hanoi is roughly 85 miles inland from the Bien Dong Sea. Her first impression of Vietnam was here, in Hanoi, looking out of the taxi window at the clusters of motorbikes transporting people around the capital.
Walking around Hanoi you pass the plentiful street-food sellers, with the smell of meat and noodle dishes "pho" and "bun cha" in the air. As a coffee aficionado Yasemen sipped the local specialty – creamy, whipped-up "egg coffee" – as she dipped in and out of art galleries.
Bun Cha is just one delicious you can get on the street. Souce: Alesha Bradford and Jarryd Salem
One place that's worth a visit is the Temple of Literature, Yasemen recommended. People started studying there in 1076 and it is the biggest temple in Vietnam. To this day people come to the temple and pray for success in their studies.
Head to the historic Ba Dinh Square where President Ho Chi Minh declared Vietnam's independence from France in 1945 and where he is buried today. The square is also the site of the Presidential Palace, the One Pillar Pagoda, and Ho Chi Minh's Stilt House.
A visit to Hanoi isn't complete without a walk by Hoan Kiem lake, which lights up at night. Afterwards, head into the city centre for some people watching and street food, perhaps crispy spring rolls with a refreshing Hanoi beer while sitting on a tiny plastic stool, according to Yasemen.
Ho Chi Minh City
Formerly known as Saigon until 1976, Ho Chi Minh City is the largest in Vietnam by population. It lies along the Saigon River to the north of the Mekong River delta, about 50 miles from the South China Sea.
Tourists in Ho Chi Minh City. Photo: VNA
One of the best ways to get around the city is by tuk tuk. Passing attractive buildings such as the opera house and post office, you'll see the hustle and bustle of local life up close, though you may want to stop for a scoop of gelato at one of the many ice cream shops.
In terms of culinary culture, Hanoi has its traditional egg coffee and HCM City has its coconut variety – and Cong coffee serves a great version. To tick off the "oldest coffee shop in HCM City" list item, Yasemen headed to Cheo Leo Cafe. However, all coffeed out from a fabulous fizzy black coffee Yasemen had at the cool Workshop Coffee café, she went for a refreshing salty lime drink instead. Cheo Leo Cafe is located on a lovely street where you can see locals doing their food shopping at market stalls.
For decent street food go to District 4 and try local dishes such as baguette with fillings – ban mi, hot pot – and the delicious noodle dish, hu tieu. The nightlife in HCM City is pretty decent, too. Layla stood out – it's one of the first bars to open that embraced mixology. Yasemen loved the frangipani tree growing in the centre of the room and the pop music beats.
In Ho Chi Minh City, people gather in downtown areas in droves, particularly to attractions like the Nguyen Hue Flower Street.
District 2 is also worth a visit, albeit very westernised. It's less cluttered than other parts with less motorbikes and people. Mad Wine Bar and 86 Proof Whiskey Bar have extensive drinks menus, both alcoholic and non-alcoholic.
Nha Trang
A coastal resort city located in southern Vietnam, Nha Trang is lauded for its beaches, great diving spots as well as offshore islands. This is a relatively young city and originally a fishing hub, with little islands and sea views that are captivating. When it rains the jellyfish come to the shore, making it no surprise that jellyfish soup is a local dish. The seafood here is also excellent, Yasemen shared in her article.
The Hon Chong consists of two enormous groups of rocks lying by the sea at the foot of La San Hill with rocks lying in disorder, which maybe resulted from tide's erosion. The grand group of rocks off-shore is called Hon Chong, the Chong Rock consisting a square-shaped block lying on a flatter and bigger one. Source: hihii0210
The Hon Chong rock is a top photo opportunity and gets a lot of attention due to it looking like a giant hand. The temples are also popular to visit.
If you want to buy locally-grown coffee beans to take home, Trung Nguyên Legend Café is the place. For sea views and authentic Indian food, head to the Sailing Club which was founded by an Australian tourist who started selling beer on the beach, then opened a bar, which turned into the Sailing Club in 1984.
For mementos like handmade bags and snacks to take home such as dried local mango, visit the night market. Finish the evening with a drink at the Sheraton's Altitude Rooftop Bar for fantastic bird's eye views of the city.
Nha Trang Bay covers an area of over 500 sq.km with 19 islands. It has distinct ecosystems such as mangroves, coral reefs, and seagrass.
According to the Vietnam National Administration of Tourism, the number of international tourists searching for Vietnam is growing significantly.
The 10 most searched international destinations include Hanoi, HCM City, Da Nang, Phu Quoc, Hoi An, Nha Trang, Da Lat, Hue, and Phan Thiet. VNA citied data from the travel tracking tool Google Destination Insights, the searchers are mainly from the US, Australia, Singapore, India, South Korea, Japan, UK, Malaysia, and Thailand and Germany.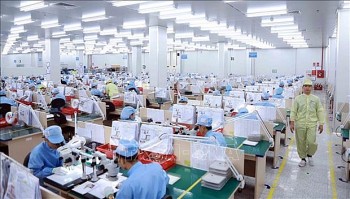 National
Vietnam News Today (Jan. 26): Vietnam - important partner of RoK; HCM City maintains growth momentum, reaps successes in 2022; Vietnam's tourism forecast to strongly rebound in five years; Many localities attract a large number of visitors during Tet.