Quang Tri: Risk education reduces danger of explosive ordnance
Explosive ordnance disposal teams are still working amidst the Covid-19 pandemic which hasn't not yet been totally contained.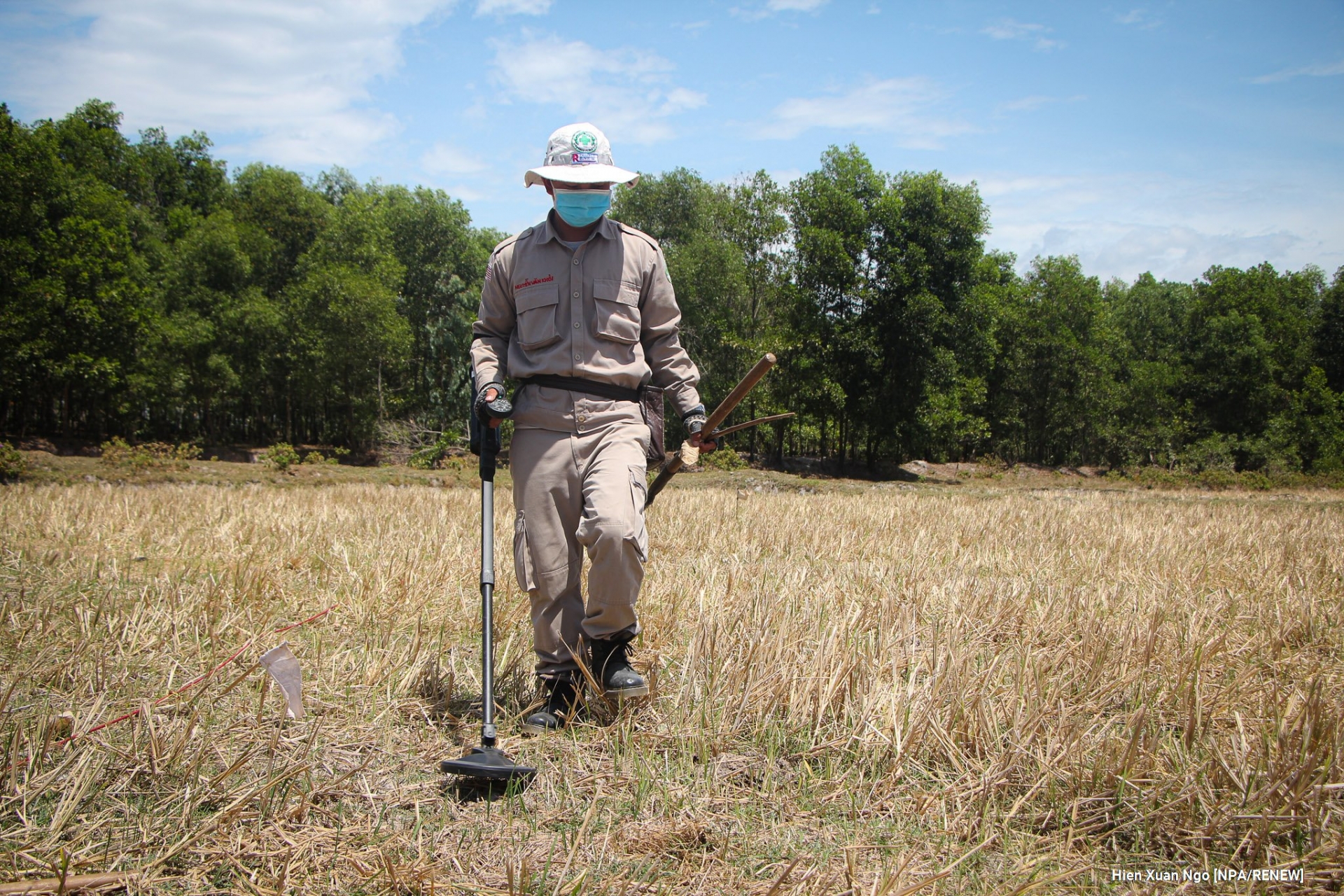 NPA/RENEW conducts technical survey in Truc Lam village, Gio Quang commune, Gio Linh district, Quang Tri province. Photo: Hien Xuan Ngo-NPA/RENEW
Quang Tri is the most polluted locality in Vietnam in terms of unexploded ordnance (UXO), which are scattered over 81% of its land area and have killed over 3,430 people and injured 5,100 during peacetime, according to VNA.
Norwegian People's Aid/Project RENEW (NPA/RENEW) completed technical survey in Truc Lam village, Gio Quang commune, Gio Linh district on July 6 - and marked the occasion with the safe removal of 32 unexploded mortars found in an acacia plantation.
After two weeks of working in Truc Lam, the teams surveyed nearly one million square meters, found and safely destroyed 150 cluster munitions and other explosives. In the first six months of 2021, NPA/RENEW teams have defined and mapped out 28 confirmed hazardous areas consisting of over 22 million square meters of land that need clearance in Quang Tri province.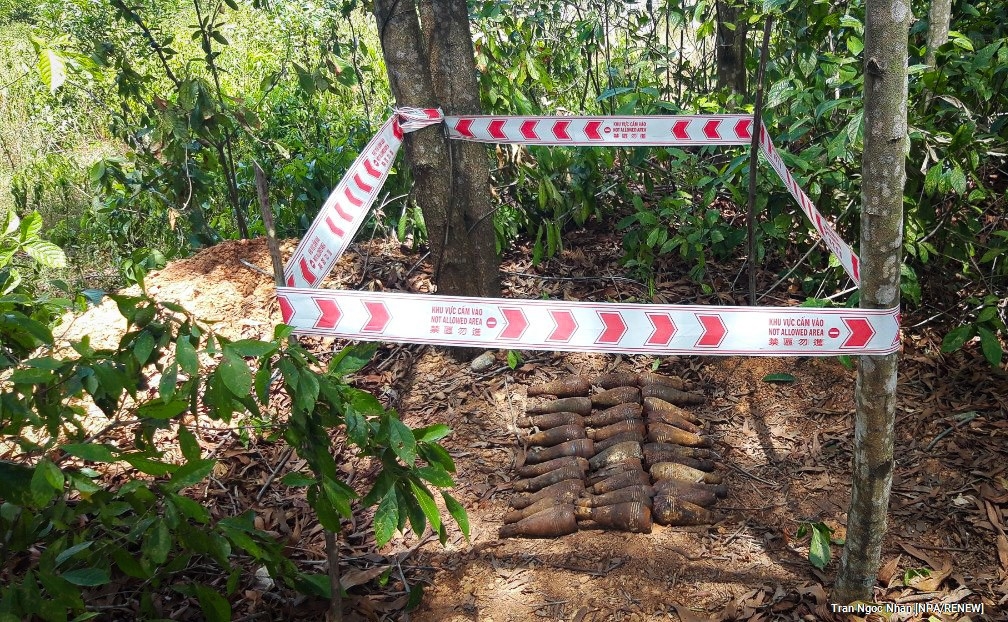 Unexploded mortars founded in an acacia plantation in Truc Lam village, Gio Quang commune, Gio Linh district, Quang Tri province. Photo: Tran Ngoc Nhan-NPA/RENEW
While survey and clearance of explosive ordnance will continue for years to come in the central province of Quang Tri, it is equally important to continue widespread risk education, to refresh people's knowledge about explosive ordnance risks.
In last days of June, 38-year-old farmer Phan Van That called the Quang Tri provincial hotline and reported that he had unearthed a wartime munition while constructing a fish pond on his land in Thuy Trung village of Trung Nam commune, Vinh Linh district.
A quick response team managed by NPA/RENEW have identified the item as a "bombie" – the local term for a cluster submunition. The item was only ten metres away from local residences. So the team had to evacuate That and his neighbours to a safe distance, and then they destroyed the item in place.
That told the team it was all thanks to his daughter who had learned about the provincial hotline number during a risk education session at her school. She was able to teach her father how to report the explosive ordnance for timely and safe removal.
The explosive ordnance disposal (EOD) quick response to the emergency callout by the father of two in Vinh Linh is the 297th follow-up conducted by NPA/RENEW teams under funding of the United States Government in response to discoveries of bombs and mines that Quang Tri residents have reported via the hotline during the past six months.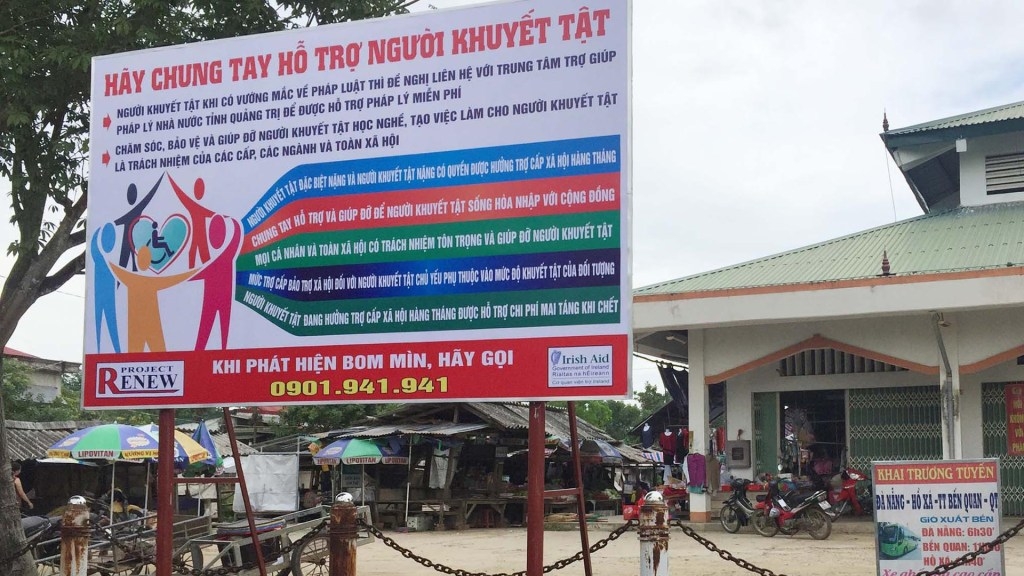 A Project RENEW billboard for advocacy of solidarity with disabled persons and the explosive ordnance hotline number in a populated area in Vinh Linh district.
According to statistics from the Quang Tri Mine Action Center, teams from NPA/RENEW, Mines Advisory Group (MAG), and PeaceTrees Vietnam in 2017- 2021 conducted a total of 5,908 EOD tasks in response to sightings of explosive ordnance called in by Quang Tri residents via the explosive ordnance hotline.
Local people in Quang Tri have become the "eyes" and "ears" of demining teams, providing them with life-saving information about explosive ordnance so the EOD teams can safely remove and destroy the munitions. The three-year period 2018-2020 is the first time since the war ended in 1975 that there have been no injuries or fatalities in Quang Tri province.
The cleanup of wartime debris will likely continue for years. However, children and adults can be safe if they are educated about UXO risks and provided with guidance on what to do when they encounter explosive remnants of war around their homes and gardens, roadsides and school yards.