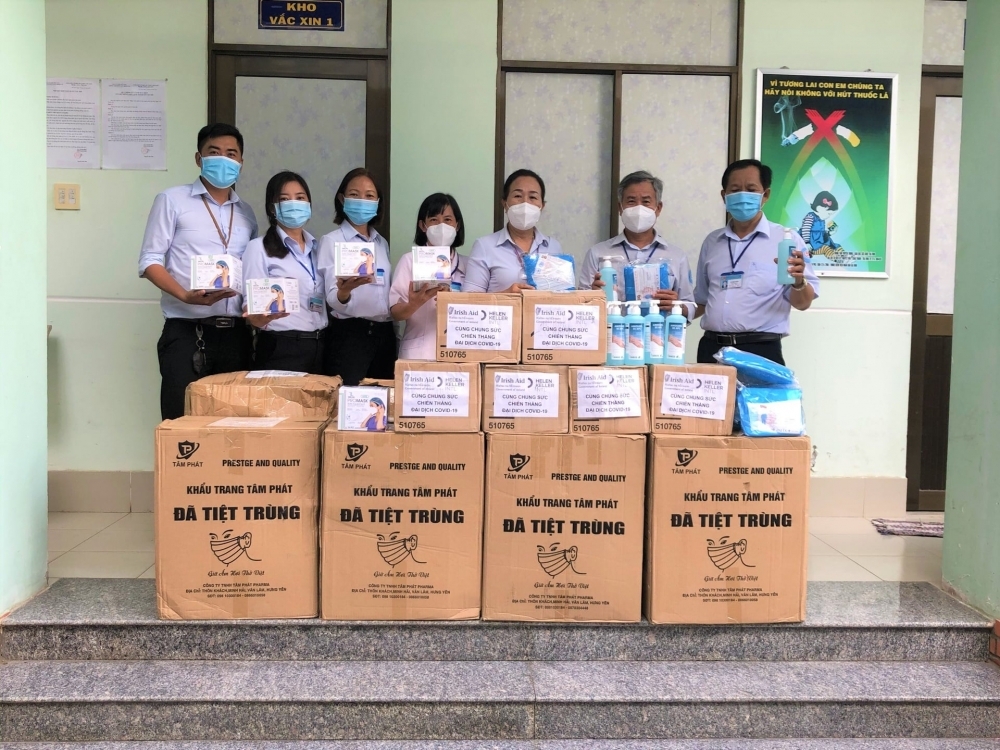 IrishAid and Helen Keller Vietnam support local authorities in response to the Covid-19 outbreak. Source: Helen Keller Vietnam
Vietnam is now facing the fourth wave of the pandemic, which happens faster, stronger, more complex and dangerous. Several non-governmental organizations in Vietnam have supported medical supplies to many localities across the country, with a hope to contribute to the country's combat.
With the generous support from Irish Aid, Helen Keller Vietnam has provided medical supplies to the Centers for Disease Control of Lai Chau, Hoa Binh, Son La, Tra Vinh provinces and Department of Foreign Affairs of Bac Giang province, contributing to local authorities' effort in the fight against Covid-19.
Medical supplies include 2,000 pieces of Personal Protective Equipment (PPE), 2,000 boxes of medical mask, 2,000 pieces of N95 mask and 500 bottles of hand sanitizer. Helen Keller Vietnam hopes that Covid-19 situation will soon be under control, and everyone's life will return to normal.
In the face of the complicated development of the Covid-19, through the Vietnam Union of Friendship Organizations (VUFO) and the People's Aid Coordinating Committee (PACCOM), foreign non-governmental organizations have provided many batch of medical supplies to the northern province of Bac Giang – the country's largest pandemic hotspot.
Specifically, Asia Injury Prevention Foundation (AIPF) supported 2,500 medical masks; Samaritan's Purse International Relief (SPIR) supportsed 10,000 medical masks, 300 protective suits and 300 bottles of antiseptic liquid, and Operation Smile supported 5,000 antibacterial cloth masks.
Last week, the Medical Committee Netherlands-Vietnam (MCNV) presented aids worth over VND 50 million (USD 2.100) to assist the Healthcare Center and the Border guard post of Huong Lap commune, Huong Hoa district, Quang Tri province.
The aid package sponsored for Huong Lap Healthcare Center consists of four-layer medical masks, hand sanitizers, infrared thermometers, aneroid sphygmomanometer and a system of solar lights. The total value of the aid is VND 19.7 million (USD 857).
The aid package sponsored for Huong Lap Healthcare Center consists of four-layer medical masks, hand sanitizers, infrared thermometers, aneroid sphygmomanometer and a system of solar lights. Source: MCNV
Located adjacent to Laos, amidst steep mountain slopes and winding roads, Huong Lap is an extremely disadvantaged commune in Vietnam's central province of Quang Tri. During the historic flood sweeping through Vietnam's central region in October and November 2020, the commune became completely secluded and suffered from massive damages caused by devastating flashfloods and landslides.
At the same time, the Huong Lap Healthcare Center has become one of the quarantine shelters of Quang Tri province. From April 2021 till now, Huong Lap Healthcare Center has accommodated 229 cases returning from localities affected by the pandemic across the country and nine cases of illegal entry.
The Huong Lap Healthcare Center has been providing basic healthcare services to local residents, majorly people of Van Kieu ethnic minority. On average, the center receives 15-20 clients a day. During peak time, for instance, monthly vaccination day, this number can hit 200.
The solar lights are hence included in the aid package of MCNV to help the Center meet with its operation essential needs.
"We are extremely grateful for MCNV's precious supports. Your help not only provides us with better equipment but also motivates us to strive harder in the battle against Covid-19", said Doctor Nguyen Thi Mui, Head of Huong Lap Healthcare Center.
On this occasion, MCNV also visited Huong Lap commune Border Guard Station and presented an aid package consisting of two gas stoves, gas tanks, electrical wires, 12 water containers and mini water filters, with total value of VND 31.5 million (USD 1.370). The aid aims to help improve the living and working condition of the border guard forces, who have been dedicated vast efforts to control illegal entry in order to help prevent the locality from Covid-19 transmission.
In June, another border guard station in Huong Phung commune will be provided with MCNV's sponsorship of electrical wires worth around VND 20 million (USD 870).
Hannah Nguyen