Calligraphy master Jean Sébastien Grill: My Mission is to introduce Vietnamese culture in France
Neatly dressed in a black ao dai, Jean Sébastien Grill focused on each pen stroke. Bold, soft, and curvilinear handwriting gradually appears on the paper. As the first foreigner to participate in the Spring Calligraphy Fair 2023 in Ho Van (the Temple of Literature - Quoc Tu Giam, Hanoi)m he sees introducing Vietnamese culture in France as his personal mission.
"Vietnamese calligraphy nourishes my soul"
Jean Sébastien Grill's calligraphy booth is named Truong Giang. "Truong Giang is my Vietnamese name, given by a friend. Giang has the same pronunciation as Jean. Truong Giang means a long, healthy life," said Jean.
Jean has studied Vietnamese for 7 years and lived in Vietnam for 6 years. Before coming to Vietnam, he worked as a graphic designer and studied oriental medicine, massage and acupressure to help friends and colleagues suffering from spine problems. Jean married an overseas Vietnamese in 2006. On their first trip to Hanoi, they were so impressed by the bustling sidewalks and folk medicine that they return to Vietnam every year to travel and learn more about Oriental medicine.
Jean, his wife, and their children moved to Vietnam in 2015, when he was introduced to Vietnamese calligraphy. "I knew about Korean, Chinese, and Japanese calligraphy long before but when I learned that Vietnam also has this kind of art, I signed up for classes in Hanoi. I was the only foreign student in the class, so I was given enthusiastic help from my Vietnamese teacher and friends."
Jean Sébastien Grill said calligraphy brought him inner peace (Photo: Hai An)
While learning Vietnamese is already hard for a foreigner, learning Vietnamese calligraphy is a bigger challenge. Jean spent hours studying the language and practicing writing. "When I started the course, I had to practice with the pen and ink every day. My wrist hurt a lot. Controlling a brush is not as easy as it looks. You have to hold the pen firm enough to make sharp strokes yet flexible enough so that the letters look charming."
Having worked in art industry for years, Jean quickly mastered layout and typography. The biggest difficulty he encountered was the Vietnamese language and literature. After completing his 32-session course, he continued to learn Vietnamese and asked elderly masters to explain the meaning of couplets, poetry, and literature. Jean even met artisans of dó paper and seals to learn more about calligraphy.
Calligraphy has nourished my soul, he said. To compose beautiful works, the writer needs to put emotions into the handwriting to make smooth and soulful strokes. "I learned that a calligraphy master not only gives away his writings but through that he gives spiritual values and good wishes. Thanks to calligraphy, my spiritual life is enriched. I understand more about beauty and find inner peace and relaxation," said Jean.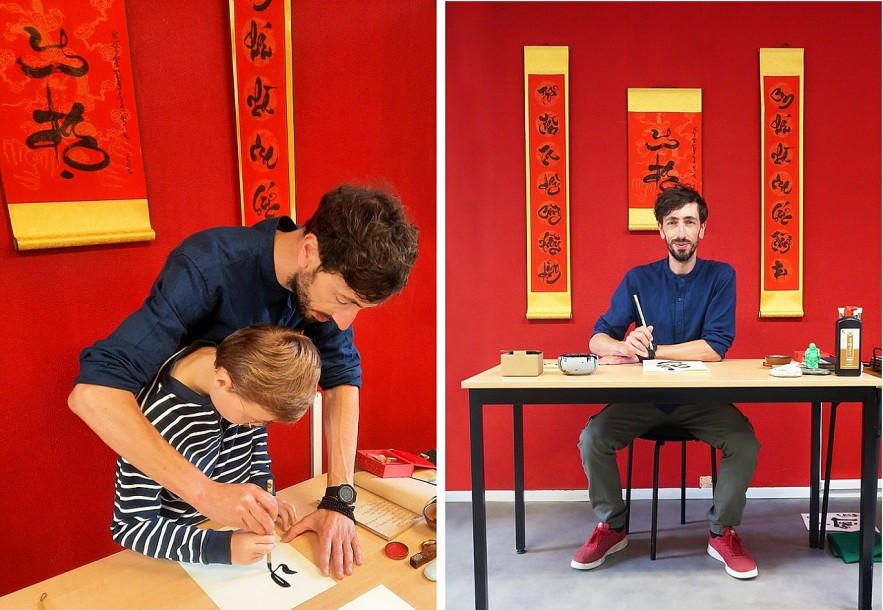 Jean Sébastien Grill writes Vietnamese calligraphy in France in June 2022 (Photo courtesy of Jean Sébastien Grill)
Introducing Vietnamese culture to France
Jean's family moved to France in mid-2021 due to the pandemic. Taking advantage of this time, he gave his works to overseas Vietnamese. "I often come to a Vietnamese pagoda in my neighborhood to write. Many Vietnamese in France are touched and happy to receive traditional red couplets, which motivates me to learn more about Vietnamese culture. Once I have mastered writing the Latin alphabet, I want to learn about abstract word paintings that express the writers' inner thoughts," said Jean.
Besides calligraphy, Jean practices Vietnamese traditional martial arts with the overseas community in France. "In France and Vietnam, life is changing very quickly, the society is becoming more modern. It would be a pity if no one continued to uphold the values of the older generations. As a French who loves Vietnam, I feel that it is my mission to learn as much as I can about Vietnamese culture and introduce those values to the French."
Jean Sébastien Grill and his wife will return to France in February 2023. With his experience in the Spring Calligraphy Fair at the Temple of Literature, he hopes to open a calligraphy class for art lovers in France and contribute to introducing Vietnamese culture to the world. When asked about his intention to return to Vietnam, Jean Sébastien said: "Although I am not sure when I will come back, I have already considered this place my second homeland."
Eat Healthy for Lunar New Year Holiday

Although Vietnamese cuisine among the healthiest cuisines, Tet (Lunar New Year) is the time for all family members to get together while enjoying traditional dishes. ...