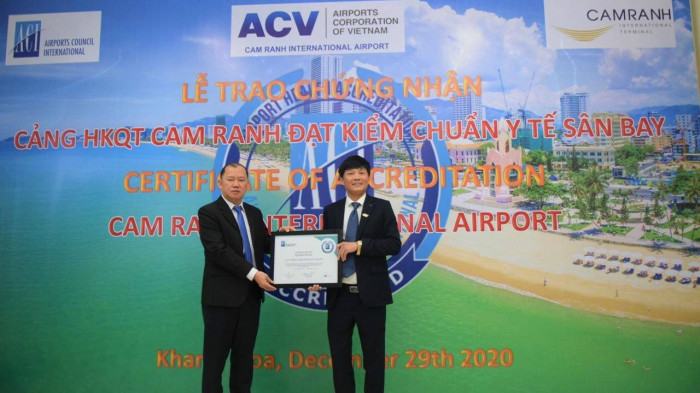 At the ceremony awarding AHA to Cam Ranh International Airport Photo: Giaothong Newspaper
The ACI's AHA program is designed to help airports around the world prove to passengers, employees, managers, and governments that they place the health and safety of passengers as their top priority via the establishment of specific safety measures in the fight against the COVID-19 pandemic.
In order to receive the AHA certificate, Cam Ranh International Airport must undergo a strict assessment process for health safety measures at the airport, including cleaning and disinfection procedures, physical distancing, staff protection, physical layout, passenger communications, and passenger facilities, according to VGP.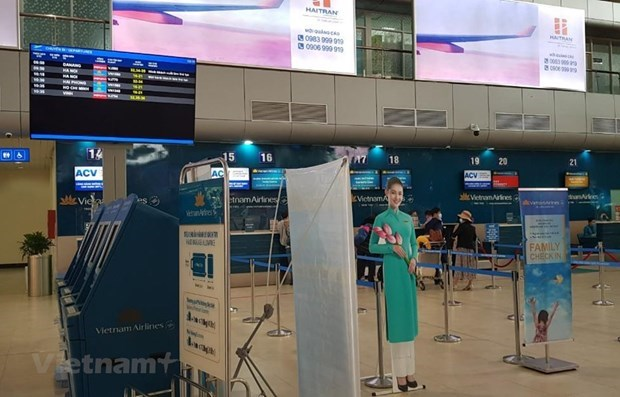 Cam Ranh International Airport Photo: VNA
ACI World Director General Luis Felipe de Oliveira emphasized that 2020 is an especially difficult year for the aviation industry. By earning the accreditation, Cam Ranh International Airport is committed to providing high standards of health and hygiene in line with global criteria.
It is clear that the airport is putting the health and well-being of passengers, employees, and the community first.
Chairman of the Board of Directors of Cam Ranh International Airport Johnathan Hanh Nguyen said that all staff at the airport have made every effort to place ensuring the absolute safety of customers as their top priority.
"This effort is also aimed at promoting tourism in Khanh Hoa province in particular and in the whole territory of Vietnam in general. In particular, this certification is also a bridge and motivation for international tourists to return to the safe marine tourism destinations in and around Nha Trang, Khanh Hoa," Hanh Nguyen noted.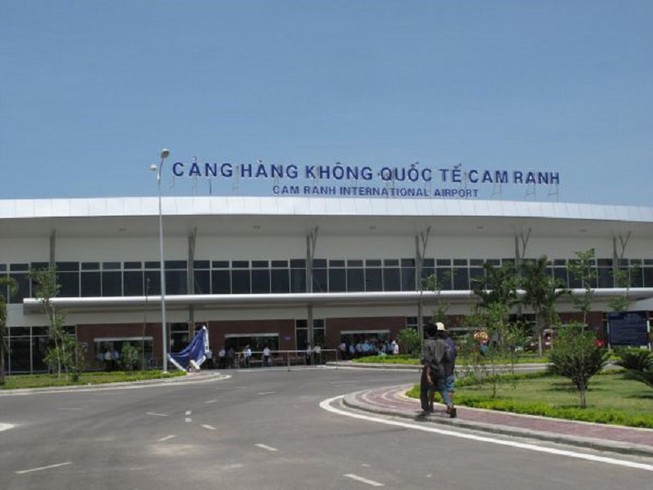 Cam Ranh is the fourth Vietnamese international airport receiving the AHA, after Noi Bai, Tan Son Nhat, and Da Nang. Photo: PLO
In 2019, Cam Ranh International Airport served 10 million passengers, including 6.5 million international ones.
During the COVID-19 period in 2020, the airport has safely served 3.5 million passengers to and from Khanh Hoa, and 72 flights bringing 10,680 Vietnamese citizens and foreign experts to Viet Nam from many countries.
In the time ahead, the Airports Corporation of Viet Nam (ACV), Cam Ranh International Airport, and relevant units are committed to well maintaining COVID-19 prevention measures, strengthening facilities, and developing infrastructure to improve the quality of services and ensure the safety of passengers, actively contributing to realizing Khanh Hoa Province's tourism stimulus goals in 2021.
Earlier, three international airports of Tan Son Nhat, Noi Bai, and Da Nang also got Airport Health Accreditation.
When the pandemic broke out in Vietnam last January, Noi Bai, the country's second-largest airport after HCMC's Tan Son Nhat, adopted a number of preventive measures such as disinfecting periodically, installing a thermal sensor to check passengers' temperature and automatic check-in equipment, using an air cleaning system to reduce the spread of the virus, installing bulkheads at check-in and boarding counters to prevent droplets.
Mr. Nguyen Duc Hung – Vice president of ACV, Director of Noi Bai International Airport said: "The receipt of this accreditation is a remarkable achievement for our continued efforts in implementing several Covid-19 control and prevention measures. It will motivate our employee to diligently strive to carry out better safety measures for airport staff and passengers, creating confidence to use the airport's services".
Meanwhile, when the pandemic broke out last January, Da Nang Airport and the city's Disease Control Center also disinfected the entire international terminal, set up temperature screening facilities, and distributed 100,000 free masks to passengers. In March, when the government imposed flight bans and travel restrictions, Da Nang Airport stopped receiving inbound international flights except for some 60 repatriation flights carrying Vietnamese citizens home, the airport operators told Giao Thong, the Transport Ministry's news website.
Malie Nguyen