Three Vietnamese airports granted international heath accreditation for Covid-19 preventive measures
Three international airports in Vietnam namely Tan Son Nhat, Noi Bai, and Da Nang have recently awarded Airport Health Accreditation (AHA) by the Airports Council International (ACI) for their safety measures against Covid-19 pandemic.
On December 23, Tan Son Nhat International Airport announced that it has been granted Airport Health Accreditation for maintaining safety and prevention measures against the COVID-19 pandemic, Tien Phong reported.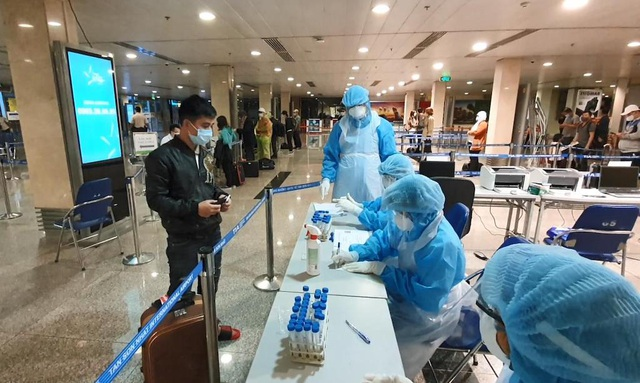 Passengers make health declaration at Tan Son Nhat International airport. Photo: Dan Tri
The representative of Tan Son Nhat International Airport said that it would continue to coordinate with relevant agencies to strengthen the implementation of anti-epidemic measures to ensure the safety of the staff and passengers, especially during New Year and Tet Holiday 2021.
In late November, Noi Bai in Hanoi has become the first airport in Vietnam to receive the Airports Council International's health accreditation for its safety measures against Covid-19, VNExpress reported.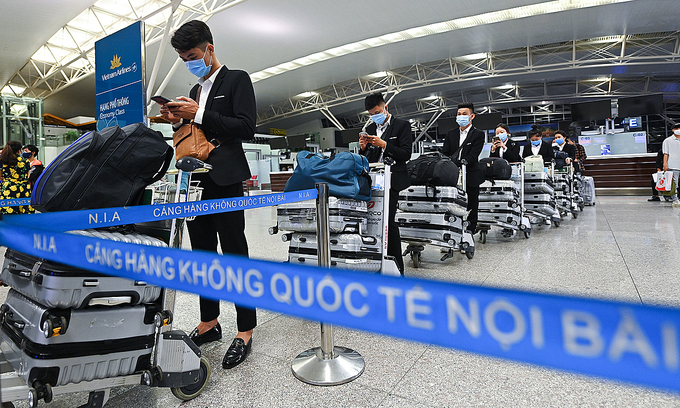 Passengers wait at Noi Bai Airport in Hanoi to board a flight to Japan's Tokyo, September 19, 2020.
Photo by VnExpress/Giang Huy.
When the pandemic broke out in Vietnam last January, Noi Bai, the country's second-largest airport after HCMC's Tan Son Nhat, adopted a number of preventive measures such as disinfecting periodically, installing a thermal sensor to check passengers' temperature and automatic check-in equipment, using an air cleaning system to reduce the spread of the virus, installing bulkheads at check-in and boarding counters to prevent droplets.
ACI General Director Luis Felipe de Oliveira said Noi Bai provides a safe airport experience for all passengers in line with ACI Aviation Business Restart and Recovery guidelines and recommendations by the International Civil Aviation Organisation - ICAO Council Aviation Restart Task Force.
Rendering the AHA certificate to Noi Bai International Airport, Mr. Dinh Viet Thang opined: "Not only the acknowledgment from the ACI but also there is the world-wide recognition to ACV in particular, and to competent authorities of Vietnam in general who has effectively and successfully coped with Covid-19 pandemic." Mr. Thang, on behalf of the Civil Aviation Authority of Vietnam (CAAV), thanks to relevant Ministries and Ha Noi city's authorities for creating favorable conditions for Noi Bai International Airport to complete the ACI evaluation. "CAAV always supports ACV to participate a wide range of ACI's activities and programs, particularly airport operations, aviation safety, and security programs" – he emphasized.
Mr. Nguyen Duc Hung – Vice president of ACV, Director of Noi Bai International Airport said: "The receipt of this accreditation is a remarkable achievement for our continued efforts in implementing several Covid-19 control and prevention measures. It will motivate our employee to diligently strive to carry out better safety measures for airport staff and passengers, creating confidence to use the airport's services".
In early December, Da Nang Airport also got international health accreditation for Covid-19 measures. It is the second airport in the country after Hanoi's Noi Bai to receive accreditation, a program that supports airports around the globe in introducing preventive hygiene, health and safety measures against the coronavirus pandemic.
When the pandemic broke out last January, Da Nang Airport and the city's Disease Control Center disinfected the entire international terminal, set up temperature screening facilities and distributed 100,000 free masks to passengers, the airport operators told Giao Thong, the Transport Ministry's news website.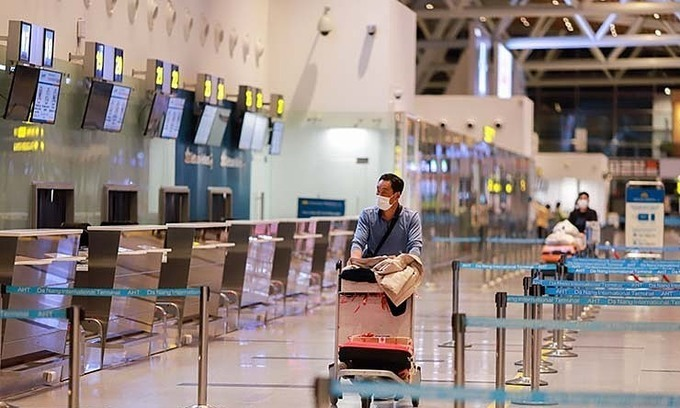 Passengers in face masks at Da Nang International Airport, April 2020. Photo by VnExpress/Nguyen Dong.
Passengers and airport staff have since been required to wear masks and use hand sanitizers.
In March, when the government imposed flight bans and travel restrictions, Da Nang Airport stopped receiving inbound international flights except for some 60 repatriation flights carrying Vietnamese citizens home.
The ACI evaluated cleaning and disinfection procedures, physical distancing, staff protection, physical layout, passenger communications, and passenger facilities for the certification, which is valid for 12 months.
ACI is the only global trade representative of the world's airports. Established in 1991, ACI represents airports interests with Governments and international organizations such as ICAO, develops standards, policies, and recommended practices for airports, and provides information and training opportunities to raise standards around the world.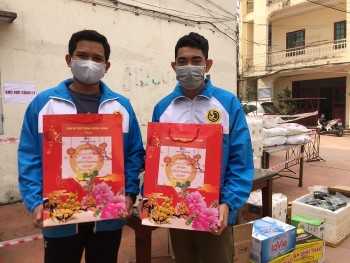 Expats in Vietnam
Vietnam is sending affection to Lao and Cambodian students who stay back in the country for Tet, the traditional New Year holiday which is an occasion for family reunion.