Cambodia plans another border gate with Vietnam
The Cambodian Ministry of Public Works and Transport (MPWT) is seeking to open a new international border gate with Vietnam to facilitate container cross-border traffic between the two countries.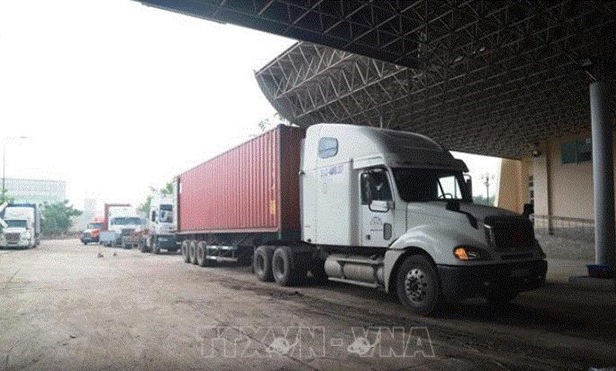 Container lorries at Moc Bai International Border Gate in Vietnam's southern province of Tay Ninh, which borders Cambodia (Photo: VNA)
Speaking during the 20th Cambodia-Japan public-private sector meeting held in Phnom Penh on September 3, Secretary of State at this ministry Nou Savath said the MPWT minister plans to lead an inter-ministerial working group to examine another international border gate with Vietnam for container crossing because the pair of Bavet – Moc Bai border gates are getting heavily congested.
The statement is delivered in response to Japan investors' demand to improve infrastructure along the Cambodia border with Vietnam and Thailand to facilitate the transportation of goods, Phnom Penh Post cited.
Minister of Public Works and Transport Sun Chanthol told the meeting that the ministry is expanding construction and improving the quality of transport infrastructure, roads, railways, and waterways to address the challenges faced at its borders with Vietnam and Thailand, and to better compete with regional countries.
The minister stated that Cambodia was "in talks with the Vietnamese government to resolve congestion issues at the Bavet-Moc Bai border crossing."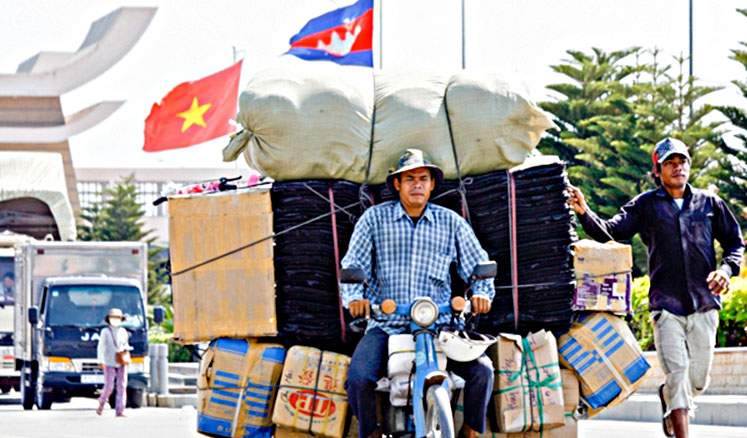 Cambodian vendors transport goods using a motorcycle at Cambodia - Vietnam border at Bavet city. (Photo: Khmer Times)
According to the Communist Party of Vietnam Online Newspaper, Cambodia is considering opening a new border gate, Prey Vor in Cambodia with Binh Hiep in Vietnam, to ease the procedure for both customs and relevant institutions to reduce the container congestion in Bavet, he said.
Secretary of State at this ministry Nou Savath said that Bavet international border gate used to have between 250 to 300 container trucks crossing a day, but with COVID-19, only 70 go through a day.
He said the minister will also ask the government to prepare the terminal for containers to ease the traffic jam, adding: "We also want to prepare different lines for different goods containers and empty containers and we also have to prepare a line for passengers and small goods as well." quoted by VNA.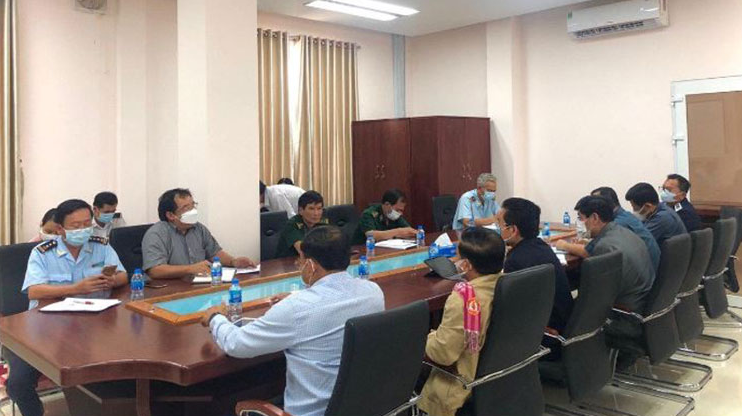 Cambodian and Vietnamese senior officials discuss options to re-open the Mộc Bài border crossing for trade earlier this year after it being shut down due to COVID-19 impacts. (Photo: Khmer Times)
Earlier this year, Khmer Times announced that Cambodia's Ministry of Public Works and Transport is working to further ease Cambodia's transport logistics inconvenience at its border gates with Thailand and Vietnam. The ministry has held meetings to address challenges for the Stung Bot-Ban Nong Ian crossing (Cambodia - Thailand border) and the Bavet- Moc Bai crossing (Cambodia-Vietnam borders).
Bilateral trade between Cambodia and Vietnam dropped 8.1 percent year-on-year to 2.17 billion USD in the first five months of 2020 on the back of the COVID-19 pandemic, according to figures from the Vietnamese Embassy in Phnom Penh.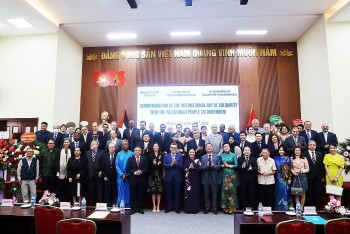 Focus
The Vietnamese people support the righteous struggle of the people of Palestine for independence and freedom.