Cambodian cultural week 2017 kick starts in Hanoi
(VNF) – The "Cambodian Cultural Week in Vietnam 2017" was kick started on November 8 in Hanoi.
(VNF) – The "Cambodian Cultural Week in Vietnam 2017" was kick started on November 8 in Hanoi, as part of the celebration for the 50th anniversary of diplomatic ties.
Cambodian Minister of Culture and Fine Arts Khim Sarith, Cambodian Ambassador to Vietnam Prak Nguon Hong, Vice Minister of Culture, Sports and Tourism Vuong Duy Bien and President of the Vietnam – Cambodia Friendship Association Vu Mao attended the opening address of the cultural week.
The event also brought together representatives of the Ministry of Foreign Affairs and the Vietnam Union of Friendship Organizations (VUFO), together with leaders of various departments, sectors and Cambodian students in Vietnam.
Dance performance at the ceremony (source: CPV)
Speaking at the ceremony, Vice Minister Vuong Duy Bien spoke highly of the long-standing solidarity and friendly cooperation between Vietnam and Cambodia.
The two sides are enjoying their flourishing ties in multi aspects, which have deeply gone through practical progress. The joint efforts of Vietnam and Cambodia have brought about positive results in multi aspects for the two peoples, especially in politics, culture, economics and education.
The Vice Minister also highlighted the various meaningful culture programmes held by both countries, hailing their significant role in strengthening the solidarity and mutual understanding, as well as boosting socio-economic development in both countries.
He took the occasion to express his belief that the "Cambodian Cultural Week in Vietnam 2017" will help lift bilateral ties to a new height.
Minister Khim Sarith, for his part, recalled the journey Vietnam and Cambodia have shared with countless ups and downs. Despite numerous challenges, Vietnam and Cambodia has been great supporter for each other in the cause of national liberation and fostering development and prosperity of two countries, he stated.
The celebration of the two countries' 50th diplomatic ties is taking place at the time when Cambodia is at its stable state of politics, the people are having better life under the leadership of PM Samdech Techo Hun Sen, he noted.
Dance performance at the ceremony (source: CPV)
At the opening ceremony, the Cambodian artists dedicated to audience vivid arts performance, featuring exotic color of Cambodian culture, such as fan dance and folk songs.
The cultural week will last until Nov 12 with a variety of activities, as perse as as artistic performances by artists from the two countries at Hanoi Opera House, and an exhibition themed "Cambodia- the Kingdom of culture" (held at the Vietnam Exhibition Centre for Culture and Arts in Hanoi), exhibition and fair in Quang Ninh province, among others./.
( Translated by Phi Yen )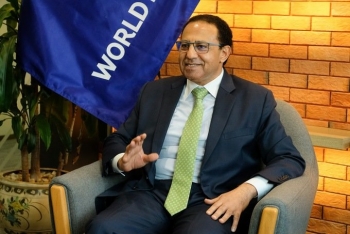 Economy
Vietnam's agriculture is transforming from quantity targets towards profit, environment and farmer income targets. Ahmed Eiweida, Vietnam Sector Leader for Sustainable Development (World Bank).