Cambodian fishermen "starve" for fish as river reversal runs late
Crucial water flows to Tonle Sap, South-east Asia's largest lake, have been delayed for a second consecutive year, according to river experts, severely disrupting fishing and threatening the food supply of more than a million people.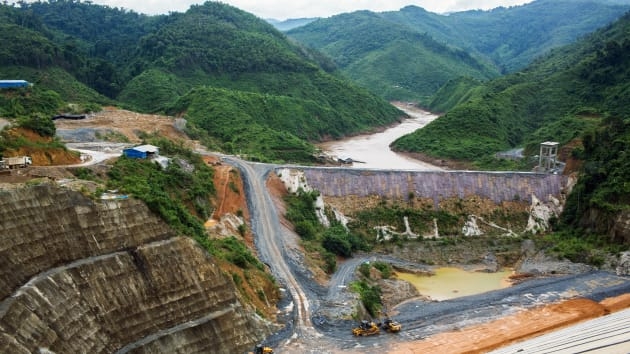 The Nam Tha 1 hydroelectric dam construction site, being built by Power Construction Corp. of China (PowerChina) and to be operated by Chine Southern Power Grid Co, in Bokeo Province, Laos. Taylor Weidman/Bloomberg/Getty Images
Crucial water flows to Tonle Sap, South-east Asia's largest lake, have been delayed for a second consecutive year, severely disrupting fishing and threatening the food supply of more than a million people, reported Reuters citing sources from river experts.
The river reversal vital for Tonle Sap may not happen until next month, officials said, owing to drought conditions and more than a dozen hydropower dams in China and Laos which are blamed for disrupting the natural flow of the Mekong River.
The Mekong typically swells in rainy season where it converges with Cambodia's Tonle Sap River, causing an unusual reversed flow into the Tonle Sap Lake, filling it up and providing bountiful fish stocks.
But that hasn't happened yet and people who depend on the lake are struggling to get by.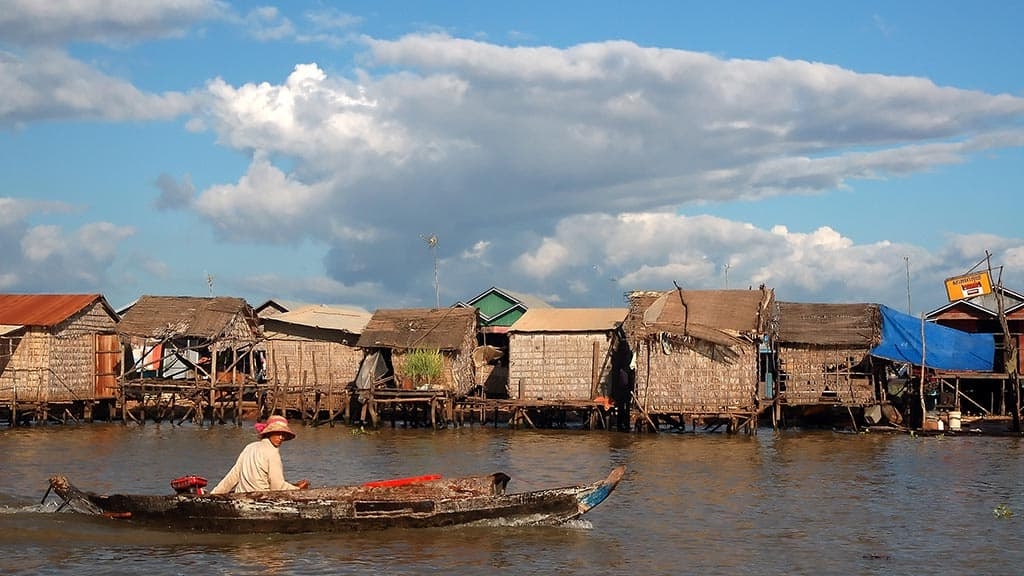 Tonle Sap he largest freshwater lake in all of Southeast Asia. Photo: Outsidenomad
"I went out fishing for two nights and couldn't catch enough," said 37-year-old Khon Kheak, repairing a fishing net under his stilt house at Kampong Khleang, a floating village with little water to float in.
That trip earned him about $3, compared to $12-$25 a day last year, enough to support his family of six.
His wife Reth Thary worries those days may be over.
"If it continues like this we would be finished, we also owe people money," she said, referring to a US$1,000 loan.
Water typically flows into the Tonle Sap Lake for 120 days, swelling it sixfold before running back into the Mekong as the monsoon season ends, usually in late September.
Based on rain forecasts and rainfall data, the river's unique reverse flow should happen in August, said Mr Long Saravuth, a Deputy Secretary General of Cambodia's National Mekong Committee.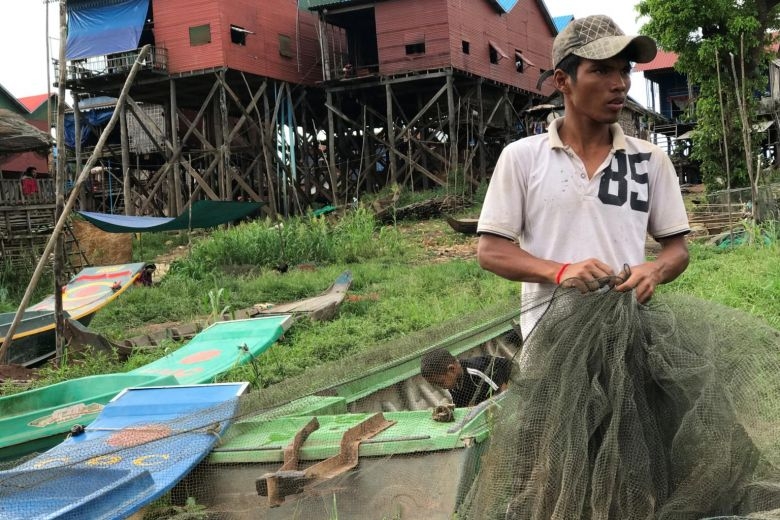 The river reversal vital for Tonle Sap Lake may not happen until next month, officials said. Photo: Reuters
The Mekong River Commission (MRC) attributes the delay to lower 2019 rainfall and operations of upstream Mekong hydropower dams, two of which are in Laos and 11 in China.
"From now on, the reversed flow timing will likely not be the same as it used to be," the MRC said.
Laos and China say the dams bring vital economic benefits and regulate water flow, helping to prevent severe floods and droughts.
But fisherman San Savuth, 25, wants Cambodia's government to negotiate the release of water from those dams to help Kampong Khleang's 2,000 families.
He may go to Siem Reap, a city 55km away, to find construction work.
"We can't catch anything. There is no water, there is no fish," he said.
Even without the coronavirus squeezing international travel, there is no hope of attracting local tourists for boat trips from Kampong Khleang, which would normally handle 600 passengers a day.
There is a padlock on the abandoned tourism office surrounded by overgrown grass, and about 130 tour boats are lying idle.
"People in Kampong Khleang are fishermen without fish," said tour boat owner Ly Sam Ath. "There is no farming for them to do".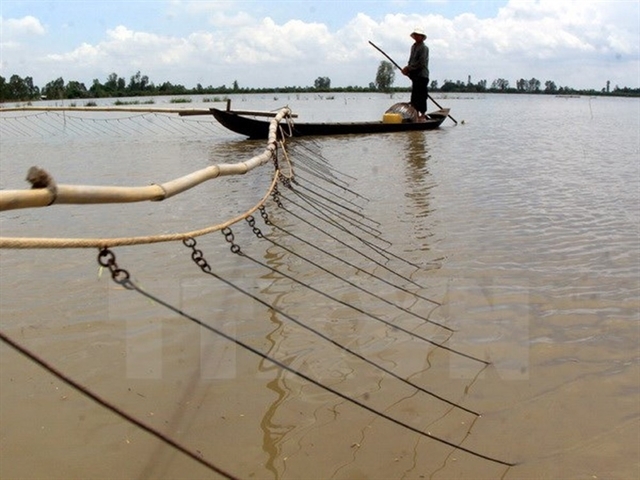 A Vietnamese farmer set up cages to catch fish from the Mekong River in flooding season. Photo: VNA/VNS
Vietnam is one among some other South-East Asia to be seriously affected with the historic drought and salinity intrusion in the last few months, which has driven five provinces in the Mekong Delta's 'rice basket' -- Kien Giang, Ben Tre, Tien Giang, Ca Mau, and Long An -- to declare a state of emergency.
The Mekong Delta, which produces more than half of the country's rice, has so far seen a total of 33,000 hectares of rice paddies damaged and nearly 70,000 households suffering from the lack of water, according to the Vietnam Government Portal.
The government estimated drought and salinity would affect 362,000 hectares of rice and 136,000 hectares of fruit trees in the Mekong Delta this year, while more than 120,000 households will suffer from water shortage.
Experts have been blaming the El Nino phenomenon and Chinese dams for the parching of the Mekong Delta.
Even as El Nino reduced rainfall in southern Vietnam last year, upstream Chinese dams held back water, which also brings sediments to fertilize downstream lands.
The Mekong River flows 4,880 km through six countries, 2,130 km in China. Of the 19 hydropower projects China plans along the river, it has built 11 so far.
(Source: VNexpress)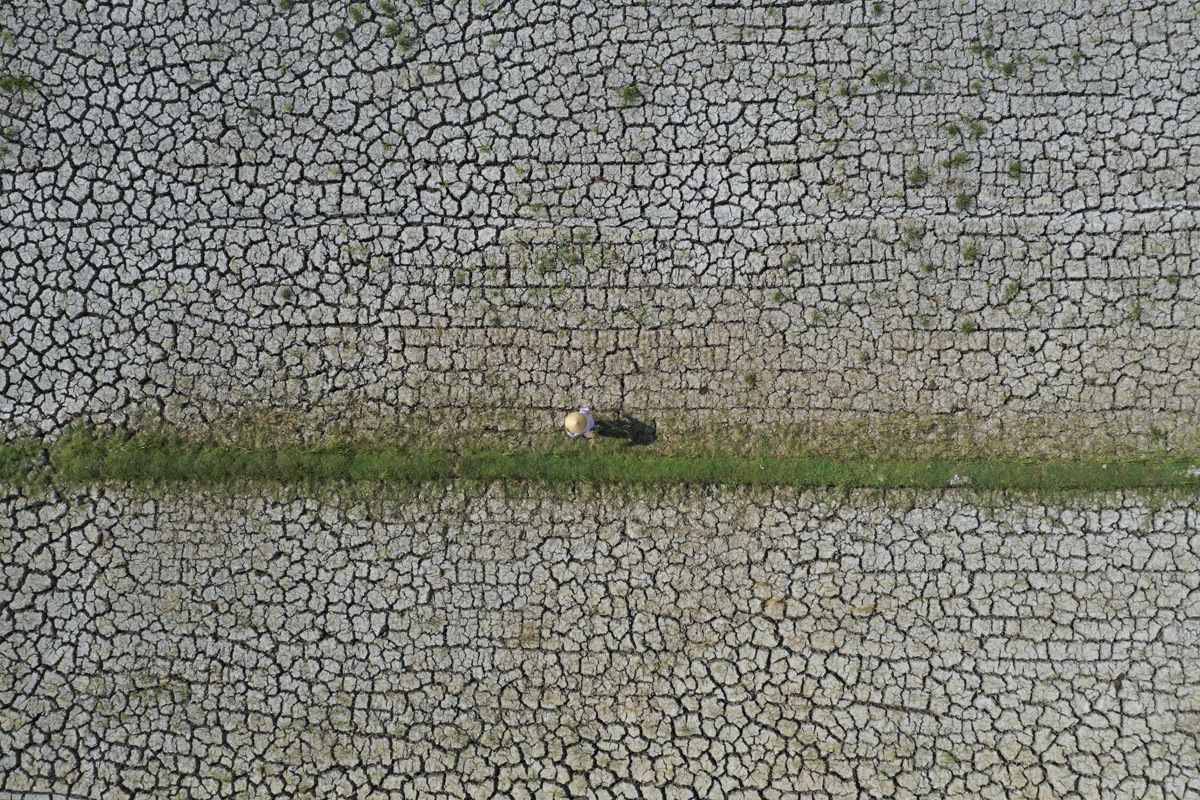 A rice field in An Phu Trung Commune of Ba Tri District in Ben Tre Province. Photo: VNExpress
Mekong Delta braces for salt intrusion

Authorities and people living in the coastal areas of the Cửu Long (Mekong) Delta have taken several measures to prevent saltwater intrusion, including building of ...
Reuters, Straits Times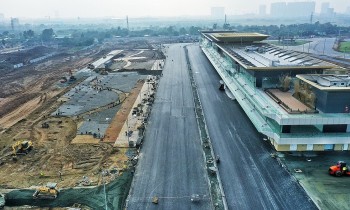 Viet's Home
My Dinh Nation Sports Complex seeks to reclaim the land on which the F1 track was built since the race got canceled.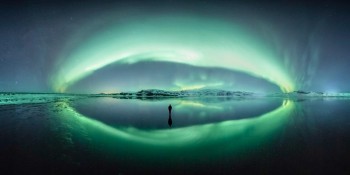 Handbook
Let's scroll down and find out spectacular images from the Astronomy Photographer of the Year 2021 organised by the Royal Observatory Greenwich.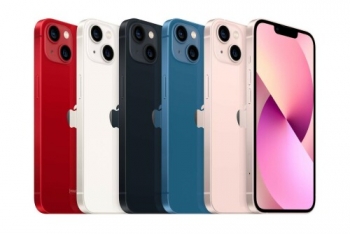 Economy
Hyped for the new iPhone 13 line-up just announced? With the unveiling of the latest iPhone models, M1 ensures customers can get any of the 4 variants at prices to beat.